The Dolby Dimension Headphones: A Personal Home Theater On Your Ears
Summary
Drivers: 40mm custom-designed acoustic drivers
Frequency response: 20Hz - 20kHz with custom Dolby EQ
Bluetooth codecs supported: AAC, aptX, aptX Low Latency and SBC
Weight: 11.6 ounces (330 grams)
Executive Overview
Dolby Labs is one of a very small number of audio companies that can claim to be household names, with brand recognition that spans the globe. Everybody knows that Dolby is all about surround sound. But unlike other mainstream audio companies (such as Bose, for example), Dolby has never released a piece of consumer hardware. Dolby's legacy has always been tied to technological advancements licensed and used by other hardware manufacturers — first in recording studio gear, then in movie theaters, and later in home entertainment products like AV receivers and blu-ray players. Now for the first time in Dolby's 54-year history, the company has launched a consumer electronics product, the Dolby Dimension wireless headphone. At first glance, the $599 Dimension looks fairly similar to other premium bluetooth headphones, such as Sony's excellent noise-cancellers, the WH-1000XM3 ($350). The Dolby's aluminum frame supports circumaural ear cups containing 40-mm acoustic drivers, and memory foam ear-pads wrapped in synthetic leather. So far, so typical. The all-black design looks fine, but the Dimension certainly isn't as classy-looking as the Bowers & Wilkins PX ($400), nor as trendy-looking as the Beats Studio 3 ($350). Yet underneath its rather unremarkable facade, the Dolby Dimension has some unique tech that sets it apart from most other wireless headphones.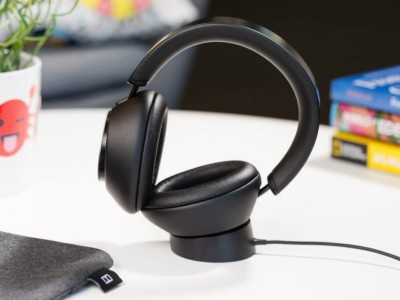 The Dimension headphones have a built-in Qualcomm Snapdragon quad-core ARM processor, which enables an advanced digital signal processing feature that Dolby calls "Virtualization." This custom DSP application "dramatically enhances the sound of all your movies, shows, and music," according to Dolby. The company claims that the Virtualization feature uses up-mixing and machine learning to provide immersive sound from any audio source. Dolby also says that the Dimension is the best headphone for listening to content created using the brand's immersive surround sound format, Dolby Atmos.
Note: The bluetooth connection can't pass a true Dolby Atmos signal to the headphones, so the Atmos-like experience offered by the Dolby Dimension is only an approximation of the real thing.
Another cool feature, which is likely to pop up in more and more headphones moving forward, is head-tracking. This feature promises a "more consistently realistic experience" by keeping the sound fixed to the screen, even when you turn your head. Just as the center-channel speaker in a surround sound setup anchors the dialog to the screen (whether you move around or not), Dolby's head-tracking feature is designed to provide a stable sound-stage that is more cinematic than headphone-like. If you turn your head to the either side, the virtual location of the "center channel" will stay right where it was, instead of moving along with you, as it would in a typical headphone.
Another key feature of the Dimension headphones is Dolby LifeMix, which is designed to give you control over how connected to (or isolated from) your environment you want to be while using the headphones. When LifeMix is set to 0, active noise cancelling blocks out noise from your surroundings, keeping you engrossed in your entertainment. Sometimes, though, you need to be aware of what's going on around you. Perhaps you need to keep one ear open for your kids, or you're awaiting an announcement about a delayed flight. Settings 1-10 on LifeMix allow you to choose how much audio transparency you want at any given time. The feature uses the headphones' five beam-forming microphones along with proprietary software to "seamlessly blend the sounds of life with your entertainment." Like Nigel Tufnel's famed guitar amp, Dolby LifeMix "goes to 11." When set to the maximum setting of 11, LifeMix goes into "Boost" mode, augmenting environmental sounds, allowing you to hear even the quietest sounds around you.
LifeMix can be controlled using the Dolby Dimension app, but you can also control the feature using the touch controls built into the right ear-cup. These controls also allow you to adjust volume and control playback. Swiping up and down adjusts volume, whereas a side-to-side swipe skip tracks, and a tap plays or pauses your tunes. A double tap toggles between noise-cancelling and transparency modes. In addition to these touch controls, the right ear cup has four physical buttons: one for power and three for choosing inputs. The Dimension features "one-touch switching," which allows you to pair the headphones to three devices simultaneously, and then instantly select which one to listen to. If, for example, you regularly listen via a smartphone, a computer, and an Apple TV, a single button press is all you need to switch among them. You can manage up to eight devices in the app.
Compared to many bluetooth headphones, the Dolby Dimension doesn't have great battery life — not surprising when you consider how much processing power they have on board. You can get about 15 hours per charge in power conservation mode, but that number drops to just 10 when you use the Virtualization and LifeMix features. But the Dimension is really designed for home use more than for travel. Dolby expects that you'll use the headphones to watch a movie or binge-watch a few episodes on Netflix, before returning the Dimension to the included charging base. A full charge takes two hours, but just 15 minutes of charging provides enough juice to watch a whole movie.
Is Dolby Tech Enough to Edge Out the Competition?

The Dolby Dimension headphones deliver a lot of impressive technology, but they aren't without competition. High-end headphone specialist Audeze has a new wireless model called the Mobius ($399), which also promises immersive surround sound and advanced head-tracking capabilities, making it a hit with gamers and audiophiles alike. It also uses Audeze's planar-magnetic driver technology, which the company has developed over a decade-long period of building some of the best headphones in the world.
Will the Dolby Dimension justify its $599 price, or will Dolby's first consumer hardware product be a flop? Share your thoughts in the related forum thread below.
Confused about what AV Gear to buy or how to set it up? Join our Exclusive Audioholics E-Book Membership Program!
Recent Forum Posts:
Pottscb posts on March 30, 2019 15:39
I agree, they've created an extremely complicated and expensive solution to a simple problem…just don't wear headphones. The least expensive floor speakers or sound bar will "move the sound 90 degrees to the right when you turn your head to the left." So will any person talking to you. These would have to be seriously talented in surround and 2 channel to justify half this price…I can see Sony and Bose coming out with a much better option, and at $600 they might want a piece of that market (they already have serious EQs, active noise cancelling and all day batteries built in to their WH-1000XM3 and QC 35ii)
MR.MAGOO posts on March 23, 2019 14:29
I think part of that $600 price tag is the name "Dolby' just my 0.02 cents.
Paul Lane posts on March 21, 2019 15:22
I have had a number of "Dolby Headphones" and the were about $200..
They were cheapo gaming types from Turtle Beach and Tritton all worked but the volume was too low, wasn't real Dolby, needed charging sometimes while watching a movie, and a lot of batteries and WiFi running next to your brain!!
My TCL 4K TV has a headphone jack and Earbuds work way better..
$699 seems expensive for not actual Dolby Surround..
ByeLaw posts on March 20, 2019 03:32
Head tracking? Ok, I can understand a limited appeal for this but generally if you're watching a movie you'll be looking straight forward at the screen so your head won't be moving that much at all…. except for picking up that biscuit you dropped on the floor…. 5 seconds rule, it'll be ok to eat again

A headphones that takes a Dolby Atmos signal and creates a virtualization it… reality: it doesn't take a Dolby Atmos signal, uses a downmix instead and approximates it using a decoder. Doesn't sound HiFi to me.

It's expensive, I mean it's really expensive… and with all that technology I have to wonder if it's actually any good at playing music?

The review (is it a review, not sure?) reads a little like a marketing exercise, but seems to miss the most important thing about buying headphones… do they sound ok?

Like Dolby reflective up firing speakers, I'll put this firmly in the Gimmick category.
Schrodinger23 posts on March 18, 2019 16:04
What a half baked product this is. When I saw the title of the preview and the pricepoint, I was immediately ready to almost say, "yes, sign me up." Imagine the money you would save if you were the only one in your house interested in audio. You could get a good pair of speakers and a subwoofer for a 2.1 channel setup for when everyone is watching TV together, for more casual stuff. But, if you yourself spend most of the time watching movies and TV and would like to enjoy Atmos on a tiny budget, you could get out these headphones.

The problem is that they don't even accept a Dolby Atmos signal! They are going to take a downmixed version of the audio and then apply the Dolby upmixer and they trickery with the phase to try to position things where the upmixer says they should go. If it sounds any better than just a stereo mix of the sound through these headphones, I would be shocked. The fact that this is coming from Dolby, as in they created Dolby Atmos, is what is most surprising about this.
Post Reply