Arylic Brings Whole Home Audio To Your Favorite Speakers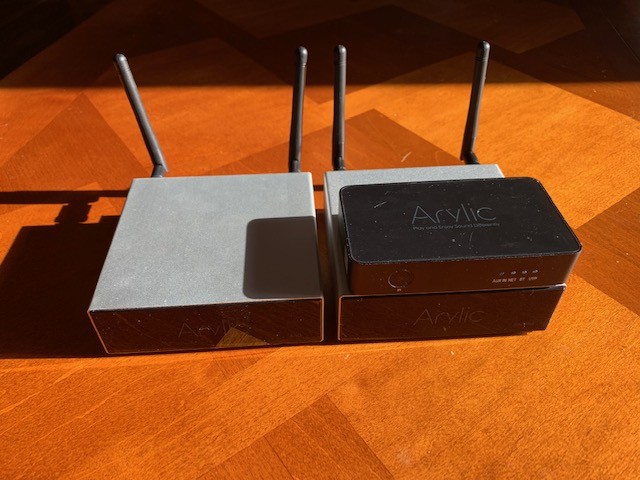 Arylic Audio
Summary
Product Name:

A50 Amp, S10 and S50Pro Streaming Preamp

Manufacturer:

Arylic

Review Date:

October 19, 2020 00:05

MSRP: $169 - A50 Amp, $69 - S10, $199 - S50Pro
First Impression:

Gotta Have It!
Executive Overview
We've seen some pretty cool ways of linking every room in your home with ear fulfilling audio bliss. Many receivers have their own streaming options for whole-home audio, but they're very brand specific. Denon and Marantz have HEOS, Pioneer has Fireconnect, Yamaha has MusicCast, but only streaming speakers that are made by those companies can connect with your receiver. 
Audio company Arylic gave us a chance to try out three of their products designed to bring whole whole audio into your house using your existing hardware. With the Arylic devices, you can take several of their products, add a pair of passive speakers or receivers, and you've begun to build your whole home audio system. If you've never heard of Arylic, that's OK they're a fairly new company.
Arylic was founded by a group of expert people with different skills from home audio, lifestyle, and new technology products. With more than 10 years of experience designing products behind the scenes, we made the decision to make some products of our own.
--Arylic
The Arylic website sells everything from remote controls, RCA cables, and in-ceiling speakers, to amplifiers and streaming preamps all at reasonable prices. We were able to try out two of their streaming preamplifiers, the S10 and S50Pro, and a small amplifier, the A50, to see if they were a good deal or just cheap garbage.
Arylic A50 Streaming Amplifier YouTube Review

A50 Amplifier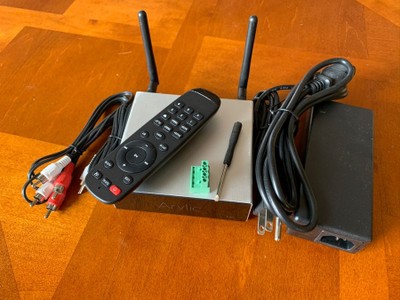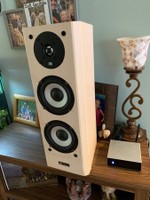 Ok, so the $169 A50 amplifier with 50 watts per channel is not going to power Gene's old Status 8T speakers, but it is a cool little device.  You simply hook a pair of passive speakers up to the box and you're ready to go. With the A50 you can stream your audio to your speakers using your phone or tablet as an interface. The A50 can use Wifi, Bluetooth 5.0, Apple Airplay, DLNA and Universal Plug and Play devices to get your music playing OR you can go wired through USB or RCA.  There's no 3.5 mm AUX in, but they do include a 3.5mm to RCA converter cable which is a pleasant surprise.
All their amps and streaming preamps can run on either the 4stream or Muzo App which are available on Google, IOS, and Android devices. Both apps received mixed reviews by users.  I tried the Muzo App. Most reviews said they had trouble switching music from one device to another in their home, but I thought the app worked fine.  Most of the time I was using Qobuz in the app to stream music to my Arylic devices so most of the functionality relied on Qobuz rather than Muzo.
The A50 amp, S10 preamp, and S50Pro preamp all come with Bluetooth 5.0, but the ability to stream 24bit/192kHz music will most likely have most users running the system through wifi. The margin between wifi and Bluetooth is narrowing with every new version of Bluetooth. WiFi still coming out on top, but just barely. 
So what's so cool about the A50? If you're an audiophile like me, you might have a pair of older bookshelf speakers laying around that you want to set up in a home office or smaller listening room without setting up an entire receiver. You can take a pair of passive bookshelf speakers and with minimal time and very minimal space get them powered with the ability to stream high-resolution music all over your house.
The A50 does come with a pretty decent DAC with the STA326. To give you an idea of how good it is, go to the Qobuz store online and look at their recommendations for full digital amplifiers.  Two out of four of them use the STA326 DAC.
If you need budget-minded speakers to match the A50 and you're not sure where to begin, Audioholics posted a great article on our six favorite bookshelf speakers for under $100/pair written by James Larson. He's heard and made detailed measurements on a ton of speakers over the years so if he says they're good, chances are they're great.
S10 and S50Pro Streaming Pre-Amplifiers
Both the S10 and S50pro are designed to take a signal: usually through wifi and send it to an amplifier or a powered pair of speakers using your phone or tablet as a controller using the 4Stream or Muzo App and then running one of your favorite streaming services such as Qobuz, Spotify, and Pandora. Just like the A50 amplifier, if you have several of these Arylic products throughout the house, you can link them all together to play the same music or different music in each area.
The major difference between the $70 S10 and the $200 S50Pro are the inputs and the DAC. The S50Pro has the ESS Sabre DAC (110dB SNR) which is a much better DAC than what comes with the S10 (91dB SNR). I would recommend the S50Pro for critical listening applications or when you wish to connect multiple source devices and the S10 for applications involving streaming background music or zones of audio that just aren't as focused about hi-fidelity.
The inputs in the S50Pro allow you to hook up a variety of devices that you would normally input directly into your receiver. The coax and optical out then allows you to have a digital output so you can run the DAC from your receiver instead of the DAC inside the Arylic S50Pro. 
The S50 Pro can take an analog source like a CD or vinyl record and send it to all your Arylic preamps or Arylic amps throughout your house.
Conclusion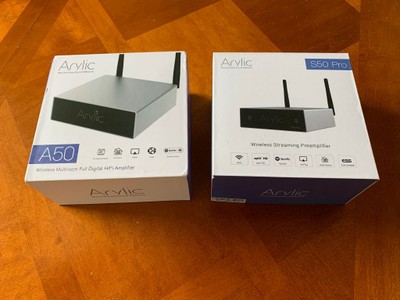 If you already have receivers in every room in your house and you don't want to spend thousands of dollars on the newest whole-home audio system, you can put a $69 Arylic S10 on any extra receivers you own, a $169 A50 on any speakers you have at your house not hooked up to a receiver, and a $200 S50Pro on your main system to push things like CDs and Vinyl to every room in your home using your existing hardware. This allows you to purchase from several different companies and choose whatever speakers or receivers you like.
Don't forget to >Register to Win< a brand new Arylic A50 Amplifier (contest ends October 31, 2020). Good luck!

Confused about what AV Gear to buy or how to set it up? Join our Exclusive Audioholics E-Book Membership Program!
Recent Forum Posts:
keatonhj posts on November 03, 2020 05:22
Damn I just registered…. I'm too late.
gene posts on October 19, 2020 03:50
-Jim- posts on October 03, 2020 06:09
Boohoo => I'm in Canada…
its phillip posts on October 01, 2020 20:14
Woohoo
Wayde Robson posts on October 01, 2020 19:51
Arylic A50 - WiFi & Bluetooth 5.0 Wireless Stereo Amplifier Giveaway!
Contest CLOSED
Winner to be contacted soon, good luck!
We've partnered with Arylic to give away a new Arylic A50 WiFi & Bluetooth 5.0 Stereo Amplifier!
40372
Register Now
for Your Chance to WIN!
Wireless Multi-room stereo amplifier for speakers:
A50 is a wireless digital integrated Stereo Amplifier for speakers. You can stream your audio wirelessly to your speakers with Wi-fi, Bluetooth 5.0, Airplay, DLNA & UPnP. It is the simplest way to enjoy music wirelessly.
STABLE STREAMING: Wi-Fi Streaming is more stable than Bluetooth without audio compression or latency. Enjoy better experience with music streaming.

BRILLIANT SOUND: A50 Amplifier equipped with 2.0 stereo pair system and STA326 DAC, allows you to experience theater-like audio at home.

EQ CONTROL: Customize your favorite audio effect with our Free iOS & Android APP.

BUILD UP YOUR WHOLE HOUSE AUDIO: 50W*2 Dual stereo channel and multi-room features, with only a phone you can control your whole house audio and enjoy hi-res music in every corner.

ALL THE MUSIC YOU LIKE: Supported music streaming services include Spotify, Pandora, Amazon Music, Tidal, Deezer, Qobuz, Internet Radio, iheart Radio, Napster and more. You can also access your personal music collection from NAS or USB, your favorite music - your way!

Manufacturer Information:
Arylic A50 Wi-Fi & Bluetooth
Please Read Before Entering:
Contest Rules, Terms and RegulationsEntry must be received
BEFORE 10/31/20 at 11:59 PM EST
PLEASE NOTE:
By registering for the contest, you are agreeing to receive both the Audioholics and Arylic email newsletters. Contest open to the
Continental US
only.
To enter the Giveaway, simply:
1.
Register
to receive the Audioholics and Arylic email newsletters.
2. Respond using that same address if you are contacted as the winner.
<<< Click Here to Register for the Giveaway! >>>
Entry must be received BEFORE 10/31/20 at 11:59 PM EST
PRIZE DESCRIPTION

From Arylic:
"Streaming your Music Everywhere! Anywhere in your household Wi-Fi you can just take out your phone and play the music for your whole family. A bedtime Story for your kids, or a love song for your significant other, it's easy and wireless."
"Free iOS & Android App! Our App called 4stream is compatible to your iOS & Android system. Keep your A50 up-to-date using the free app & receive automated firmware update notifications."
The Audioholics Video Review of the Prize:

ZMdcrh5a-2Y
Arylic A50 System Review
PRIZE:
One Arylic A50 Wi-Fi & Bluetooth Amplifier
(Retail value: 199.99)

IMPORTANT NOTE:
Prize to be sent through November 2020.
CONTEST RULES:
To enter, simply provide email address and follow confirmation to sign up for the Audioholics and Arylic newsletters. Read the complete Contest Rules, Terms and Regulations before entering. One new subscriber who joins between now to 10/31/20 will be chosen at random as the system winner. Only one entry is accepted for the contest. The system will know if you already entered and will prevent you from multiple entries. * Don't wait, the entry period ends
Oct 31,
2020 at 11:59 PM EST! Contest open for Continental US only.
Post Reply