SONOS Playbar, SUB, and Play:5 Review
SONOS Playbar, SUB, and Play:5 Review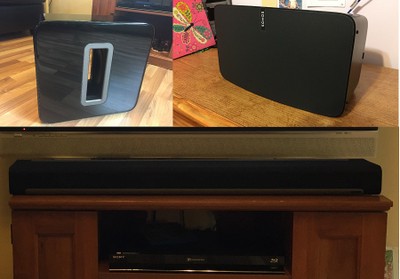 Playbar
Amplification: Nine Class-D digital amplifiers
Drivers: Three tweeters, Six mid-woofers
Inputs: Optical input, Ethernet
Dimensions: H x W x D 3.35 x 35.43 x 5.51 in.
Weight: 11.9 lbs.
SUB
Ports: Dual acoustic ports
Drivers: Two force-canceling speaker drivers
Amplification: Two Class-D digital amplifiers
Frequency response: Plays down to 25 Hz.
Dimensions: H x W x D 15.3 x 15.8 x 6.2 in
Weight: 36.3 lbs.
Play 5
Amplification: Six Class-D digital amplifiers
Drivers: Three tweeters, Three woofers setup in a phased speaker array (three drivers on top and three on the bottom)
Dimensions: H x W x D 8.03 x 14.33 x 6.06 in.
Weight: 14 lbs
Pros
Playbar- Great soundstage and separation and the optical cable makes for easy setup
SUB- Easy pairing with other SONOS products and good sound from a small unit
Play 5- Great sound from a wireless speaker system
Cons
Playbar- Hard to connect to wireless and no bluetooth or AUX
SUB- Can only pair with SONOS products and it's pricey ($500)
Play 5- No bluetooth and difficulty with multiple wireless setups.
Audiophiles today install sound systems in every room in their house, and every TV in every room has to have some sort of sound system or home theater to play your tunes, shows, video games or movies.  The problem has always been:
a.    Do I setup multiple systems in multiple rooms (price?)
OR
b.    Do I setup one system with different zones to multiple rooms (crazy cable runs?)
Wireless audio company SONOS decided to give you an option "c". Have stand alone wireless speaker systems that easily work together to provide music or home theater sound to all parts of your home.
Started in 2002, SONOS' goal was to reinvent home audio for the digital age by connecting multiple devices in multiple rooms for seamless integration. Their visionary plan was to be able to walk from room to room with your omnipresent smartphone in hand to cast your music wherever you are in your house.
If you've been looking at wireless whole home speaker solutions recently, you've probably come across SONOS. They currently have six options for bringing music to different parts of your home including their SONOS One, Play:1, Play:3, and Play:5 compact wireless speakers, and their Playbar soundbar.  All four speaker systems have to ability to link to a wireless sub simply called the SONOS SUB.
To get an idea of how well the SONOS line of products worked together we decided to test their Play:5 and Playbar models in separate rooms while linking their SUB to the playbar for a 3.1 surround system.
Sonos Play:5, PlayBar and Wireless Subwoofer YouTube Review
Play:5 Overview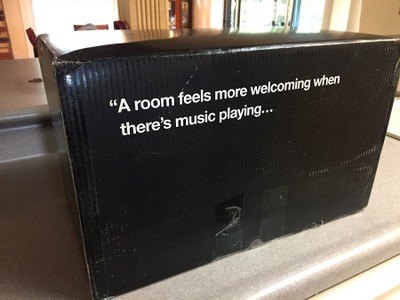 The Play:5 arrived triple boxed. The unit was securely and safely nestled inside the innermost box with the quote, "A room feels more welcoming when there's music playing…" emblazoned on the side. Simplicity rules here. Just the Play:5, a power cord, and Ethernet cord, and a quick start guide. Nice.
I received the black finish, but the Play:5 also comes in white.  For a speaker system the size of a shoe box, the unit is surprisingly heavy coming in at 14 lbs. The graphite grill on the front of the speaker is solid feeling with an ample amount of holes (SONOS says over 60,000) to let the sound through. The top of the unit contains the touch response buttons for volume and track changes as well as a centrally located multicolored light indicator for setup.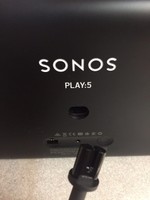 The rear of the Play:5 has a line-in for connecting your Play:5 to a non-wireless device and then sending that music to other SONOS speakers around the house. Also on the back of the speaker is the Ethernet port, synch button, and antitrip and fall power cord.
On a Personal Note: The power cord drove me crazy for the Play:5. If you slightly moved the unit the power cord unplugged from the back of the Play 5. This probably won't be a problem for most people since normally you won't move your unit after setup. But for the smaller SONOS One, Play:1 and Play:3 this might present an issue.
The Play:5 comes with 3 mid-woofers and 3 tweeters in a sealed cabinet with a phased speaker array (three drivers on top and three on the bottom) to help create a wider stereo soundstage directing sound left, right, and center and for power, the Play:5 has six class D amplifiers.
The Play:5 is humidity resistant (NOT waterproof or weather resistant) so big master bathrooms and outdoor patios can be opened up to SONOS music. It went beyond the scope of this review to see just how water resistant the Play:5 is so we'll just have to take SONOS' word for it.
The SONOS Play:5 is designed to be oriented in either a horizontal or vertical position and the rubber feet on the sides and bottom do a great job of keeping the Play:5 in place. The unit recognizes the orientation so when it's horizontal, it's in stereo and when it's vertical, it's in mono. Structurally the Play 5 is a very well built unit. A solid, clean design make the Play:5 easy to integrate into almost any home décor.
Play 5: Setup

The first step to installing your new SONOS system is downloading the app which is available for both iOS and Android users. After installation, the app will guide you through a series of steps to get your Wi-Fi connected to your SONOS device.
We won't go through all the steps since SONOS does a pretty good job of walking you through it with their setup options and questions. I did like the fact that SONOS added some default help solutions along the way in case you were confused about what you were doing.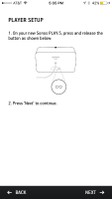 Depending on the generation and model of the SONOS product will determine the buttons to push to get it to link up with your wireless network. In this case I was using the newer models of the SONOS Play:5 so there is a specialized button on the back of the unit for connecting the Play:5 to your wireless router.  The Playbar on the other hand and older models of the Play:1, Play:3, and Play:5 require you to simultaneously press the play/pause and volume up buttons. The app will guide you through it, but if you decide to re-setup the system in a new house you might forget which device is older or newer which might cause problems during reinstallation. The good news is there are just a few combinations for the SONOS models and as mentioned above the app will help you figure it out.
If problems persist in connecting to your wireless network SONOS will advise you to connect straight through an Ethernet cord directly from your router.  Not a big deal if you are connecting one of their smaller models, but maneuvering their Playbar through the house and connecting it to an Ethernet cord tucked behind the desk in my office is another matter. 
Editorial Note: Operational Quirk

While I was reviewing the SONOS system there was a SONOS software update which caused the SONOS app on my phone to lose connection with my system. I eventually got it working again, but these are the little quirks that still need to be worked out.
If you have two units the Play:1, Play:3, and Play:5 speakers can be used to turn each speaker into separate left and right channels for larger stereo sound. It's a pretty cool feature that many companies are integrating into their smaller speaker units. The feature that makes SONOS so unique though is that you can take these two smaller speakers and use them as wireless rear speakers in conjunction with the playbar and sub for a 5.1 system without any speaker wires, just the power cord.
Another issue we had with the Play:5 was volume control.  Although you can adjust the volume in some apps, we had issues with others using an iPhone 6 as the streaming device. The side volume buttons on my iPhone also had a very limited volume range as compared with the volume control from the app. 
Playbar Overview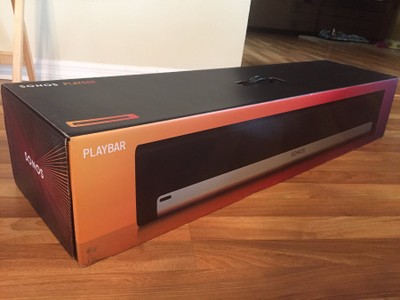 The SONOS Playbar was also double boxed for protection and arrived in perfect condition. Like the Play:5, The Playbar is made of high quality materials from the metal and plastic body to the form fitted soft fabric speaker grill.
The SONOS Playbar features nine speakers: six 2.5" mid-bass drivers and three tweeters. SONOS says they are designed in a phased speaker array to deliver "directionality" creating a wider sound stage. The unit also features Nine Class-D digital amplifiers tuned to match the nine dedicated speaker drivers and the acoustic architecture. SONOS does pack a lot of speakers and electronics into their unit.  To give you a comparison of a product of similar price, the Pulse Soundbar from Bluesound has 6 speakers. two tweeters, two 2" mids, and two 4" bass drivers.
Playbar Setup
I set the Playbar right on my entertainment center and it fit nicely just below the level of the television speakers so as not to obstruct the view of the TV. The SONOS Playbar also has the option of mounting the unit right to the wall.  The wall mount is a $39 option (free shipping) and can be purchased directly through SONOS.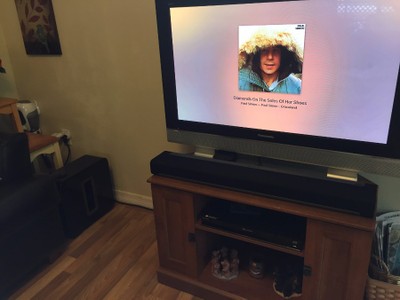 SONOS advertises easy setup with their Playbar unit. A power cord and an optical cord for your TV, that's it! Physically hooking the Playbar up the TV was a breeze; no issues, but I had similar problems connecting the Playbar to my wireless network as I did with the Play:5. It took several tries to get it right, but eventually everything worked. Installation of the SUB was much easier.  It connected without any issues the first time.    
Some soundbars I have reviewed recently include a cheap remote as the only means to control the volume of their unit.  Although they work fine, it's one more pesky remote to add to your collection.  The Playbar works with almost all TV, cable box, and universal remotes by learning their infrared (IR) commands during setup. The remotes you have are all you need.
Some cool features that have been added to the Playbar are sound options such as Speech Enhancement designed to clear up muddy dialogue scenes. Another option is Night Sound. In the Night Sound mode, quiet sounds are enhanced at lower volume levels and the intensity of loud sounds is reduced.
SONOS SUB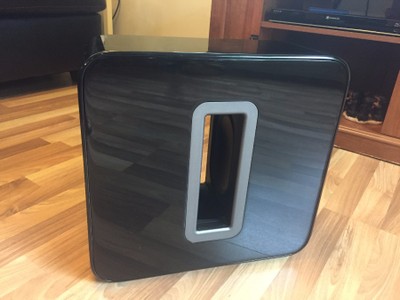 The SONOS Sub has a weird looking O shape and is constructed around two oval 6" drivers in a push-pull arrangement.
SONOS says, "You can stand it tall or lay it flat and even hide it under the couch either way, SUB brings out the bottomless bass you desire." The SUB is cheaply made for its $600 price tag. No bracing or inert materials here, just hard plastic. But if you're more interested in paying for the convenience of having everything work together seamlessly in the SONOS world then I wouldn't rule the Sonos SUB out. It did add a considerable amount of bass to the Playbar and all the controls for the sound levels are in the SONOS app. The SUB is equipped with rubber feet to prevent scratches and comes with additional felt feet if you want to lay it flat.  It features class D amplification and dual drivers in what Sonos calls "force cancelling" where the drivers face each other and allegedly cancel out cabinet vibrations.
Trueplay Room Calibration
Continuing with the idea of simplicity, SONOS also integrates an acoustic calibration system called Trueplay for tuning your speakers to your room.
Trueplay uses your Sonos app and the microphone on your iPhone or iPad to measure how sound reflects off walls, furniture and other surfaces in a room. Trueplay then makes acoustic adjustments to your speakers. The calibration took less than four minutes with my iPhone 6 and made a big difference in the soundstage of the room. Sorry Android users, no integration of Android devices is coming in the foreseeable future.
On this subject, SONOS comments:
We realize many Sonos users, and music lovers considering Sonos, are happy Android users that want to use their phone or tablet of choice to Trueplay tune their Sonos speakers. Unfortunately due to the wide variety of devices on the Android platform using different software versions, microphones and ways to process audio we could not ensure a consistent and reliable Trueplay tuning experience thus far. It's absolutely our intent to support Trueplay on Android so know we haven't lost sight of this gap and are quite unhappy about the lack of Android support.
Confused about what AV Gear to buy or how to set it up? Join our Exclusive Audioholics E-Book Membership Program!
Recent Forum Posts:
Calvert posts on May 02, 2018 20:06
everettT posts on April 28, 2018 12:32
MWD, post: 1235930, member: 78014
Plastic subwoofer? It's 36 pounds.
I have sub drivers that weigh more than that 36#s is light
AlainB posts on April 28, 2018 10:52
I have been selling and using SONOS for 6 years and it's the most complete wireless system out there. Every audio manufacturers have a wireless system to offer. Lots sounds as good and some better than SONOS but the mesh network and ease of use make it number one. Their customer service is awesome which helps if you have the connection issues you are talking about, and is usually related to Wi-Fi.
Hobbit posts on March 01, 2018 10:25
Hi Gene, Thanks for the review. I was just thinking of starting a thread to see if anyone here uses Chromecast and what their thoughts on it is?

I just picked up a new internet radio, GD Mondo Plus, with built in Chromecast. As some might remember, I loved my GD internet radios. I have an eclectic taste in music and most the big music providers just don't go that deep into tracks or even genre's. It takes a little footwork, but you can find some amazing stations out there, with very good quality too. Fusion 101 is one of my favorites.

Going forward, some of the music providers are not allowing built-in (native) apps. Pandora is one of these that is not allowing devices run Pandora as a native app.

The solution for GD was build Chromecast into their devices and then you use your smart phone (i or droid) For those who don't know, there's a little button in the apps that then transmits what's playing on your phone to your Chromecast enabled devices. Actually setup was unbelievably easy. Once you Chromecast enabled devices is running, it doesn't need the phone anymore.

At this time I'm still kind of up in the air about it. There's a wealth of Chromecast enabled apps. I can add a Chromecast dongle for $35 toentertainment systems which will then allow multi room music. The downside is you need your phone, which becomes a remote at this point.

With Chromecast and Chromecast Audio you can connect to just about anything. But, there's extra steps involved; you just can't turn on a device in a room, channel select, and have it work. This may not be an issue when setting up for multi room. It's more of a nuisance when you walk into a room and just want to turn on the device to your favorite selected channel.

Sorry! I went on longer than I thought and probably should have started a new thread.
MWD posts on March 01, 2018 10:21
Plastic subwoofer? It's 36 pounds.
Post Reply