Bowers & Wilkins PX7 Noise Cancelling Wireless Headphones Review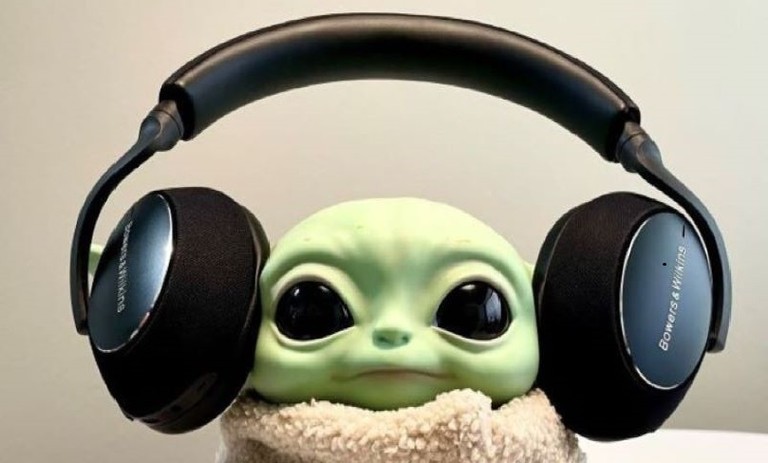 Bowers and Wilkins PX7 Headphones
Summary
Noise Cancelling (Active): Yes
Connection Type: Wireless

Wireless Connectivity: Bluetooth
Headphone Fit: Over-the-Ear
Battery Life: 30 hours
Driver Size: 43.6 millimeters
Bluetooth Version: 5.0
Built-In Microphone: Yes
Charging Interface: USB Type C
Product Weight: 0.67 pounds
Manufacturer's Warranty Parts and labor: 2 years
Executive Overview
Bowers & Wilkins is one of those companies that needs little introduction in the audio community. B&W is well known for making some of the world's most coveted loudspeakers, including the 800 Series Diamond towers that are used as monitors to create music and movie tracks in England's renowned Abbey Road Studios.
Personally, I have had a special relationship with B&W for close to 30 years, in fact my very first pair of "High End" speakers were Matrix 803's bought back in 1998. I had high expectations for headphones with the Bowers & Wilkins logo and I am glad to say their PX7 noise-cancelling wireless headphones did not disappoint.
Tech
T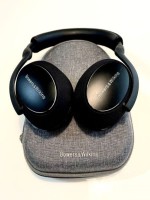 he carbon fiber parts of these headphones are stiff allowing for a very secure but extremely comfortable fit. A big part of this comfort is the very well-made memory foam ear cups. These deep cups really conform to the ear creating a solid seal with the ear that helps with both keeping sounds out and no uncomfortable "hot spots" during extended use. The PX7s are medium sized headphones but feel fairly small when wearing them. In fact, I use them in the gym as well on my nightly three-mile walks (where I appreciated their ambient pass-through mode), although not ideal for sports use (especially the gym), they are very stable in use and I greatly enjoyed the Noise Canceling and enhanced sound that absolutely destroys even the best quality ear buds. The semi-gloss blacks along with carbon fiber topped off by the Bowers & Wilkins logo creates a high-end appearance, making you really feel like you have a true audiophile product.
I felt that the noise-canceling worked as advertised, my point of reference is Sony's1000XM3, a phenomenal product in its own right, I would say the B&W's noise cancelling was right on par, not quite as good as some Bose models I have reviewed in the past, but darn close. Although I did not fly during this review, the noise canceling worked great, even keeping the loud sounds of indoor volleyball down to a comfortable level. 
The B&W PX7 CFE uses larger 43.6 mm drivers (there is just no replacement for displacement), so you can crank up volume levels to satisfy just about anyone. As for the battery life, B&W claims 30-hours and after testing this twice on a full charge, I found the battery to last over 29 hours, so close to 30 I'd have to call this a draw, this really pleased me as I have found many companies tend to be very liberal in their battery life ratings.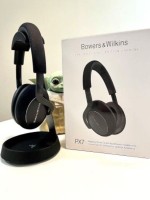 One feature that I appreciated were the hard button controls located on the right side. These buttons are so easy to operate that I found myself using these headphones in my day-to-day life.  (i.e. Bluetooth headphones connected to my phone for calls every day as I work, then in the evenings as I work out). I liked PX7 Carbon so much that they became my go to daily headphones; the phone calls are crystal clear on both ends. Although I have seen reviews that said that they did not find the PX7 Carbon to sound clear when making calls, but I found this to be the opposite.  I have had zero complaints about my voice clarity from people on the other end of the cell tether.
B&W has a basic but useful app available for IOS and Android, this allows for changing of noise cancellation modes, ambient pass-through mode, battery level along with some relaxing soundscapes built into the app (cool feature). One feature not included is any kind of EQ, I hope B&W includes this in some future app update. I also wanted to commend B&W on their fast-charging feature. This is an important one for me and I suspect many of you since sometimes people forget to charge their devices, especially before they are to be used in one of our day-to-day life adventures, like taking your teen daughter to volleyball practice.
Sound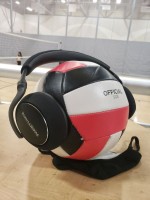 I did most of my listening streaming Tidal from my I-Phone 12 via the latest hi resolution Bluetooth supported by both the PX7 and the iPhone. After extensive listening sessions over several months I have to say that the PX7's produce the best sound I have yet to hear from any Bluetooth headphone while streaming music.
Listening to Daft Punk's "Something About Us" master track I found the B&W's to have a very full and detailed sound. The extremely well produced sound of this track can be a real test of any headphones/speaker's ability to reveal bass accuracy, the PX7's handled this very well. This song has deep driving bass, heavy use of synthesizers and strong vocals that all came through with such defined sound that I had to remind myself that I was listening to headphones that only cost $399.
Then I switched to something a bit more aggressive (Gym Music) with one of my favorite new artists Clever. I played "Loyalty" from Clever's self-titled album. This is a bass heavy track in the hip hop genre similar to Post Malone, only with Clever's haunting voice and heart felt lyrics. The PX7 did a commendable job of separating the strong low frequencies from the singer's haunting vocals preserving great range and with no added colorization that some wireless headphones add. In fact, the PX7's reminded me of some of my much more expensive dedicated "Audiophile" headphones. Could it match the amazing sound of my Focal Clear headphones? No, they cannot, but they get so much closer than they should be able to with an $1100.00 price difference. Well done B&W!
So being impressed with the wireless performance, I decided to hard wire the PX7 to my Headroom Micro headphone Amp/DAC combo. When hard wired, these headphones really light up, as good as the Bluetooth performance is, it does not compare to hard wired option, as anyone would expect. I played Diana Krall's classic 'Peel me a Grape", one of my reference songs. The B&W's excelled with this fabulous recording, just falling short of the detail I am used to with my reference Focal headphones. However, once again the B&W PX7s are less than 1/3rd the price of the Focal's and when paired with a decent headphone amp, the B&W more than holds their own with much higher end headphones.
Conclusion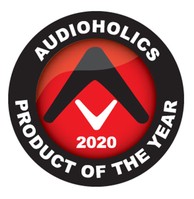 Bluetooth convenience and noise cancelling are great features many people will use daily, but in my heart, it is the sound quality that makes any headphones worth the effort. The sound quality of the Bowers & Wilkins PX7 Carbon Edition was excellent, in fact, the best sound I have heard from any other noise cancelling headphones in its class. Excellent construction, long battery life and effective noise cancelling all work as advertised, but the sound quality is what separates these from the competition. These are the reasons all of us at Audioholics chose the PX7 Carbon Edition as our 2020 noise-cancelling headphones of the year.
Highly Recommended!

Confused about what AV Gear to buy or how to set it up? Join our Exclusive Audioholics E-Book Membership Program!