Focal Replaces Clear with All-New Improved Clear Mg Open Back Headphones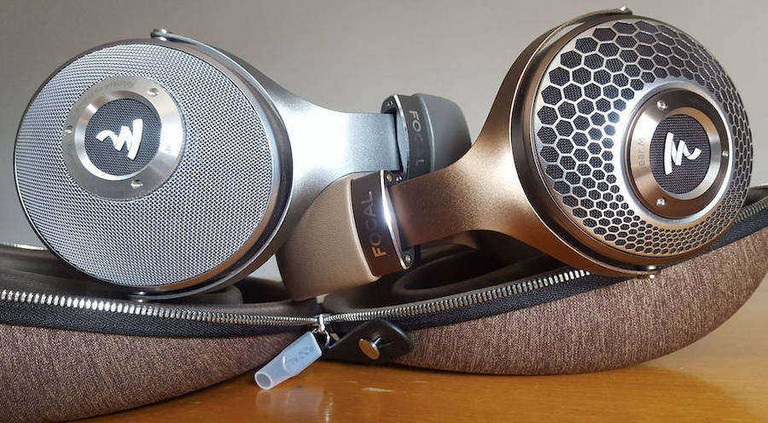 Focal Clear and the new Clear Mg
Summary
Focal Clear Mg - Circum-aural open-back headphones
Impedance: 55 Ohms
Sensitivity: 104dB SPL / 1 mW @ 1kHz
THD: 0.25% @ 1kHz / 100dB SPL
Frequency Response: 5Hz – 28kHz
Speaker driver: 1 5/8" (40mm) 'M'-shaped magnesium dome
Headphone Weight: .99lbs (450g)
Cables Supplied: 1x 3.9ft (1.2m) mini-jack cable with 1/4" (6.35mm) jack adapter | 1x 9.8ft (3m) 4-pin XLR cable | 1 jack adapter, 1 1/8" (3.5mm) female – 1/4" (6.35mm) male
Carrying case provided: 9 7/8 x 9 1/2 x 4 3/4" (250 x 240 x 120mm)
Executive Overview
Today we have a good-news/bad-news scenario from Focal, makers of some of the world's finest hi-fi headphones. Since most of us want to get the bad news out of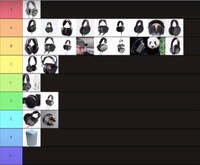 the way first, I'll start here: Focal has discontinued Clear! Focal will stop making one of its most widely loved fan favorite headphones. But the good news is that Focal will replace Clear with the new and improved Clear Mg. Focal promises that Clear Mg is designed to capture the same overall sound signature we've grown to love in Clear, but with one significant improvement. Clear Mg will feature a new all-magnesium driver. Aesthetically, Clear Mg brings a new look to the Clear moniker and the new variant will continue retail for the same price as original Clear.
What a difference five years makes! I reviewed Clear back in 2017 and while I was thoroughly impressed with Focal's new headphones. I wasn't as excited about it in retrospect as perhaps it deserved. My thinking then was that although Clear presented a tangible improvement in a more balanced sound-quality over the Elear, I wasn't sure if Clear was enough of an improvement to warrant the extra $500 price, especially if you liked Elear's more bass-forward presentation. But since that time, Clear has grown on me, and the Overton Window has shifted on what constitutes expensive in a pair of headphones. Clear has gone on to be recognized as one of the finest high-end headphones available for its overall balanced sound, incredibly detail retrieval and natural-sounding, clear timbre. Regardless of your taste in sound and music, anyone can find something to love about Clear. It's consistently rated S-tier (Superb, the highest possible) by headphone fans and seasoned reviews alike.
How Does Focal Improve an Already Great Headphone?
Clear Mg brings a slick new color-combination unlike anything Focal has done yet. But the crucial difference between original Clear and Clear Mg is its new dynamic driver. Focal has designed a 40-mm magnesium (Mg) M-dome driver to replace Clear's original 40-mm aluminum/magnesium driver. The French headphone company promises the new driver doesn't disturb Clear's overall sound signature, but will only improve it with increased lightness and damping.
New Look - Clear Mg
Our perception of beauty may be deeply personal, but there are practical reasons why the new chestnut and metallic color combination of Clear Mg may be seen as a tangible improvement over original Clear.
Like other Focal headphones, Clear Mg carries the classic aluminum-constructed curves as the other entrants in its high-end line. The headband's locking mechanism lets you size the headphones with solid clicks that lock the earcups into your personal comfort space. Before you've even heard any sound, just sizing-up Clear Mg to fit your head is an exercise in seduction by quality-engineering.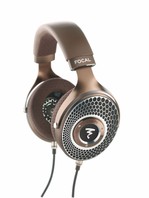 The headband is wrapped in leather and microfiber, dyed in Clear Mg's primary shade of brown to match the aluminum yoke and ear cushions. The parts of Clear Mg that touch your skin are made from a comfort-first breathable microfiber. The memory foam earpad's perforated microfiber is not only soft and comfortable but also acoustically seals the earcup to your head creating open rooms for your ears. The overall fit and feel of Clear Mg is the typical Focal luxury that we've come to expect.
One common criticism of original Clear was that its soft grey color may be susceptible to aging poorly, particularly the parts that touch skin. While Clear was also made with the same luxury-feeling microfiber, it has been pointed out that the light color could develop rings around the ear-pads over time from contact with skin, hair and sweat. Yes, it's not easy being human, we constantly exude substances, that's why we all wear masks now.
Clear Mg departs from Clear's flat grey with what it calls a "chestnut and mixed metals", successfully blending what seems like an opposing color palette. The light brown primary color with a chromatic hex-honeycomb pattern over the outer-earcups lends Clear Mg a taste of space-age futurism while remaining firmly rooted in terrestrial earth tones. The look retains subtle sophistication with undeniable flash, so you'll never appear to have gone "full geek" wearing them. But the brown shade of the earpads are liable to be more forgiving of staining over time than the original Clear's light grey.
Technology Inside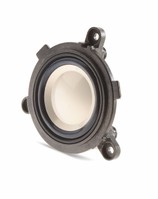 The choice of material composition for a dynamic driver always faces a conundrum, it must balance two opposing characteristics. The dynamic driver material needs strength and stiffness to avoid breakup while enduring high-frequency pistonic motion, but it also requires the delicate sensitivity to react to most minute details in the incoming signal. Focal says its new Mg driver improves on both counts without changing the overall sound of Clear.
Focal says of its newly developed magnesium dome driver:
"This new alloy, combined with an 'M'-shaped dome, contributes to even more lightness, rigidity and damping, the three success factors for a speaker driver. The sound reproduction is fine, precise and impactful, for a strikingly realist sound."
The launch of Clear Mg arrives close behind the release of Focal's first headphone to receive the new magnesium driver, Clear Mg Pro. I asked Focal for some insight into differences between Clear Mg Pro and Clear Mg and I was surprised to discover that they're virtually the same headphone. The only difference between the Clear Mg and Clear Mg Pro is the color and peripherals, as the Pro version is intended for audio professions. I would have expected that Pro would be tuned slightly differently to provide a flatter frequency response, but this turns out not to be the case.
The Legend of Clear's Creation
Focal told us that when designing a new headphone they don't necessarily follow a frequency response curve. Instead, there is a tuning process involving several listening sessions among various divisions that provide feedback on the sound. This is why different headphones in Focal's high-end line may be turned slightly differently. The story goes that when Focal's Pro Division got to hear one of the new headphones Focal engineers were working on, they said it sounded "clear, neutral and precise". Hence, the original Clear was born. The Pro division that created the Spirit Pro, released way back in 2014, had coveted the Clear design because they felt it would make a great high-end headphone for professional use. This led to the Clear Mg Pro's release last month. But as we know Clear had been specifically designed for use with a broader audience because of its pleasing tonal balance with an emphasis on accuracy across the frequency spectrum. Now Clear Mg arrives to provide the same Clear sound signature with slightly more clarity thanks to the improved driver.
So, unlike last month's replacement of Focal's closed-back Elegia with Celestee, Clear Mg wasn't created to shore up any perceived shortcomings. Celestee was designed to make slight improvements to the bass response of Elegia. But Focal says Clear Mg is doing nothing of the sort for original Clear—that's good news!
Sound Quality
After reviewing Celestee, Focal's new closed-back, putting on an open-back headphone is like an acoustic breath of fresh air. As you'd expect with an open-back, once you don Clear Mg your head is greeted with a sense of openness and air, a stark contrast to the isolation of Focal's closed-back line.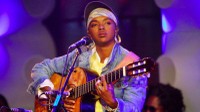 One of the songs I turn to for listening evaluations, especially when I want to really hear that open-air quality, is War of the Mind by Ms. Lauren Hill. The MTV Unplugged album was a controversial one for Ms. Hill, many felt she had phoned-it-in the day this live performance was recorded at the MTV studio in NYC. But I beg to differ. I appreciate the recording's lean intimacy with Ms. Hill's voice and her acoustic guitar behind a mic, the large studio setting and occasional murmur of the small audience brings the expanse of the studio to your ears.
Clear and Clear Mg provided all the openness and space of the performance without distractions or over-echo, it just sounds big. Near the end of the track, at about 4:20 into the song, the strain in Ms. Hill's voice is heard as she tries to hit the high notes with the word "Freedom!". She can be heard asking for some water at the song's conclusion. In my humble opinion, the little imperfections in her voice only adds soulful weathering to her performance, and they're a great test of detail retrieval of Clear Mg. Focal prides itself on building headphones with "emotion", a platitude that's inevitably backed by this recording.
Overall differences between Clear and Clear Mg are minute, but present. The composition of the new Mg driver conveys an additional cohesion, especially at higher frequencies over the original Al/Mg driver. Suspecting treble might be a good way to illuminate differences between the two Clears, I decided to test some jazz to listen for attack and detail of the saxophone, high-hat and cymbals.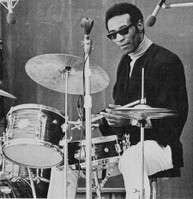 Percussionist and composer Max Roach regularly toys with the upper-end using his drum-kit in the recording Off My Back Jack, presented in high-resolution audio in Tidal's Master MQL format. It's a sonic glory to behold! Roach's rapid-fire percussion is expertly illuminated over both Clear and Clear Mg, but Mg consistently offers just that little bit of extra detail. I believe I'd heard the sonic difference between the Clears in Roach's cymbals. The attack and crash sounded identical across the two Clears, but its in the decay after the crash, as the reverberation of the cymbal fades that Clear Mg provides just little extra in the dynamics as it sets up for next crash. The difference is minute, but present in the highs.
A few times while switching back and forth between Clear and Mg, I actually had to check to ensure that I didn't have the volume set one-notch higher on my headphone amplifier or that the specs didn't give Clear Mg an extra decibel of sensitivity over original Clear. Neither were the case, the two headphone's have identical specs and were set to the same volume. It turns out, the added illumination in the transition from Roach's light tap-tap tapping on the high hat to the full-on crash of the cymbals was a function of Mg's slightly elevated dynamics. But its the middle-high-to-high frequency range percussion where the sweet-spot is found, that's where I could reliably hear that slight difference between the two headphones. It's only slight, but it's like a thin transparent film you didn't know was there is suddenly pulled off Max Roach's drum kit.
In every other way the two headphones sound identical to my ears, in Clear and its Mg successor you get one of the most dynamic headphones made yet in an open-back form. They carry a largely neutral sound tinged with that Focal warmth and incredible detail. While Clear was never the champion of ultra-wide soundstage, its sonic imaging is highly controlled and open. You don't get the expansive soundstaging you might find in some high-end planar magnetic cans, but the sound seems to envelop your head with just a little more width than Focal's own closed-back headphones, Celestee and Stellia. But where Clear Mg hits the nail on the head is in dynamic range at any volume. Punch and slam are second to none I've heard. As the name suggests, Clear Mg is still Clear in every way, with just the merest improvement that was audible in the highs and upper-midrange.

Celestee and Stellia are an example of two Focal headphones I've reviewed that have much in common. And similar to Clear and Mg, the most significant difference between the two are the drivers. Celestee's driver contains the same aluminum-magnesium material as original Clear, where Stellia is significantly upgraded to Focal's beryllium M-dome driver. The difference is subtle, but more obvious across the frequency range than any differences I could perceive between Clear and Clear Mg. While Mg sometimes constitutes an audible upgrade, it's so slight overall that in my humble opinion, it's not enough for original Clear owners to run out and immediately buy the new Clear Mg. Unless of course you're particularly sensitive to the higher end and just need to have that next-level of detail. But Clear Mg is the obvious choice if you were considering buying Clear anytime soon.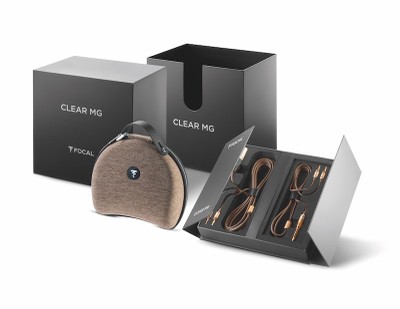 Conclusion
If Focal sought to incrementally improve on Clear without a shift in overall tonality, timbre or tuning—mission definitely accomplished! The key improvement seems to be higher frequency detail and a bit more dynamic range to my ears. Otherwise, Focal didn't mess with the secret sauce that made Clear one of legendary audiophile headphones of the current era.
I still find $1,500 a high price for a headphone, but I can confidently say that for the price you're getting one of the best-sounding and ruggedly constructed open-back headphones on the market. If you've been interested in buying Focal Clear, the Clear Mg is a no-brainer to pick up as soon as it's available. Now with Mg Pro on the market, you effectively have an additional color choice to consider. I was even surprised to learn from Focal that Clear Mg and Clear Mg Pro are virtually the same headphone and tuned for the same sound profile. So, what's not to love about a little extra color variety?
But because the difference between original Clear and Mg are so subtle, if you already own Clear, Clear Mg shouldn't be seen as a must have. Although, knowing original Clear has been discontinued, the opportunists among you may be able to find original Clear at a discounted price after Clear Mg drops. There's no official word from Focal on a price drop for Clear classic or Clear Mg. But keep your eyes open, Audioholics will post any discounts from Focal on our social media streams as soon we find out.

See also:
Confused about what AV Gear to buy or how to set it up? Join our Exclusive Audioholics E-Book Membership Program!
Recent Forum Posts:
BoredSysAdmin posts on March 25, 2021 11:46
pbarach1 posts on March 25, 2021 10:28
Thanks for this review. I'm a happy Clear owner, and the various reviews of the MG and MG Pro have convinced me to stay with what I have rather than pay a lot for only an incremental improvement (which some reviewers find to be a mixed bag).

Just to clarify one point: The Pro and Pro MG aren't "variants" of their non-Pro counterparts. They are exactly the same headphones, but supplied with different-colored pads and different cable choices.
Wayde Robson posts on March 16, 2021 11:23
In the four years since hitting the market, Focal Clear has gained a reputation as one of the great open-back headphones at any price. Clear will cost you, retailing at $1500, it's not cheap. But for the price, you get your hands on one of the most consistently loved and positively reviewed headphones out there. It's widely valued for its neutral, highly detailed sound-quality, tinged with just enough warmth to keep it an interesting, easygoing listen. That's why it was a surprise to see that Clear has been discontinued and replaced with a slightly improved Clear Mg.

I wonder about the business motivations for these kinds-of decisions. I mean it's great to make an improvement on a solid product, but is it a sign that maybe sales had diminished? Or is there a built-in incentive for manufacturers to switch components and create a new product?

Focal designed a new 40-mm magnesium M-dome driver for Clear Mg, and the French headphone-maker says that all it does is slightly improve the sound with a bit more accuracy and detail, without changing the overall sound profile of the original. Clear Mg brings a new look to Focal's high-end headphone line and a new driver that recently launched in another new headphone, Focal Clear Mg Pro. It turns out that Pro is a retail variant of the same headphone as the Clear Mg. I was surprised to learn from Focal that Clear Mg Pro wasn't specifically tuned to be flatter-sounding for the audio professionals its marketed to. Clear has never been known for having a totally flat frequency response, but I guess they decided its gentle curve works.

In this review I get into the subjective differences between Clear and Clear Mg, at least to my ears. If you were already interested in buying Clear, you now have three choices, for as long original Clear supplies last. Very soon may be a good time to look for retailers that might be discounting the original Clear. I have to guess that once the new ones come in retailers will want to move old stock if demand for Mg is high.

Focal Replaces Clear with All-New Improved Clear Mg Open Back Headphones
45678
Post Reply