New Focal Celestee Headphones: High-End for the Cost-Conscious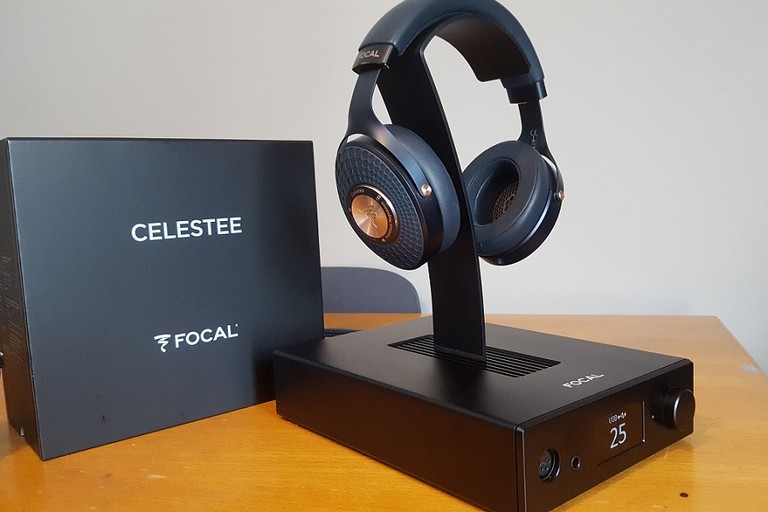 Focal's Celestee atop Arche DAC/Amp
Summary
Celestee Specifications
Type: Circum-aural closed-back headphones
Impedance: 35 Ohms
Sensitivity: 105dB SPL / 1 mW @ 1 kHz
THD: 0,1 % @ 1 kHz / 100 dB SPL
Frequency response: 5Hz – 23kHz
Speaker driver: 1 5/8" (40mm) Aluminum/Magnesium 'M'-shaped dome
Weight: 0.95lb (430g)
Cables supplied: 1 x 4 ft. (1.2m) OFC 24 AWG cable with 1/8" (3.5mm) unbalanced TRS Jack connector + 1 x Jack adapter, 1/8" (3.5mm) point socket 1/4" (6.35mm) point plug
Carrying case provided: 9 7/8x9 1/2x4 3/4" (250x240x120mm)
Executive Overview
2021 is looking better already! The year has only just begun and Focal is already releasing a new headphone. Due out onto the streets by early February, Celestee is an all-new highly efficient closed-back, circum-aural headphone destined to take Elegia's spot in Focal's lineup. The new cans will feature improvements in sound quality and possibly the most striking Focal esthetic yet. But the best thing about Celestee is that it will keep Elegia's entry level MSRP of $990, making it a reasonably affordable way to experience Focal's high-end headphone sound. Celestee marks the fourth time around for Focal designing a closed-back headphone. After Elegia and its luxury flagship closed-back Stellia, only months ago Focal launched its third closed-back headphone, Radiance in collaboration with Bentley Motors. With all that experience making closed-back headphones Focal wanted to improve on its original.
Focal's experience designing closed-back headphones and responsiveness to consumer demand really shows in its next-gen headphone. All of those reviews and comments in hi-fi forums after Elegia's launch weren't for nothing. Focal listened and implemented the most requested sound quality improvement to Elegia, then it upgraded its look and feel by borrowing design cues from its flagship, Stellia. The result is a whole new headphone, Celestee.
I temporarily happen to have the good fortune of being able to make direct comparisons between Stellia and Celestee. Similarities are apparent in sound, build and comfort despite the two headphones being in different leagues.
Accessories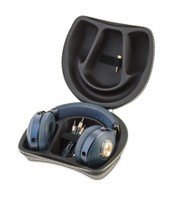 Living in Focal's lower price-point, Celestee keeps the extras to a bare minimum. Opening Celestee's slip-box reveals Focal's standard but most-excellent carrying case. This is a stiff double-zippered case with a handle on top, contoured to efficiently fit your headphones with plenty of room inside for extra cables. Like other Focal models the color pattern of the headphone itself is woven into the carrying case. It's a nice esthetic choice that really comes in handy if you're keeping track of multiple Focal headphones.
Inside the case you'll get one headphone cable, a flexible 4-foot long (1.2-meter) 3.5-mm cable and a screw-on ¼" adapter. The cables connect to each earcup via Focal's 3.5-mm connectors for safe and easy removal or replacement. The cable isn't the same stiff nylon-wrapped affair we're accustomed to getting with Focal headphones. Some may appreciate that this new rubberized cable is more flexible than previous Focal headphone cables. Unfortunately, you won't find any additional cables. That means no included balanced XLR cable, but what you will find resting inside the carrying case is possibly the most beautiful headphone Focal has made yet.
Celestee Look and Feel
By now, the silhouette of a Focal headphone is familiar to any headphone fanatic. From its absolute flagship Utopia down to its most affordable, Focal uses the same shaped frame for all. The shape and contours crafted in aluminum connect the headband, yoke and outer earcups together, with the Focal mark on each side to complete its unmistakable look. Generous use of metal and an aversion to plastic lends Focal headphones the durability of a tank and Celestee is no exception.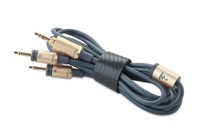 Where Celestee's look and feel improves on Elegia is in stylistic cues imported from Stellia. For the parts of the headphone that touches your skin, Focal upgraded Elegia's microfiber to a soft semi-aniline leather found in Celestee's earpads, headband and seal around the outer-earcup. The aluminum grille covering the outer-earcup features the distinctive pattern borrowed from Stellia.
If there's one enduring criticism of Stellia, it's the colors, cognac and mocha. Although it's an objectively beautiful design, for many reviewers and online comments, Stellia's complementary shades of brown have proven to be an acquired taste. But for Celestee, Focal employed the most widely loved hue in human history, blue. It's difficult to imagine anyone taking exception to Celestee's color-choice, a deep navy blue with copper accents. The color combination is a first for Focal and a choice I personally prefer over Stellia. In fact, I'd say it's the best-looking headphone Focal has made yet. The deep blue/copper combo looks magnificent, staying just this side of eye-catching without being too flashy. Focal product design had this to say about Celestee's color choice.
"Navy is the new Black. Dark blue is a versatile and timeless color that has been increasing in popularity. By choosing Navy Blue, we are adding a sophisticated, sumptuous feel to the headphones. The combination of this blue with copper and bronze accents is a trend influenced by interior and accessory design, and has become popular in watchmaking and consumer electronics sectors. These shades offer a very interesting and elegant alternative to more traditional chrome and silver parts."
- Doris Bölck, Designer & Product Colorist
Celestee's Leather Comfort, Borrowed From Stellia
Focal's familiar house design means that each headphone in its line has a similar fit, exerting virtually the same mild clamping force and uses the earcup's spring-loaded vertical swivel to assist in a comfort fit for most head sizes.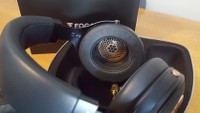 There's nothing like the breathable feeling of soft leather next to your skin. Both Stellia and Celestee share the same leathery luxury-comfort once the headphone embraces your head. As you might expect from its flagship, Stellia uses a higher-grade, full-grain leather to Celestee's semi-aniline leather. While they feel virtually identical on your head, both will keep the skin on the sides of your face cool during long listening sessions. You may only notice a slight difference between Celestee and Stellia's leather if you touch real close. Run your finger along the inner-earpad on Celestee and it feels soft, cool and inviting as it envelops your fingertip. You honestly can't imagine a more wearable grade of leather. Then, run your finger over Stellia's inner-ear pad and there's just... that little bit extra. That little bit extra turns out to be a common theme in comparisons between the two headphones. Stellia's leather gives the illusion of being thinner and just a little more delicate. Of course it should be said that Stellia's full-grain leather will age differently and possibly result in a longer comfort lifespan. But where it counts is how it feels while wearing the headphone and to my head, Stellia and Celestee feel about equal. When it comes to breathability after hours of listening, both offer similar levels of comfort.
Technology Inside
As a closed-back headphone, Celestee is designed to be your go-to for private listening sessions. The seal of the outer earcup is designed to prevent sound from bleeding out into your environment, while preventing environmental sounds from getting into your listening session. As a closed-back, Celestee uses a bass-reflex configuration with shorter driver excursion at a given volume. Like the other Focal closed-back headphones, Celestee uses a shorter voice coil than its open-back counterparts with a higher sensitivity (105-dB SPL/1-mW @ 1kHz) and a very low total impedance (35-ohms). That's low enough to be driven by a smartphone, but we'd recommend an amplifier/DAC for best sound quality.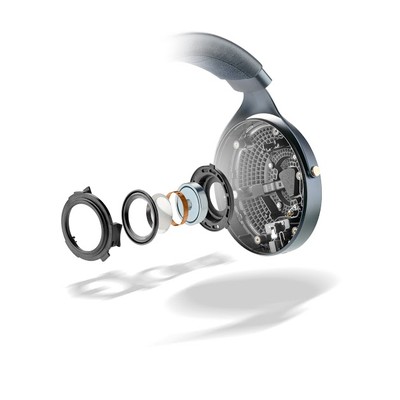 The beating heart of Celestee is its 40-mm aluminum/magnesium M-dome driver with a 100% copper, formerless voice-coil designed to move easier, assisting in the detail and resolution of your sound, especially at the higher frequencies. The driver sits inside an enclosure with an EVA foam absorber behind it and acoustic diffusers along inner walls of each earcup. If you look really closely at the badge on the outer earcup you'll see tiny vent-holes in the Focal logo. Venting further helps to control the sound reaching your ears by dissipating certain low frequencies without the audible sound leakage of an open-back. All of this technology inside Celestee's earcups are designed to provide a frequency range from 5Hz to 23kHz. It features such a remarkably wide and open sound-profile for a closed-back, that one might even call it the open-back of closed-back headphones.
Sound Quality
One of Focal's goals when Celestee was on the drawing board was to improve Elegia's sound while maintaining its price-point. One of the most common criticisms of Elegia was that it's a bit light on bass. Focal had this to say about Celestee's design:
"The idea with Celestee was to replace Elegia, to upgrade it. It has a brand-new design, with very premium materials (semi-aniline leather everywhere and aluminum), and of course a new sound signature thanks to a work on the tuning and new leather cushions which help to extend the response in the low frequencies (it was a comment that we had on Elegia that it didn't have enough bass, so we wanted to improve it)."
Although I can't make direct comparisons to Elegia, the headphone was rumored to have a slight dip between 100-200Hz, making certain kinds of music, particularly metal, sound a bit thin. However, if your music puts a lot of energy below 100Hz, such as electronica, hip-hop, house/EDM, the music itself may have masked Elegia's dip. After some critical listening with Celestee and plenty of metal, I can attest that lack of bass is not a problem. Having heard several of Focal's headphones, I believe there's what you'd call a Focal headphone house sound with consistent qualities among its variety of builds. They're typically balanced and mostly neutral, with a slight bump in the midrange giving a lush, warm quality. Perhaps due to its driver's highly responsive and quick formerless design, Focal headphones excel at resolution and dynamic range with plenty of punch. Celestee's performance fits that Focal sound into an affordable closed-back. If answering calls for more bass was the goal, Focal wisely did not respond by making Celestee into a bass monster. I found the bass response tight and smile-inducing but never overpowering.
Celestee vs Stellia
It seems uncontroversial to say that there's a law of diminishing returns in hi-fi budgets. The law suggests that you generally step up a cumulative distribution curve in sound quality as you increase budget. But the curve flattens at a certain point in your budget where you start getting less dramatic increases in sound quality for additional investment. Comparing Stellia with Celestee is a stark illustration of that law's effect because I may have discovered that point in Celestee's MSRP. Stellia is the big sister and presumed sonic aspiration for Celestee, and Stellia sets a formidable pace to follow as one of finest headphones available. But I'm happy to report that Celestee's sound is a dangerously close match.
The two headphones share important similarities, both are closed back headphones with the same acoustic isolation technology inside. The biggest difference is the material composition of the drivers. Stellia uses Focal's flagship beryllium driver technology (same as Utopia) where Celestee's driver is aluminum/magnesium (same as Clear & Elegia).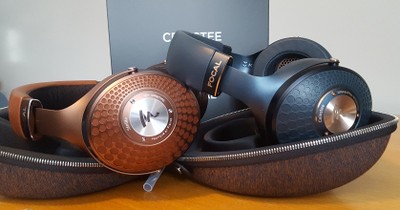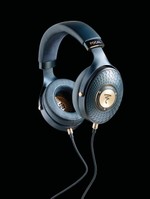 My takeaway after reviewing Stellia is that Focal's flagship closed-back presents possibly the best resolution and detail I've heard in a headphone, remarking that it's like putting a big magnifying glass over the entire spectrum of sound. Focal's line of headphones made with its aluminum/magnesium drivers bring incredible resolution to sound. It's a core strength of the brand. But an engineer at Focal must have responded with..."hold my beer" (or maybe wine in France) then designed Focal's beryllium driver and took acoustic detail to new levels.

Celestee is without a doubt the younger, slightly better looking sister-headphone to Stellia, and both share an affinity for leather. My observation about the two sister-headphone's leather is a microcosm of the sonic differences between the two. Stellia consistently gives you that one extra yard of difference. Celestee provides fantastic detail and resolution, but it's not quite the magnifying glass of Stellia. It has about the same monitor-like neutrality, colored only by a similar pleasant warmth in the midrange.
The opening of Enter Sandman by Metallica makes an excellent demonstration of Celestee's dynamic range and bass. It brings punch and finer details when the kick drums and bass guitar shower the listener in wide bass frequencies as the song takes a turn to raw aggression. Celestee's detail is fantastic, with Focal's signature dynamic range. The same track with Stellia, just gives you that extra yard in the resolution of each thump of the drum, but in terms of tonal quality and timbre they're virtually the same. For the price, Celestee is one of the best buys in modern headphones.
Conclusion
I'm thoroughly impressed with Celestee. It's easily the most subtly stunning-looking Focal headphone I've seen yet, a beauty without ostentation. In sound quality, it's everything a closed-back headphone should be. It's acoustically isolating and controlled, despite the potential hazard of having large 40-mm drivers pointed at either side of your head. It punches and slams with excellent dynamic range and detail that always sings with Focal's signature warmth in the midrange. It sounds just as detailed and refined at lower volumes as does when you crank it up. But easily the best thing about Celestee is the price that should let nearly everyone get more than a taste of one of the finest headphones available at any price. Focal may have messed-up, offering something so close to Stellia's sound for 1/3rd of the price. I'm going with Celestee every time.
Wondering what Arche preset is the best match for Celestee?
Focal has informed Audioholics that an Arche update is on the way that will include a Celestee-optimized preset. But until it arrives, Focal recommends using the Stellia preset for Celestee rather than the Elegia preset. This is due to impedance and sound signature being a closer match.

Confused about what AV Gear to buy or how to set it up? Join our Exclusive Audioholics E-Book Membership Program!
Recent Forum Posts:
EthicalEar posts on January 30, 2021 17:25
Thank you for your review. I purchased the Stellia last year but could not afford the Focal Arche at the same time. This year after saving a few months I was able to get the Arche which added a lot to my enjoyment. COVID has brought many families into the headphone mode in order to spare everyone else in the house from each other. I started with average price cans, but got my high end taste first with Audeze LCD-X. But due to the weight of those things and the sound of open back still heard by my family, I added the Stellia. When I plug the Audeze through the balanced end of the Focal Arch I am thrilled at the sound. Eyes wide open WOW! To compare the Stellias which are double the price, I plug them in while listening to the same thing, and instead of saying wow that sounds great, I smile uncontrollably and have wept at just how detailed the music is. Nothing compares to them, I agree with your review. I would be happy with just the Celestee, but I'm not going to trade down now that I know just how awesome the Stelia is. I like the cognac coffee color. Comfort is crazy good. Glad they made the Celestee so that others can enjoy the marvel of Focal sound and design. I also have a pair of the Listen beyond wireless Focal. Got them for my son who loves the blue tooth function of them. The ear cup size on them is to small though.
Wayde Robson posts on January 28, 2021 08:33
Last summer the Elegia was unceremoniously dropped from Focal's headphone lineup. This seemed strange considering it's one of Focal's most affordable headphones, it should be one of its hottest sellers. Well, we recently got the reason why it was dropped, it was replaced by a new improved closed back headphone, Celestee. Celestee was designed to smooth out Elegia's bass response and bring in some new design cues from its flagship closed-back, Stellia.

I had the opportunity to spend some time with Celestee and share my thoughts in this article. Focal Celestee will become available early next month.

New Focal Celestee Headphones: High-End for the Cost-Conscious
44076
Post Reply