Focal Elear Over-Ear Headphone Review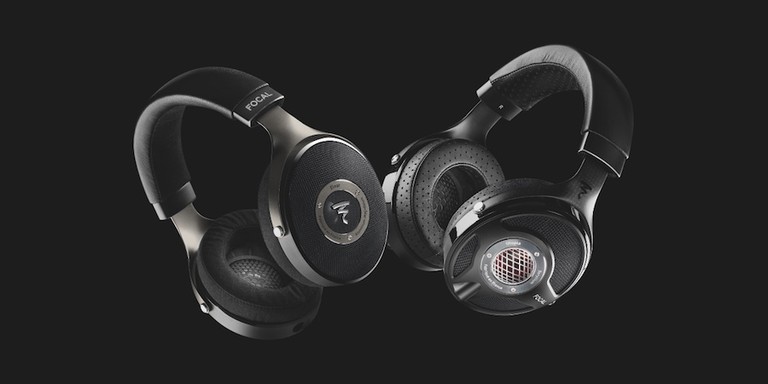 Summary
Focal Elear Headphone
Type: Cirum-aural open back headphones
Impedance: 32-ohms
Sensitivity: 104dB SPL / 1mW @ 1kHz
THD: <0.3% @ 1kHz / 1000dB SPL
Freq. Response: 5Hz - 23kHz (+/- 3 dB)
Loudspeaker: 40mm (1.6") Aluminum-Magnesium "M" shape dome
Weight: 450g (0.99lb)
Cable Length: 4m (13.1ft)
Connectors: 1 x 6.35mm (1/4") stereo jack connector - 2x 3.5mm (0.14") jack
Carrying Case: 220mm (8.6") x 190mm (7.5") x 100mm (3.9")
Executive Overview
At the end of the month, French speaker manufacturer Focal will launch an impressive new line of headphones, and according to the company, the three new models – Utopia, Elear and Listen – will carry the full weight of its 35-years of experience in high-end audio.
Utopia sits at the top of Focal's new line and will carry an MSRP of $4,000. Obviously it's priced out of the range of all but the most dedicated and affluent fans of personal hi-fi. But consider that the Utopia was designed to be the headphone version of Focal's highest end speaker line of the same name. At the top of Focal's Utopia speaker line is the Grand Utopia that goes for over $100,000. So, when you consider that the Utopia headphones use the same beryllium driver technology and is claimed to share the same acoustic signature as found in the flagship speaker, they might actually be a relative bargain.
Elear sits in the middle of the new line of headphones at a much more accessible price point of $1,000. It's a premium hi-fi headphone to be sure, and it will compete in a market that has seen some great new headphones in recent years. The engineering team at Focal says that the Elear was built around their Aria line of speakers, and uses the same aluminum-magnesium driver technology Aria uses as its tweeter.
The most affordable model in the new line – the Listen – is also the most similar to Focal's previous line of headphones. Aimed at a mainstream audience, Listen is an efficient, closed-back, mobile headphone meant to replace the Spirit One S. Listen will list for a modest $250.
I had a chance to listen to Elear, the mid-range headphone that sits in the sweet spot between price and sound quality, I think it deserves to be seriously considered by any fans of personal hi-fi that might be looking for a headphone in this price range.

Forget anything you think you know about Focal headphones today. None of the headphones Focal has made before now could have prepared us for Elear. Focal is best known for high-end, artisanal speakers that are handmade in France, but its headphones have been built to more, shall we say, modest expectations. Three years in development, Focal built a new production line at its plant in France just to build its Utopia and Elear headphones with the same care and attention that goes into its speakers.

With its price point and considering the Focal pedigree, the pressure is on for Elear to impress. Let's take a closer look at what it has to offer.
Out of the Box
The new Elear arrives in a solid magnetic locking box built from rigid cardboard with a fine black finish. The interior features plenty of dense foam to keep the Elear safe in transit. It's a nice box, one you'll definitely want to keep around for storage and presentation. However, when you consider the kinds of over-the-top boxes by the likes of Audeze and HiFiMan that feature polished wood or a military-style carrying case, Focal isn't even trying to compete in packaging.
When you get past the box, you may notice that the Elear package is pretty lean, and doesn't include any extras. Inside you'll find headphones connected to a 4-meter (13.1-foot) cable. The Y-cable features a standard ¼" (6.35mm) jack on one end and on the other, two .14" (3.5mm) jacks that plug directly into Elear's ear-cups. The cable is easily replaceable because thankfully, it's free of the oddball proprietary connectors used by too many headphone manufacturers these days. I'm looking at you and those screw-on connectors, HiFiMan!
I appreciate the effort to keep cost under control by not including unnecessary extras or a pricey box, but a ¼" (6.35mm) to 3.5mm adapter would have been nice.
Headphone Style - Fit and Finish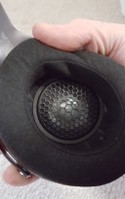 Once you pull the headphones from the box, you're faced with nothing short of a work of art with a sturdy, industrial vibe. The headphones are constructed from aluminum, in flat black and metallic hues. Hold the Elear out in front of you by the headband and you'll pause to take in its sleek, seductive silhouette. They're lean, with not a line or curve of its entire form being superfluous. Yet, as you rotate it in front of you and look it up and down, you'll see personality in the asymmetry of the ear-cup's backward tilt and in the forward position of the Focal badge riveted over the drivers.

The ear-cups are a stiff aluminum mesh housing a Focal 40-mm aluminum-magnesium M-dome driver - the driver used in the Aria line of full-sized speakers. Focal told Audioholics that its pedigree as an Aria speaker is not just a marketing platitude. For both Utopia and its more sensibly priced little-brother Elear, they developed the first-ever full-range loudspeaker for headphones. So, in a very literal sense, Elear is the personal-audio version of the Aria 900 series speakers.

The headband is wrapped in black leather with a black microfiber cushion underneath where it touches the top of your head. The ear-cups are aluminum-mesh oval shells with the driver almost completely visible inside. Upon inspection of the ear-cups, you'll notice they're carefully positioned with the drivers forward on your ears and firing at a slight back angle. Around the inner ear-cup is a generously padded microfiber fabric cushion, creating a truly circumaural design that is sure to wrap comfortably around even the largest ears.
The padding that cushions the inner ear-cup is soft and comfortable while the headphones are light enough to make hours of listening easy. The microfiber fabric won't cause sweating or stick to your skin. These are some of the most unobtrusive and comfortable, full-sized headphones I've worn. The feel of the headphones is similar to the Sennheiser 800 - one of the most comfortable high-end headphones available. The aluminum yoke is adjustable, snapping securely into the headband for a personalized, light fit that never presses too tightly around our head.

There isn't much else to be said about the fit-and-finish of the Elear except that it's not only beautiful to behold – every details exudes high quality and fine craftsmanship.
Sound Quality Tests

After about a 50-hour break-in period where the Elear played back pink noise at modest volume, I was ready to test with some of my favorite music. When evaluating the sound, I mainly used two headphone systems: 
Cambridge Audio Stream Magic 6 v2 to stream lossless digital files to a NuForce DAC80 for decoding, which then sends analog signal on to the NuForce HA200 digital headphone amplifier.
The same Cambridge Audio Stream Magic 6 v2 to an Emotiva DC-1 DAC for decoding, then analog audio moves on to an Antique Sound Lab tube headphone amplifier.
 During evaluation, I spent some time comparing the Elear to some of my favourite headphones:
Let's get right to the sound.
Mudcrutch 2: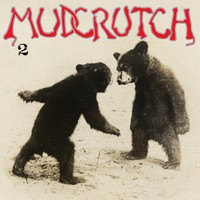 Tom Petty reunited with his old band Mudcrutch for a second album, Mudcrutch 2 that provided my first impression of Elear's sound. The first thing that jumped out at me was strong attack in the bass. The Elear launched into my head like a tightly wound spring. It seemed charged up and full of energy, especially in the low-end. Although the bass comes off strong, it was clear. The low frequencies seemed supple across the spectrum, under about 100hz. The energetic bass never seemed to come at the expense of incredibly detailed highs. On the high end, the Elear had a similar aggressive attack on my ears. On one hand, it was detailed and clear from the middle highs up. The Elear has the rare ability to simultaneously present detailed and supple lows and highs in the same rapid-fire form.
But on the other hand, the aggressive assault of Elear's attack bordered on slightly edgy in the high frequencies. But this effect seemed to mellow slightly over time.

Massive Attack: Group Four:
In an effort to explore bass-layering capability and to exorcise my suspicion that the Elear might just be bloating the relatively simple bass lines of Petty's band, I listened to my go-to bass demo track – Massive Attack, Group Four. Elear performed beautifully, the low frequencies were not muddy at all as the song's bass lines intersected and overlapped, Elear kept all that complex low-end remarkably intact. Compared to one of my favorite bass performers, the LCD-3 by Audeze, the Elear definitely gives the bass more presence - but without sacrificing treble.
While switching between LCD-3 and Elear, and listening to pieces of both Mudcrutch and Massive Attack, you could clearly hear that Elear gives up a bit of midrange to the LCD-3. To be fair, the LCD-3 is built very differently. The planar-magnetic headphone provides a lush richness in the midrange that Elear really couldn't duplicate. LCD-3 feels laidback where Elear wanted to pop.
But in highs and lows comparison to LCD- 3, Elear was able to keep up, some bass-heads or those who appreciate a more active listening experience, may even say it surpasses the low-frequency response of planar-magnetic headphones.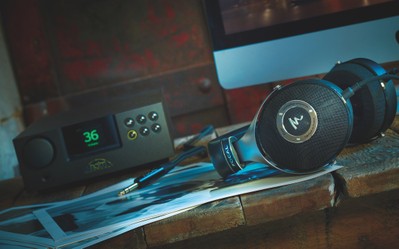 Dr. Chesky's Ultimate Headphone Demonstration Disc
This whole album is an amazing demo for new headphones. I wanted to put Elear through a test that I believed would play to its strengths in speed and precision. The Cymbal Dynamic Range Test and Drum Kit Dynamic Range Test would be just that! Both tracks present rapid-fire sound from their respective instruments, and ranged from softly tapping to increased intensity and volume. On the cymbals, Elear was quick on the attack and capable of enunciating each separate stroke of the drumstick even at rapid-fire speeds where lesser headphones might blur the sounds together. If speed and snap is your thing, you'll find Elear a strong competitor.
Amy Winehouse – AMY, The Original Soundtrack
Tracks like Body and Soul, the now-famous duet Amy Winehouse sang with Tony Bennett is good test of harmony at midrange. Winehouse's voice is always a rich and textured and Bennett's complimentary harmony just won't work if there isn't a strong midrange. While I stand behind my original observation that the Elear isn't quite as rich and textured in the midrange as the LCD-3, it still sounds very good. But if you're listening to Amy Winehouse, Elear might give you more kicks on the track F-me Pumps, the song's snappy backbeat sets up the sonic palette upon which Amy's voice really sings. Oscar Peterson, Ecstasy: Lastly, a test of imaging with one of the best 3-dimensional headphones on the market – Grado PS1000e.
I was recently introduced to the great jazz pianist Oscar Peterson. The track Ecstasy features Peterson on grand piano and begins slowly, just his piano for the first 30 seconds or so. The recording portrays the sheer size and presence of Peterson's grand piano in its sonic imaging. When a bass joins Peterson's piano, the room really opens up and a classic jazz-age jam commences.
Head-stage is a clear strength of Elear. Focal built the headphone with a sophisticated driver and housing inside the ear-cups, which provides a wide auditory field for a headphone. But in terms of precision imaging, it wasn't up to the Grado's performance.
As a flagship headphone at about twice the price of Elear, the PS1000e is hardly a fair comparison for soundstage and imaging. But, in comparison to such a great imaging headphone, Elear wasn't totally out of its depth which means Focal gets high marks for providing competitive soundstage at this price.
Focal Elear Conclusion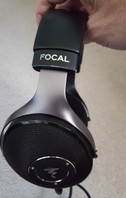 In summary – the Focal Elear is a great-sounding headphone! Yet, clearly spending $1,000 on a pair of headphones isn't for everyone.
Any $1,000 headphone needs to do something really, really well. Well enough to get you excited enough to count down the hours before you get to come home from work so you can spend some quality time listening.
Elear accomplishes this mission with what I can only describe as an exciting V-shaped frequency response. It provides aggressive lows, which will make it an exciting rocker, electronica, hip-hop and jazz headphone, while its pop and bounce in the upper-end will provide detail and impart a contagious energy for many listeners.
These headphones provide a comfort and style that is truly top-notch at any price range. I love my Grado headphones, but they're not comfortable. I love Audeze and while their LCD-3 is comfortable, it's a leathery, pillowy, cushioned affair that you don't quite wear on your head as much as put your head into.  As comfortable as it is, it's a bit much for long hours of listening. But Elear, like some of the higher-end Sennheiser models I've tried, I could leave on all day long.
The Elear headphones are a fun listening experience, and matched to the right music, I anticipate it will be more than just a pair of headphones.  It won't be a great headphone for everyone, but for some it will spark an evangelistic excitement and for those people it will be their prized possession, the fruits of that one time in their life they spent $1,000 on a pair of headphones.  That person might even be a co-worker someday who will want to talk endlessly about their new Elear headphones, like the vegan who talks to you about diet and nutrition or the guy who talks about his trip to Burning Man. In closing, all I can say to the future Elear fans out there is welcome to the high-end headphone hobby – and sorry about the wallet.

Confused about what AV Gear to buy or how to set it up? Join our Exclusive Audioholics E-Book Membership Program!
See also:
Recent Forum Posts:
sszorin posts on January 18, 2018 14:48
corey, post: 1141719, member: 8005
I think it was an Audioholics article that suggested that the speaker manufacturer's QC testing should provide sufficient break in. I'm a careful guy, so I always give my speakers an extra 100,000 cycles - after all at 5Khz it only takes an additional 20 seconds.

Wayde, I refer you to your masthead: "Pursuing the Truth ….".

Even after Galileo faced the Catholic Inquisition he is reputed to have said "And yet it moves".
No, Galileo did not say : "And yet it moves"; instead Galileo admitted that he was wrong and that the Church was right.
sszorin posts on January 18, 2018 14:45
No, Galileo did not say : "And yet it moves", instead Galileo admitted that he was wrong and that the Church was right.
speedyarsenal posts on September 29, 2016 11:40
I just got them yesterday from audio46 … I love them without the 50 hour burn time now so Im sure to like them better in a few days
DoctaCosmos posts on June 19, 2016 23:57
Great review! I especially enjoyed that you compared to an lcd-3 as that's what I currently own. Mine however is pre-fazor and not sure if yours is too. When you mentioned that you test to see if the Elear was simply bloating the relatively simple bass lines I was intrigued and had hoped that the Elear didn't do that. My experience recently with the new beyerdynamic t5p.2 ended in a bad way after realizing that was its nature. A shame to hear it's not on par with the grado in terms of imaging. I had assumed it would be after seeing the nature of the driver. I'm not sure it really bothers me too much though as sometimes eschewing this can make some genres flow better with the auditory senses. The maturity of fancier recordings generally grasps and relies on the leading edges playing the virgin role of never touching one another to portray it's visual up bringing.
Wayde Robson posts on June 16, 2016 11:09
tyhjaarpa, post: 1141731, member: 70334
I auditioned HD600 before I bought mine and when I got them home and blugged in they sounded awful compared to pair I auditioned at shop, I let them run for 2 hours at moderate level and tried them again and the sound I heard at shop were now there without the awful harshness they had straight from the box.
I have no doubt it's true for some people. I don't know why exactly, is it structural tensile cohesion of the driver parts inside the headphone, pacebo or audible tuning effect in the individual? Or is it a combination of everything? And… it could be different case-by-case. Who is to say. I am certainly not a proponent of denying oneself whatever it takes to love your audio.
This article has got the attention of CanJam, coordinators want Audioholics to cover the events. I wonder if there is more appetite for headphone reviews, news and opinion from Audioholics? It's certainly a booming market and I know we do some here.
Post Reply