New Focal Radiance Headphones & Naim Mu-so Speaker: Built for Bentley!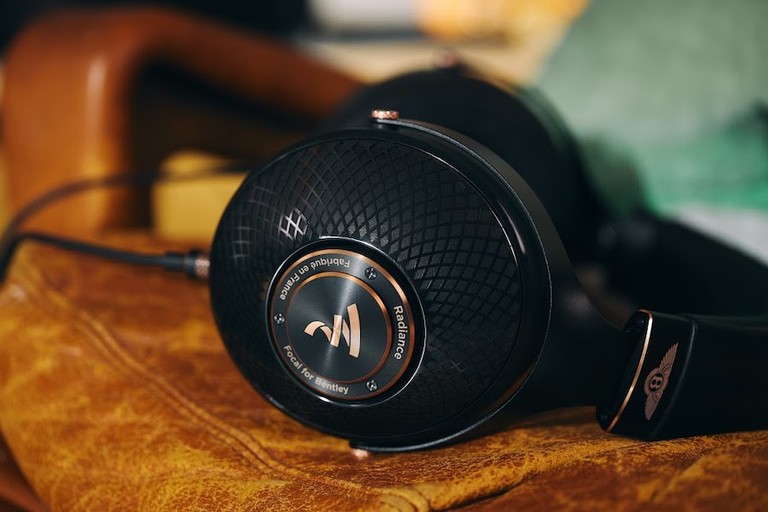 Focal Radiance Headphones for Bentley
Summary
40mm full-range speaker driver with aluminium/magnesium "M" shape dome
Closed-back high-fidelity headphones
Headphones share Naim Mu-so sonic signature
Earcups finished in Pittard's leather
Includes bespoke woven copper & black carry case
Full grain leather on headband, earcup and cushions
Solid aluminium yoke
Made in France
Carry case dimensions: 25 x 24 x 12 cm
Packaged in a soft-touch Focal for Bentley box
Executive Overview
Naim Audio and Focal are adding two new products to their Bentley Motors design collaboration. When designers from these three companies get together, you know the results are going to be prestige works of art that make great sound. Products include Focal Radiance for Bentley headphones made in the tradition of Focal's upper-end headphone line, and a new edition Naim Mu-so Gen-2 for Bentley wireless speaker system, this time Mu-so gets a classic dark-wood finish.
Focal Radiance for Bentley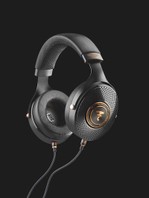 Focal continues adding to its lineup of high-end headphones with Radiance, built at its manufacturing facility in Saint-Étienne, France. The new Radiance headphones were created in collaboration with the design-team from Bentley Motors, the legendary British luxury car manufacturer. The first thing you notice about these headphones are the design cues and stylized accents taken directly from the luxury automobiles. But according to Focal, it's not just esthetics that sets these headphones apart from the rest of its lineup. Focal says the headphones are tuned to share a sonic signature with Naim's new Mu-so speaker.
The design cues from the luxury auto-manufacturer run deeper than just the licensed Bentley logo boldly displayed on either side of the headband just above the aluminum yoke. You'll also find the familiar Focal mark in its usual place on the outer ear-cups, this time finished in a classic copper on black. Other accents include liberal use of Bentley's signature diamond lattice pattern that's found throughout the car's leather interior. The diamond motif is inset across the leather headband and aluminum grille on the outside of the ear-cup. Focal is known for turning-in products that elevate headphone and speaker design into a fine art and Radiance is no exception. The design has a retro-futurist vibe with modern sophistication that seems to harken back to a finely crafted musical instrument of the Edwardian-era. Every detail in the design of these headphones exudes luxury and comfort, just like the car. The ear-cup's interior, the part that touches your skin, are finished with the same soft, breathable leather used for Pittards gloves, a comfort choice that will be appreciated during long listening sessions. Pittards itself is another legendary UK luxury brand that's been making quality leather since 1826 and was famously employed by RAF Spitfire pilots during the Second World War.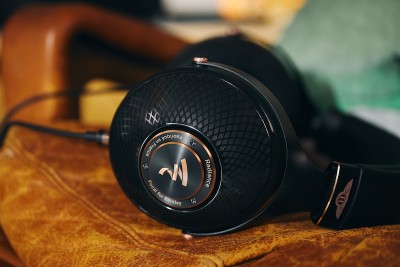 Inside the Radiance Closed-Back Design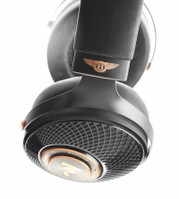 Radiance is a closed-back, circumaural headphone intended to keep your music to yourself while on-the-go, preferably while getting in and out of a Bentley. Of course, while you're driving your Bentley, you're probably already listening to Naim Audio, the UK hi-fi company that merged with Focal in 2011 and has been providing sound systems for Bentley since 2008.
A closed-back headphone, while unusual for Focal's upper-end lineup is not new. It was first heard in Elegia and more recently in Stellia, both models of Focal headphones were made to push the limits in soundstage for a closed-back design. Wider soundstage is one of the trade-offs associated with the closed-back build. But what you get in return from a full over-ear, closed-back headphone like Radiance is passive noise-cancellation and an up-close intimacy with your music. Focal used its 1 5/8" (40mm) M-shaped aluminum-magnesium driver for Radiance, the same speced driver is found in the company's original closed-back headphones Elegia. Note, Stellia uses a 1.6" (40mm) pure Beryllium "M" shape dome.
Naim Audio Mu-So for Bentley 
2020 marks the 12th year for the partnership between Naim Audio and Bentley, together the brands have been making great sound inside Bentley cars and inside the home with the Naim Mu-So for Bentley, an all-in-one wireless speaker system. To honor the 12-year milestone Naim and Bentley are releasing an all-new edition of the Mu-so 2nd Generation wireless speaker. This time around, instead of the brushed aluminum look that Mu-So has been known for, this one is finished in a unique, luxury wood-grain with copper accents, a design reminiscent of Focal's Radiance headphones. Crafted from a sustainable African hardwood called Ayous, the wood is stained and lacquered to a highly polished dark-wood finish and style befitting the luxury car's interior.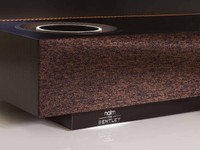 Naim Audio's line of Mu-So wireless speakers have long elicited a sense of gadget-lust in the hi-fi audio inclined since its release. Its styling is elegant, from the subtly lit base displaying the Naim and Bently logos, to the contours across the front grille and the tactile, illuminated dial ring inset into the wooden finish on top. This new edition of Mu-So for Bentley has the look of a classic piece of minimalist furniture, somehow unobtrusive while commanding curiosity wherever it sits. 
Inside are six front-firing speakers driven by a total of 450W and its brains put you in control of enough wireless audio platforms to truly earn the "all-in-one" descriptor for a wireless sound system. Mu-So includes compatibility with popular streaming services from Spotify to Tidal and Qobuz and the flexibility to use your home network's music collection via AirPlay2, Chromecast, Roon and UPnP and delivers your streamed music in high resolution (up to 32-bits, with sampling rates as high as 384kHz). You can connect wirelessly to Mu-so with Bluetooth or dual-band (2.4- and 5GHz) Wi-Fi. The system is controlled via included remote, Naim's own Mu-So app through your screen-device or you can get up-close and personal by using its control ring on top. The new Mu-So for Bentley includes connectors for HDMI, USB and a 10/100 ethernet port if you wanted to hardwire into your network, the system stands ready to integrate with your multi-room sound system.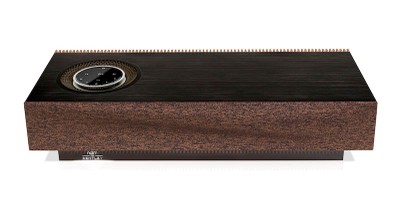 Radiance Headphone and Mu-So Wireless Speaker with Bentley Design 
Both the Radiance and new Mu-So take design cues directly from the interior and exterior of the Bentley Mulliner Bacalar, the car that was inspired by Bentley's EXP 100 GT concept car.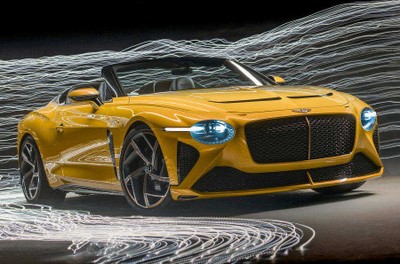 Bentley's Mulliner Bacalar
The new Naim Mu-so speaker and Focal Radiance headphones will be available in October at selected Focal, Naim and Bentley retailers. At the suggested retail pricing of $2,199 for the Naim Mu-So for Bentley and $1,300 for the Focal Radiance for Bentley, these new audio products are truly built and priced for the luxury consumer. Radiance are actually priced on the low-side for Focal's premium headphones, many of its models with similar build-quality (ie. Focal headphones actually made in France) sell for much more. Comparisons to Focal's high-end closed-back headphones, Stelia are inevitable, as both use similar drivers and feature the closed back design, but Stelia sells for over $3,000. Radiance is probably closer in sound and build to the company's first closed-back headphone, Elegia which sells for around $900. Although, Eligia does without the Pittards leather and Bentley accents. But one thing we can all be sure of is these three teams have created products with elegant, world class esthetics.

Confused about what AV Gear to buy or how to set it up? Join our Exclusive Audioholics E-Book Membership Program!