Focal Stellia Closed-Back Headphone Review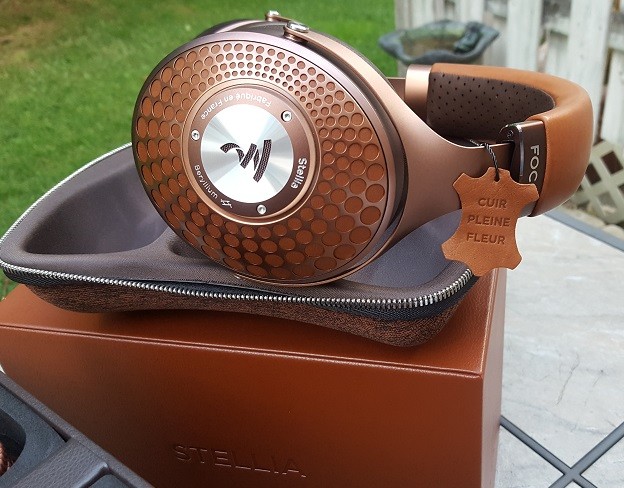 Focal Stellia on carrying case
Summary
Product Name:

Stellia Headphones

Manufacturer:

Focal

Review Date:

February 13, 2021 11:30

MSRP: $2,999
First Impression:

Gotta Have It!
Focal Stellia
Type: Circum-aural closed-back headphones
Impedance: 35 Ohms
Sensitivity: 106dB SPL / 1mW @ 1kHz THD0.1% @ 1kHz / 100 dB SPL
Frequency response: 5Hz–40kHz
Loudspeaker: 1.6" (40mm) pure Beryllium "M" shape dome
Weight: 0.96lb (435g)
Style
Cognac and Mocha finished
Memory foam, full grain leather cushions 13/16" (20mm)
Cables Provided

1 x 4ft OFC 24 AWG cable with 1/8" (3.5mm) TRS Jack connector
1 x 10ft OFC 24 AWG cable with 4-pin XLR connector
1 x Jack adapter, 1/8" (3.5mm) female – 1/4" (6.35mm) male
Carrying case provided
9.8"x9.4"x4.7" (250x240x120mm)
Executive Overview
So, what would happen if you took the craftsmanship and build-cues from Focal's top-tier headphone, Utopia and packed it into a closed-back design? One answer is Stellia Focal's flagship closed-back headphone.
We usually think of closed-back cans as the workhorse of headphones. They tend to be lower-impedance so they can be powered from a mobile device, they're the ones you take out on the road, long walks, subway rides and if we're going on a trip we usually just toss them into a bag to take along. Over-ear closed-back designs offer the advantage of passive noise cancellation with outer-ear cups closed to the outside world. While keeping sound out, they also keep your music in so your tunes stay with you rather than spraying your music across the sidewalk for everyone to hear. Seriously, nobody else wants to hear what you're listening to - don't be that guy! But, most serious headphone-fans that own multiple pairs for different occasions will have at least one pair of closed-back headphones, because they have a unique sound-profile and the acoustic isolation gives them added flexibility to be used anywhere you go.
 It's usually the great open-back headphone designs that are recognized as the serious hi-fi headphones. The sort of headphone we save-up our money for, the ones we dream may someday be our end-game headphones, they're usually an open-back design. They've earned that distinction because the great open-back designs are known for reproducing amphitheater-like sound-stage, while easily transitioning to an intimacy so close you'd swear Ella Fitzgerald was whispering into your ear. But we don't usually expect open-back performance with that... just-close-your-eyes-and-listen sound quality from a closed-back headphone. Maybe because it can be dangerous walking out on the streets with your eyes closed. But Stellia is a product that aspires to combine the mobility of a closed-back with the luxury and sound quality that surpasses many of the great open-back headphones.
Enter Focal Stellia
Focal is no newcomer to hi-fidelity headphones. We reviewed Elear from Focal's initial foray into the high-end of headphones way back in 2016. It was only four years ago but seems like a world away. Since that time Focal has been busy gaining experience while building upon its line-up, including the development of Clear, Focal's refinement to the essential Elear design. Stellia, like all of Focal's high-end headphones and speakers are made at the company's manufacturing facility in St. Etienne, France and spares no effort (or expense) to create drivers, loudspeakers and headphones to be works of art in both sound quality and presentation since 1979. Stellia isn't Focal's first closed-back, that distinction goes to Elegia. But this time around the company set it sights on creating a closed-back headphone truly worthy of the title flagship for this category, while elevating a closed-back to the level of greatness.
The Stellia Unboxing Experience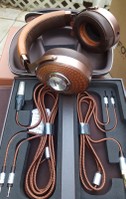 The Stellia experience begins once you open the cardboard shipping container. This unboxing is a journey through nested, finely-crafted containers in several separate presentations, and you'll want to savor every moment. You'll feel like a Russian oligarch opening a set of luxury matryoshkas dolls, as your hands glide across smooth leather undressing its sexy precision-fit boxes, magnetized lids and a finely crafted strap, until the moment comes that you unzip the carrying case that unveils your ultimate prize.
The main accessory box magnetically holds a two-way door that opens-up like a leather cathedral, revealing your new color-coordinated cables and a wallet-style binder. The brown leather binder looks like a Focal-branded wallet that could have been designed by the French fashion industry rather than a French audio company. Inside the wallet you'll find the manual, thank you card and a booklet that illuminates the pedigree of the audio product you have purchased with a brief history of Focal. Two fabric-wrapped headphone cables are laid out with feng-shui flow, their oxygen-free copper ends ensconced inside the box to make the cables pop from the display. Focal's proper name for the two shades of brown is "mocha and cognac", and they're a consistent theme throughout the unboxing right down to the headphone's design.
The cables include one 10-foot long balanced XLR, and one 4-foot cable with a ¼-inch jack that unscrews to reveal a ⅛-inch (3.5-mm) jack. Both cables feature Focal's detachable ⅛-inch connectors that plug into the ear-cups. The headphone's themselves are found inside a stiff, elegant yet protective carrying case that maintains the mocha/cognac theme. The case unzips to reveal the headphones laid out in a small, portable display that beckons to you... "écoute moi". That's, "listen to me" in French, of course.
Like all of Focal's high-end headphones, Stellia's design is a work of art blending strength with refinement. A solid anodized-aluminum yoke reaches through the headband connecting its two ear-cups. The aluminum outer shell of each ear-cup forms a delicate pattern over a rugged leather backing. The Focal logo name-plate on either side of the headphone proudly announces: "Fabriqué en France" (Made in France). The interior of the headphones is a plush display of soft, full-grain leather designed for a fit and comfort that invites long listening sessions. A small leather tag tied to the left ear-cup reads: "cuir pleine fleur" (full grain leather), a promise that the parts of Stellia that touch your skin are wrapped in the highest grade of leather made. Full grain leather combines breathable softness with a longevity that will keep its form for many years of solid use.
The Focal Stellia Style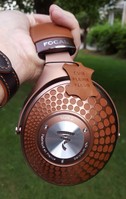 The headphones are made in a particular, by now familiar style, presenting a unique profile that makes them instantly recognizable as a Focal. One might say that you either love the Focal headphone design or you don't have taste. I'm personally partial to the design because they've proven over the years to be a laconically efficient, yet sturdy build that looks good, but is built to last.

One criticism that I've read about Stellia's design is that the ear-cup pattern may be trypophobia-inducing because it consists of small holes. Although, to call them holes is a bit of a stretch, they're essentially a pattern of circles no deeper than the sheet of aluminum that forms the outer ear-cup and backed-up by full-grain leather covers. All due sympathies go out to those who may suffer this rare condition. But I can think of no better cognitive behavioral therapy to help you overcome that fear than facing it with fine music. Of course, always seek the medical advice of a professional.
But the most common criticism is the color scheme. Focal knew it was building something special in Stellia, so the color palette was a bold choice. Most headphones today play it safe with blacks, greys and metallic silvers, but one look at Stellia and you see a whole lot of brown, or "mocha and cognac" as Focal calls it. Like it or not, the colors play nicely together throughout its unique design. Personally, it's not my favorite, but the more I'm around it, the more I like. It's just one more attribute that makes Stellia a standout, so I can forgive and can easily see it growing on me.
Technology Inside Focal Stellia
Stellia's full-range driver technology is the real star of the show. Like Utopia, Stellia employs a 40-mm M-dome driver composed of ultra-thin beryllium. But unlike Utopia, Stellia uses a shorter, 100% copper formerless voice coil specially customized for efficiency in a closed-back design. When Focal creates a new driver, Nicolas Debard, Marketing Group Manager at Focal says they look for materials that combine the attributes of rigidity and lightness. combining the antithetical combination of soft yet strong is a problem that has dogged engineers of both the loud-speaker and bathroom tissue industries for nearly a century. But Focal believes it has found an answer for its highest-end drivers - beryllium!
To solve this problem of uniting opposites, the company uses ultra-thin, pure beryllium. It's the same material Focal uses to make its high-end tweeters and of course, the drivers found in its flagship headphones. The M-dome shape is also a unique Focal design that maximizes surface area and lets the drivers punch above their already significant 40-mm size, an asset for bass response and dynamic range.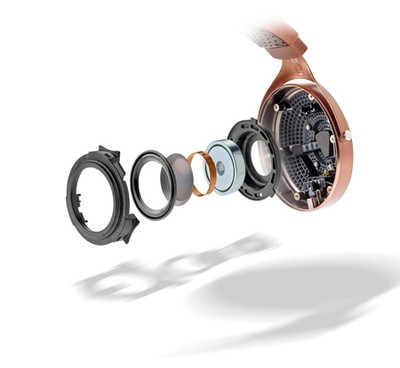 The rigidity of pure beryllium limits distortion even at high volume. Debard says that at equal mass, beryllium is seven times more rigid than titanium, another popular material used in high-end driver construction. The strength of beryllium lends the drivers a dampening-effect that keeps them from producing any errant sounds during normal operation, even at high volume. So, with rigid strength and dampening solved, the driver must also be light, allowing it to be responsive to the merest of incoming signals. Beryllium happens to fit that bill too!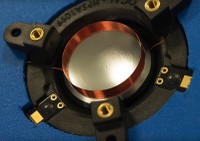 Focal's use of ultra-thin pure beryllium is how it aims to achieve Stellia's liquid detail. The advanced driver technology and luxury-level comfort is why Stellia usurps the flag from Focal's first closed-back, Elegia. Focal's OG closed-back also employs the 40-mm, M-shaped dome, but instead of beryllium it uses an aluminum/magnesium driver. But Stellia's beryllium driver is thinner, lighter, more sensitive and more rigid. Stellia also employs Focal's "formerless" technology (pictured to the right), meaning the driver forgoes the former around the voice-coil. A standard dynamic speaker's voice-coil design uses a cylindrical material alongside it, called a "former". Debard says the use of a former adds significant mass so, by going formerless Focal accomplishes more revealing sound with better response to higher frequencies.
The culmination of all of this driver technology gives Stellia its next-level performance, with a frequency response that exceeds human hearing. These cans feature bass that reaches down to 5-Hz and highs all the way up to 50-kHz. Our theoretical hearing capability is only between 20Hz and 20kHz. Although, in practice most of us can't actually hear up to 20kHz if we've been alive for more than a couple of decades, and just hearing much above 15kHz is a challenge for those of us who spent a lot of our youth attending live hard-rock and metal performances without ear protection. So, remember kids, take care of your hearing while you can! It may seem embarrassing to bring earplugs to a concert, but there's nothing silly about protecting your hearing. Besides, you'd be surprised how many dedicated, old-school metal fans are also wearing them beneath all that long hair.
One major difference between Utopia and Stellia's drivers is the voice coil. As a closed-back, Stellia is made in a bass-reflex design that reduces overall driver excursion, so it uses a shorter voice coil. The result is a low 35-ohm impedance and a 106 dB SPL/mw sensitivity rating.
Specs

Impedance: 35 ohms
Sensitivity: 106 dB SPL/mw @ 1kHz
Frequency Response: 5Hz – 40kHz
THD: 0.1% @ 1 kHz / 100dB SPL
Driver: 40mm (1.6") pure Beryllium "M" shaped dome
Weight: 435g (0.96lb)
Sound Quality

So, how does a $3,000 closed-back headphone actually sound? I had the pleasure to test it and compare with some of my favorite headphones. Make no mistake however, none of my headphones are in quite the same league. But I got to contrast Stellia with my go-to closed-back headphone, the Fostex TH-X00 Purpleheart, and also comparisons to some of my favorite open-back designs, including Audeze LCD-3 and Focal Clear.
Source Test System via PC/USB

Tidal Hi-Fi, streaming at 44-kHz/16-bit & MQA at 96 kHz/24 bit

DAC: Emotiva Stealth DC-1 DAC/preamp

Interconnects: Belden L & R balanced XLR connectors from Blue Jeans Cable

Amp: Cavalli Liquid Carbon v2 headphone amplifier

Headphone Cable: Stellia's stock balanced XLR cable

Donning Stellia

"Stellia places a large magnifying glass in front of every aspect of the song in a wide, (mostly) flat smorgasbord of sound."
The moment you slip Stellia onto your head you're enveloped in well-balanced, plush comfort. In a few precision clicks of the headband's adjustment mechanism you'll find just the right clamping force to be secure but never crushing, at least not on my own medium/large sized melon. They feel and handle like every-bit the sophisticated instrument they're designed to be. At just under one pound, they feel solid and substantial, but never heavy. Stellia's pads are thick and comfortable, but they actually make contact with my skin over a surprisingly small area around the sides of my head. The skin-contact width of Stellia's earpads are much thinner than the custom Dekoni earpads I installed on my Fostex TH-X00 headphone. Stellia's pads are generously thick, but since they're not so wide on the skin, so you should experience better breathability. You'll get luxury feel and comfort over long listening sessions and you should never feel a need to buy aftermarket earpads, as long as the full-grain leather holds up.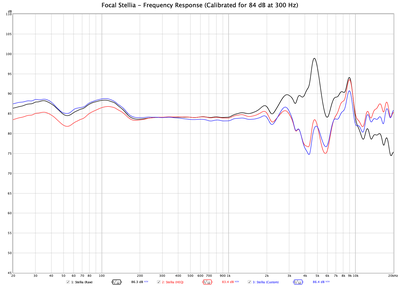 Focal Stella Raw Frequency Response Curve

Looking at the raw frequency response curve for Stellia, it looks as if it generally follows the Harman Curve with a slight elevations bass and treble. The Harman Curve is a specific frequency response curve some manufacturers use as a target when designing and tuning headphones. But most headphones end up using a variation of that curve or have their own in-house curve that produces a unique brand sound profile. The slight dips in Stellia's frequency response around 50Hz and again at about 6kHz may be what gives Stellia its "laid back" demeanor despite being such a highly detailed headphone. Those dips aren't likely indicative of a failure to follow a perfectly smooth response curve, they're more likely intended to give Stellia a uniquely easy-listening and less fatiguing experience over long listening sessions, which may have been a challenge considering Stellia's otherworldly detail retrieval. After listening to Stellia for long sessions I'd say - mission accomplished!
Stellia Sound First Impressions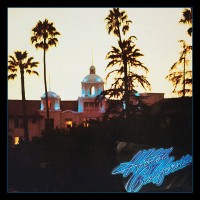 For my subjective evaluation I put on an old song that by now everyone's heard, so I probably can't spoil it for you. While not exactly my favorite song it's among The Eagles best, Hotel California 2013 remaster in MQA format on Tidal Hi-Fi. Without a doubt, the first thing you notice about the sound profile is - DETAIL! Stellia places a large magnifying glass over the song in a wide, balanced smorgasbord of sound. To my ears the frequency response sounded mostly flat, except for a little extra energy in the upper-midrange and highs. The higher frequencies were unhindered by the over-representation of bass I experienced with the Fostex TH-X00 I used for comparison, this let the finer details really shine with Stellia.
The first 50-seconds of Hotel California is a slow build with guitar, bass and accents from peripheral percussion, including a shaker that came across more clearly defined on Stellia than I'd ever heard before. The song kicks-in with a "bump-bump" of Don Henley's double tom-toms at about the 51-second mark. The drum beat signals a transition to a calypso rhythm that takes over on guitar as Henley begins singing his cautionary yarn of mysterious corruption awaiting newcomers in the Golden State. The emphasis from upper-midrange and up to about 6kHz seemed a little on the bright side at times, but controlled and never sibilant.

Soundstage
You usually don't expect much, if any soundstage from a closed-back headphone. But in those first 50-seconds imaging was fantastic! Stellia did present a tangible soundstage just around my head. Although I wouldn't call it wide, it never sounded as if the music was emanating from inside my head, Stellia managed to present a distinct sense of separation between instruments. Similarities between Stellia and Clear are immediately apparent if you were to switch between the two, almost indistinguishable except for two things, Clear has a slightly wider soundstage with just a little more air between instruments, but Stellia is head-and-shoulders above Clear in presenting detail and sonic imaging.
Stellia's Detail Clinic

At about 11-seconds into the opening of Hotel California is when I heard the aforementioned shaker. It's only a soft, background detail on the left-side, but the sonic image was so well articulated with Stellia that I could track the shaker as it moved upward and to the left before fading out. Stellia continued to blow me away with its detailed presence. But the almost scary testament to Stellia's detail is at about 3-minutes, 27-second mark. The song slows back down after the second time around with the chorus, Henley sings: "...what a nice surprise, bring your alibis." Then there's an abrupt cut to dead air for a fraction of a second. I had never heard this before in what must have been thousands of times hearing it. But somewhere within that cut to a sonic black-hole, you can hear someone drawing a labored breath, presumably Henley inhaling a double-beat gasp of air, or maybe he's drawing a substance into his nose. But the cut to silence around that breath is so total, it's as if the studio had shut down, or perhaps a cut in the recording itself. There can be no doubt Stellia brings resolution to every sound including the silences between notes.
Dynamic Range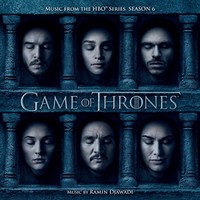 Overall Stellia is incredibly detailed throughout the frequency range from top to bottom with magnificently realistic timbre. The emphasis on frequencies above 1-6kHz lends recordings an "energetic" quality, that could also be interpreted as "bright". But energetic is an apt description for Stellia's incredible dynamic range, that it maintains at any volume.
I put on the track: The Seven by Ramin Djawadi from the Game of Thrones Season 6 Soundtrack. The first four and a half minutes is a lone piano, each key resonates with audible echo before child-like, otherworldly voices sing in an off-kilter harmony, as if signalling an ill-omen. Then, an orchestra rises up around your head bringing power and punch to the track before sinking away leaving just the piano again to close the song. It's an incredible display of Stellia's dynamic range. I was blown away, again!
Focal Arche: I unplugged the Stellia from the Cavalli amp and switched my main headphone system to Focal's DAC/Amp combo component, Arche. Expect a separate review of Arche soon, but I wanted to mention Arche's contribution to Stellia here because it's a combo you can find online at a bit of a cost savings on some online retailers. Arche's own menu system includes a preset exclusively for Stellia, so I expected a best-case scenario demonstration of both. Arche noticeably cooled off the brightness I was experiencing over Cavalli's Liquid Carbon and seemed to bring forward the lower-end just a little bit more. Naturally, this meant Arche provided Stellia with a little less of an analytical tone, but at minimal sacrifice to Stellia's incredible detail. Although, the only downside to Arche's contribution to Sellia's overall sound profile was that it made vocals and midrange seem a little more distant. But these differences were slight, the most noticeable attribute of Stellia-on-Arche was the cooling-off of the upper-midrange and presence, and just a little more bass. I still can't say one DAC/amp combination was better overall. It would be a tough call if I had to decide between the two, it would depend on my mood and music choice that day.
Overall Sound Summary

All that technology in the drivers makes Stellia hands-down the most pin-drop detailed listen I've ever experienced. I know it's a headphone review cliche:
"It illuminated details in music that I had never heard before."
But, I must admit... Stellia illuminated details in music that I had never heard before. The headphone's level of detail remains consistent across frequencies and at any volume level. And that may be what appreciated most about Stellia, you don't need to turn it loud to really hear what it can do.
The downside to all that detail will be the use of sub-optimal sources. This could be a problem if you planned to use it on-the-go, where you're not likely feeding Stellia an optimal source. Being closed-back at low-impedance, you might be tempted to run it directly from your cell phone 3.5-mm jack. But using highly-compressed streaming music files, Stellia is going to place its magnifying glass over every wart and pimple in your sound. If you're planning on mobile use, you should consider a mobile DAC/amplifier. You'd be surprised how much of an improvement a portable DAC/amp can be using your phone's digital output. Stellia's detailed presentation includes spacious silences between every instrument and sound, which serves to dramatize its stellar dynamic range. If you like headphones that pack a wallop to hard rock or an orchestra, Stellia is a top-tier choice.
Who is Stellia For?

Stellia's target market is difficult to define. The $3K price-tag warrants only the seriously committed, with beaucoup-de disposable income. But the committed hi-fi headphone consumer is already covered in this price range with Focal's most premium choice, Utopia. So, Stellia is looking for a subcategory of that audience, someone who needs Utopia-style, no-holds-barred sound quality in a low-impedance, closed-back package for potential mobile use, or for listening at home without disturbing your environment with sound leakage. So, Stellia is for a niche category of consumer only.
But, of one thing there can be no doubt - Stellia is going to provide our difficult-to-define target market with unsurpassed comfort and acoustic detail, in a uniquely fashionable headphone that will go perfectly with any earth-tone ensemble.
See also:
Confused about what AV Gear to buy or how to set it up? Join our Exclusive Audioholics E-Book Membership Program!