2023 Audioholics Black Friday Home Audio Gear Deals
2023 Audioholics Black Friday Home Audio Gear Deals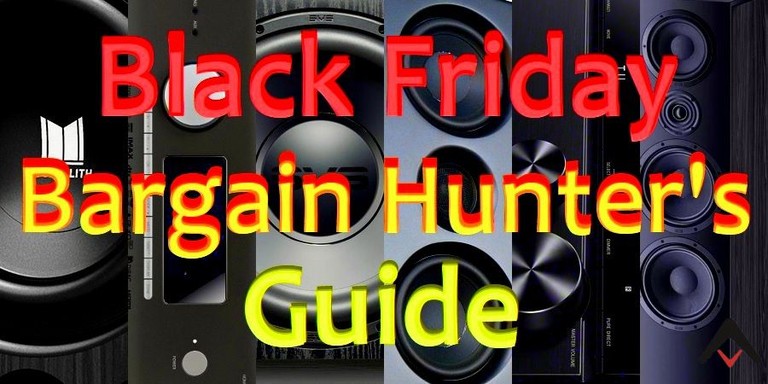 2023 Audioholics Black Friday AV Deals
2023 Black Friday Audio Deals On Gear We've Reviewed!
Now that supply chain issues from the COVID-19 pandemic have calmed down, the issues that affected inventory and thus pricing have abated. However, inflation has still taken a toll on pricing, so bargain hunting is still very popular among holiday shoppers. In this guide, we look at what we think are some of the best Black Friday deals for audio system components for the 2023 shopping season. We tried to cast a wide net to catch a bit of everything from different product categories and price classes, so there is something for everyone here. But without further ado, let's go bargain hunting!
Sony STR-AN1000 AV Reciever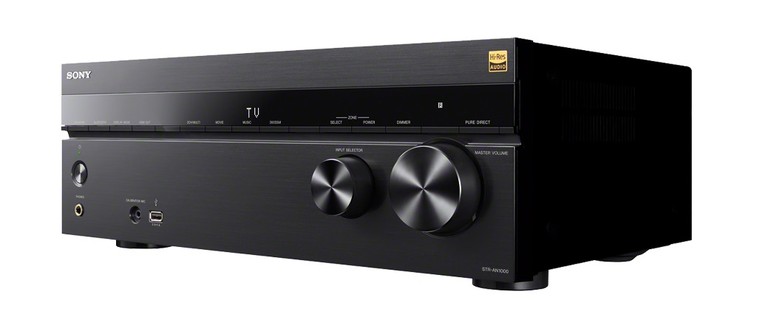 Sony's popular midrange receiver is seeing a hefty 33% discount presently, and that should really help put it within reach of shoppers looking to build a high-performing but low-cost home theater. This 7.2-channel receiver handles all the latest formats with many advanced features that won't leave buyers behind in terms of technology despite its low price. The amplifier specifications from Sony are unfortunately vague (165 watts at 6 ohms for 1 channel @ 0.9% THD; what?), but we wager this unit should put out around 85 clean watts for a two-channel system and 60 watts for a 7-channel system, and that should present a good dynamic sound for a typical sound system, especially with well-engineered 8-ohm speakers in play. Its present discount puts this midrange receiver into nearly entry-level pricing. 
Arylic B50 Bluetooth Stereo Amplifier
MSRP: $149, Sale Price (with discount code BW30): $105 Buy Now | Review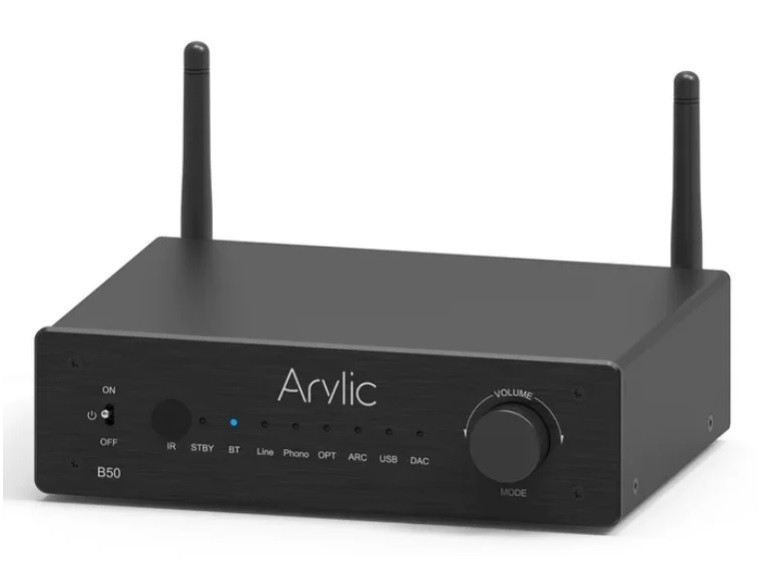 If you need something simpler than a full-scale AV receiver to power your music, Arylic's B50 Bluetooth Stereo Amplifier should do the job nicely, and when the discount code BW30 is applied at checkout, buyers will get a 30% discount thereby dropping the price to a very agreeable $105. The B50 has the latest Bluetooth 5.2 compliance and a variety of aptX support as well as HDMI ARC. On the wired connectivity front, it has RCA and Phono inputs, optical S/PDIF, USB Audio, as well as a subwoofer output. Power output is 50 watts at 4 ohms for two channels and 30 watts at 8 ohms for two channels. It looks like a very affordable and convenient solution for music streaming for a desktop, office, or bedroom system.
Arcam AVR21 AV Reciever
MSRP: $4,700, Sale Price: $3,750 Buy Now | Review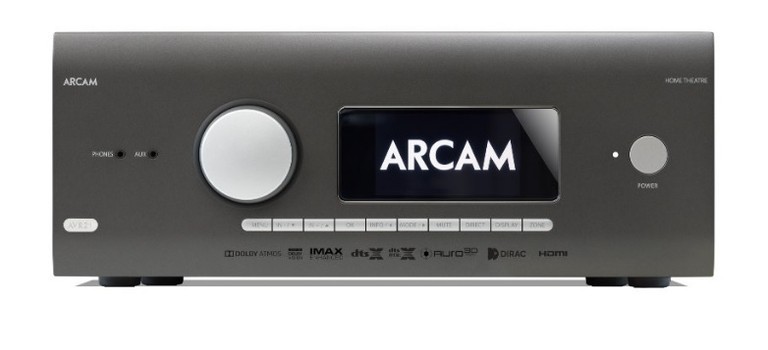 For those looking for more powerful solutions to heavy-duty home cinema, the Arcam AVR21 is seeing an approximate 20% discount at the moment bringing this beefy receiver down to $3.75k. It supports all major surround sound codecs as well as an alphabet soup of wireless streaming apps. While it only has seven channels of amplification on board at 110 watts @ 4 ohms, it can support up to 16 channels with pre-amplified outputs. We would recommend using its onboard amp for surround channels and sending the heavily used channels to powerful outboard amplifiers. It also has Dirac Live, one of the most powerful and effective acoustic calibration systems available, and it can accommodate Dirac's Bass Control for those who want to spend a bit more for perfect calibration of a multiple subwoofer system. The present sale price makes it extremely competitive with other receivers in the same class. 
JBL HDI-3800 Floor-Standing Loudspeakers
MSRP: $2,750 each, Sale Price: 1,925 each Buy Now | Review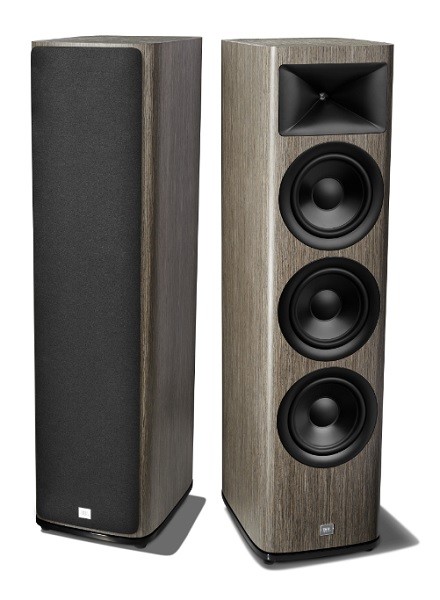 When we reviewed the JBL HDI-3800s, we were extremely impressed by their sound quality, looks, build, and dynamic range. They had a neutral sound except with a tad extra in the bass range which has always been a JBL signature. They looked very nice with a real-wood veneer and heavily rounded corners, so while they are somewhat large tower speakers, they can fit nicely into upscale interiors. They are also very well built and have a solidity that would be expected of their pricing. And dynamic range is not at all a problem, with three heavy-duty 8" bass drivers and a waveguide-loaded compression driver. Anyone looking for a good deal on a powerful yet high-fidelity tower speaker should jump on their current 30% discount at Audio Advice which brings them from over $5k per pair to just under $4k/pair.
HECO Aurora 1000 Floor-Standing Loudspeakers
MSRP: $849 each, Sale Price: $594 each Buy Now | Review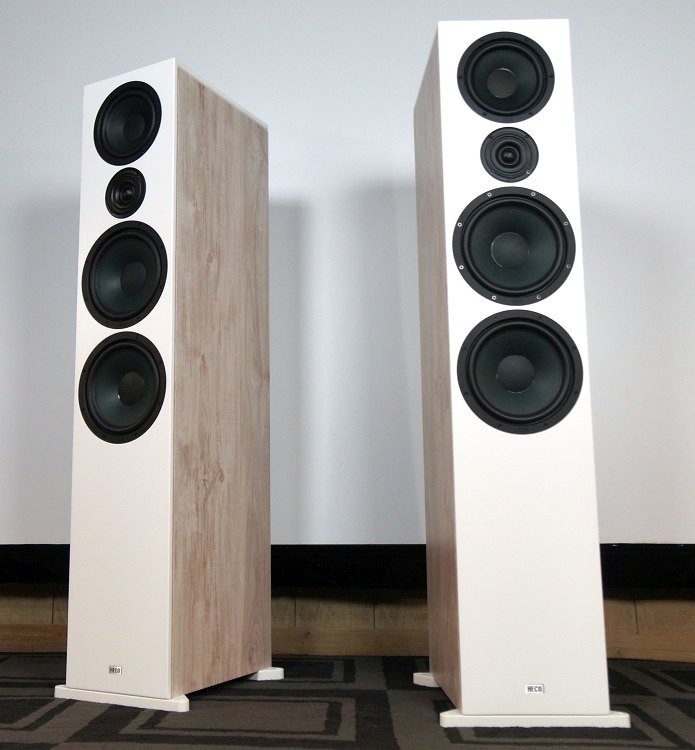 In our review of the HECO Aurora 1000s last year, we were surprised to find a true hidden gem at a very affordable price. As a brand, HECO used to be a popular budget loudspeaker manufacturer in Germany years ago, but the name was recently revived for some contemporary low-cost home audio speakers. We found the Aurora 1000s to have excellent linearity, good dynamic range, nicely even coverage, and an easy electrical load for any amp. At their MSRP, we thought them to be a great bargain, but at their present 30% discount, now putting them at just under $600 each, they become the go-to choice for anyone shopping for tower speakers in that price range. They can not be outdone for floor-standing speakers at that price point, and anyone who jumps on that deal will learn what we did: great sound doesn't have to cost a fortune. 
Revel PerformaBe M126Be Bookshelf Loudspeakers
MSRP: $2,200 each, Sale Price: $1,650 each Buy Now | Review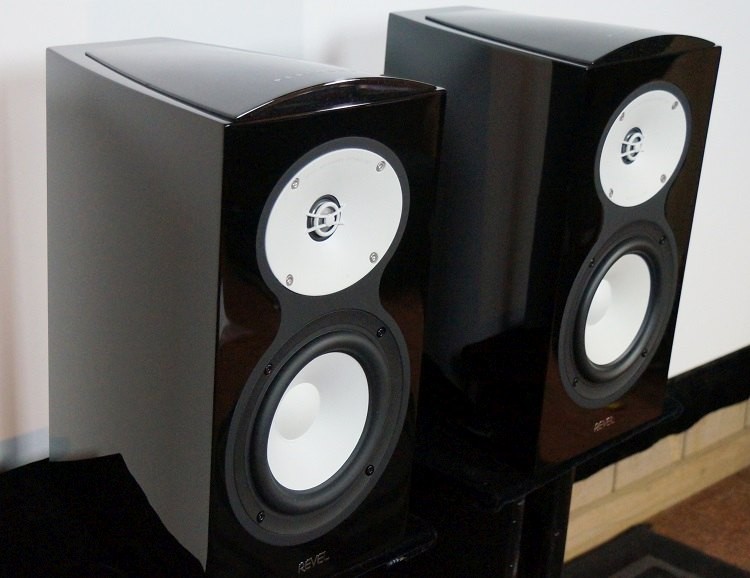 Those shopping in the higher-end of bookshelf speakers have a chance to save a nice chunk of cash by going with the Revel M126Be speakers at the moment. These are well-rounded bookshelf speakers that we found to have no significant shortcomings in our review. They have a luxury style and build quality, but they also have the performance to back up their upscale looks. They boast a neutral sound and nice, punchy dynamic range when given enough amplification. They have solid low-frequency extension down to 50Hz, so those looking for something that can get by without a subwoofer for most types of music have a good option in the M126Be speakers. Their tonal consistency over a wide area means they should sound good in any normally furnished room, so users don't need to fret about the environment that they go in. This makes them ideal for a wide range of applications from home theater, dedicated two-channel, office or bedroom systems, and even desktop systems. These not-inexpensive speakers are 25% off at the moment, and that makes for a $1,100 markdown per pair for those looking for a killer set of bookshelf speakers. 
Monoprice Monolith MTM-100 Powered Desktop Loudspeaker
MSRP: $500, Sale Price: $230 Buy Now | Review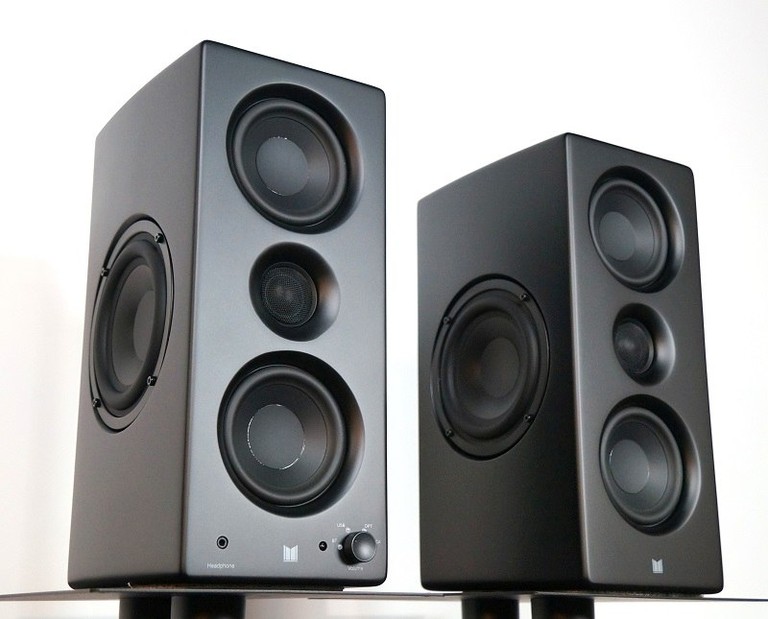 The MTM-100 is a strange speaker that fills a very particular niche, but it absolutely nails what it sets out to accomplish. It is a relatively large, wide dynamic range desktop speaker that can accommodate Bluetooth connectivity in addition to analog and digital inputs. If you want a desktop, office, or bedroom speaker that can rock, and if you have the space for them, these totally rock, as can be read in our review. When we received our review set, we thought we were going to get a loud but probably obnoxiously tuned Bluetooth speaker, like so many others in this segment, but we were very pleasantly surprised to see it was surprisingly linear and easy to listen to. In fact, those so inclined to set them up in a typical stereo system would probably be shocked at how good they are, much as we were in our review. We felt they were a good deal at their MSRP, but at their present 55% discount, they are a fantastic bargain. Anyone looking for a simple, all-in-one sound system that is inexpensive and has fundamentally good performance has a great choice in the MTM-100.
Dayton Audio SUB-1500 Subwoofer
MSRP: 259.98, Sale Price: 207.98 Buy Now | Review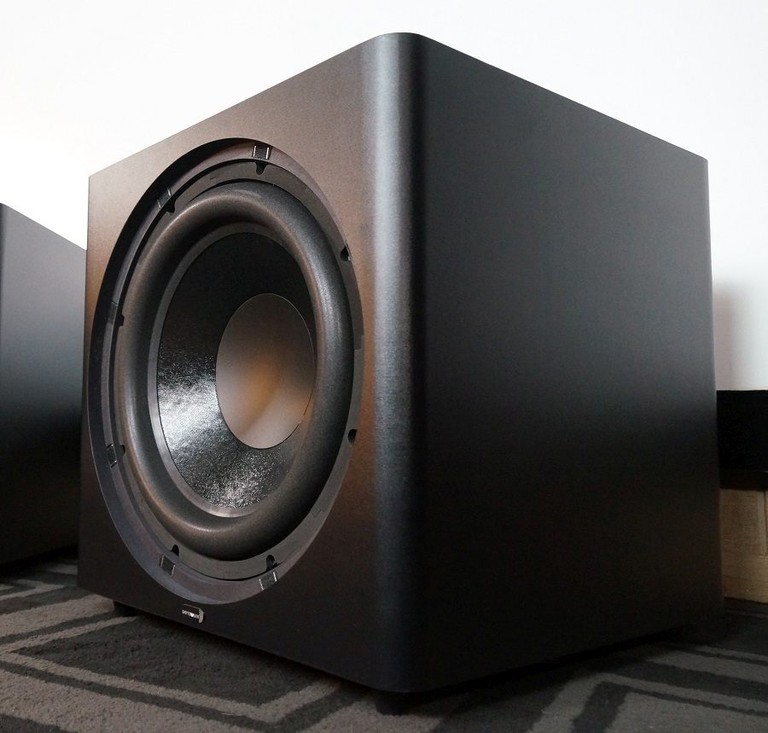 Those looking for a whole lot of bang for the buck should take a close look at Dayton Audio's SUB-1500. This is a 15" subwoofer that can be had for an incredible $208 at the moment. In our review, we found that, despite its cost, it had performance comparable to the $500 subwoofers that we have reviewed. That means it punches way above its price class, and its current sale price makes it all that much greater of a value. If you want to add some low-frequency grunt to your system but don't want to spend a fortune on a sub, the SUB-1500 is going to be very difficult to top - at its MSRP and especially at its current discounted price.
Dual SVS SB-1000 Pro Subwoofers
MSRP: $1199.98, Sale Price: $949.99 Buy Now | Review

SVS's Black Friday sale sees almost all of their products seeing some kind of discount, but the most compelling deal in our eyes is dual SB-1000 Pro subs in the Black Ash finish. That brings the pricing per pair down by about 20%, one of their best deals on SVS products at the moment. In our review of the SB-1000 Pro, we found it to be very potent for its small size and reasonable price, and buyers would be hard-pressed to get better performance out of a 13" cube, especially for the cost. A dual subwoofer system has much greater potential of dealing with traditional acoustic problems than a single subwoofer, and it's a solution that we strongly encourage whenever possible. SVS makes that very easy since the SB-1000 Pro is so small, and the present sale price for dual subs makes it all the more compelling for excellent performance in bass for an extremely reasonable cost.   
Monoprice Monolith 13" THX Ultra Subwoofer
MSRP: $1,699.99, Sale Price: $1,249.99 Buy Now | Review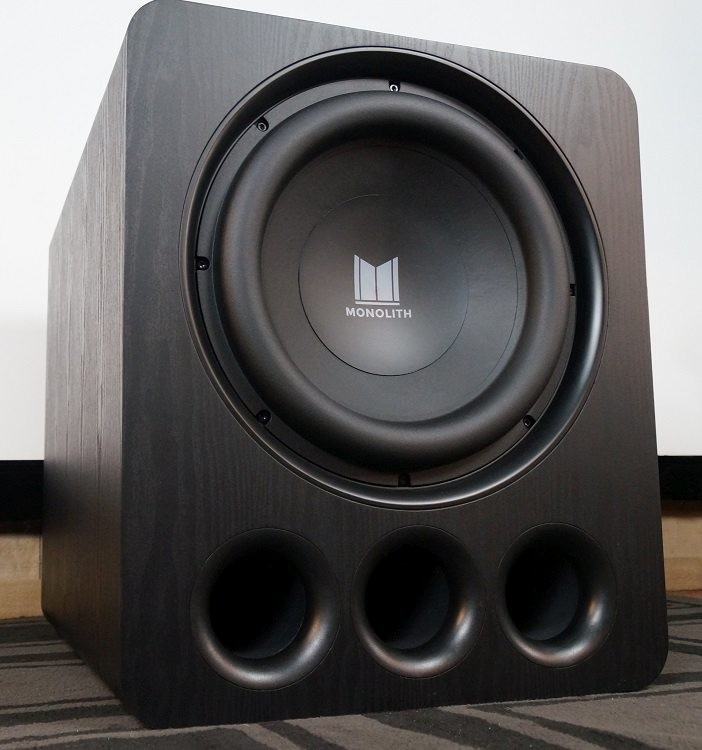 If saving space is not a concern, but sheer output and deep bass are, Monoprice's Monolith line has a terrific deal for subwoofer shoppers at the moment in the 13" THX Ultra. This 150lbs. beast will pack enough punch to charge a good-sized dedicated home theater room with some serious rumble. In our review, we were impressed not just by its sheer output but also by its ruler-flat linearity. It is as much a home theater bruiser as it is an audiophile artist. It has massive output but also vanishingly low distortion, as mandated by its THX certification. If you haven't experienced clean 106dB output at a gut-churning 16Hz, the ongoing deal is the least expensive way that can happen right now. At 26% off, we think it's the best deal in massive bass this holiday season. 
Audio Advice Revelation Home Theater Seating - Single Chair
MSRP: $1,700, Sale Price: $1,249 Buy Now | Review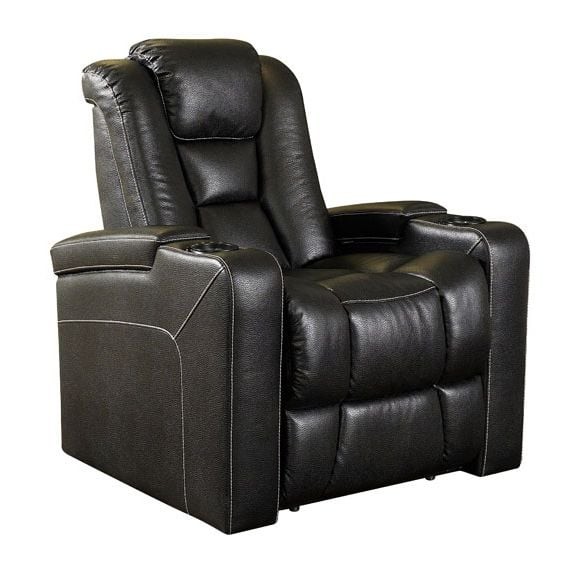 The best deal in home theater seating at the moment is without a doubt Audio Advice's Revelation series. Audio Advice is best known as a retailer, but they set out to make an affordable chair that could compete with luxury brands in terms of features and quality. With a wishlist that makes up their ideal home theater seating, they looked at every attribute of seating and how it incorporates into an overall experience. It is ultra-comfortable, easy to use, easy to clean, hospitable of all body types, accommodating with storage pockets and USB chargers, and best of all, it is on a smoking good deal with a 27% discount. We have just listed the single-chair version above, but the discount carries over to all layouts: 2 chair, loveseat, 3 chair, 4 chair, etc. Those putting together a home theater should take a very hard look at these seats, but don't wait too long- this deal won't last forever.
Focal Clear MG Over-Ear Headphones
MSRP: 1,499, Sale Price: $1,199 Buy Now | Review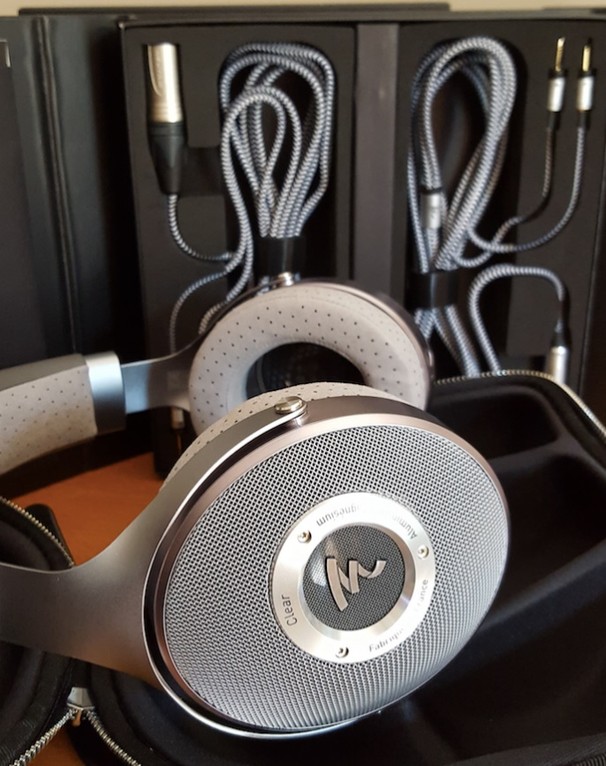 If you are looking to impress friends or family with a luxurious gift, a great deal is going on now with Focal's Clear MG headphones. These gorgeous head cans have serious build quality and superb sound quality, as we saw in our review, and they also include a set of high-quality cables and a protective carrying case. Headphones are generally better for giving the gift of high-fidelity sound because they don't take up nearly as much space as loudspeakers or electronic components and so are not as much of an imposition to the giftee. These headphones in particular are sure to wow anyone who sees them on account of their beautiful industrial design. They happen to be extremely comfortable due to the soft microfiber ear cushions that breathe nicely and should make extended listening sessions a pleasure. The open-back design allows for a more spacious sound as well as greater comfort, although they will emit more exterior sound so everyone around you will know what you are listening to. At the moment, these beauties have a 20% discount, and that frees up more room for the low-impedance headphone amp they will need. This is our first choice for anyone looking for a hot deal on a set of high-end headphones this holiday season. 
Conclusion
Deals these sweet are not going to last very long, so if anything in our list perks your interest, don't equivocate on a purchase decision. These deals can save interested shoppers hundreds if not thousands of dollars. Inflation may be putting a squeeze on our pocketbooks, but thankfully some truly good deals in the audio world can give buyers a real break to set up a great audio system, but only for a limited time. Of course, we appreciate you using our affiliate links to support the website and hope you find something to your liking in this product selection of great deals we put together for your consideration.