Monoprice Monolith MTM-100 Powered Desktop Speaker Review
Monoprice Monolith MTM-100 Powered Desktop Speaker Review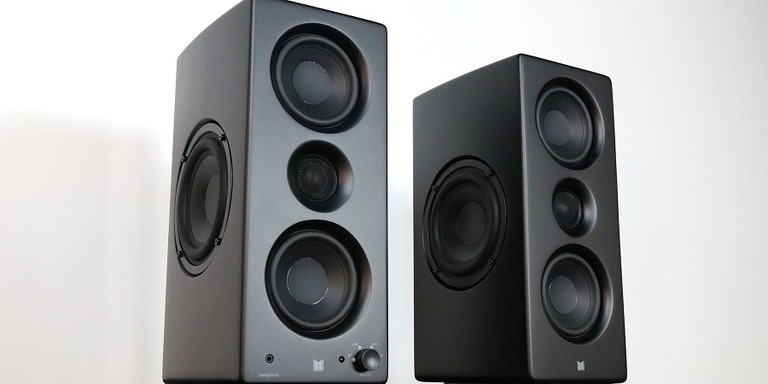 Monoprice MTM-100
Frequency Response: 50Hz ~ 20kHz
Woofer Drivers (each): 2x 4" cone
Tweeter Driver (each): 1x 1.25" silk dome
Passive Drivers (each): 2x 5.25" passive radiators
Amplifier: Class D, 2x 50 watts
Inputs: Stereo analog RCA, digital optical S/PDIF, USB, Bluetooth
Outputs: Mono analog subwoofer, Stereo 3.5mm headphones
Bluetooth range: up to 32 feet (10 meters)
Audio codecs: SBC, Qualcomm aptX HD
Input power: 100 ~ 240 VAC, 50 / 60 Hz, 150 watts
Dimensions: 6.3" x 14 x 7.9"
Pros
Very neutral and even sound
Nice satin black finish
Good selection of inputs
Exceptional low-frequency extension for the size
Simple to set up and use
Cons
Enclosure could use more rigidity and damping
Monolith MTM-100 Introduction
Ever since Monoprice launched their Monolith product line in 2016, they have produced a variety of products that had to be taken seriously within the sphere of high-fidelity audio. Even though we at Audioholics have reviewed quite a few Monolith products, we have only managed to cover a fraction of their offerings under that series moniker. One segment within the Monolith series that we have yet to deal with is the powered desktop speakers, but that will change today in this review of the MTM-100 powered desktop speakers. The MTM-100s are on the larger end of loudspeakers meant for desktop use without getting into actual studio monitors (which aren't really meant to be placed directly on a desktop anyway). The MTM-100s are desktop speakers for users who want more dynamic range and bass extension than normal desktop speakers. They should also be good as a shelf system in a bedroom or office on account of their Bluetooth connectivity. How well do they work in their intended roles? Let's dig in to find out…
Shipping and Appearance
The MTM-100 shipped double-boxed, an unexpected bonus at this price point. The speakers were sandwiched in polyurethane foam blocks to protect against shipping shocks and were wrapped in a soft foam cover to protect against moisture and scuffs. This is very good packing for $500/pair speakers, and they should survive the typically rough shipping of any of the major carriers.
The MTM-100s look fine for a large desktop speaker. The overall design was given more to function than form, but Monoprice has still taken efforts to make the speakers look nice, which has undoubtedly added to the cost. They have a true satin-black finish instead of the usual black textured vinyl that we see in so many speakers in this segment. That does mean that fingerprints and scuffs will show up a lot easier, but it does look nicer if taken care of. All of the edges and corners are rounded, and this goes a long way toward softening their appearance. I would say this is really needed because these speakers are large and will not go unnoticed on anyone's desktop. Their height is really what makes them stand out, and they will be nearly as tall as some people's monitors. There is no grille, so if the idea of looking at all those drivers all the time isn't appealing to you, the MTM-100s might not be the speakers for you. If you want powerful speakers, you are going to have to accept a loudspeaker of a larger size, so their size is a consequence of the kind of performance they can offer. Most buyers will know what they are getting into and shouldn't be bothered by the appearance of the MTM-100s.
Design Analysis
The MTM-100s are desktop speakers for those who want a bit more punch than can typically be had from speakers in this category. This is not unreasonable since most desktop speakers are fairly weak. Many have specs like a 2.5" full-range driver powered by 15 watts. Monoprice's other desktop speakers are more formidable: for example, the one popular model uses 25 watts to power a 4" woofer along with a ¾" tweeter. That would be sufficient for most people for a desktop system, but there are those of us who want more dynamic range for our music, movies, and games. So how well do the MTM-100s fulfill that mission? Let's start that discussion with the tweeter…
The tweeter is a 1.25" silk dome tweeter loaded into a small waveguide. That is considerably beefier than the normal 1" to ¾" domes that most desktop systems have, at least for those that use tweeters at all. The tweeter is protected by a perforated metal grille piece within the waveguide. The larger size of the tweeter and waveguide will enable it to play down to lower frequencies than a smaller dome mounted on a flat baffle, all else being equal.
The woofers are two 4" polypropylene cones with inverted dustcaps and fairly beefy surrounds. The back pressure from those woofers propels 5.25" passive radiators mounted on both sides of the enclosure. Passive radiators usually need to be larger than the drivers that are loading them, and, as a rule of thumb, they should have twice the displacement of the drivers that are loading them. Implementing passive radiators was a good idea here since they don't need as large an enclosure as ports would require in order to have the same low-frequency output, and the MTM-100s are already quite large for desktop speakers. The MTM-100s should have much lower bass than normal desktop speakers, which would be lucky to reach 100Hz with any authority. Indeed, Monoprice claims a 50Hz extension, but will see for ourselves in the measurements section.
As an MTM (midwoofer-tweeter-midwoofer) design, the vertical dispersion between the woofers will constrict itself to a degree outside of a vertical on-axis response, so this speaker should be situated with the tweeter set at the same level as the ears of the listener. In our article about properly setting up a desktop sound system, I actually advised readers to steer clear of MTM designs because of the narrow vertical dispersion that they tend to have. As we shall see in the measurements section, the MTM-100s don't constrict the vertical dispersion as badly as most MTM designs because the woofers are not spaced too far apart. Nonetheless, listeners will not want to be listening too far above or below the tweeter's aim. We take a look at just how much vertical coverage the MTM-100 has in the measurements section of this review.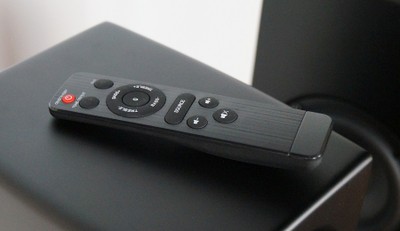 This is all powered by a 50-watt class-D amp for each speaker. One speaker has all of the active electronics and powers the other speaker, which is passive. Since there is only one amp per speaker, the crossover circuit is passive for each speaker. The crossover circuit is simple and consists of two capacitors and two inductors, which creates second-order high-pass and low-pass filters for the tweeter and woofers respectively. The good news is that all the crossover circuit has to do is simple filtering since digital electronics onboard the amp's processor should be capable of EQing the response to a fairly fine degree. As with so many other powered speakers, the MTM-100s do produce a soft hiss that is audible if the listener is close enough to the speaker. It is a very mild hiss, and I couldn't hear it even at my desktop listening position, which is about 1 meter from the speakers. It seemed to get a bit louder when I switched from the RCA inputs to the digital inputs. I don't think it would bother anyone unless they are in very close proximity to the speakers.
The MTM-100s have four inputs: analog RCA, optical S/PDIF, Bluetooth, and USB. That should accommodate most sources of audio that a desktop system would use with the exception of HDMI. Those who want to stick with HDMI can simply use an HDMI audio extractor like this Monoprice unit: Monoprice Blackbird 4K HDMI Audio Extractor. The inputs are selected by a front-mounted knob that also serves as a volume knob and the power button. Users also have a remote control unit that controls inputs, volume, and power as well, and it also has tone controls as well as a mute function. The MTM-100 has a front-mounted stereo output for a 3.5m headphone jack. It also has a mono RCA subwoofer output on the rear panel. The subwoofer output sends out a full-range signal, so whatever subwoofer that the user wants to connect is going to need its onboard crossover or a low-pass filter. The MTM-100 is not just a speaker set but also an entire audio system: just add the source.
The build quality is OK. There isn't any internal bracing since most of the panels have something installed on them. There isn't any internal acoustic stuffing either, and I think that is an omission. The paneling is made from ½" MDF; since there isn't much room for bracing, I think the paneling should have been thicker. With all the drivers, these units do have some heft at 10 lbs each. There are no feet, but Monoprice provides some adhesive rubber pads that users can install. There isn't much more that can really be discussed about the design, at least from a visual examination, because much of what will determine the MTM-100's success are aspects that can't be seen. That being the case, let's put these speakers through the paces to see how they fare in actual use…
Listening Sessions
Most of my listening with the Monolith MTM-100s was done in an office room with the speakers placed about three feet in front of me on an office desktop with some desktop speaker stands to angle them at my listening position. It is not the ideal space for speakers, but it is an intended environment for the Minis that many owners will use. This being the case, I decided to evaluate them in the conditions that they will probably be used in by most users. A PC was the source. No equalization was used, and no subwoofers were used unless stated otherwise.
Music Listening
From the first track, it was apparent that the MTM-100s could image well.
Starting with an album that demonstrates the speaker's ability with a human vocal, I found a great example with "Ghost Song" by Cecile McLorin Salvant. This is a jazz album with fairly eccentric arrangements and is not at all beholden to the customs of traditional jazz. Her break from tradition has earned her a slew of Grammys for past albums, and this album has already racked up a collection of awards since its release a year ago in March of 2022. There are more original compositions than covers on this album, but it is all seamless, and Salvant makes the covers very much her own due to her unique approach. This album deserves hi-res treatment thanks to the top-notch production that it gets from the Nonesuch label, and that is how I listened to it from Qobuz.  
From the first track, it was apparent that the MTM-100s could image well. It does take some work to get good stereo imaging from a desktop system, but with proper setup, it can be done. I placed the MTM-100s on some desktop speaker stands which angled them to aim at my ear level and arranged them to form an equilateral triangle with my listening position. I also made sure that the desktop was clear of stuff that could add more reflection and diffraction points than a desktop environment already had.
After some tweaking of the speakers' positions, Cecile's voice was nicely centered between the speakers. It wasn't the most precise imaging I have ever heard, but it was quite good for a desktop setup that faces some significant acoustic compromises. I could hear the close mic recording of the piano on track 2, "Optimistic Voices," and, like sitting at a real piano, the pitch rose as playing went from left to right speaker. The soundstage was generally well-defined, and each instrument had an unambiguous location in the sound field. Track 6, "I Lost My Mind," brings in some frenetic pipe organ playing, and the MTM-100s managed to give the larger pipes some gravitas, although they did not carry a subwoofer-like authority with the lower notes. The tonality of Salvant's voice as well as the instruments sounded mostly fine. There was some mild excess of lower mid-bass, but that was almost certainly a product of the quarter-space desktop environment rather than the speakers themselves. Using the bass EQ adjuster on the MTM-100's remote control alleviated this, but it took too much of the bass bandwidth down thereby making the speaker sound a tad thin, so I just left it at the default position. It wasn't a lot of extra bass, and I am sure many users would even enjoy the extra punch in that range. Overall, I thought the MTM-100s reproduced "Ghost Song" very well, and it's hard to imagine anyone would be displeased with the sound they produced in a desktop setting.
the MTM-100s are the most neutral-sounding desktop speakers that I recall hearing that aren't studio monitors.
A brand-new hi-res release that I found on Qobuz, "Bach: Orchestral Suite No.1 in C Major, BWV 1066, Live" would do nicely for seeing how the MTM-100s fare with classical music. Large-scale orchestral music can be good for discerning any timbral eccentricities from the speakers for two reasons: many people know how these instruments are supposed to sound, and when played together, the sound tends to be spread over most of the frequency spectrum, so any oddities would be heard fairly quickly. This suite, one of four written by Bach, is performed by the Bavarian Radio Symphony Orchestra and is released under their own label, BR-Klassik. This is a terrific live recording of a full orchestra at the historic Hercules Hall ballroom in Munchen and so serves as a good example of traditional classical music done well.
It's not easy for loudspeakers to replicate the sound of a symphonic hall in a living room or home theater, and it's that much more difficult to do it in the tight confines of a desktop space, but I thought the MTM-100s performed admirably in these circumstances. In this environment, very early reflections are more prominent, so loudspeakers cannot effect the spaciousness of a larger room. That means the burden of recreating the acoustics of the symphonic hall lay more on the recording itself, but that is usually a good idea anyway since so much music is heard in headphones or automotive interiors these days. The MTM-100s created a wide soundstage that was great for orchestral music, although that was partly due to the spacing that I gave them, which does spread them apart a bit more than speakers would be for a typical hi-fi system. This is probably a compromise that most people with desktop audio systems have to make unless they are using small video monitors, but it didn't seem to have a major adverse effect on the center imaging with these speakers. It was easy to hear instrumental section placements, and the layout of the orchestra was very lucid.
Since the purpose of these speakers is to be desktop speakers with a wider dynamic range than normal, I did crank the volume during some moments in "Bach: Orchestral Suite No.1 in C Major, BWV 1066, Live," and the MTM-100s retained their composure and put out a powerful, clean orchestral sound. I was impressed! Again, aside from the light bass boost, the tonality was very good, and all the instruments sounded natural. In fact, these speakers are the most neutral-sounding desktop speakers that I recall hearing that aren't studio monitors. Most desktop speakers are not supposed to be 'good' speakers but rather just 'good enough.' But these speakers actually sound good; I suppose I shouldn't be surprised given their pricing with respect to other desktop speakers, but I suppose my expectations were tempered by this class of product. Lovers of classical music who want desktop speakers that won't choke on crescendos at higher loudness levels have a great choice in the MTM-100s.
Our reviews last saw Oneohtrix Point Never in the evaluation of the PreSonus R80 V2. He is an innovative artist that has been enormously influential in a number of genres of electronic music. Oneohtrix Point Never's intricate compositions and frenzied sound design are an electrifying experience on a good sound system. "R Plus Seven" is one of, if not the most, acclaimed album of his. This 2013 release charted a new course for him by combining primitive digital synthesizers with modern production techniques. It presents a tremendously fun and wild sound, and I was curious to see what this modern classic of electronic music would sound like on the MTM-100. 
The soundstage presented on "R Plus Seven" is a wholly artificial creation that was carefully crafted in some multi-track digital audio editor. It's tough to say what it is supposed to sound like since it is entirely unnatural. However, I do think the MTM-100s gave a superb rendition, especially considering their desktop environment. Quick pans and phase-induced studio trickery localized the sound sources to odd locations, but the MTM-100s could follow them without problem. The sounds themselves, whether heavily processed samples or pure synths, could emanate from anywhere, and the width of the soundstage projected by the MTM-100s made this aspect all the more immersive and enveloping. The stark synths sounds and brisk arrangements cut a striking path on the MTM-100s. An example of this is "Problem Areas," where synth stabs danced wildly over my entire desktop (the corresponding video for that track is an artistic masterpiece in its own right). The bass generated by these speakers was surprisingly muscular- not just that it was loud but that it held its dynamic range down to a surprisingly deep frequency. While these are large for desktop speakers, they are still not large speakers, so I didn't expect much low-frequency extension from them, but they managed to give some of the lower notes in "R Plus Seven" some real oomph.
This album was a joy to listen to on the MTM-100s, even at a desktop, so I decided to try them out in my home theater room to see what the speakers could do when given a much more advantageous acoustic environment. I have about an eight-foot distance from the speakers to the listening position in my home theater room. It gives both speakers about a one-meter stand-off distance between the side wall and back wall. There are a lot more acoustically absorbent surfaces around as well, so there aren't any sharp reflections to screw up the response. The improvement was immediate and obvious. The sound became 'larger' and much more open, and the imaging seemed to gain significantly more precision. The elevated mid-bass was gone as well. I went over some familiar tracks, and the bass tonality seemed to be level with that of higher frequencies. Moving the speakers to my home theater room yielded such a major improvement that they seemed wasted on a desktop.
For something to see what happens when the MTM-100s get pushed hard, I selected Counter-Strike's "Time Dilation" EP. Counter-Strike produces music in the harder end of the drum'n'bass genre, so this would be pretty brutal on loudspeakers at higher volumes. As the name of the genre indicates, the percussion and bass are paramount in this music, and they are given the majority of the bandwidth, but cutting lead synths and creepy samples from horror movies are also given some space too. It all adds up to a real workout for any loudspeaker system at high volumes. This music would also be good to demonstrate the MTM-100's low-frequency extension.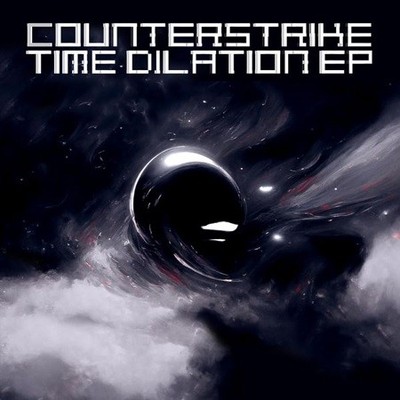 Since I already knew the MTM-100s could get louder than I could tolerate in a near-field desktop setup, I listened to this album in my home theater room, which gives me as well as the speakers a lot more space. Even in my home theater space, the MTM-100s could pack a punch with "Time Dilation." They could be pushed into audible distortion and low-frequency compression when I briefly cranked them to near max volume levels, but those were levels I would rarely ever listen to anything in my home theater room let alone a near-field listening situation. At loud levels, hats, snares, and cymbals had an eye-wincing snap thanks to the 1.25" tweeter. The lead synths shredded the space in front of me with ferocious sawtooth sounds. The kick drums and bassline were good up to a point, but after a certain level, they didn't want to get much louder. The lower-pitched sections of the bassline were fairly light and only touched on, but this was music with pretty deep bass, likely lower than the MTM-100's operating range. The levels at which the bass started to compress were higher than I thought these speakers would be capable of.
The MTM-100s have a subwoofer output, so I decided to compare the experience of listening to "Time Dilation" as well as some other works by Counter-Strike with and without a sub to hear the difference. The sub brought out a lot more of the basslines in these tracks. The low-frequency performance of the MTM-100s wasn't bad for their size, but bringing a sub in dramatically improved the low-end, not just in dynamic range but also in low-frequency extension. The subwoofer could hit notes that flew under the usable extension of the MTM-100. I think many people would be satisfied with the low-frequency extension of the MTM-100s, but users looking to rock some electronic bass music should consider adding a sub. Thankfully, these speakers make that easy to do. 
Movie Watching
these speakers lent my viewing experience a cinematic quality even though I watched it on a desktop PC monitor.
One recent release I had been interested in was the Netflix release "The Pale Blue Eye" starring Christian Bale. This period mystery concerns the investigation of a mysterious and grisly murder of a cadet at West Point Academy in 1830. A retired detective is asked to investigate, and he enlists the help of a young Edgar Allen Poe who is also a cadet at the academy. This big-budget movie looks like it would be a good vehicle to use to see what the MTM-100s could do to convey a cinematic experience.
"The Pale Blue Eye" turned out to be a bit more outlandish than I was expecting, but I enjoyed it nonetheless. The dialogue was attempting historical mannerisms if not period authenticity, but it was always crystal clear on the MTM-100s. Indeed, the richly written dialogue as executed by a top-notch cast was one of the highlights of the film, so I was grateful that the speakers did nothing to inhibit its intelligibility. Another highlight was Howard Shore's moody orchestral score which adds to the atmosphere and finds an emotional vein amongst the detective work. The score shined on the MTM-100s, and these speakers lent my viewing experience a cinematic quality even though I watched it on a desktop PC monitor. Aside from dialogue and music, there wasn't much more to this sound mix except a smattering of effects noises and environmental sounds. The cinematography for "The Pale Blue Eye" was gorgeous, and I regret not having watched it on a larger screen, but at least the loudspeakers were up to the task. If you find yourself frequently watching movies at your desktop, the MTM-100s will make your viewing experience a lot more enjoyable than typical desktop loudspeakers.
the MTM-100s delivered the film's rowdy sound mix with gusto.
To see how the MTM-100s could deal with a more rambunctious sound mix, I selected the 2103 action movie "2Guns" starring Mark Wahlberg and Denzel Washington. I hadn't seen this movie, but the trailer promised a slick Micheal Bay-esque crime caper with the corresponding over-stuffed sound mix. The movie's premise concerns an armed bank robbery by characters played by Wahlberg and Washington but neither of them is who they pretend to be, much to the surprise of each other. There are some double-crosses and drug lords and other shenanigans that lead to shoot-outs and car chases. It looked like it could be fun and also a good test of the dynamic range of the speakers.
"2Guns" delivered what it promised in terms of drama and guns, and the MTM-100s delivered the film's rowdy sound mix with gusto. Washington and Whalberg's rapport was undoubtedly the highlight of the movie, and their many quips and improvisations were always clear as a bell on the MTM-100s. I watched this movie in my home theater room rather than a desktop since I wanted to hear what the speakers could do for a movie when not hampered by the confines of a desktop environment. I didn't crank the sound levels to THX Reference loudness, but for the levels I did listen at, the action was reproduced with energy and bombast. The many gunshots and explosions bellowed with enough intensity for a cinematic experience, and Clinton Shorter's music score, a mixture of rock music and orchestral, was reproduced with enthusiasm. While the MTM-100s didn't really have the verve of speakers intended for a home theater, they certainly performed better than I ever expected from speakers intended for a desktop. The bass extension from the speakers themselves was OK, and it was present enough to make the movie enjoyable, but bringing in a subwoofer gave the action scenes a lot more weight and excitement. "2Guns" is not a bad movie, but it's not a very memorable one. If I remember it, it will be more due to the fact that I tried to use a pair of desktop speakers as home theater speakers, and they did surprisingly well in that role. 

Confused about what AV Gear to buy or how to set it up? Join our Exclusive Audioholics E-Book Membership Program!