Arylic B50 Amplifier Turns Your Bookshelf Speakers Into a Streaming Machine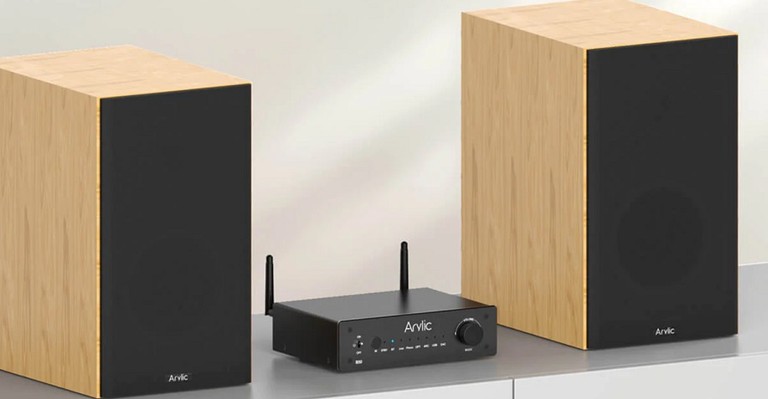 B50 Streaming Amplifier
Summary
Product Name:

B50 Bluetooth Stereo Amplifier

Manufacturer:

Arylic

Review Date:

November 06, 2023 00:00

MSRP: $139
First Impression:

Gotta Have It!
Bluetooth Standard: 4.6.45.2, 15m
Bluetooth Transmit: 2x Bluetooth TX, able to connect up to 2 Bluetooth speaker or earbuds.
Bluetooth Receiver: 2x Bluetooth RX, able to connect up to 2 Bluetooth transmitter devices
Phono in: Analog RCA, support MM/MC
Optical in: Max 192kHz/24bit sample rate decode PCM encoding
HDMI ARC: PCM only
Speaker out: 50W per channel @ 4ohms
Dimensions (approx): 7"x6"x2"
Weight: 2 lbs
Arylic audio brought whole home audio with a budget price tag into the A/V world in 2020. We did a comprehensive review of their A50 Bluetooth amplifier along with their S10 and S50pro preamps. I thoroughly enjoyed the A50 and found it incredibly easy to set up. It came with a high-quality DAC and solid build quality. For $170, you could easily stream music via Bluetooth 5.0 to a pair of speakers that you already own.
If you're an audiophile like me, you probably have a pair of older bookshelf speakers lying around that you want to set up in a home office or smaller listening room without setting up an entire receiver. You can take a pair of passive bookshelf speakers and, with minimal time and very minimal space, get them powered with the ability to stream high-resolution music all over your house.
Tony Leotta – Contributing Writer, Audioholics
Arylic released an updated version of the A50 in 2021 called the A50+ which upped the price to $199. Now in 2023, Arylic has released their newest version, the B50 Bluetooth stereo amplifier. Arylic has the B50 priced at $139 which boggles the mind seeing that most audio companies are significantly raising their prices on all their newest products.
The A50+ is still for sale on Arylic's website for $199, so what is the difference between the two products? The A50 is slightly more diminutive compared to the new B50. But at 7"x6"x2" It's not like the B50 is a beast of a product. At first glance, we see many advantages to buying the B50 over the A50, so let's start with those. According to Arylic's website, the B50 comes with Bluetooth 5.2 whereas the A50+ is limited to Bluetooth 5.0. The B50 comes with Bluetooth support for headphones with the optics HD codec (the A50 does not). The B50 can wirelessly pair up to two headphones through Bluetooth, which is a prominent feature itself for $139. The B50 also comes with the introduction of HDMI ARC. Another difference between the two is an updated app. With the A50 I found the 4Stream app to be a bit clunky and often opted to just stream directly from my phone through Qobuz via Bluetooth to the amplifier. The B50 will feature Go Control as the new app and it will be interesting to see how well it integrates itself into the Arylic environment.
Both the preamps and the A50 came with their own simple remotes. This was a surprising feature for products in this price range and helped when you didn't want to take out your phone to change the volume or switch through tracks. The B50 follows suit with a similar and simple remote of its own. 
Although the B50 does not come with a wired ethernet, I was also glad to see that the B50 comes with updated binding posts as opposed to the Phoenix speaker wire connectors of the A50. If given the choice between wired ethernet or better binding posts, I would certainly choose the latter. The B50 also includes a phono input which is another nice upgrade over the A50, which just has RCA in.
Similarities between the A50+ and the B50 include 50Wpc x 2, optical in, subwoofer out, a one-year warranty and free shipping. Both amplifiers also come with ACPWorkbench, a windows software that lets you configure and tune your Up2Stream stereo receiver board and amplifier board.
It has many powerful tools for you to fine tune your devices, professional users will find out it has all the tools you ever need and let you have total control on the device. Even if you don't know about audio tuning, you can still easily make changes to your device. Since all changes are real-time and you will immediately notice the difference and it has an easy to use user interface. 
-- Arylic
Conclusion
It took some research to figure out why B50 seemed to be the better product over the A50+ AND cost $60 less. Three words: Whole Home Audio. The new B50 does not work with other Arylic products out of the box. That doesn't mean you can't add an S10 preamplifier (which runs on the 4Stream platform) to connect to other Arylic products. It's a $70 upgrade (on sale), but it does give you the option. 
However, if you're looking to simply run a pair of speakers in a home gym, bedroom, or outside patio, quickly and easily off your phone or tablet, the $139 Arylic B50 would be hard to beat.
Unless otherwise indicated, this is a preview article for the featured product. A formal review may or may not follow in the future.