SVS Goes Wireless with Their New Prime Speaker & SoundBase System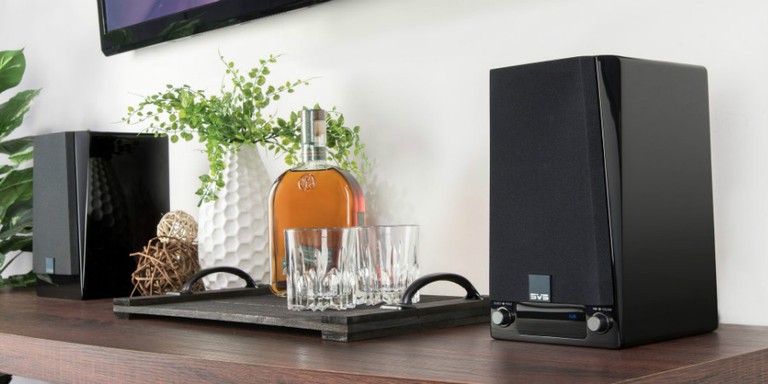 SVS Prime Wireless Speaker & SoundBase System
Summary
SVS Prime Wireless Speaker System
Tweeter: 1" Aluminum Dome
Mid-woofer: 4.5" Polypropylene Cone
Frequency Response: 52 Hz - 25 kHz (±3 dB)
Amplifier Power: 200 Watts (50 watts x 4)
Dimensions (H x W x D): 10.24" x 6.10" x 7.21" each
Weight (speaker pair): 18.28 lbs
SVS Prime Wireless SoundBase
Amplifier Power: 300 watts RMS (150 watts x 2 into 4 Ω)
Dimensions (H x W x D): 3.23" x 9.10" x 8.81"
Weight: 4.89 lbs
We've had our eye on the Prime Wireless Speaker System from SVS since company president Gary Yacoubian showed off early prototypes at CES 2018 in Las Vegas. Now the powered Primes are ready for prime time, and available for preorder for $600 per pair. SVS brought the production version of the Prime Wireless to Rocky Mountain Audio Fest in Denver, along with a new streaming amplifier called the Wireless SoundBase ($500), which is designed to deliver high-quality power and streaming music to any pair of passive loudspeakers. Both the Wireless SoundBase and the Prime Wireless Speaker System are expected to ship by the end of October.
The SVS Prime Wireless speakers can play many roles. They can be used as near-field desktop speakers, but they're also capable of filling the average living room with powerful sound from a TV or music server. Thanks to the DTS Play-Fi platform, the Prime Wireless can also be part of a high-res multi-room audio system controlled by a smartphone, tablet, or Amazon Alexa. Connectivity options include dual-band WiFi and bluetooth (aptX and AAC), plus digital and analog wired inputs. A subwoofer output makes it easy to add more bass extension and impact when needed. Each speaker employs a 1-inch aluminum dome tweeter, and a 4.5-inch polypropylene cone mid-woofer with a cast ABS-fiberglass composite basket, which ensures precision component alignment and excellent thermal transfer, according to SVS. A vented voice-coil former minimizes air compression artifacts. The right speaker contains a 200-watt (50 watts x 4) class D amplifier, so each driver is individually amplified after the audio signal passes through the built-in 24-bit dac and DSP-controlled digital crossover. The left speaker is passive and attaches to the right speaker via a supplied cable. There is a 1-inch flared port on the back of each compact (10.24" x 6.10" x 7.21") Piano Gloss Black speaker cabinet.
The DTS Play-Fi platform provides access to Spotify, SiriusXM, Pandora, Amazon Music, iHeart Radio, Tidal, and other streaming sources directly from a WiFi network, without the need for a mobile device to run a playback app in the background. The front panel of the Prime Wireless Speaker System includes six presets that give the user instant access to favorite Internet Radio stations, or even specific playlists on Spotify or other streaming services, all without the use of a phone or tablet. But using the DTS Play-Fi app on a mobile device does add additional functionality, such as the ability to distribute audio to as many as 32 different Play-Fi devices in up to 16 zones around the home. Two-channel audiophiles will appreciate the platform's "Critical Listening Mode," which allows for streaming lossless, high-res file playback up to 24-bit/192kHz. Home theater fans might prefer to use the Prime Wireless speakers as wireless rear surround speakers in conjunction with a DTS Play-Fi enabled sound-bar. The Prime Wireless Speaker System also includes an analog (stereo RCA) input for connecting a turntable, and an optical digital input for connection to TVs, gaming consoles, and digital media players.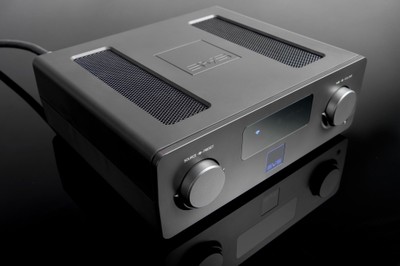 SVS SoundBase Wireless Integrated Amplifier

If you already have a pair of high-performance loudspeakers, the SVS Prime Wireless SoundBase can bring them into the 21st century, providing essentially the same experience as described above, but with the speaker of your choice. The SoundBase is a DTS Play-Fi enabled integrated amp which delivers 150 watts per channel (into 4 Ω) via standard five-way binding posts, transforming your existing speakers into a high-res, wireless audio music system. The SoundBase has a built-in 24-bit/192kHz dac, and offers intuitive control via a WiFi app or Amazon Alexa. Like the Prime Wireless speakers, the SoundBase offers WiFi and bluetooth connectivity, plus an analog input, an optical digital input, and a subwoofer output. It also features the six front-panel presets for instant access to your favorite streaming sources. Just add speakers and an internet connection, and you have everything you need. Alternatively, you can use the Prime Wireless SoundBase with an existing stereo or AV system by connecting the SoundBase's line-level analog output to your own amplifier or AV receiver. The SoundBase also includes a 3.5mm headphone output.
"The Prime Wireless SoundBase is transformational on many levels and there's really no audio component available that delivers the combination of massive, effortless power, intuitive control options, pristine sound quality and future-facing connectivity,"  "It literally brings any pair of speakers, AV receiver, or two-channel audio system into the future of great sound by converting it to a smart wireless audio zone and a hub of connectivity for all devices and every way we enjoy music. More importantly, it exemplifies the Prime Wireless mission of bringing audiophile sound quality to the wireless audio space for the first time."
- Gary Yacoubian, President SVS
SVS has a reputation for delivering high performance and solid value, not only with the company's award-winning subwoofers but also with loudspeakers, such as the Prime Satellite Speaker on which the Prime Wireless Speaker System is based. With their generous 45-day trial offer (paid shipping both ways), it makes purchasing an easy decision.
Will these first wireless audio products from SVS be another success story for the company? Share your thoughts in the related forum thread below. 

Unless otherwise indicated, this is a preview article for the featured product. A formal review may or may not follow in the future.