Edifier S2000 Pro Bluetooth Powered Speaker Review
Edifier S2000 Pro Bluetooth Powered Speaker Review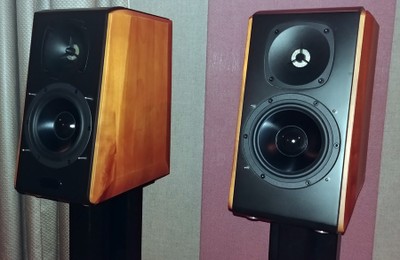 Edifier S2000 Pro Bluetooth Powered Speakers
Power output: L/R (treble): 12W+12W RMS
L/R (midrange and bass): 50W + 50W RMS
Signal to noise ratio: ≥94dB(A)
Noise level: ≤25dB(A)
Input sensitivity: Balanced input: 700±50mV
Auxiliary input: 600±50mV
Bluetooth input: 350±50mFFs
Optical input: 350±50mFFs
Coaxial input: 350±50 mFFs
Frequency response: 48Hz~20KHz
Tweeter unit: Planar diaphragm tweeters
Mid-range & bass driver: 5.5 inch (148mm)
Dimension: 8in x 13.5in x 10.5in (WxHxD)
Connection cable: 5M/16.4FT
Pros
Fantastically detailed sound
Plays loud and clean
Gorgeous cabinetry atypical at this price
Cons
No subwoofer output
Connection cable egregiously long
Remote control bulky and sharp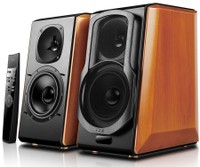 As we learned at the 2018 CES Expo show earlier this year, powered speakers are popping up in droves and seriously threatening the comfort zone that passive speakers have enjoyed with most audiophiles and consumers alike. Although Edifier is a relative unknown in the USA marketplace, they've been around since 1996 originating in Beijing China as the brainchild of a small group of enterprising music lovers. Today they have 3,000 employees and produce 8 million units for consumer electronics and multimedia PC applications every year in their state-of-the-art manufacturing facility distributed in over 70 countries worldwide.
When I received a press release from Edifier about them giving everyone the opportunity to be an audiophile with the launch of its new S2000 Pro, it piqued my interest.  The S2000 Pro speakers feature a new electro-acoustic technology that is coupled with a low-distortion flat diaphragm tweeter and an aluminum cone woofer that takes full advantage of its miniDSP function to reach what they claim to be a culmination of incredibly loud and heavy bass.  
Edifier touts the thoughtfulness of construction of the S2000 Pro speakers as evident with the thick wood side panels designed to highlight the aspects of the audio design.  Edifier included four On-Board EQ settings to provide listeners with what they feel to be a truly professional-grade listening experience whether you are hooking them up via their unbalanced or balanced analog inputs, Bluetooth, optical or coaxial connections.
Cosmetically these speakers look spectacular. But, how do they sound? Let's take a closer look and find out.
Edifier S2000 Pro Wireless Powered Speaker YouTube Review
Design Overview
Edifier wants to give everyone the opportunity to be an audiophile with their new S2000 Pro speakers.

On the surface, one wouldn't recognize that the Edifier S2000 Pro speaker is packed with the latest technology.  To start with, they employ a planar type tweeter that they refer to as a low-distortion flat diaphragm. The 5.5" black anodized aluminum cone woofer is said to take advantage of the DSP digital electronic crossover thanks to the help of German engineering from the KLIPPEL precise analysis system.  Pressing on the cone at any point reveals it's extremely rigid with no deformation when pushed towards the edge where the butyl rubber surround takes over.  The suspension is stiff and well damped.  You can tell a lot of engineering went into this driver. The tweeter is an interesting design.  It's basically a ribbon with waveguide to control directivity with a phase plug to reduce high frequency resonances.  I was pleasantly surprised to find it had quite a robust ferrite motor structure instead of a puny neodymium typically found in budget speaker designs like these.  Both drivers are magnetically shielded which I argue is a waste of resources this day in age where CRT TV's are virtually wiped off the face of the Earth. In addition, most people don't place speakers in close proximity to a hard drive and now that solid state drives have virtually taken over, it's even more of a moot point. Note to manufacturers, please STOP magnetically shielding your speaker drivers.  Thank you.  That said, these speakers have seriously good driver components not typically found at this price point.  Color me impressed.
Edifier S2000 Pro Woofer (left pic), Tweeter (right pic)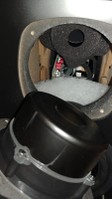 The Edifier S2000 Pro is a fully active design (no passive crossover networks) employing two Texas Instruments digital processing DSP chips, TLV320AIC3254 to optimize signal spectrum assignment and speaker driver compensation.  The S2000 Pro uses three Texas Instruments Class D amplifier chips, TAS5754, which supports up to 192KHz input signal sample rate and 768KHz output PWM carrier frequency for lower distortion. The first amplifier chip drives both tweeters at 12 watts/ch while the other two chips drive the L/R woofers independently  in a PBTL (parallel bridge) connection which helps boost the power to 50 watts/ch. For line input the onboard ADC (analog-to-digital converter) of the S2000Pro  is the Burr-Brown PCM1802 from Texas Instrument which features an impressive 105dB signal to noise ratio (SNR). And for Balanced input the ADC is Burr Brown PCM1804 which features an even higher 112dB SNR. The coupling components of analog input paths  are WIMA capacitors which ensures very low signal loss. As for optical and coaxial inputs, the interface chip, PCM9211 also from Burr-Brown, supports digital input signal with 24-bit resolution and up to 216-kHz  sample rate.  The S2000 Pro uses a state-of-the-art CSR8645 chipset for Bluetooth 4.1 connection. With the built-in aptX decoder, S2000Pro generates lossless Bluetooth playback. The dual-core DSP structure, full digital signal process and amplification and high quality components are very impressive technology for a pair of speakers costing under $400.
All of the guts inside the cabinet of the Edifier S2000 Pro are top notch, but what about the actual construction of this product?  I am again impressed not just by the rigid enclosure that sports 18mm (0.7" thick baffles) but by the real wood genuine birch side panels that really give a touch of class to these speakers.  These are also probably one of the first speakers I've seen that look better with the grille covers on than off.  This is partly due to the standoffs remaining on the front baffle instead of being part of the grille frame like we see in most grille designs.  Personally, I would have preferred to see Edifier use neodymium slugs to make them magnetic grilles.  I found taking the grilles on and off to be a bit of a chore on these speakers.  The mesh is tightly wrapped on the plastic frame of the grille and once placed on the speaker, the design just looks very elegant and fluid. Although all of the electronics are in one speaker, both have nearly the same heft which I'd guesstimate to be roughly 20lbs each.
Edifier S2000 Pro No Grille (left pic); with Grille (right pic)
The back panel of the master speaker reveals a lot of useful connection options while the slave speaker just has a 5-pin connector input.  The master speaker has left/right unbalanced RCA and balanced XLR analog inputs as well as coax and Toslink digital inputs.  When I saw the Toslink input, it immediately occurred to me that these speakers would be a cinch to connect to an HDTV display rendering them a great alternative to the typical underperforming soundbar "solution" to improving the sound of your display.  Of course, they also come armed with Bluetooth 4.1 with aptX for a near-CD quality wireless connection and easy convenience for streaming your music from your phone.  There are three analog rotary dials on the back panel to control bass, treble and volume level which are actually digitally controlled and directly connected to the system DSP.  There is a master on/off toggle power which must remain on if you want to be able to turn the speaker on/off via the remote control.  I like the fact that the bass and treble controls have a lock at the flat position.  The speaker has a flared 2" diameter port thus making it a bass reflex design (4th order enclosure).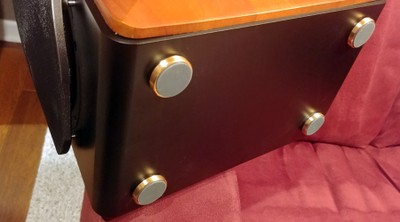 Edifier S2000 Pro Brass Rubber Feet
The brass feet with rubber padding is a nice touch, especially when installing these speakers on a desktop.  It keeps them sturdy and minimizes resonance transfer to the surface they reside upon.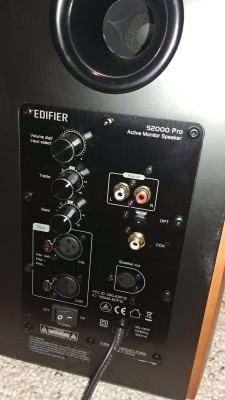 Edifier S2000 Backview
The power cord on the back is not detachable which is a bit of an annoyance to me but not as annoying as the excessively long 5 pin proprietary cable that connects to its mating speaker.  It appears to be about 16ft in length which is a bit long even if you're placing these speakers in a living room and painfully too long if installing them in a nearfield environment closely spaced together on a desktop.  Edifier should either shorten the length to something more reasonable, say 10ft, or offer an additional 5ft cable option for desktop applications.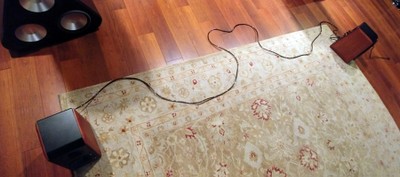 Edifier S2000 Pro 15ft connection cable is too long! 
The Remote Control Weapon
About the most bizarre thing about the Edifier S2000 speakers other than the overly long connection cable previously mentioned is their hulking remote control that is unnecessarily big, almost the size of my Yamaha CX-A5100 11.2CH preamp/processor remote.  With all of its sharp edges, it's also about as safe as Kylo Ren's Lightsaber.  Seriously if anyone ever broke into my home, I'd probably reach for this remote before my handy baseball bat and just use it as a stealthy projectile weapon.  I'm a bit perplexed why Edifier thought they needed to design a remote control so large and elaborate like this just to control source and EQ selection, power and volume and playback control. 
Incidentally the bass and treble controls are not replicated on the remote (not for there being lack of space mind you) making it rather inconvenient to have to go behind the master speaker anytime you wish to make adjustments.  The 4 EQ positions affect all but the balanced inputs which is NOT mentioned in the rather sparse user manual.
Confused about what AV Gear to buy or how to set it up? Join our Exclusive Audioholics E-Book Membership Program!
Recent Forum Posts:
plemieux posts on November 13, 2018 10:14
Hi -
I realize that this thread has been stale for a few months, but I hope that more people (and the author) are still monitoring it and interested. This is a great review for what is sure to be a great speaker set.
I'm writing now because I'm interested in slowly getting back into high quality audio, after many many years of sacrifice for the sake of convenience (ipods, cheapish portable BT speakers like Jambox; etc), and am considering starting with either these speakers, or the Swans M200MKIII+ (about $100 more). Let's face it, I'll probably still stream my music, news etc through the iPhone, but I don't mind having speakers in one place, fixed in the room, if that will give me similar sound to what I grew up with as a teenager. Eventually, I'd even like to pair them with a high end amplifier/receiver and maybe even a turntable. No fix plans yet (yes, I know: both sets have built-in amps… and I'm not sure if that makes them completely incompatible with standalone hifi amps etc down the line…) The TV pairing will come first, certainly.
The reason for this post is a simple question, since both speakers are getting rave reviews everywhere, and we must get down to the details. Should the fact the Swans embraced the newer BT 5.0 standard as opposed to Edifier's BT 4.0+APTX (a lower standard, with about 1/4 of the streaming rate) be a decision maker in your opinion? The Swans are also 100W vs 50W for the Edifier (more capacity, but I'm not looking for 'loud').
Thank you for your comment!
PL
RichB posts on March 26, 2018 08:36
I was considering powered speakers for my game room to replace my Yamaha RX-A820 and Revel M20's but the logistics did not work out. Here were the obstacles:
Routing Power to through the walls. There was power below so it was not moderate but not sever.

Routing between speakers. There is a drop ceiling so it could be done.

Driving from the Oppo BDP-105D Balanced outs. The runs gets long so balanced inputs are a good idea.

Auto power on. The models I looked at did not appear to have a low power and auto-sensing. Wall mouted in my 9.5 ceilings would require a step-stool. I don't like leaving stuff powered on 24/7.

Some models are fully DSP controlled so powered also meant re-digitizing.

If DSP controlled, then a digital interface is preferable. This means wiring then together or wireless.

So, I bought an ATI AT5222NC which when driven directly by the Oppo BDP-105D is a marked improvement over the RX-A820. I like the Paradigm 9H approach that powers and DSPs only the bass section.
- Rich
Siddharth posts on March 25, 2018 12:57
Well i am thinking to buy it.
SKA posts on March 23, 2018 12:08
Thanks Gene for wonderful review. It seems S2000Pro are in direct competition to Swan M200MKIII and upcoming SVS Active Prime. It will be great to do comparison.
SK
KEW posts on March 21, 2018 19:04
gene, post: 1239114, member: 4348
I plan on getting in a pair of LSR 306 mkII to compare. I heard from others that these do compare favorably to the LSR 305s but haven't done a direct comparison myself.

IN my large room they just don't get quite loud enough or have enough bass which is to be expected. They do work best as a nearfield monitor and do quite well with my drum kit. I am not keeping them as I really want the LSR 306's bc of the bigger woofer and more powerful amp which should be even better for use with my drum kit especially when my friend brings his bass amp over which is far louder and more powerful than these monitors.
Yeah, the 306's won't be as pretty, but getting the full wallop from your kick drum definitely needs a decent sized driver!
Post Reply