Enclave CineHome HD Wireless HTIB Review
Enclave CineHome HD Wireless HTIB Review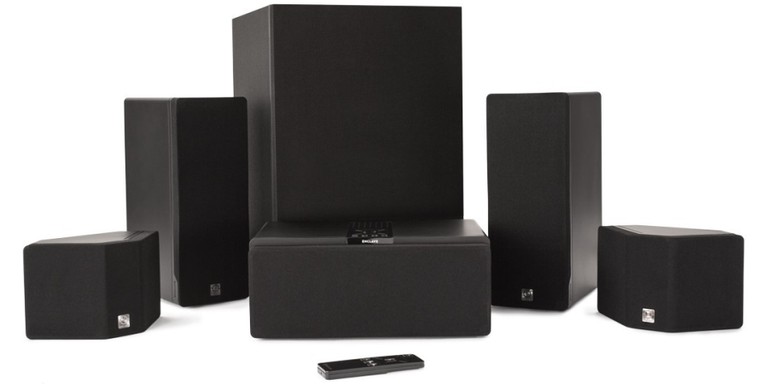 Enclave CineHome HD Wireless HTIB
Center/Front drivers: MTM configuration with 80mm woofers and 20mm fabric dome tweeter
Center dimensions: 5.25" x 12.75" x 8" (H x W x D)
Front dimensions: 12.75" x 4.75 x 8" (H x W x D)
Subwoofer: 217mm driver (with mounting ring), front ported
Subwoofer dimensions: 18 x 12 x 13" (HxWxD w/ grill)
Rear: Dual driver, bipole configuration
Inputs: 3 x HDMI, Optical, Analog 3.5mm
Output: HDMI
HDMI Cable included.
Optional upgrade to dual subwoofers available now.
Battery powered rear speakers available later 2016.
Pros
Simple setup, as long as you have nearby AC outlets.
No complicated menus; It just works.
Beats even the most premium soundbars in creating a surround theater experience.
The least expensive WiSA system by a long shot, giving consumers more choice in a budget system.
Cons
Some controls feel a bit cheap.
Requires display to be turned on to select audio only inputs like Bluetooth rather than simply toggling through.
Power LED is the same color regardless of whether it's on or off.
Enclave CineHome HD Introduction
I've never once had someone over to my theater and heard them say, "Oh, I don't like the way that sounds." Folks experiencing a quality 5.1 system universally love it. So why doesn't every home have a good home theater system? It's usually some combination of size, cost, and setup complexity that holds people back. Because of these roadblocks, they settle for underwhelming soundbars or pathetic speakers that came built into their TVs. Enclave Audio is here to change that. 
Enclave Audio's CineHome HD is a wireless 5.1 system that is compact and the most affordable WiSA wireless speaker system available on the market today at less than $1,200. Rather than connecting a large AV Receiver to speakers by stringing lengths of wire around furniture and under carpets, each of the Enclave speakers are powered by a nearby AC outlet and communicate wirelessly: no long wires or complicated setup needed. 
 Enclave Audio CineHome HD Wireless 5.1 Surround Review

Initial Impressions and Features 
The 5.1 system shipped with each speaker in small, well-labeled boxes contained in a single larger box. If you want a real home theater experience and don't want to think too hard about it, you just load the single box in your cart and hit the checkout. It's a simple process that yields good sound. 
The center channel is a horizontal MTM configuration with dual 80mm drivers and a single 20mm fabric dome tweeter. On the top of the speaker, a control layout nearly identical to that of the remote control makes it easy to operate your system even if the remote isn't handy. On both the remote and the speaker, the controls felt a little rattly and some were mushy when pressed, marring an otherwise refined presentation for the price point. When the unit is off, a blue LED glows brightly. When it's on, it still glows blue, but less brightly. I'd probably have sprung for a different colored LED for each power state to limit confusion.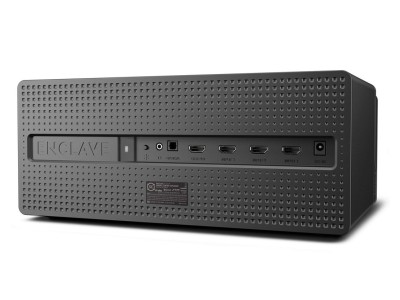 Enclave  CineHome HD Center "Brain" Inputs and Outputs
The center channel also serves as the "brain" of the system, conducting duties usually carried out by an AVR. Available inputs consist of 3 HDMI, 1 analog 3.5mm, optical, and bluetooth wireless. A single HDMI output routes video to your display, and a built-in rear LED tries to shine a little light on the rear connectors to make plugging everything in a little easier. 
The front speakers are a vertical MTM configuration with drivers identical to the center channel. The cabinets are front-ported and made of a fairly well damped composite material finished in matte black. They have enough heft and style with rounded corners and a dimpled pattern on the back to not be confused with cheap HTIB speakers and won't detract from more upscale decor.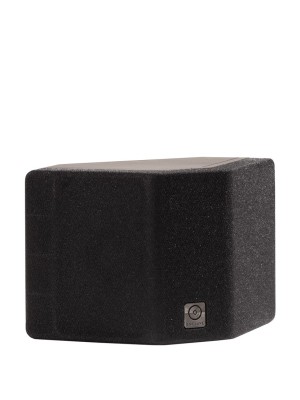 Cinehome HD Rear Bipole Wireless Speakers
The rear speakers are designed with dual drivers in a bipole configuration (all drivers in phase) for a broader rear soundfield. Mounting options on both front and rear include keyhole and threaded fasteners. The front speakers feature rubber feet but the rears don't which is a bummer because the rears spun on my coffee tables due to the tension from the power cords. Get a few stick-on feet if you're not going to hang the rear speakers on the wall.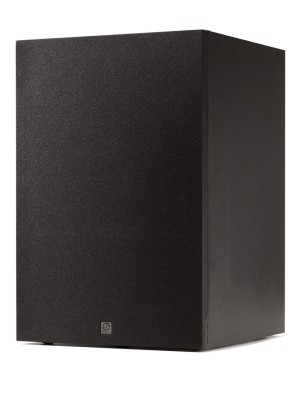 CineHome HD Wireless Subwoofer
The subwoofer is a large enclosure measuring 18 x 12 x 13" (HxWxD w/ grill) which is on the large side for an all-in-one system. This is a good thing as larger enclosures typically signal greater output and the largest dimension is the vertical dimension preserving precious floor space. However, the subwoofer enclosure is not terribly heavy or inert when rapped with a knuckle which might contribute to some low-frequency coloration. It's finished in black vinyl and is front-ported with the driver listed as 217mm in diameter (includes the mounting frame). Compared to the typical HTIB sub, the construction wasn't flashy, but met my expectations. 
Setup and Operation 
Well, this section's going to be short. If you can plug in a toaster, you can setup the Enclave CineHome HD. 
My wife Megan, who has never set up a home theater system because, thanks to living with me, she "doesn't have to", obliged me by giving the setup a shot with the Enclave. In just a touch over 30 minutes, she had gone from opening the box to listening to music and watching movies. Each speaker and power supply was clearly labeled, an HDMI cable was included, and from the first press of the power button, everything just worked. 
Once powered up, the center channel connects via the WiSA standard in high definition (24 bit/96khz) to each of the left, right, and surround speakers, as well as up to two subwoofers for maximum bass output (one is shipped with the system, the second is optional). Each of the speakers has its own Class D amplifier built in and powered by a standard wall outlet. There were no wireless sync errors and no complicated menus. As long as you have power outlets for each of the speakers, you're all set. Battery packs for truly wireless rear speakers just appeared on the Enclave website with availability listed as later in 2016. 
Now, if that's too easy for you, you can dive into the menu for advanced setup features like individual speaker level, rear channel balance and delay, and two-channel processing mode. Some of the settings, speaker level specifically, require a close reading of the instruction manual. However, I found the initial settings to be an excellent starting point, and many people will be wholly satisfied with out-of-the-box performance.

Confused about what AV Gear to buy or how to set it up? Join our Exclusive Audioholics E-Book Membership Program!
Recent Forum Posts:
Steve Thompson posts on July 18, 2016 12:15
I bought from Amazon a couple weeks ago and it will decode DD, DD+ and DTS core bitstreams, but for Dolby HD or DTS HD, you have to send it PCM from your source (and it's worked great for me.)
jax posts on July 16, 2016 02:15
Thanks for the review. Does this system have any support for Dolby True HD & DTS Master Audio
gene posts on July 14, 2016 01:05
9gRowXGA58Y
gene posts on July 14, 2016 00:58
Enclave Audio's CineHome HD is a wireless 5.1 system that is compact and the most affordable WiSA wireless speaker solution available on the market today at less than $1,200. Rather than connecting a large AV Receiver to speakers by stringing lengths of wire around furniture and under carpets, each of the Enclave speakers are powered by a nearby AC outlet and communicate wirelessly: no long wires or complicated setup needed.

Can Enclave best premium soundbars to become king of the simple HT system? Read on to find out and be sure to watch our YouTube video review.



Read: Enclave CineHome HD Wireless HTIB Review
Post Reply