Sony BDV-N8100W 3D Blu-Ray Home Theater System Preview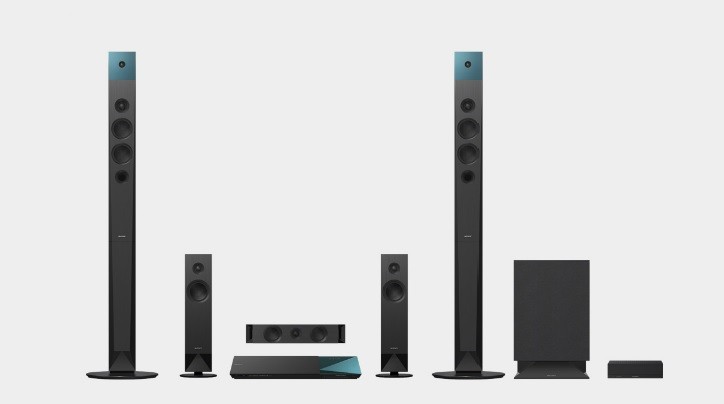 Sony BDV-N8100W
Summary
Wireless Rear Speaker
Wireless Amplifier (5.8GHz) : Yes
Wireless Surround Transmitter/Receiver : Yes

BD
HD (24Hz) (24p True Cinema) : Yes
HD (60Hz) : Yes
HD 24Hz to 60Hz conversion : Yes
SD (60Hz) : Yes

Decoding
DSD : Yes(HDMI in; No)
DTS : Yes
DTS-ES : Yes(as DTS Core)
DTS-ES Discrete6.1 : Yes(as DTS Core)
DTS-ES Matrix6.1 : Yes(as DTS Core)
DTS-HD : Yes (HDMI in)
DTS-HD HR : Yes (HDMI in)
DTS-HD LBR : Yes (HDMI in)
DTS96/24 : Yes (HDMI in DTS96)
Dolby Digital : Yes
Dolby Digital Plus : Yes (HDMI in)
Dolby Prologic : Yes (HDMI in)
Dolby True HD : Yes (HDMI in)

Front Speaker
Enclosure Type (Bass Reflex/Acoustic suspension/Passive radiator/others) : Bass Reflex
Input Terminal : Push Type
Rated impedance : 6 ohms
Speaker System : 3 way
Speaker Unit : 4 unit
Supplied Cable Length : 4m
Tweeter unit : 25mm
Type (Tall boy, Micro satellite) : Tallboy
Woofer unit : 80mm x 2

Center Speaker
Enclosure Type (Bass Reflex/Acoustic suspension/Passive radiator/others) : Bass Reflex
Input Terminal : Push Type
Rated impedance : 6ohms
Speaker System : 2 way
Speaker Unit : 3 units
Supplied Cable Length : 2m
Tweeter Unit : 20mm
Type (Tall boy, Micro satellite) : Center
Woofer unit : 60mm x 2

Surround Speaker
Enclosure Type (Bass Reflex/Acoustic suspension/Passive radiator/others) : Bass Reflex
Input Terminal (SCREW/PUSH TYPE/GOLDEN PLATED/PIG TAIL) : Push Type
Rated impedance : 3 ohms
Speaker System : 2 way
Speaker Unit : 2 unit
Supplied Cable Length : 5m
Tweeter Unit : 20mm
Type (Tall boy, Micro satellite) : Desktop
Woofer unit : 80mm

Subwoofer
Active/Passive : Passive
Enclosure Type (Bass Reflex/Acoustic suspension/Passive radiator/others) : Bass Reflex
Input Terminal : Push Type
Rated impedance : 6 ohms
Speaker System : Subwoofer
Speaker Unit : 1 unit
Supplied Cable Length : 3m
Woofer unit : 180mm

Wi-fi
Wi-Fi Built in : Yes(2.4GHz)

Power Output
Center (Reference) : 200W
Front (Reference) : 200W
Subwoofer (Reference) : 200W
Surround (Reference) : 100W
Total (Reference) : 1000W
Executive Overview
Not to be outdone by rivals, Sony has updated its packaged home theater system lineup for 2013, with the BDV-N8100W Premium 3D Blu-Ray HT System leading the charge. Priced at $699.99, which is less than the cost of a foot of some snake oil infused speaker wire, Sony has packed a veritable cornucopia of features into their latest and greatest home theater package, including a 3D capable Blu-Ray player, 4K upscaling, and Wi-Fi connectivity. Of course with so many features packed in for the money, how good could the audio experience be? Read on to find out what we think.
Features, Features, Features
A quick visit to the product page of the BDV-N8100W will reveal that Sony has shoehorned quite a lot into their premium home theater system: there are no less than 22 individual features listed. While a good number of these are likely to be considered worthless fluff by most (do we really need "Football Mode"?).  There's a lot to like here, including: dual HDMI inputs; wireless networking and streaming for Netflix, YouTube, HuluPlus, et al; and "wireless" rear speakers courtesy of a wirelessly fed stereo amplifier that powers the surround channels. In terms of raw feature set, the BDV-N8100W seems reasonably all inclusive, even letting you get on Facebook and Twitter via a Socialize application.
The Audio
Features are great; I like cool toys as much as the next guy, but let's face it, this is Audioholics, and we want to know how Sony's top HTIB can perform. Starting with the basics, the main speakers sport a 25mm tweeter and a pair of 80mm (that's a hair over 3" for those averse to the metric system) woofers in a vented configuration. The center speaker interestingly features a different configuration: a 20mm tweeter and a pair of 60mm woofers in a vented alignment, while the surround speaker shares the 20mm tweeter of the center channel and mates it with an 80mm woofer from the main speakers. The subwoofer (if you want to call it that) boasts a 180mm (7") woofer in a vented alignment.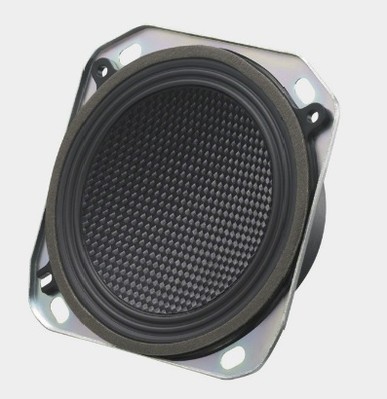 An 80mm woofer from Sony's BDV-N8100W


Suffice it to say, judging by the size of the drive units alone, the audio performance of this system isn't going to be much to write home about. 180mm does not a subwoofer make, though for the price we can understand Sony can't squeeze in a pair of SVS PB13-Ultras. What's a little more problematic in our view is the use of a pair of 60mm "woofers" on the center speaker. At slightly under 2.4", we're talking about a drive unit slightly smaller than what is utilized by a Bose cube. Consequently, we expect Sony's center speaker to suffer one big flaw, namely being unable to effectively dig deep enough to successfully blend with a subwoofer. At best, the included subwoofer is going to have to shoot for an abnormally high crossover frequency, which can lead to issues of localization. At worst, there could be a hole in the system response stemming from the speaker which handles the bulk of the content in a home theater.
Summary
Dollar for dollar, we'd expect you'd have a hard time finding a system boasting a more robust feature set than Sony's BDV-N8100W. Still, if you're chasing top notch audio performance on a budget, one should be aware that the sleek form factor brings some drawbacks that are tough to overcome. To be fair, Sony is hardly the only one chasing slick looks that complement a flat screen TV and letting audio performance take a back seat.  Competitors like the Samsung HT-E6730W and LG BH9420PW appear to suffer from the same drawbacks. Still, it wouldn't be a big stretch to expect that a system like Onkyo's HT-S7500 plus a newer streaming Blu-ray player could offer significantly better audio performance over Sony's system for not much more coin, albeit at the expense of some aesthetics.



Confused about what AV Gear to buy or how to set it up? Join our Exclusive Audioholics E-Book Membership Program!
Recent Forum Posts:
Adjepatatje posts on December 24, 2013 08:01
It IS usefull

I find this article usefull (especially for a noob like me) !!
Someone in the Netherlands, there was a deal for exactly this system.
And because I am the bigest noob about audio systems I find the review interesting and the suggestion for other systems.
It this review was not written, I was till looking for a review for this audio system.
GREAT!
Thanks.
Cygnus posts on May 17, 2013 11:22
Adam, post: 968763
I have a different opinion of Audioholics. I don't think it's about high quality reproduction - I think it's about understanding what you're buying.
Ahh, good point. Not so much about 'just high-end' but also some lower end stuff for comparisons between the two for new buyers then?
I can dig that
Steve81 posts on May 17, 2013 10:29
Adam, post: 968763
Steve, I'm glad to see that you've joined the writing staff. I like your writing style quite a bit. Nice job!
Thanks! Flattery will get you everywhere
Adam posts on May 17, 2013 10:28
Steve, I'm glad to see that you've joined the writing staff. I like your writing style quite a bit. Nice job!
Cygnus, post: 968756
What is the point in reviewing units like this? They have nothing to do with audio quality, and are a waste of time for someone looking for high quality reproduction of their media, which is what Audioholics should be about.
I have a different opinion of Audioholics. I don't think it's about high quality reproduction - I think it's about understanding what you're buying. So, knowing if a system like this will give you what you want. For some people, it will…for others, it won't. My parents, for ex
amp
le, would like something like this much more than a system with big speakers and wires running everywhere. They also think that their TV speakers sound fine, and I imagine that this would be a step up.
Even if we stick with the thought that AH is only about high quality reproduction, there's value is discussing which systems don't have it and why.
All of that said, this is a PREVIEW. Steve doesn't actually know what the system sounds like. Discussions of sound quality are all speculation based primarily on driver size. I owned a "subwoofer" with an 8" driver that impressed the heck out of me, and my current PC system has similar sized drivers to this Sony and does a good job in a smaller room.
Steve81 posts on May 17, 2013 10:27
I can't speak for Gene, but think of it like this: someone looking for information on this product may find and read this preview article and learn about some of the faults the system possesses, as well as a potential alternative (or several depending on whether they explore the site further).
Post Reply