James Loudspeaker Product Launch Extravaganza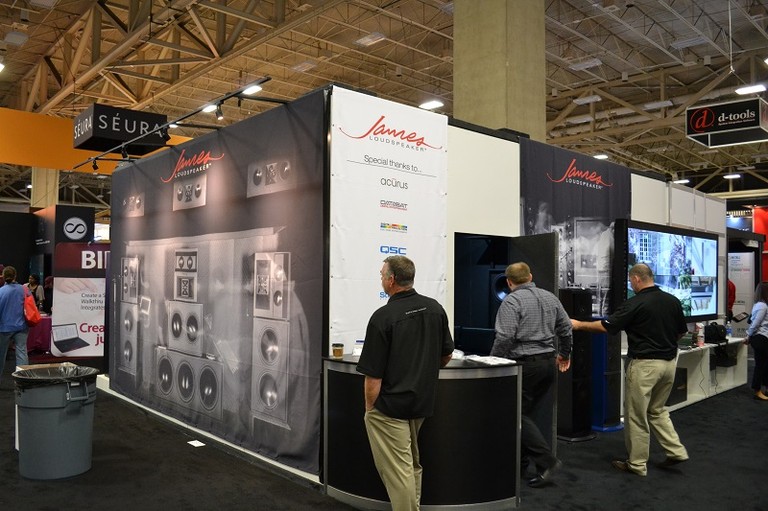 James Loudspeaker Product Launch Extravaganza
Summary
Executive Overview
I'll be frank, James Loudspeaker launched or updated so many products at CEDIA 2015 I have no idea if I'm actually covering all of them here. Okay, I do have a complete list, but they showed us so many products – each of which can be customized to fit client needs – that my head was spinning after just a few minutes. Then again, maybe that's normal when you are substituting coffee for sleep? To make things simple, below is a list of products they were showcasing, along with a brief description of each product.
A2.1 Amplifier ($1400)
Designed for the stand-alone system located in a guestroom, to complement a high-end desktop system, or even for use with close-proximity outdoor systems, the A2.1 fits numerous of applications. It features a single stereo audio input, and three high-level outputs (left speaker, right speaker, subwoofer). Hook this amp up to the audio out on a distributed audio system, or even from the back of a TV, and you have all you need to power a pair of speakers and passive subwoofer.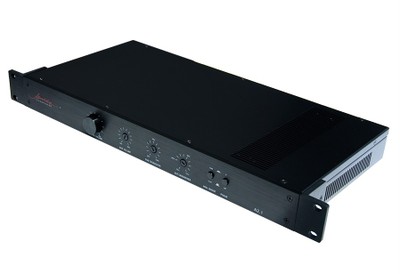 James Loudspeaker A2.1 Amp

Designed for the stand-alone system in a guest room or bedroom where you desire premium L/R & subwoofer sound. This may include a soundbar with an in-wall subwoofer. It's also great as a close proximity landscape system using both L/R & Subwoofer speakers.
Stakes
James Loudspeaker makes outdoor speakers. Those speakers can be placed around a yard by attaching them to James' AT speaker stakes. They revamped the speaker stakes to increase durability and installation ease. It's as easy at that.
SPL3LCR-CRV (Est. $3000)
How's that for a model number? The SPL3LCR-CRV is a curved soundbar with nine drivers (three tweeters, six mid-range drivers). Each one is custom made to match the width of the customer's TV. Instead of trying to incorporate some sort of surround simulation technology, with this soundbar James Loudspeaker essentially created a single LCR (left, center, right) speaker. This allows customers to still utilize whatever surround speakers, subwoofer(s), and electronics combination they desire.
James was showing off their Small Aperture Speaker as well. You can see a bit of the SPL3LCR-CRV in the left picture.

SLT3LR (starting at $2200)
The SLT series soundbars are a bit of a unique design. In order to make the soundbar short, a miniscule 3.15" tall, a 3.5" woofer was mounted horizontally inside the soundbar and sound routed through a slotted port. When you order the speaker from James, you can customize the driver configuration to contain: 4-12 3.5" woofers, 1-3 2" aluminum midrange drivers, and 1-3 aluminum .75" tweets.
SPLD3LR (starting at $2200)
Imagine the SLT3LR soundbar, then move around a few drivers and run it through a car crusher to squish it down to 1.6" tall, and you will have a SPLD3LR. I'm sure that over simplification will make the engineers at James Loudspeaker cringe, but the SPLD3LR is really their solution for people who need to shortest soundbar possible but want to get as close to the performance of the SLT3LR as possible. The SPLD3LR can feature 4-12 3.5" drivers, which are all down-firing, and 1-3 .75" front-firing tweeters.
Details on the next two products are sparse, so let the pictures serve at eye candy. James Loudspeaker products are highly customizable, so if anything intrigues you, I highly recommend that you reach out to your closest dealer for more information.
Q Series ($ Consult dealer)
The Q series is James' attempt at taking their existing in-wall series and making them into floorstanding speakers.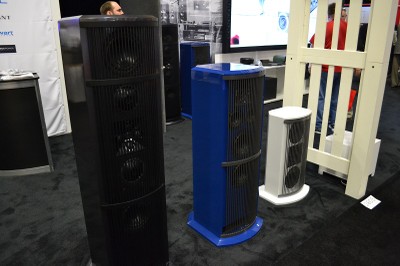 James Loudspeaker Q Series
C-10FST ($ Consult dealer)
This custom-made speaker was a embodies the term "eye candy." And with quad 6.5" woofers, quad 10" bass drivers, and a quad BE tweeter, this speaker is four times more special than most other products on the market.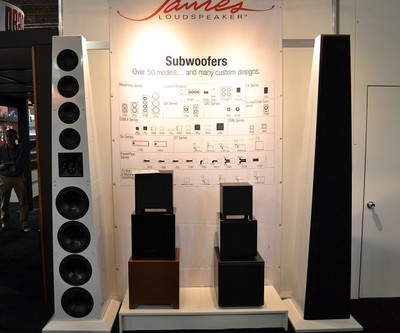 James Loudspeaker C-10FST Speaker
Conclusion
If there was one thing that was made clear about James Loudspeaker during CEDIA 2015, it's that they are all about custom solutions. The representative continually stressed to me that they work with their dealers and customers to ensure that if a solution doesn't already exist in their catalog that will meet a client's needs, they will make a solution. I wasn't able to actually demo any of the products mentioned in this article, but we liked what we heard at CEDIA 2013, if that's any indication of what they were showing off this year. If you want a listen, stop by a dealer in your area.

Confused about what AV Gear to buy or how to set it up? Join our Exclusive Audioholics E-Book Membership Program!
Recent Forum Posts:
sunPin posts on May 03, 2016 22:36
@gene , ever get those Concerta2 F36 speakers in for review? I demoed them and thought they sounded great at low volume, but they broke up at moderate volumes in a largish room. I'd love to hear what you guys think of their depth imaging compared to the GoldenEar Triton Two+ with the folded ribbon tweeter since the F36 started breaking up before I could really get a gauge on how they performed; the GE Triton Two+ depth imaging was very good to my ears.
AKK posts on January 30, 2016 10:23
Hi Gene

Did you get a chance to review these receivers? Am unable to to take a call between Denon X6200 vs Anthem MRX720. You deeper insights into this will certainly aid me into proper conclusions.
Curtis9 posts on January 23, 2016 12:22
Any thoughts on Anthem vs Arcam for us audio guys who also want a good video experience? And would the Receiver or Pre/Pro work best with an Oppo 105? Thanl\ks!
little wing posts on December 08, 2015 09:12
Hello Gene,

Any chance you will get one of these new Anthem receivers for review? When they came out with the MRX 310, 510 and 710 you did a preview as well, but no in-depth review. I think a lot of readers here, including myself are very curious as to how these receivers stack up soundwise to the more mainstream offerings from say Denon, Yamaha, Onkyo, etc. Since Anthem's receivers typically don't have the same feature set as the usual suspects I'm sure some people are wondering if they go with Anthem will they be happy giving up features for the sound quality of the Anthem.

You wrote an article a while back likening today's receivers as a computer with an amp thrown in. Anthem seems to deviate from this thinking, is that a good decision?
Thanks
Tao1 posts on December 02, 2015 00:27
gene, post: 1105720, member: 4348
I believe they are taking orders now. The page is up on their website. WE get review samples in about 2 weeks. WooHoo!
Nice to know. I really look forward to the review
I am a bit surprised though that they didn't have the samples out to have reviews coincide with the launch, especially this close to gift season.
Post Reply