Bowers & Wilkins MT-60D Mini Theatre Preview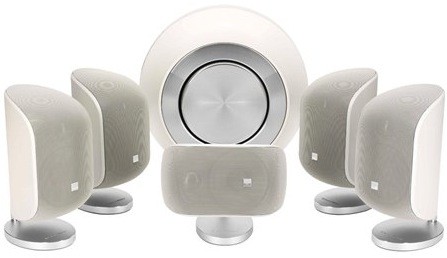 B&W MT-60D Mini Theatre System
Summary
M1
Drive units
1x ø25mm (1in) metal dome high-frequency
1x ø100mm (4in) woven glass fibre cone bass/midrange
Sensitivity
85dB spl (2.83V, 1m)
Nominal impedance
8Ω (minimum 4Ω)
Crossover frequency
4kHz
Recommended amplifier power
20W – 100W into 8Ω on unclipped programme
Height
248mm (9.8in)
Width
114mm (4.5in)
Depth
162mm (6.4in)
Net weight
2.3kg (5lb) including table stand
Cabinet
Matte White or Black
Grille
Matte White or Black perforated steel to match
PVD1
Model
PV1D
Drive units
2x 200mm (8in) Paper-Kevlar®/Aluminium cone long-throw
Power output
400W
Rated power consumption
150W
Standby power consumption
<1W
Input impedance
100k
Signal / noise
>100dB
Functions
5 Presets
Input sensitivity (analogue)
Gain (digital)
Low-pass filter frequency
Low-pass filter slope
Low-pass filter phase
Auto on/standby
Trigger on/standby
Trigger preset switching
RS-232 automation control
Inputs
Stereo Line In (2x RCA Phono)
Speaker Level In
(5m cable supplied)
Height
342mm (13.5in)
Width
270mm (10.6in)
Depth
358mm (14.1in)
Net weight
18.7kg (41lb)
Finishes
Matte Black
Matte White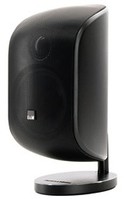 A while back we took a look at the B&W MT-50 Mini Theatre System in one of our video reviews. We were impressed with the system, so when B&W released an upgraded version with a larger subwoofer, we couldn't help but take a closer look. First of all, the satellite speakers haven't changed. These are the small but versatile M1's. They feature a 1" aluminum dome tweeter and a 4" woven glass fiber cone midrange driver. They are 8 ohm nominal/4 ohm minimum speakers which will play nice with almost any receiver on the market. They come in Matte White or Black finishes and will run you $250 a pop. While that isn't cheap for a small speaker, this is B&W we are talking about. They may be pricy but you know you are getting quality.
The M1 satellite speakers can be wall or table mounted. B&W also has a floorstand for an additional cost. As we mentioned in our video review, the M1's show a lot of nice touches. The wires can be easily hidden behind a plate in the back of the speaker. They have the less desirable (but understandable in this form factor) push type speaker connections which won't allow larger speaker wires. The base can be reoriented to the side for center channel placement and B&W even had the foresight to make their logo magnetic so that you can rotate it as well. You wouldn't want your friends to have to turn their heads to know what speakers they were admiring, would you?
Our video review of B&W's similar MT-50 speaker system

The new addition to the Mini Theatre is a significant upgrade to the already impressive subwoofer. While we still think any sort of satellite speaker system like the MT-60D is designed with smaller rooms in mind, improving the subwoofer will seriously improve the overall sound quality. And the PVD1 is a big improvement. While the original MT-50 system ran around $1700, the MT-60D with the better sub will run you closer to $3000. The PVD1 alone retails for $1750. But before you stop reading, don't. We have a very good reason why you might consider the extra cash, but we are saving it for the end.
The PVD1 is a spherical shaped sub with two 8" paper-Kevlar/aluminum cone long throw woofers. These dual (and opposed) drivers are married to a 400 watt Class D amplifier. Like the ASW608 subwoofer with the MT-50, the PVD1 includes a full host of connections and controls. There are stereo RCA line in, and speaker level inputs. There are two 12 volt triggers on the PVD1 - one for toggling the speaker on and off and the other to switch between EQ settings. This is high level custom installer stuff when your sub can be switched between "music" and "movie" settings with a 12 volt trigger! There is a mini USB port for updating firmware and an RS-232 port for control or for adjusting the subwoofer's EQ with B&W's SubApp software.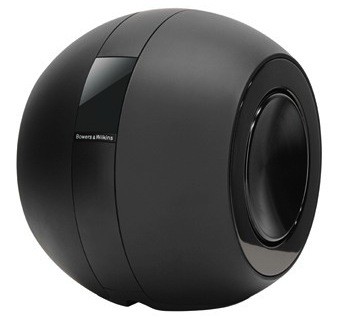 If you have a Windows computer somewhere in the home, you can download the SubApp software for adjusting the PVD1—it's free from B&W. They even include a cable for connecting to the sub via the RS-232 port. But, for less power users, there is the front OLED touchpanel display for control. This allows you to switch between EQ presets (five different presets), adjust the low pass filter, and much more. Even if you don't want to get into the guts of the PVD1, you'll have hours of testing and adjusting to find out what sounds best in your room.
The PVD1 is 41 pounds, 13.5" tall, 10.6" wide, and 14.1 deep. That's pretty compact for the amount of power you're sure to get out of it. It also comes in white and black to match the M1 speakers. While B&W doesn't provide full specs including frequency response (we found a listing online down to 7.5Hz which we'll believe when a flying pig brings us a certified letter with the measurements inside), the PVD1 is sure to hit much lower than its size would suggest. And here we reach our justification for paying the extra for the MT-60D system: While the MT-50 is surely a great system, the PVD1 is a sub that will live on in your home well after you outgrow the M1 satellite speakers. To us, buying a good subwoofer is an investment in the future. While other speakers in your system come and go, a good sub is forever.
Conclusion
Bowers & Wilkins have a great reputation in the world of high end audio for a reason—they put out very solid offerings. The MT-60D looks to continue that tradition by adding a great sub to an already great satellite system. While that better sub will cost you a bit more, we think of it as an investment in the future. A future that will be full of bone-crushing bass. Today the MT-60D may be rocking your small home theater. Tomorrow the PVD1 subwoofer may be the backbone of a larger system in a much bigger room. Regardless, you'll have a system that will make you the envy of your friends.
For more information, please visit www.bowers-wilkins.com.

Unless otherwise indicated, this is a preview article for the featured product. A formal review may or may not follow in the future.