Sony HT-A9 Wireless Home Theater System Delivers Atmos with Just 4 Speakers
Sony HT-A9 Wireless Surround System
Summary
Product Name:

HT-A9 Wireless 4-Speaker Home Theater System

Manufacturer:

Sony

Review Date:

November 16, 2021 01:25

MSRP: $1,800
First Impression:

Gotta Have It!
SpareChange Review of Sony HT-A9 Wireless Surround System
Executive Overview
What's better than a soundbar, but easier to set up and use than an AVR-based system with wired speakers? This question has tormented the minds of consumer electronics manufacturers for at least a couple of decades. Ten or fifteen years ago, the "Home Theater In A Box" seemed like a possible solution. You didn't have to pick out an AVR or buy separate speakers and cables, but the benefits pretty much ended there. You still had to figure out where to position 5+ speakers, and run long cables for the surround channels. And for your trouble, you still got relatively crappy sound. More recently, the mainstream audio industry has focused largely on making soundbars better and more feature-rich. Now that wireless rear speakers and subwoofers are commonplace, everyone from Sonos to Samsung offers soundbar-based audio systems that do a decent job of approximating a scaled-down home theater experience for those who can't (or simply don't want to) set up a more traditional system with an AVR and wired speakers. But even good soundbars have their limitations. For me, there is one big limitation that even the largest and most expensive soundbars can't really address. In general, soundbars just suck at playing music. And it's not hard to see why that's the case. The biggest problem is the lack of true stereo separation. Let's say you sit about 8 feet away from your TV, with a soundbar positioned directly above or below the screen. That soundbar would have to be about 9 feet wide in order to deliver a convincing soundstage and accurate imaging during stereo playback. To make up for their insufficient width, some soundbars use extra drivers and/or DSP trickery to expand the perceived soundstage. Some even do a pretty good job of it, but they still don't sound like a pair of properly-placed loudspeakers. And of course, because most soundbars are only a couple of inches tall, the drivers used in them are usually tiny and limited in output. If only there were some way to combine the musical satisfaction of a true 2-channel stereo, the immersive experience of a multichannel home theater, and the simple setup and installation afforded by a soundbar. Well, that's precisely what Sony claims to deliver with the new premium HT-A9 home theater system ($1,799.99). The HT-A9 system comprises a small control box that sits near your TV, and 4 identical wireless speakers that you place around the room, roughly where you'd place the main front and rear channels in a traditional surround sound setup. From these four speakers alone, Sony says you can "feel the action happening above and from every corner of the living room, with innovative surround sound technologies that create an incredibly immersive home theater and soundscape experience for any music, film or gaming content."
The A9… represent(s) a new and powerful era for Sony's home audio products. With best-in-class surround sound that boasts unique optimization features, (the A9 gives) anyone the ability to create immersive cinematic experiences without ever leaving their living room.
— Daisuke Kawaguchi, Vice President of Home Entertainment & Sound, Sony Electronics Inc.
The HT-A9 Experience

The A9 is designed to be as simple to set up as a soundbar. The small control box connects to your TV via HDMI eARC. There is another HDMI input for connecting a gaming console, Blu-ray player, or media streamer. The 4 wireless speakers appear identical, but each is labeled with the approximate position where it should be placed in the room: front left, front right, rear left, and rear right. (Each speaker does need to be plugged in to AC power, but there's no other cable clutter to deal with.) And that leads to one of the HT-A9's killer features — placement flexibility. If you're like me, you set up your speakers with a measuring tape (or a Bosh GLM 20 laser measuring tool) to make sure that each is perfectly equidistant from the primary listening position. But if you're a typical soundbar shopper, you just stick a speaker where it's most convenient or most attractive, and never think about its position again. For the HT-A9, Sony has developed a proprietary Sound Field Optimization technology that eliminates the need to "rearrange furniture or precisely position the speakers." According to the company, speakers can be placed anywhere in the room, even at different heights and distances. Need to put the left speaker on the TV stand, but the right speaker two feet higher up on a bookshelf? Not a problem. Each speaker has built-in dual microphones that can measure their relative height and position, and then Sony's Sound Field Optimization will make the necessary adjustments to ensure good sound. This calibration is done automatically during initial setup, and can be repeated if you ever need to move the speakers around in the room, or to another room entirely. According to a couple of well-known reviewers who have had the chance to test out the HT-A9, Sony's Sound Field Optimization is surprisingly effective. It's one of two key technologies that allow the A9 system to deliver "new and revolutionary multi-dimensional sound experiences," according to the company.
The second key technology is Sony's proprietary 360 Spatial Sound Mapping Technology, which works in conjunction with Sound Field Optimization. Using location information gained from the Sound Field Optimization calibration, 360 Spatial Sound Mapping Technology creates up to 12 "phantom" speakers by "synthesizing sound waves based on positional information." Precisely how this is achieved is a bit unclear, but it sounds as if the HT-A9's 4 speakers use powerful DSP to take the concept of a "phantom" center channel between two stereo speakers and apply it to three dimensions. (This is not all that different from how object-based audio systems, like Dolby Atmos, can locate sounds in 3D space even in places where no physical speaker is positioned.) Each of the 4 speakers in the HT-A9 includes a forward-firing two-way speaker and an up-firing height effects speaker, resulting in a 4.0.4 immersive audio system. Adding an optional subwoofer bumps it up to 4.1.4. With the addition of up to 12 phantom speakers, Sony says that its "widest ever sound field fills every part of the living space, so everyone gets the same sound experience, wherever they are in the room." As you'd expect, the A9 supports Dolby Atmos and DTS:X, creating a "near 7.1.4 channel" experience, according to Sony. But the system can also use its 360 Spatial Sound algorithm to perform Immersive Audio Enhancement, which adds "overhead, all-encompassing sound to conventional surround soundtracks and even stereo audio, converting everything you listen to into immersive 360 Spatial Sound experiences." If you'd rather enjoy your 2-channel music in pure stereo, simply deactivate Immersive Audio Enhancement with a push of a button on the included remote, and bask in the familiar comforts of a stereo soundstage, the likes of which no soundbar can create. The HT-A9 supports hi-res audio up to 24 bits/96 kHz, and is (naturally) compatible with the 360 Reality Audio format, which Sony introduced in 2019. Content in 360 Reality Audio is available on Amazon Music HD, Tidal, nugs.net, and Deezer.
To hear what 360 Spatial Sound Mapping is all about, put on headphones and check out this demo video from Sony.
Sony | 360 Spatial Sound Mapping Demo
The HT-A9 Speakers

The HT-A9 speakers feature what Sony calls Omnidirectional Block Design. Each cylindrical speaker weighs 6 pounds, and is about 12.5 inches tall, 6.5 inches wide, and just under 6 inches deep. The speakers have a flat rear surface and built-in keyholes for easy wall-mounting, should you choose to go that route. If you were to peek inside their "light pearl grey" cabinets, you'd find a built-in three-channel amplifier, one for each driver. (Total system power for the HT-A9 is rated at 504 watts.) The front-facing speaker is a two-way design, featuring a soft-dome tweeter and a rectangular "wide directivity" woofer, which Sony calls an X-Balanced Speaker Unit. Sony says that the unique rectangular shape of these drivers maximizes the diaphragm area (given the relatively small amount of front-baffle real estate), resulting in richer bass and greater output capability. It also reduces driver excursion without reducing SPLs, resulting in less distortion and greater vocal clarity, according to Sony. The up-firing driver on each speaker is also an X-Balanced Speaker Unit. Sony says that the beveled edges of the speaker's semi-cylindrical enclosure help to reduce sound diffraction. For reasons that completely elude me, Sony does not include a subwoofer with the HT-A9 system, but there are two optional subs that can be added, both of which connect wirelessly to the A9's control box. The SA-SW3 ($400) is a ported sub with a 200-watt amp and a measly 6.3-inch driver. You'd be better off with the SA-SW5 ($700), which has a 300-watt amp, a 7-inch active driver, and a passive radiator.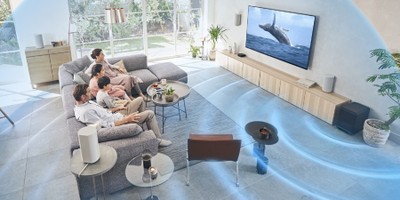 In addition to its HDMI connections, the HT-A9 features built-in Chromecast, Apple AirPlay 2, Spotify Connect, and bluetooth connectivity. The A9 system also works with both Google Assistant and Amazon Alexa. Should you find yourself streaming lossy files, you can avail yourself of the A9's DSEE Extreme feature. DSEE (Digital Sound Enhancement Engine) is designed to restore and enhance the sound of compressed digital music in real-time using Edge-AI (Artificial Intelligence) technology. According to Sony, DSEE Extreme "dynamically (recognizes) instrumentation, musical genres, and individual elements of each song, such as vocals or interludes, (and) restores the high-range sound lost in compression for a richer, more complete listening experience."
TV and HDMI Features

Gamers will be pleased to learn that the A9's HDMI connections support the latest formats, including 8K HDR video, 4K 120fps video, and Dolby Vision HDR passthrough. A firmware update in Spring 2022 will unlock optimized picture settings by Auto HDR Tone Mapping and Auto Genre Picture Mode for HT-A9 users who connect the system to a Playstation 5 and a compatible Sony Bravia TV. But the perks for Sony TV owners aren't limited to the video realm. Like any good pair of speakers, the HT-A9 should be able to create a convincing phantom center channel between the two front speakers. But for dialogue intelligibility, image specificity, and localizing on-screen action, it's hard to beat a dedicated center-channel speaker. That's where a feature called Acoustic Center Sync comes in. When the A9 is used with a compatible Sony Bravia TV, Acoustic Center Sync allows the system to send a center-channel audio signal from the A9's control box to the TV via a supplied cable. You can then use the TV's speakers as a physical center-channel speaker for the A9 system. The A9 includes the TV's speakers as part of its 360 Spatial Sound Mapping setup, allowing for more precise matching of sound positions to on-screen action, according to Sony. One potential fly in the ointment is that TV speakers — even those on a high-end Sony TV — just aren't that great these days. And even if the TV speakers are capable of playing loud without distorting (and that's a big if), the timbre won't match that of the A9's speakers. I've seen Sony TVs that can act as a center speaker in the context of an AVR-based system, and while it's a cool feature in theory, it was very obvious that the TV's speakers didn't blend with the rest of the speakers in the system. Then again, if you buy the HT-A9 and you have a compatible Sony TV, there's no reason not to give it a try. Whether you use Acoustic Center Sync or not, pairing the A9 with a Bravia XR TV allows you to control sound settings and volume using the TV remote, and check the status of the audio system while watching your favorite content. Thanks to an integrated user interface, the HT-A9's settings will automatically appear on the TV's Quick Setting menu.
Speaking of center-channel audio performance, it would be cool if the A9 system could accommodate an optional 5th speaker to act as a dedicated center-channel speaker, but alas, it is not so. Sony says that you can "customize" your A9 setup by choosing which optional subwoofer to add, but that's not much of a choice. Realistically, I don't think many A9 buyers will forego the "optional" subwoofer. In fact, I think the only disappointing things about the HT-A9, on paper anyway, are the fact that a subwoofer is not included in the system, and the fact that your only subwoofer options are those two Sony-branded models with questionable specs. Even if the larger SA-SW5 can do actual wizard-level magic with its 7-inch driver, the $700 you have to spend to get it would be better spent on an SVS SB-1000 Pro instead. But because the HT-A9's control box doesn't include a wired subwoofer output, you're stuck with the wireless Sony subs. Once you add the SA-SW5, the complete price of the HT-A9 comes to a not-insignificant $2,500. I've no doubt that some of you are already doing the math, trying to figure out what combination of AVR and speakers you could get for the same money, but that misses the point of the HT-A9. The better question would be: can any soundbar, even one that costs $2,500, do what the HT-A9 can do?
Check out this video to see what some sound professionals from Sony Pictures think about the HT-A9. https://www.youtube.com/watch?v=hMyK09etfHM
Unless otherwise indicated, this is a preview article for the featured product. A formal review may or may not follow in the future.
Confused about what AV Gear to buy or how to set it up? Join our Exclusive Audioholics E-Book Membership Program!