Sony Object-Based '360 Reality Audio' Format Aims To Create New Music Ecosystem
Sony Object-Based '360 Reality Audio' Format Aims To Create New Music Ecosystem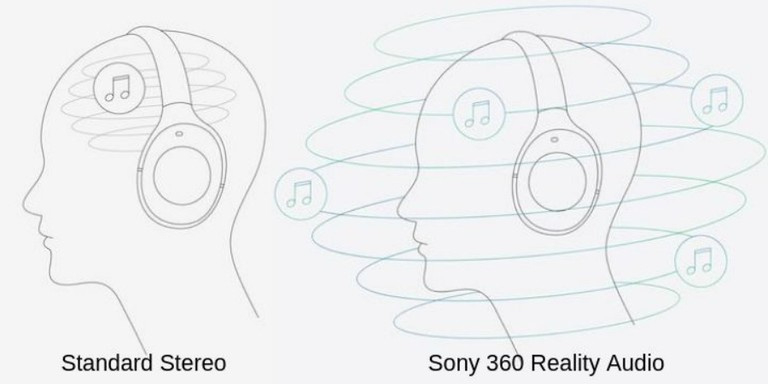 Sony 360 Reality Audio
Dolby Atmos Music is just starting to take off, but already there is a challenger in the small but growing market for streamable surround-encoded music. First previewed at CES 2019, Sony's 360 Reality Audio format leverages their home-grown version of object-based spatial audio technology. Like Dolby Atmos (and DTS:X), Sony's new format allows creators to position specific singers, instruments, and other sounds within an immersive, spherical soundstage, "to suit their creative and artistic purpose," according to Sony. The company says that the format has generated "broad and enthusiastic support" among artists and industry partners. One big selling point for consumers is that the mobile version of the technology requires no new or specialized hardware — any Android or iOS mobile device with a participating streaming service app installed can decode 360 Reality Audio and play it over ordinary headphones. Some wireless smart speakers, such as Amazon's Echo Studio, will also be compatible. According to Sony, the speaker-based version will require "a speaker system with Sony's unique decoder of the 360 Reality Audio music format, multiple speaker units, and signal processing technology." It is unclear at this time whether the format will be coming to AV receivers and processors, or whether it's just destined for smart speakers. When 360 Reality Audio launches in late fall 2019, the format will be offered on Tidal, Amazon Music HD, Deezer, and nugs.net. Sony is also working with Napster (whose current business model involves providing on-demand music as a service to other brands) to expand the format's reach via more service providers around the world. Sony says that approximately 1,000 songs will be available at launch, from popular artists such as Pharrell Williams and Mark Ronson.
 As the company prepares to take on Dolby's similar Atmos Music format, Sony seems to have learned some valuable lessons from the ill-fated format war that saw the SACD face off against DVD-Audio in the early 2000s. Unlike SACD, the 360 Reality Audio format doesn't require the user to buy a new player. And since the content will be delivered via streaming, the user doesn't have to re-purchase music in order to enjoy a new audio experience. Sony is also working to promote 360 Reality Audio as an open standard available to all music creators, artists, and music lovers — unlike some other digital audio ecosystems (Dolby Atmos and MQA, for example), which require hardware and software partners to license a closed, proprietary solution. Sony is partnering with Fraunhofer IIS, part of Europe's largest organization for applied research, to provide specifications for the 360 Reality Audio music format, and to make it compliant with MPEG-H 3D Audio —  an international open standard optimized for music streaming. The music content will be created and distributed not only by the Sony Music Entertainment record label, but also by its two biggest competitors, Universal Music Group and Warner Music Group.
This is not a Sony proprietary technology. Yes, our great engineers created the technology, but we want it to be open platform. We want competitors to join: at the launch we had three music studios who compete every day, sitting right next to each other. You know, we had the streaming services who compete every day, sitting together. So, I think the difference is we have industry partners across the entire workflow, supporting it.
 — Sony Electronics President and COO, Mike Fasulo
The first 1,000 tracks will include enduring classics by Bob Dylan and Billy Joel, as well as hit songs by popular contemporary artists. In order to ensure that more songs will follow in 2020, Sony is collaborating with major record studios, such as Battery Studios, Chiller Sound, Live Nation Content Studio, and The Crypt Studio, to create purpose-built "content creation environments" for mixing tracks in the 360 Reality Audio format. Meanwhile, a partnership with select Live Nation Clubs & Theaters will deliver live recordings from a variety of concerts, by performers such as CHARLI XCX and Kodaline. Sony says that 360 Reality Audio can recreate the acoustical environments of famous concert venues, including the Hollywood Palladium in Los Angeles, Irving Plaza in New York, The Fillmore in Philadelphia, The Masonic in San Francisco, and The Wiltern in Los Angeles.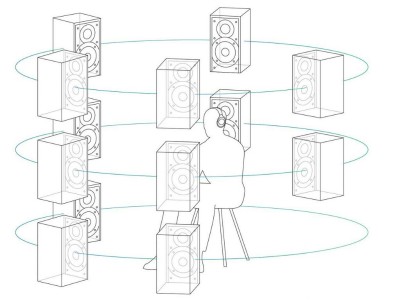 As mentioned above, 360 Reality Audio can be enjoyed on any headphones, via any iOS or Android device. But Sony is also offering a next-level experience for listeners using select Sony headphones in conjunction with the Sony Headphones Connect app. Users tell the app which Sony headphones they are using, and the app can apply a specialized EQ tailored to those headphones. We've seen similar headphone-specific EQ before, from high-end headphone brands like Audeze and Focal, but Sony's upgraded 360 Reality Audio experience doesn't stop there. Users can also upload photos of their ears, and the app uses these images to analyze each listener's unique hearing characteristics, allowing the algorithm to make personalized adjustments to the sound. The result is "an immersion into sound that closely mimics the omni-directional soundscape of a live musical performance," according to Sony.
360 Reality Audio is a proof point that innovation never stops. The confluence of deep technical roots, tireless artists and forward-thinking hardware and semiconductor partners illustrates the tremendous draw of this radical new way to make music even more moving. Together with valued industry partners, Sony has architected the most powerful, realistic music experience for listeners and a new medium for artists to create. …When I got the demo first, I took the headphones off because I didn't believe it. Because I'm sitting in a room with speakers, so I didn't believe that what I was hearing was coming from the headphones.
  — Mike Fasulo
When SACD and DVD-Audio were competing to become the next big thing in audio, both camps failed partly because neither anticipated a major shift in the priorities of the average consumer. The general public was less interested in sound quality, and more interested in convenience, ease of access, and portability. Now, the era of iTunes downloads has passed; music streaming is king, and services like Tidal and Amazon Music HD are trying to combine high sound quality with the convenience that 21st-century music-lovers demand. It remains to be seen whether Sony will be able to leverage the streaming era to (finally) deliver a mainstream audio format that makes the same kind of impact that the CD made in the 1980s. Will Sony and Dolby create another format war that yields no real winner, or will one of these object-based technologies reign supreme in the future?
For more information, visit https://www.sony.com/electronics/360-reality-audio. 
Confused about what AV Gear to buy or how to set it up? Join our Exclusive Audioholics E-Book Membership Program!