Amazon Echo Studio Review: 3D High-Quality Sound with Smart Home Technology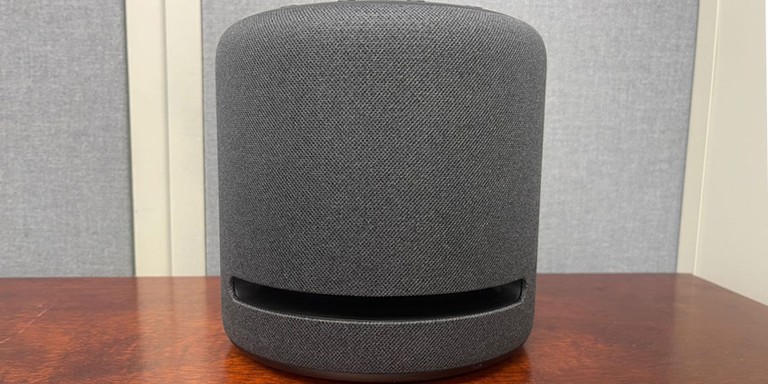 Amazon Echo Studio
Summary
Product Name:

Echo Studio

Manufacturer:

Amazon

Review Date:

October 29, 2021 01:30

MSRP: $200
First Impression:

Gotta Have It!
Amplifier - Peak output 330W; 24-bit DAC; 100 kHz bandwidth
Audio - Three 2" midrange speakers, one 5.25" woofer with bass aperture to maximize bass output
Supported Audio Formats - FLAC, MP3, AAC, Opus, Vorbis, Dolby Digital, Dolby Digital Plus, Dolby Atmos, Sony 360 Reality Audio/MPEG-H; includes support for CD Quality (16-bit) and Hi-Res (up to 24-bit)
Audio Input - Combination 3.5 mm mini-optical Toslink
Automatic Room Adaptation - Analyzes the acoustics of the room and continuously adjusts audio filters during music playback to optimize sound output regardless of placement (requires device is not muted)
Weight - 7.7 lb Actual size and weight may vary by manufacturing process
Amazon Echo 3D Wireless Speaker Review
Executive Overview
The Amazon Echo Studio is the first smart speaker that combines voice-activation technology with 3D audio. Most smart speakers by manufacturers such as Google and Apple provide a smart home hub but usually don't double as premium speakers that you can rely on for top-quality sound. They are ideal devices for setting timers, adding items to lists, creating calendar events, and reminders. You can also check the news, weather, or traffic on them or ask for sports scores, movie showtimes, restaurant hours and more. However, all of these features come at the cost of not being able to provide the kind of immersive, rich, and focused audio that quality speakers provide. Amazon is the first brand to produce speakers that combine the two features.
It is made to deliver 3D audio experience that is enhanced by support with Dolby Atmos and Sony's 360 Reality Audio. It hosts five built-in directional speakers that are integrated with the purpose of giving the sound clarity, richness and depth. It also features the option of automatically sensing the acoustics of your room and fine-tuning the audio playback to deliver optimal sound – regardless of where the device is placed in your house. Most importantly, the Amazon Echo Studio has been designed as a fairly easy-to-use product with a simple set-up mechanism and minimal controls. The best part is that all of this comes at an immensely reasonable price of just $199.99. It truly doesn't get better than this.
Enter The Amazon Echo Studio
This built-in smart home hub sports a power port on one of its sides coupled with a 3.5 mm mini-optical line-in port. The inside of the speaker hosts a bass aperture to maximize bass output. There is a 5.25-inch downward firing woofer right above the bass aperture. On the two extreme ends of the Echo Studio, there is a pair of right and left two-inch firing midrange speakers. Right under the right midrange speaker, there is a one-inch forward-firing tweeter. And finally, on the top, there is an upward-firing midrange speaker. As you can see, Amazon has offers 3D sound by distributing speakers evenly inside the chassis of the Echo Studio. Every part of the device has a speaker installed, which helps make the sound  as multi-directional and fully immersive as possible.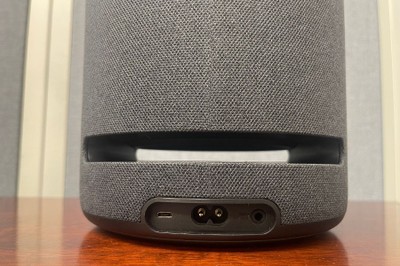 Included In the Box
 Echo Studio
Power cable
Quick Start Guide
Set-up and Pairing
In order to successfully pair the Echo Studio with your phone, you first have to ensure that you have downloaded the latest version of the Alexa app from the Google Play or App Store. In some cases, you may want to uninstall and reinstall the app to be certain you have the latest version. Next, make sure Bluetooth is enabled on your smartphone. Plug the power cord into Echo Studio and then into a power outlet. Open the Alexa app and you should automatically be prompted to set up your Echo Studio device after opening the app.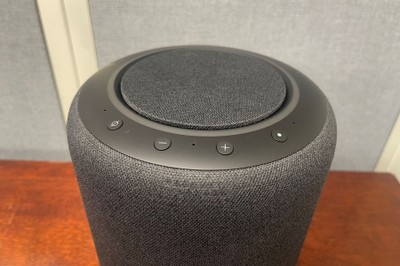 If you are not automatically prompted to set up your device, tap the 'Devices' icon on the bottom right of the screen to get started. Touch the plus sign in the upper right-hand corner and select 'Add Device.' Choose Amazon Echo and then Echo Studio. All you need to do is follow the on-screen prompts. Immediately after setup, your Echo Studio device will calibrate its speakers to optimize the sound quality based on your room's characteristics and device placement.  For optimal sound, Amazon recommends placing Echo Studio at your preferred listening height, with at least a six-inch clearance above and around the speaker.
The Echo Studio may install the latest software update after Wi-Fi connection has been established. This can take up to 10 minutes and during this time it will be unusable. The LED ring on top of the speaker will be blue during this time. Once it turns yellow, that's when the Echo Studio is ready to be used.
After following all the steps in the set-up process mentioned above, you're required to press the action button for 15 seconds. Once the ring light starts flashing yellow, press 'Continue' on your app and select the device to pair it with your smartphone.Next, you have to connect your Echo Studio to your Wi-Fi. The app walk you through it. From what I've seen, the Echo Studio does a pretty great job at protecting your privacy. It is apparently built with multiple layers of privacy controls and a mic off button so it doesn't listen to your conversations. In an era where the technological devices are constantly eavesdropping on us, I found the mic off option on Echo Studio very cool. Amazon also claims it doesn't sell the personal information you give it to others. We can only hope that is true. But looking at how mindful they are in terms of not listening to our private conversations, I don't think this is a dishonest claim.  
Build Quality
The Amazon Echo Studio comes packed in a cloth bag. The bag isn't made of top-quality material and is definitely not fit to be used as a carry case. However, the form factor of the speaker makes it hard to be carried around anyway. The Echo Studio is more of a bookshelf speaker and isn't made with portability in mind. Keeping this in mind, the cloth bag isn't much of an issue. The main unit is coupled with a power cable and some paperwork.
The Echo Studio is an impressively solid device that weighs 7.7 pounds. It has a cylindrical body and is covered in mesh fabric. On the top of the speaker, there's the above-mentioned LED ring with a layer of plastic bordering the light. The plastic area has a couple of buttons that control the Echo Studio. There's an action button, volume up and volume down buttons, and a microphone on/off button. The action button, more commonly known as the pairing button, is for connecting the device to your phone. The device has been kept fairly simple with the least number of controls possible. The buttons are intuitively placed and are easy to get used to.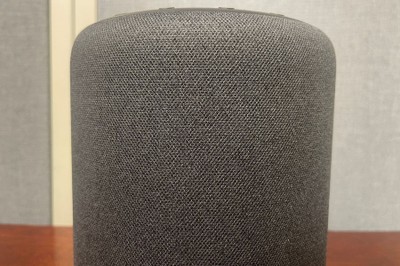 The overall build quality of the Echo Studio is excellent. It comes off as a sturdy device that's meant to last. Its weight also plays a part in giving the speaker a robust vibe. The ring light adds a pop of color to the device and gives it an aesthetic appeal. There is a pair of handles on the right and left side of the speaker for easy portability. Hence, ergonomics-wise, there has been some thought put into it.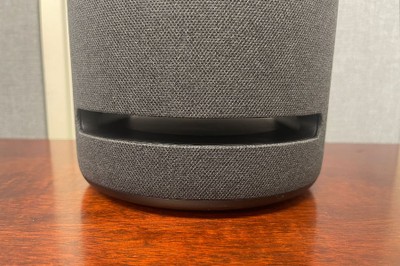 Sound Quality
I absolutely loved the sound quality of the Echo Studio. I knew it would be great at playback right when it played an approximately 10-second sound because of successfully pairing up. The sound started with a low-end note and ended with a sharp high-note. I was impressed with the bass the sound carried in the beginning and how well it managed to reach a high note without dropping sound quality.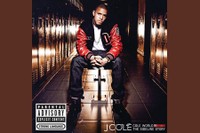 The 330W of peak power is apparent by the deep and rich bass that is produced using the bass aperture. Considering, a speaker for larger gatherings can be 50 watts or 100 watts, a 330W power capacity is very impressive. The bass aperture is strategically placed at the bottom of the speaker to maximize airflow and bass output from the woofer. The one-inch tweeter is responsible for the sharp and crisp high frequencies. Plus, the Echo Studio has a 24-bit DAC and a power amplifier with 100 kHz of bandwidth for high-res lossless music playback.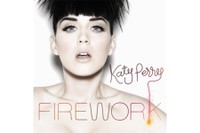 I put on Work Out by J Cole to get an idea of the speaker's midrange capabilities. The dual two-inch speakers came through with clear, focused, and precise midrange frequencies. The orchestra sounded clean and spacious. There was depth and space surrounding every instrument and that gave my ears a sense of openness and dimension as well.
Next, I put on Firework by Katy Perry because what other song could be a better test of high-frequencies, right? I cranked the volume on the Echo Studio all the way up, and mind you, the SPL capacity on this enabled it to reach an immensely high volume, and the sound still didn't sound distorted or strained. It remained as crisp, sharp, and focused as it was in midrange. Firework is a treble-heavy song, and so I got the chance to especially check that out. The high-notes were incredibly sharp but retained their richness and clarity.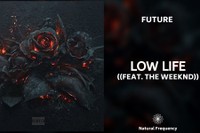 For bass, I decided to put Low Life by The Future on. The whole device vibrated as I turned the volume up. Echo Studio features the kind of bass you feel in your throat and chest. It makes the speaker pound. It was extremely fun listening to a bass-heavy song on this device. It made sure that even with the heavy bass, the overall sound never became annoyingly thick or heavy. 
The five directional speakers coupled with advanced audio algorithms including Dolby Atmos technology really did make an audible difference to the quality of the sound. The experience was extremely immersive. Even while playing stereo, with no 3D audio engaged, the music sounded fantastic. The three-dimensional space that the Echo Studio created allowed me to hear vocals from above me and drums from the side. It made me feel as though I was listening to a live performance directly from the artist. The best part of the Echo Studio is that it will always choose to play the 3D version of a track, whenever available. It will show a badge to indicate a song is 3D.
Smart Features
Echo Studio doesn't stop at music. You can wirelessly connect one or two Echo Studios with your Fire TV Stick to set up your very own home theater system. You also have the option to manage your smart home devices by powering on the compatible products and asking Alexa to discover your devices. This allows you to control gadgets such as your lights, coffee maker, thermostat and more. You can also set alarms, timers, check your calendar, create, and edit to-do lists among many other everyday tasks. Alexa will also shop for you if you simply ask it to reorder a product you have previously ordered or even a new product by searching it by its product name. You can ask the Echo Studio to update you on daily news and weather reports.
Here are my two favorite features of what the Echo Studio can do apart from providing immersive music:
The speaker enables you to stay connected to your household members by doubling as an intercom. You can use it to facilitate two-way conversations or broadcast announcements.
My second favorite feature is the Echo Studio's Routines feature. By creating a routine in the Alexa app, the speaker can perform a series of useful actions everyday by a single command.
Conclusion
Considering that you get good-quality music and plenty of smart features for just $199 is pretty impressive. The Amazon Echo Studio features the high sound quality of a typical midpriced bluetooth speaker but with the bonus of adding an immersive sound layer. Add a simple pairing process, an attractive body and a minimal controls layout to that and what you get is absolute goodness at a surprisingly economical price. 
Unless otherwise indicated, this is a preview article for the featured product. A formal review may or may not follow in the future.
See also:
Confused about what AV Gear to buy or how to set it up? Join our Exclusive Audioholics E-Book Membership Program!