Monoprice Monolith M518HT THX Certified 5.1 Home Theater System $800?!?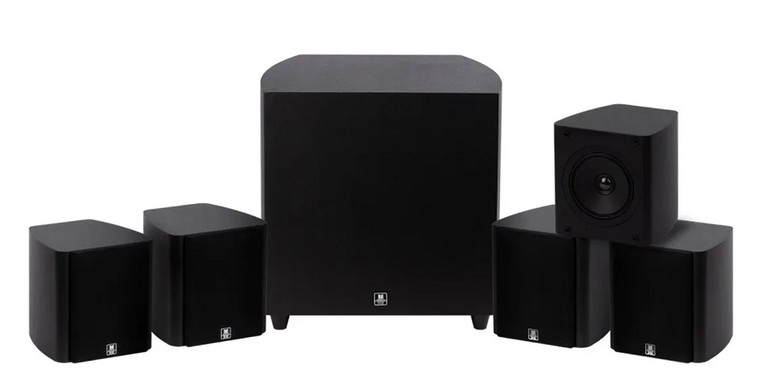 M518HT THX Certified 5.1 Home Theater System
Summary
Satellite Speakers
Woofer 4.5" polypropylene cone with NBR surround
Tweeter 20mm silk dome coaxial with waveguide and neodymium magnet
Enclosure Sealed MDF cabinet
Finish Black PVC
Frequency Response 80Hz ~ 20kHz ±3dB
Input Connectors 5‑way binding posts
Dimensions (WxHxD) (each) 6.0" x 6.3" x 5.9"
Weight (each) 4.2 lbs.
Subwoofer
Woofer 8" long fiber pulp/glass fiber cone
Voice Coil 30mm high‑temperature aluminum wire and aluminum bobbin
Surround FEA optimized NBR (nitrile budadiene rubber)
Enclosure Vented MDF cabinet with horizontal and vertical bracing
Finish Black PVC
Amplifier Claridy DSP 150‑watt (RMS) with DSP control
EQ1 Frequency Response (vented) 24 ~ 200 HzEQ2

Frequency Response (vented) 30 ~ 200 Hz
THX Frequency Response (vented) 35 ~ 200 Hz
Variable Level Control +15/‑20 dB
REF Level (100mV @ 50Hz) 88dB @ 1m
Crossover Type Inline/bypass
Crossover Frequency Variable 40 ~ 160 Hz
Variable Phase 0 ~ 180°
Input Connectors RCA stereo pair

Output Connectors RCA stereo pair (direct passthrough)
Dimensions (HxWxD) TBD
Weight 19.8 lbs.

Executive Overview
Home theaters in a box (HTIAB) products are nothing new.  We've seen systems like Monitor Audio's MASS speaker system or the incredibly popular Bose AM-5 for years. The Bose products in particular had an amazing amount of success.  If you didn't own one, you probably know someone who did. Some audiophiles eschew these systems in favor of hand-picked speakers, which is a bit of a conundrum for Bose, but I look at them as a great stepping stone into the world of HiFi audio. Soon these budding audioholics will have to figure out when to upgrade their system. Internet superstore Monoprice unveiled their newest and most unique multi-channel surround system dubbed the M518HT THX Certified 5.1 Home theater system.
The new THX Certified Monolith 5.1 home theater speaker system combines an unrelenting combination of excellent home theater performance and value.
--Monoprice
The affordable, small footprint home theater speaker system is designed for smaller rooms and gaming systems. The system features five on-wall satellite speakers and an 8-inch powered subwoofer. The system has been THX Certified Compact, which THX and Monoprice says,  "ensure that listeners experience sound that is incredibly dynamic, detailed, and crystal clear to play back audio the way the creator intended it to be enjoyed."
"When it comes to watching movies or playing video games at home, nothing beats having a powerful, great-sounding multi-channel surround sound system. The M518HT 5.1 home theater speaker system expands upon our lineup of previously announced THX Certified speakers and subwoofers designed for home theater rooms and larger living rooms, and serves as an ideal solution for smaller rooms like bedrooms, game rooms and dens, without compromising the excellence for which our THX Certified Monolith products are known."
--Hobie Sechrest, Monolith business unit manager, Monoprice.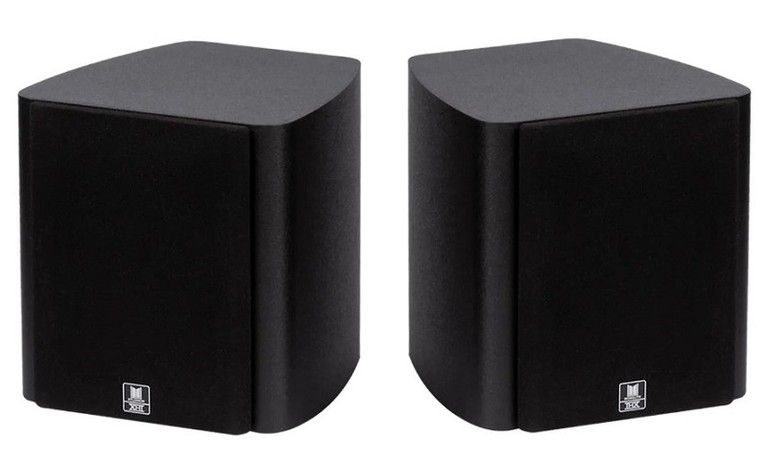 Some companies package their home theater systems with a receiver and even a Blu-ray player; complete and ready to go. Monoprice elected to forego this and make their speakers compatible with home theater receivers and amplifiers. The system includes five full-range satellite speakers, each featuring a high-excursion 4.5-inch concentric driver with an inset 20mm silk dome tweeter and optimized waveguide. The speakers are definitely small sized and are made of MDF instead of plastic which you would see in a budget system. Monoprice says the cube shaped speakers are precision-tuned and deliver a flat frequency response down to 80Hz. At this size there is a minimal footprint and each speaker features a keyhole mounting slot and spring-loaded wire terminals for easy to install.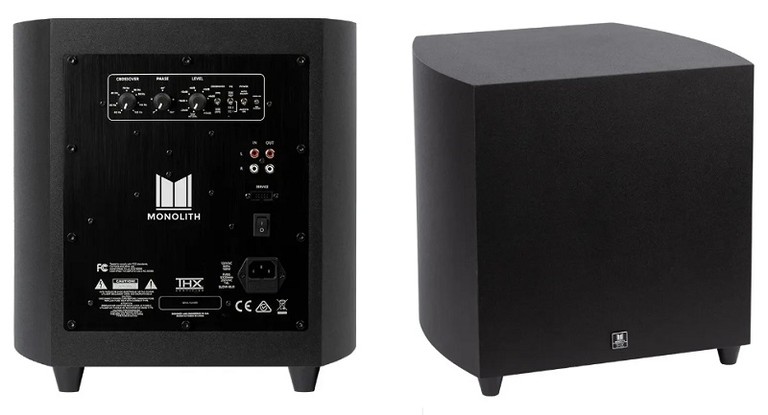 The MH18HT system comes with a compact 8-inch, down firing, ported, powered subwoofer. The sub is driven by a DSP-tuned 150-watt amplifier. Monoprice is pretty good at releasing their measurements (which we often corroborate to be accurate) and this subs measurements from Monoprice show a flat frequency response down to 30 Hz. To help ensure better performance in different size rooms, the subwoofer features three adjustment options for crossover, phase and level. The subwoofer also features three EQ settings for different room types including a THX EQ setting.
"Maintaining the Monolith brand's track record for bringing quality audio products to the masses, our engineers rigorously tested and validated new Monolith M518HT 5.1 system for its ability to deliver a truly excellent cinematic listening experience. Having earned THX Certification, customers can be assured this compact system will deliver spectacular performance.."
--Steven P. Martz, vice president, global technology, THX Ltd. 
What we think...

I am usually impressed by anything Monolith by Monoprice, in this case I'm a bit skeptical. Although $800 is NOT a lot to spend on a 5.1 speaker system, it may be over budget for the target consumer. Considering that they will also have to buy a receiver and cables and then wire the system throughout the room, some consumers in this category might opt for a soundbar, sub, and wireless satellite speakers, or just buy a $750 5.1 complete system recommended by Audioholics if size constraints aren't as much of an issue. Granted the speakers are THX Compact certified, so that carries some importance to audiophiles that there must be some confidence in design. The other advantage of this system is identical satellite speakers for perfect timbre matching.
The proof is in the listening and measurements though, and if Monoprice has this system priced at $800 it most likely is that good and perhaps a better value than we realize. Contributing editor and speaker specialist James Larson reviewed the Monolith THX-365T Mini-Tower and THX-365C Center Speaker from Monoprice and gave them 5/5 stars for both performance and value which says something about what Monoprice can do with a THX certified speaker.
The Monolith M518H 5.1 system is currently shipping and is backed by a five-year warranty and a 30-day money-back guarantee, so there's no harm in trying them out.

Unless otherwise indicated, this is a preview article for the featured product. A formal review may or may not follow in the future.
Confused about what AV Gear to buy or how to set it up? Join our Exclusive Audioholics E-Book Membership Program!