Monitor Audio's Revamped MASS Speaker System: Better Than A Sound Bar?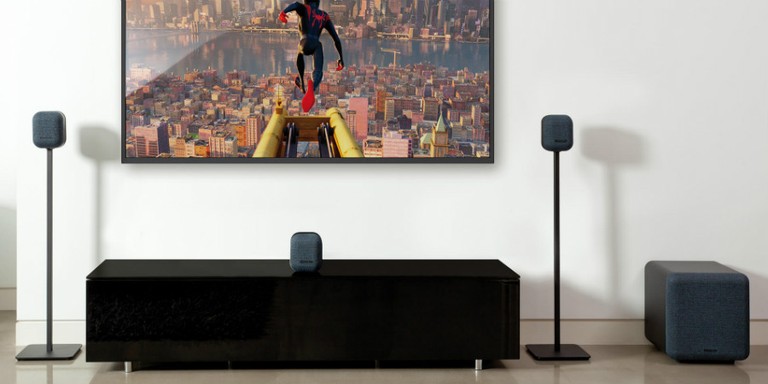 Monitor Audio MASS
Summary
Satellites:
Frequency Response (-6 dB): 105 - 34,000 Hz
Nominal Impedance: 8 ohms
Sensitivity: 80 dB
Recommended Amplifier Requirements: 25W - 100 W
Dimensions (H x W x D): 5.8" x 4.8" x 5.2"
Weight: 2.5 lbs each
Sub:
Amplifier Power: 120W
Lower Frequency Limit: -3 dB @ 35 Hz
Upper Frequency Limit: -6 dB @ 150 Hz
Low Pass Filter Alignment: 2nd order (12 dB/Octave), from 50 Hz to 150 Hz
Dimensions (Including Terminals and Feet): 14.2" x 12.6" x 13.75"
Weight: 22.5 lbs
Executive Overview
I recently convinced my brother, Dan, to retire his decade-old plasma TV and to upgrade to an OLED. He's blown away by the night-and-day superiority of his new TV's picture quality, but he's less impressed with the sound it produces, which he accurately describes as "pretty thin and shouty." The truth is, his old TV, with its chunky bezels around the screen, and 5-inch panel depth, simply had more internal volume to allocate to speakers than does his new TV. The razor-thin, nearly bezel-free OLED sounds more like a big iPad than a small stereo system. Dan lives in a stylish but modestly proportioned apartment, decorated with a mid-century modern aesthetic. He says he wants better sound from his TV, but doesn't want his small living room to be dominated by speakers, which he knows it probably would be if I had my way. He asked me to recommend a sound bar. Instead, I suggested that he consider a satellite/sub system, like the recently revamped MASS speaker package from Monitor Audio.
MASS is an extremely compact 5.1-channel speaker system, designed by the British brand to be "sympathetic to the styling of modern rooms." Before the era of the sound bar, satellite/sub systems like Monitor Audio's MASS were an extremely popular choice for consumers seeking a visually subtle solution for exciting home theater sound. The first-generation MASS system was introduced in 2012 as a lower cost alternative to Monitor Audio's impressive and popular Radius series speakers.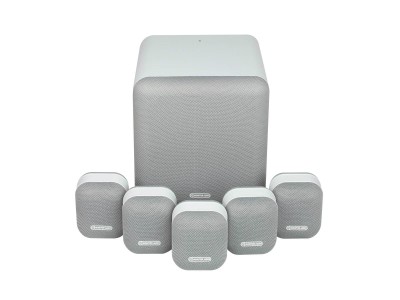 The new 2019 MASS system has been redesigned from the ground up; the drivers, cabinets, crossover, and styling are all brand new. And at $950 for the whole package, the new MASS system is even more affordable than its predecessor. The MASS system includes 5 identical satellite speakers and a compact powered subwoofer, all dressed to impress in a custom-designed, acoustically transparent woven fabric available in either a white/gray or black/blue color scheme. The cloth was designed "to give the feel of a luxury piece of soft furnishing," and is unique to Monitor Audio. The diminutive (5.8" x 4.8" x 5.2") satellite speakers feature cloth-wrapped rear covers, which match the front grilles and hide the speaker's binding posts to provide "a clean silhouette in any home environment." The speakers are a two-way design, utilizing a purpose-built 3.5-inch MMP II (Metal Matrix Polymer) mid-bass driver, and a 0.75-inch thermally-protected soft dome tweeter in a sealed, braced, and fiber-reinforced cabinet. According to Monitor Audio, the MASS satellites were tuned for wide dispersion and optimal integration with the included subwoofer. The company also claims that the compact design allows the satellites to deliver "point-source acoustic alignment for precise audio focus and response." The Metal Matrix Polymer cone was developed using advanced FEA (Finite Element Analysis) simulation to optimize both the cone itself and the performance of the motor unit. In order to allow for optimal placement in a variety of home environments, the satellites have integrated mounting hardware that allows them to be fitted to wall mounts or optional floor stands with built-in cable management. (The stands look nice, but at $160 each, they may be a hard sell.)
The MASS subwoofer features an 8-inch long-throw woofer with a 2-inch voice coil, and a cone made from the same proprietary Metal Matrix Polymer material used in the satellites' mid-bass drivers. The woofer is powered by a 120-watt Class D amplifier with DSP to provide "accurate filter characteristics." There are three preset modes to choose from: Movie, Music, and Impact. In all three modes, the amp uses advanced limiters to ensure that the sub never loses control. The woofer and associated electronics are contained within a sealed MDF cabinet measuring just 13.4" x 12.6" x 13.75", and hidden away from sight behind a matching custom-weave cloth cover. The internally braced cabinet offers robust build quality for a sub in this class; the base and front baffle are constructed of 18mm-thick MDF, and the four remaining sides are made of 15mm MDF. The amplifier is sealed within its own sub-enclosure. The MASS sub is rated to reach down to 35 Hz (-3 dB), and up to 150 Hz in order to provide a smooth blend with the satellites.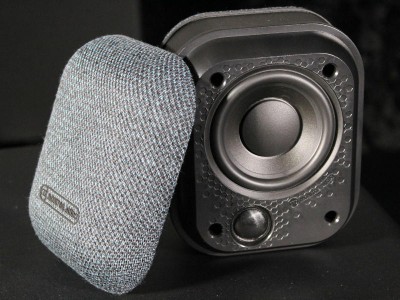 The understated yet stylish MASS system would be a great alternative to a sound bar for anyone who is tight on space and focused on aesthetics. Unlike a sound bar, a good satellite/sub system can provide convincing immersion for surround sound, and a wide soundstage with real stereo imaging for music. Here's what Monitor Audio has to say about its latest offering:
"You can enjoy your own full-on home cinema surround sound experience without breaking the bank or compromising the look of your room. Despite its size, MASS is capable of dynamic, room-filling sound with all the punch and drive the biggest Hollywood blockbusters demand. With perfect clarity to build the tension in quieter scenes, hair-raising attack when the going gets explosive, and incredible effects placement to keep you at the heart of the story, MASS brings you the authentic cinema experience."
The original 2012 MASS system was an exceptional performer at its price of $1,300. Can this smaller, less expensive system really deliver the goods? We'll have to get this system in to confirm but the specs look quite impressive and the price is right.

Confused about what AV Gear to buy or how to set it up? Join our Exclusive Audioholics E-Book Membership Program!