XTZ Cinema Series M6 and S5 Speaker System Review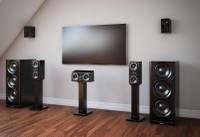 There is a growing buzz around XTZ Sound. The Sweden based hi-fi company manufactures the XTZ Cinema Series M6 hybrid 2/3-way main LCR satellite and S5 dipole surround speakers at $1000 and $700 a piece, respectively. These speakers feature something you don't see everyday: multiple tweeters. What can four tweeters do that one single tweeter can't? Read on to find out what a talented loudspeaker designer can do when a company is willing to think outside of the box....
Review: The XTZ Cinema Series M6 and S5 speakers feature as many as 4 tweeters for dynamic sound in a compact package. They are moderately priced despite their high-end performance.