Onkyo HT-S7200 Home Theater System First Look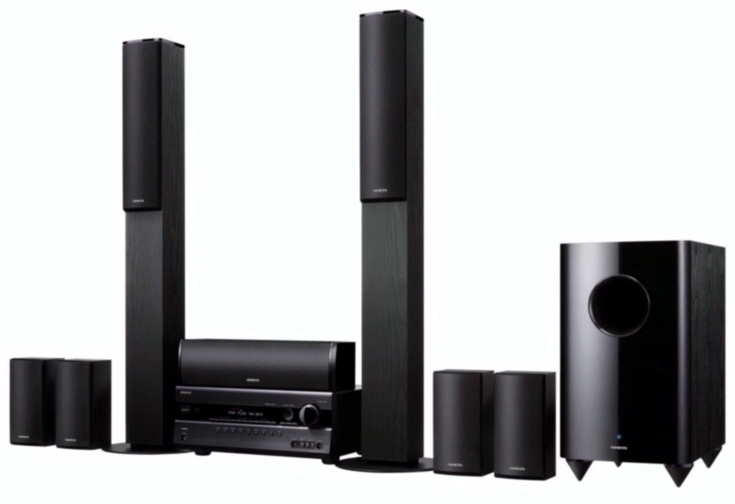 Onkyo HT-S7200 Home Theater System
Summary
Power Output
Front L/R/C/Surround: 130 W/Channel (6 ohms, 1 kHz, FTC)
Dynamic Power: 180 W (3 ohms); 160 W (4 ohms); 100 W (8 ohms)
THD (Total Harmonic Distortion): 1 % (Rated power)
Damping Factor: 60 (Front, 1 kHz, 8 ohms)
Input Sensitivity and Impedance: 200 mV/47 k-ohms (Line)
Output Level and Impedance: 200 mV/2.2 kohms (Rec out)
Frequency Response: 5 Hz–100 kHz/ +1 dB, -3 dB (Direct mode)
Tone Control: ±10 dB, 50 Hz (Bass); ±10 dB, 20 kHz (Treble)
Signal-to-Noise Ratio: 106 dB (Line, IHF-A)
Speaker Impedance: 6 ohms–16 ohms
Subwoofer: 290W
All discrete amplifier circuitry

FM/AM Preset Memory: 30 stations

General
Power Consumption: 5.5 A
Standby Power Consumption: 0.1 W
Dimensions (W x H x D): 17-1/8" x 6-15/16" x 12-15/16" (435 x 176 x 329 mm)
Weight: 23.9 lbs. (10.8 kg)

Speaker Type
Front/Center: 2-way, bass reflex
Surrounds: 2-way, bass reflex
Subwoofer: Bass reflex, powered
Drivers
Front: 3-1/4" woofer (x2), 1" tweeter
Center: 3-1/4" woofer (x2), 1" tweeter
Surround/Surround Back: 3-1/4" cone
Subwoofer: 10" cone
Frequency Response
Front/Center: 55 Hz–50 kHz
Surround: 60 Hz–50 kHz
Surround Back: 80 Hz–20 kHz
Subwoofer: 25 Hz–150 Hz
Output Sensitivity
Front/Center: 79.5 dB/W/m
Surround/Back: 81 dB/W/m
Nominal Impedance
Front/Center/Surround/Surround Back: 6 ohms

Dimensions (W x H x D)
Front: 10-5/16" x 41-5/16" x 10-5/16"
Center: 16-15/16" x 4-3/4" x 5-1/16"
Surround/Back: 4-3/4" x 9-1/8" x 4-13/16"
Subwoofer: 10-13/16" x 19-15/16" x 16-3/16"
Weight
Front: 11.5 lbs (5.2 kg)
Center: 4.9 lbs (2.2 kg)
Surrounds/Back: 2.2 lbs. (1.0 kg)
Subwoofer: 25.6 lbs. (11.6 kg)
Executive Overview
You want home theater? Full functionality doesn't get much cheaper than the Onkyo HT-S7200. This is 7.1-channel system with nearly all the trimmings - all packed into a nice, convenient box you can give to somebody... or, yourself. This home-theater-in-a-box includes a full A/V receiver and complete 7.1 speaker package. The very reasonable $899 retail price of the HT-S7200 makes it a compelling buy for those looking to move their way firmly into the surround sound experience. The package includes the dedicated A/V receiver, a 10-inch powered subwoofer, Front tower (floorstanding) speakers, a Center channel, and two pairs of Surround and Surround Back speakers. It's a highly upgradable system, and one that will meet the needs for almost anyone looking to break into the home theater experience.
With a system like this you won't need to keep your expectations in check since Onkyo made this product with a feature set that belies the target price point for this product. Coming in under $900, it's hard to not be pleased to find on-screen display and HDMI upconversion from analogue sources. While there are still no 5.1 preamp inputs or outputs, most users are not likely to miss them. Onkyo even throws in an iPod dock - extra on most systems. If you are using several types of inputs you'll only need to run an HDMI cable from the receiver to your television or projector since the HT-S7200 provides video upconversion. This is great and makes the remote control much more powerful.
Let's analyze the primary components on their own:
Onkyo HT-RC160 A/V Receiver
This dedicated receiver features five (count 'em) HDMI "repeater" inputs for high-definition audio and video. This is a super-convenient solution that allows you to connect all of your HD video sources into the receiver for simplified switching. It also eliminates, for sources with HDMI outputs, the need for separate audio cables. Since the HDMI inputs are fully active they are capable of retrieving and decoding the Dolby TrueHD and dts-HD audio from an HDMI signal. With no analogue inputs, that means HDMI is the only way (and coincidentally, the best way) to get the new high resolution audio formats off of Blu-ray discs.
The system also includes Audyssey Dynamic EQ, and Audyssey Dynamic Volume which levels out the volume between program material and overly compressed commercials. It also includes a setup mic for auto-calibration of your system and you can use the included UP-A1 dock to integrate an iPod (with both audio and video support). Onkyo's new DSP modes are optimized for gaming and there are four modes: Rock, Sports, Action, or Role Playing Game (RPG). Neither reduces lag time. If you like HD Radio, the HT-RC160 can, with the addition of an optional UP-HT1 unit, be made ready to receive those digital radio signals.
Inputs and Outputs 
The Onkyo HT-RC160 (which is nearly identical to the TX-SR607) has the ins and outs you'd expect on a mid-fi A/V receiver. As we indicated above, the five HDMI inputs will handle HD sources effortlessly and pas them to the single output, with both audio and video being read from the sources - a big improvement over some of Onkyo's lower HT-R receivers. Dual component video inputs means that legacy products will also be able to get tied into this receiver - and there's no need to connect both component and HDMI to your display since the receiver offers video upconversion to HDMI thanks to the Faroudja DCDi/Edge processor. There are also three other composite video inputs, but no S-video connections (which is just fine with us). In addition to these video inputs there are dual stereo inputs for CD and Tape (hey, what's that?) and two each of optical and coax S/PDIF connections.
Note the lack of 5.1 analogue inputs or preamp outputs

In terms of speaker connections, this model provides 5-way plastic binding posts for all primary (left/right/center/surround/surround back) speakers, but the Zone 2/Height Channel speakers (for Dolby Pro Logic IIz) get spring clips. This is not uncommon at this price point, but realize that spring clips of this type do best with 18 gauge or higher (smaller) cable. The HT-RC160 receiver also allows bi-amping of the main speakers through re-routing amps from the Surround Back speakers. In addition, there are preamp outputs for a second parallel subwoofer. It was interesting to note that the HT-R570 included support for Sirius satellite radio, while the stepped up HT-RC160 does not (the TX-SR607 includes it as well).
That weird-looking D-connector on the back is a proprietary iPod dock port that Onkyo uses to connect to the included UP-A1 iPod dock. This dock lets you incorporate the iPhone right into your home entertainment system. The UP-A1 supports your iPhone or iPod's ability to send music, movies, TV shows, music videos, and video podcasts to the HT-RC160. It draws a steady power supply from the AV receiver via the same convenient cable that delivers the video and audio signals. The UP-A1 also offers handy features found on previous Onkyo docks: the ability to recharge your iPod or iPhone. On compatible receivers, the dock also gives you onscreen display for content navigation and selection.
Main Left/Right and Center Speakers
In this system the front left/right/center speakers differ from the rest in that they have two larger drivers and a tweeter, making them 2-way speakers. Additionally, the main speakers are floorstanding at around 41.5" tall. Each speaker is about 10.5" wide and deep, so they are going to take a prominent place in the front of any room. They have a plain black finish, though and will tonally match well with the center channel which is a smaller form factor, but shares the same drivers. The fact that these speakers step up to a two-way system, and the inclusion of a dedicated 1" tweeter means that you'll get clearer audio with less distortion. The mains and center channel produce frequencies, according to Onkyo, down to 55Hz.
The Surrounds and Surround Back speakers are similar in design to the mains and center except that they utilize a single 3-1/4" "full-range" driver and extend down to 60Hz (Surround) and 80Hz (Surround Back). The front speakers weigh in at around 11.5 pounds each, the center at just under 5 pounds, and the surrounds are just over two pounds apiece. All speakers in this system are made of slim plastic material.
Subwoofer
The included sub is active, meaning it has its own amplifier and must be plugged into an outlet, and contains a 10" down-firing driver with a large front port. The box itself is roughly 11" x 20" x 16" making it a pretty big box, but still small enough to hide away if necessary. A blue LED on the front tell you when the sub is active. We'd recommend keeping it up front if possible and moving it around to find the location that yields the best low frequency response. This is a solid sub, and we've seen many subs in similar systems come with an 8-inch driver - which is often not big enough (in an inexpensive system) to go down to that critical <30 Hz range. Onkyo claims a frequency response of 25Hz with this sub, but provides no specs on how it came to that measurement. It would be safe to assume that the sub is at least 3dB down at this frequency, if not more. You can upgrade this subwoofer with an aftermarket  solution at any time. Some recommendations are the Axiom Audio EP125 ($375), Aperion Audio Bravus 8A ($319), and the Velodyne Impact-12 ($369).
Remote Control

The remote that comes with this unit is sufficient enough to handle most basic systems (TV, DVD player and the AV receiver) but don't expect to have it operate your DVR or more sophisticated cableTV functions. It works via preprogrammed codes and cannot learn commands from other remote controls. The layout is intelligent, with direct access over inputs and the four listening modes (which can be further toggled by repeatedly pressing each button.) There is no backlight on this remote, so plan on using it during the day or learning where everything is for nighttime use. There is also a button to control a second audio Zone. A good universal remote should land this thing in storage pretty quickly - and that's our recommendation for most entry level remotes. 
Overview of Features
Total 1200W (includes 7 channels plus sub channel)
7 speakers with 3-1/4" drivers
Down-firing 290W 10-inch subwoofer
4 HDMI "repeater" inputs (audio supported!)
Dolby IIz height channel support
Zone 2

4 DSP gaming modes: Rock, Sports, Action, and Role Playing
Audyssey Dynamic Volume
Includes UP-A1 iPod dock ($109 value)

Conclusion
This is an impressive 7.1 tower system that is priced fairly. You can look at it figuring that, for $899, you get a $540 A/V receiver - leaving $359 for 7 speakers and a 10-inch powered subwoofer. That's not too bad and we doubt you'll do too much better shopping for components separately. This is a system that can easily be upgraded. While the Onkyo HT-RC160 receiver lacks a Sirius radio or analogue 5.1 inputs, it delivers with an on-screen display and analogue to HDMI video upconversion . This receiver also delivers Audyssey's Dynamic Volume feature which we've experienced and found to be very helpful when watching movies on systems and in rooms that simply cannot reproduce theatrical levels of dynamic sound. We doubt very much you'll use the Dolby IIz height speaker outputs - but hey, it's there for you to play with. Because of its value we feel that this system will appeal to a lot of people looking for a simple-to-use system and wanting a bit more than those truly entry-level HTiB packages will deliver. If you have a lot of sources, this may be the perfect system for you. Definitely recommended.

Unless otherwise indicated, this is a preview article for the featured product. A formal review may or may not follow in the future.
Confused about what AV Gear to buy or how to set it up? Join our Exclusive Audioholics E-Book Membership Program!