Onkyo TX-SR607 with Dolby PLIIz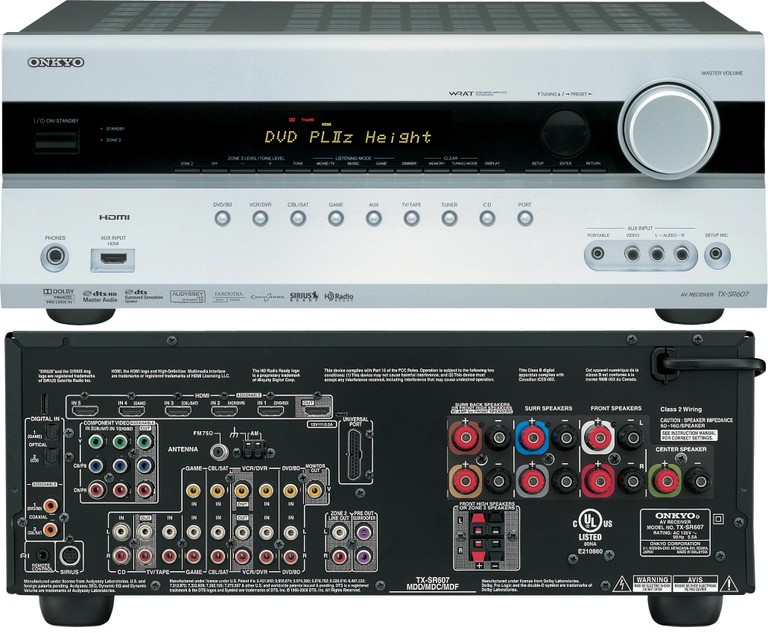 Onkyo TX-SR607
Onkyo announced three new receivers in their lineup headed by the TX-SR607. The new '07 models include the TX-SR307 and TX-SR507. All of the models support 1080p resolution, Deep Color, and x.v.Color. Audyssey, an early partner with Onkyo, is again onboard with their 2EQ calibration, Dynamic Volume, and Dynamic EQ. The $299 5.1 TX-SR307 is the most basic in the line with 3 HDMI inputs with pass through only. The back of the unit sports a single coaxial audio input and two TOSLink. There are five way binding posts for the main channels but only spring-type for the surrounds and center. A single sub output is included along with 2 component video inputs and a couple of composite inputs. S-Video seems to have exited stage right. The TX-SR307 offers 65 watts per channel.

The $399 TX-SR507 offers an improvement of 15 watts per channel over the TX-SR307 but is still only 5.1. It does now have pre-outs for surround back speakers if you have the external amplification and the need. Also onboard is an extra HDMI input with repeating and Dolby True HD and DTS-HD Master Audio decoding. Five-way binding posts are included for all speakers with zone two sporting spring clips. The TX-SR507 has a new proprietary "universal" port that will be used on a soon to be released iPod dock and HD Radio add-on.

The $599 TX-SR607 bumps up the wattage to 90 per channel and adds a second subwoofer output. The universal port is there along with a fifth HDMI port, 5 way binding post for all 7 channels, and a few extra analogue and composite inputs. Digital audio inputs are still limited to two coaxial and TOSLink as are component video. Obviously Onkyo is counting on people mostly using HDMI. Dolby ProLogic IIz adds height channels above the mains. If you are running a 5.1 setup, you can use the 5-way binding posts for the surround back speakers or else you'll have to use the spring clips for Zone 2. Noticeably absent on the TX-SR607 are any analogue inputs or outputs. This makes expanding to external amplification or connecting a legacy non-HDMI universal player impossible. The TX-SR307 and TX-SR507 are due to be released this month with the TX-SR607 to follow next month.
Recent Forum Posts:
nexus99 posts on April 09, 2009 03:17
I wonder how PLIIz and the onkyo 607 and PS3 BR player will all work together?
lsiberian posts on March 18, 2009 13:36
allargon, post: 539421
7.1 is too much for the average room. I can see a dedicated home theater with tall ceilings possible making use of this. Reads (not sure it sounds so) interesting.
I enjoy it very much in my living room. And it's not a dedicated theater. Well not usually
MDS posts on March 18, 2009 12:55
My house is wired for in-ceiling speakers but I currently don't have any speakers in the ceiling. 'Presence' channels are usually placed above the front speakers but I'm now curious if using in-ceiling speakers that are more or less directly above the listening position as the height speakers will create an interesting effect or just muddy things up.
sholling posts on March 18, 2009 12:02
It's an interesting idea but introduced at the wrong price point (I'm sure $$$$ models are coming) I just can't see the average home listener getting away (WAF) with running wires across the ceiling and nobody builds a new prewired listening space around a $500 receiver.
allargon posts on March 18, 2009 10:07
7.1 is too much for the average room. I can see a dedicated home theater with tall ceilings possible making use of this. Reads (not sure it sounds so) interesting.
Post Reply