Axiom Audio Epic Accent M0 On-Wall Speaker System Review
Axiom Audio Epic Accent M0 On-Wall Speaker System Review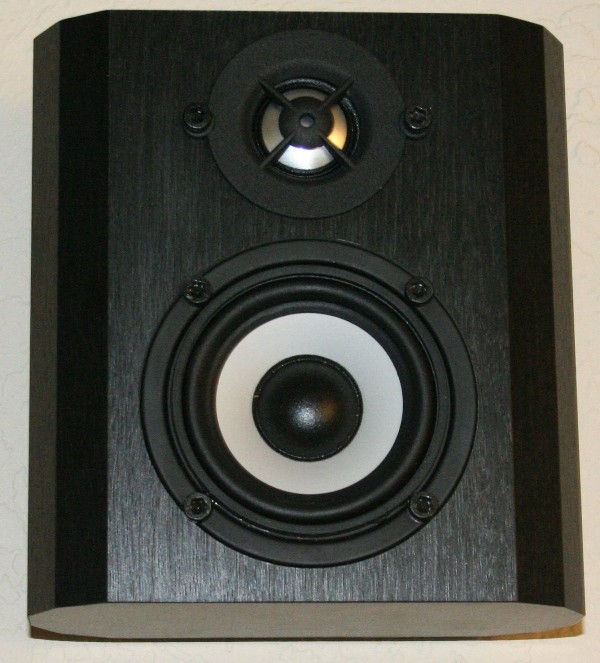 Axiom Audio Epic Accent M0
Product Name: Accent M0
Manufacturer: Axiom Audio
Performance Rating:
Value Rating:
Review Date: October 02, 2009 14:00
MSRP: $ 135/each or $998 (5.1 w/EP125) or $1686 (5.1 w/EP400)
| | |
| --- | --- |
| Specs | M0 |
| Enclosure: | Sealed |
| Response +/- 3dB: | 160–20 kHz |
| Impedance (Ohms): | 8 Ohms |
| SPL in Room1w/1m: | 87 dB |
| SPL Anechoic 1w/1m: | 83 dB |
| Tweeter: | 1" titanium dome |
| Woofer: | 3" aluminum cone |
| Dimensions HWD (inches): | 6.5" x 6.1" x 2.3" |
| Weight (lbs) each | 2.95 |
| Max Amp Power: | 150 Watts |
| Min. Amp Power: | 20 Watts |
| | |
| --- | --- |
| Specs | EP125 |
| Enclosure: | Vortex / Reflex |
| Max Amp Power: | 125 Watts |
| Cross-over Adjust | 60 - 120 Hz |
| Phase | 0 & 180 |
| Woofer Size | 8" |
| DSP Controlled | No |
| Line In and Out | Yes |
| Balanced Line In and Out | Yes |
| High Level In | Yes |
| Room Trim | No |
| Dynamic Power Supply | No |
| Anechoic Resp. +/- 1.5dB | |
| Anechoic Resp. +/- 3dB | 35 - 150 Hz |
| Room Resp. + 3dB/- 9dB | 25 - 150 Hz |
| Max SPL Anechoic | 104 dB |
| Max SPL In Room | 114 dB |
| Dimensions HWD inches | 14.5 x 12 x 12 |
| Weight lbs each | 20 lbs |
| | |
| --- | --- |
| Specs | EP400 |
| Enclosure: | Acoustic Suspension |
| Max Amp Power: | 500 Watts |
| Cross-over Adjust | 40 - 150 Hz |
| Phase | 0 & 180 |
| Woofer Size | 8" |
| DSP Controlled | Yes |
| Line In and Out | Yes |
| Balanced Line In and Out | Yes |
| High Level In | Yes |
| Room Trim | Yes |
| Dynamic Power Supply | Yes |
| Anechoic Resp. +/- 1.5dB | 18 - 150 Hz |
| Anechoic Resp. +/- 3dB | 18 - 150 Hz |
| Room Resp. + 3dB/- 9dB | 17 - 150 Hz |
| Max SPL Anechoic | 106 dB |
| Max SPL In Room | 116 dB |
| Dimensions HWD inches: | 13.75" x 10.5" x 16.8" |
| Weight lbs each: | 48.55 lbs |
Pros
Innovative bracket/termination system
Small size
Uniform off axis response
Cons
Bracket screws strip easily
Speaker sits far enough off wall to allow visibility of the hole/wires
Occasional disengagement of speakers from brackets can disrupt playback
Introduction
From the magnetic grills to the innovative (if quirky) wall mounting bracket system, the Axiom Audio M0s are a speaker unlike any other. Of course, coming from Axiom you'd expect them to deliver sonically - and they do. If you are looking for an unobtrusive on-wall system for a smaller room, the M0s are a very good choice and deserve to be on your short list. At $135 each and with a free 30day in-home trial, you've got little to lose except your preconceptions about what a small speaker can do.
cwall99 posts on October 03, 2009 00:33
Cool. Thanks.
gene posts on October 02, 2009 17:10
refresh your browser. I accidentally posted the forum thread before publishing it live on the site. Its working.
cwall99 posts on October 02, 2009 15:58
Would like to read more, but…

I keep getting 404 site not found errors when I click on either the Next button or select one of the items from the page menu for this article.

I would have posted this message on your site admiinistrator's page (as directed by the 404 error message page), but when I click on the link (on the 404 error page), I still get the 404 site not found error.

Just an FYI that something's goofy with this article.
Post Reply
Confused about what AV Gear to buy or how to set it up? Join our Exclusive Audioholics E-Book Membership Program!