EMP EW30 On-Walls Review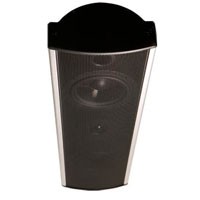 Frequency range +/- 3 dB 46Hz - 20kHz±3dB
Sensitivity (2.83V/1m) 86.0 dB
Nominal impedance 6 ohms
Recommended amp power 50– 200watts
Crossover frequency 220Hz, 2.2kHz
Tweeter driver 1" Silk Dome
Low frequency driver(s) (2) 5 ¼" Carbon Fiber
Enclosure type Ported
Connection input(s) Single Wire
Recommended placement on wall (via wall mount kit) or stand mountable
Dimensions (H x W x D) 25" H x 7 1/8" W x 5 5/8" D
Weight 19.5 lbs/ea
Grill: Black or Silver (both included)
Finish Silver with black caps and accents
Pros
Excellent build quality and appearance
Overall solid performer
Easy to install
Cons
Slightly recessed midrange and upper midbass
Introduction
Got that new flat panel? EMP has the answer for streamlined high performance loudspeakers that won't take away form your new purchase. The EW30s are among the best on-wall type speakers we have heard. With the special Buy One get One free promo currently being offered, they are quite a bargain.

Confused about what AV Gear to buy or how to set it up? Join our Exclusive Audioholics E-Book Membership Program!
Recent Forum Posts:
ozmedia posts on August 24, 2009 12:46
TOADSKI, post: 371993
I have to say listing to audio at various levels in all stereo mode there isn't any real difference in sound quality.

If you are comparing the 35" EMP to the 30" EMP, I will agree whole heartedly, but as for comparing the EMP to the RBH (if that's what you had meant), they are not comparable at all.



If you have heard EMP's beside WM's from RBH, you'd have to be alll but completely tone deaf to not hear the massive, IMMENSE difference in sound etween teh two. They are nto even remotely similar osunding in ANy way at all.
I have both right behind my in my soundroom, the 24" RBH dances circles around the 35" EMP in every aspect of sound reproduction.

To be fair they are also not even comparable in price though, with a pair of EMP's now being sold for less than the cost of one RBH on wall. The EMP's are nice for a budget priced, entry level on-wall that has a fantastic mouting kit and supplied bubble level. They are a great value for money considering some of the junk available in retail outlets today, but they are not even in the same league as RBH, EMP is the little sister to RBH, designed for affordable, online sales.
ozmedia posts on August 24, 2009 12:39
gsendek, post: 415251
I was looking for in wall speakers they are all CRAP
No they are not all crap at all, perhaps the ones you found in local retailer's were but in-walls can be as good as freestanding models when properly built.
http://rbhsound.com/mc884.shtml
http://www.rbhsound.com/si6000r.shtml
Mind you, you do need quite the budget for Signature Reference Series but the MC series is more than affordale and backed with a 25 YEAR warranty, top that with a floorstanding model.
ozmedia posts on August 24, 2009 12:26
Night and Day
jnmfox, post: 327338
These appear to be very similar to the RBH WM-24. The WMs have four 4" aluminum drivers and the EW have two 5.25" carbon fiber drivers. I know they are both built by RBH and two different people did the reviews but what other differences are there between the two? Specifically would one be recommended over the other and why or why not?

Thanks
The EMP's are a decent, entry/mid level product, in fact I think the best part is the installation level they include that NOBODY else does. It makes them a breeze to mount in just a couple of minutes.
As for sound, there really is no comparisson at all, between RBH and the EMP onwalls, especially when it comes to price.
The EMP's sound great when balanced with a decent sub, like even the small MS8.1 from RBH. But as far as actual tonal difference, the RBH offer much better lower midrange and are much more spacious.
Mind you, when you compare price, with EMP blowing out the whole W line at ridiculously low prices, they areoffering a fantastic value fo rmoney.
EMP is putting out a nice product with an installation package that isn't even included with top end on-wall products.
ChunkyDark posts on May 23, 2008 11:14
gsendek, post: 415251
so are the emp 30's as good or better than the axiom audio w3's. As my search for wall speakers goes on, I have been looking for 2 years, and before i hack big holes in my walls that have new dry wall on them i have to make sure. I was looking for in wall speakers they are all CRAP, so i want on wall, if any one can help, thank you geo
I recently bought some RBH WM-30 (they make emp). During the break in I just left them unmounted until I was sure I liked them enough to start drilling holes.
The manual says 8 holes per speaker, so not too big of a mess.
http://www.emptek.com/EW_Manual.pdf
gsendek posts on May 22, 2008 15:15
geo
gene, post: 327509
The RBM WM24's are likely a better speaker overall, though they are considerably more expensive ($999/pair vs $640/pair for the EMP EW30s which will be available at our e-store soon). The RBH's are more efficient, making them an easier load for a receiver to drive at high SPL levels and also likely have better tonal balance in the midrange. But, both speakers do quite well for what they are so its really a matter of taste, aesthetics and budget.
so are the emp 30's as good or better than the axiom audio w3's. As my search for wall speakers goes on, I have been looking for 2 years, and before i hack big holes in my walls that have new dry wall on them i have to make sure. I was looking for in wall speakers they are all CRAP, so i want on wall, if any one can help, thank you geo
Post Reply