Audyssey Dynamic EQ and Dynamic Volume Demo
Audyssey Dynamic EQ and Dynamic Volume Demo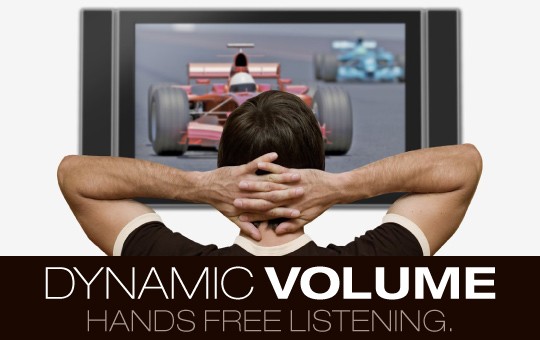 Dynamic Volume on display
At the 2008 Audioholics State of the CE Union Expo, Audyssey had their demo room stocked with the newest MTS-01 family of SVS speakers. On top of that, they had two PB13-Ultra subs giving them access to practically unlimited amount of bass (I heard they had two more at the show but they didn't want to damage the building). This worked out well as Audyssey was really showing off their different processing capabilities. MultEQ is something we've seen and reported on before. Last year, Audyssey started shipping Dynamic EQ. This year they are introducing Dynamic Volume.
MultEQ is simply a room correction system. I say "simply" like it is easy. We've found that most of the room correction systems work only conditionally. The MultEQ is one of the few that actually affects the lowest frequencies (where you need it most). Dynamic EQ is designed to maintain the dynamic range regardless of volume. We've all experienced when you turn down the volume you lose the bass in your system. Sometimes you can no longer hear the surrounds or the entire soundstage collapses. Dynamic EQ is designed to fix that by maintaining the proper balance of sound at any volume. It also does it with multi-channel soundtracks and without compromising the intended mix.
The beginning of the demo featured a normal volume scene with the MultEQ and Dynamic EQ on and off. The change between the two was very evident and the separation and clarity with the MultEQ and Dynamic EQ presented a much improved experience. The room, as you'd expect, was not treated with passive room correction like bass traps or absorption panels. This presented a "worst case scenario" for Audyssey to fix (and believe me, Audyssey says that room correction + Audyssey delivers the very best results). With the MultEQ and Dynamic EQ engaged, this untreated and reverberant room showed dramatic improvement.
What was more impressive was when he turned the volume down. At the lower volume, bass was practically gone and it was nearly impossible to get that immersive surround experience we all crave. Once the Dynamic EQ was engaged, suddenly it sounded like surround sound again - just quieter. The most impressive part was that the bass reentered the picture. I'm so used to losing the bass with the volume down that I hardly noticed it missing. The Dynamic EQ reminded me of all the sound I was missing trying not to wake the kids.
Linked to the Dynamic EQ is Dynamic Volume. While Dynamic EQ can be operated independently, Dynamic Volume must be used with Dynamic EQ. For either to work, you must have run MultEQ. Dynamic Volume is exactly what you think it is - keeping the loud and soft scenes the same volume. Audyssey essentially scans forward a half frame in order to find out when the volume will change and reacts accordingly. With dialogue, it'll do nothing. But as soon as something loud happens, it reacts to bring the volume down. Honestly, it was sort of eerie how it could do this so seamlessly. When the scenes were played with the Dynamic Volume on, I never registered any volume adjustment like I have with other systems. It seemed like the movie was just mixed that way. Once the same scene was played with the Dynamic Volume off, the differences were pretty amazing. One scene had a +17dB swing in volume that the Dynamic Volume was able to tame without perceptible artifacts.
Dynamic Volume is obviously meant to be used in specific situations (for me, it would be late night viewing). The most readily available examples are those huge swings in volume from your favorite shows to the overly loud commercials. The Dynamic Volume comes in three flavors (the demo used the highest level of volume control) so you can adjust it to your liking.
For more information, please visit www.audyssey.com.
ned posts on October 27, 2008 16:44
Again, would someone comment about Sherwoods new AVR featuring Trinnov Room Correction ? Thanks.
majorloser posts on October 26, 2008 10:52
More pics





majorloser posts on October 26, 2008 10:43
Here's a few pics of the room and equipment used.

SVS speakers




haraldo posts on October 26, 2008 05:27
Now there are many ways of doing some kind of room correction in the digital domain….
Like: Lyngdorf Room Perfect, Tact Labs Spectrum Dynamic Room Correction, Audyssey, Deqx, Holm acoustics
And you have the pro gear, like Behringer ultracurve pro

Especially new Danish holm acoustics products seem very interesting…..

different pricing and very different capabilities and very hard for consumers to pick what works best for them. The digital crossovers employes in some of these products are also very different.

Do you have any thoughts on getting into tis minefield on this, this would be interesting, to say the least….

For instance, Lyngdorf products provide for room correction but absolutely no phase correction
Holm products and deqx provide for both amplitude correction and phase correction

some of these products are quite pricey, and important to consumers to make choices that suits them, may be quite difficult task.

Regards

Harald N
ned posts on October 26, 2008 03:22
Any reviews on Sherwood Trinnov's demo?
Post Reply
Confused about what AV Gear to buy or how to set it up? Join our Exclusive Audioholics E-Book Membership Program!