Audyssey Labs' MultEQ
by
Patrick Hart
—
December 28, 2004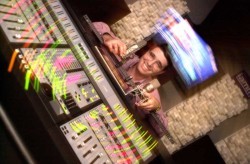 Tom Holman had a problem. As Professor of Film Sound at the University of Southern California's School of Cinema-Television, one of Tom's duties was to set-up, calibrate and acoustically equalize Norris Theater. This minimum five hour job was a step-by-laborious-step of set-up and reconfirmation of settings done months before. Inevitably, recalibration accompanied by more fine-turning was always required to make each channel of the Norris Theater system perform optimally. Norris was but one of literally tens of theaters and studio facilities that Tom has been calibrating manually for many years.
As an elective in a subject which interested him, Chris Kyriakakis had signed up for Tom's introductory course on Film Sound. Kyriakakis was first-year faculty in Audio Signal Processing at the USC Viterbi School of Engineering. He was looking for a difficult problem to tackle so that he could produce a number of publications that would eventually lead to tenure. (In support of this interview Chris sent eleven technical articles, most of which were co-written with other members of the Audyssey founding team.)
Tom Holman, father of THX, had a quick answer to Chris' "problem". Tom wanted himself replaced in the Norris Theater set-up equation. So in the summertime of 2000 Tom and Chris set-up a test with his students using Norris Theater as the base. All known conventional equalization devices were to be tried out using double-blind, A-B comparisons to determine which system, consumer or professional, sounded best.
Chris Kyriakakis' challenge, Tom said, would be to do his doctoral thesis on something which had never been done. Chris was tasked to take the winner of this "shootout" and audibly best it… double-blind… with Tom as the listener. And, Tom added, Chris' system had to perform this acoustic miracle automatically.
The MultEQ Technologies
Audyssey is a spin-off of USC's Immersive Audio Lab which Tom Holman and Chris Kyriakakis co-founded nine years ago. MultEQ has been in the works for the last 5 or 6 years and is the result of Sunil Bharitkar's PhD thesis. Sunil was a doctoral student with Chris at USC and is a co-foudner of Audyssey. Yes, Audyssey is a start-up, but this effort differs from most in that it has multi-million dollar funding backing it through an endowment from the National Science Foundation. At the time of my interview in early December I got to hear a demonstration of Audyssey's first technology implant into a consumer electronics receiver, the new $6,000 Denon Flagship AVR-5805.
Within the Immersive Audio Lab on the USC campus, I sat down with Chris Kyriakakis and Tom Holman to learn about this ingenious technology. MultEQ is but the first in a series of unique audio solutions that Chris' team is developing. Chris promises there are more spin-off applications in the pipeline that we'll be hearing about in the near future.
MultEQ is a comprehensive approach to system set-up and calibration and room correction. It is claimed to be radically different than the two or three "homegrown" technologies that other companies have put out into the consumer market so far.
Beginning with the analysis of how home theater systems' imbedded set-up routines have traditionally been configured, the Audyssey team determined that their system would need much more precise inputted information from the beginning in order to establish a baseline from which accurate manipulation of the data could take place. The MultEQ system therefore would have to be dependant on itself to gather more exacting information than could be measured or fed-in by a consumer. And, since the system would be configured to use Finite Impulse Response (FIR) filters, the baseline noise level of the "room-with-loudspeakers" system had to be at a specified minimum (in dB) before MultEQ would begin a sequence. Thus, the starting point for measurement is to place the spec-approved microphone at ear level in the main "audiophile" listening position.
Next up in the preliminaries, the system will determine how many speakers are hooked up. In the case of the Denon AVR-5805 the default is 9.1. But as will be seen later, a much more integrated, cohesive sound can be had by adding two extra subwoofers for which Audyssey MultEQ and the Denon are provisioned.
Determination of absolute phase,( or in-phase with positive polarity), is a critical aspect of on-the-screen/center channel speaker symbiosis that, as Tom points out, was known by Todd-AO as far back as 1954. So Chris Kyriakakis' team has thrown out the common method utilized by other systems of determining phase by means of looking at speakers in pairs. Instead, the Audyssey system can accurately determine both a positive wave front and distance to the audiophile seat (primary listening position) from the single center-channel speaker. The Denon's on-screen display within the lab indicated that the set-up distances where good down to 0.1 foot. In reality, Chris relates that " We spec that we're accurate to within 1" but actually the accuracy is closer to ¼"". (Note that a ¼" frequency wavelength is over 40KHz so it begins to become obvious that MultEQ can also deconvolve extremely accurate time and phase information.)
Confused about what AV Gear to buy or how to set it up? Join our Exclusive Audioholics E-Book Membership Program!