On Location with Audyssey Laboratories
On Location with Audyssey Laboratories

Nearly two years ago we were introduced to a revolutionary room equalization system called Audyssey which was soon to be debuted in the up and coming AVR-5805 receiver flagship from Denon. Prior to reviewing this new super receiver, we sent one of our freelance writers, Patrick Hart , to Audyssey Labs for a first hand demo of their new system.
See: Audyssey Labs' MultEQ Report
With such a favorable report, we were most eager in getting this system into our own test labs. Along the way we discovered a few glitches in its execution, including its lack of correction below 100Hz. Both Denon and Audyssey were proactive in resolving this issue and shortly a new improved firmware version was released which made its way into all Denon Audyssey enabled receivers. Our detailed test report of the AVR-3806 and AVR-5805 will follow shortly.
We were impressed with Audyssey's commitment to improving their technology and when we discovered they were working on a new stand alone processor, among other things, we were most eager to arrange an On Location Tour of their facilities and get the scoop.
When we arrived, we were greeted by Samit Varma who is now the Director of Operations for Audyssey. Samit is no stranger to acoustics, having worked on nuclear subs in the Navy as a Weapons Officer on the USS Nebraska. Dealing with underwater acoustics is an incredibly effective way to hone your skills for a career in the entertainment theater industry. Samit also taught engineering at USC to ROTC midshipmen and got his Masters (MBA) there where he connected with the budding Audyssey. He came on board with the company just a few months after Michael Solomon took the position of CEO in December of 2004.
Company History
The history and progression of Audyssey is interesting in that we are witnessing a company birthed out of a need to improve the status quo of what is largely an overlookied issue in home theater today - digital correction of loudspeaker output to achieve better overall in-room performance. Add the fact that the company has grown from a single software-only product into a new line of hardware and licensing products and you're witnessing the beginnings of something with enormous growth potential.
Denon was Audyssey's first official licensee customer with the introduction of the AVR-5805 "super-receiver". It hit a number of firsts, not the least of which was the integration of Audyssey's MultEQ XT system and, at the time, what we considered to be the first promising and usable room correction system integrated into an AV receiver. What makes Audyssey unique is that it attempts to remove things that aren't supposed to be in the loudspeaker-to-listeners signal path. Audyssey doesn't set out to be an "effect" company - they don't seek to add anything to the sound.
Audyssey started out with just one employee and is now up to 18. As a company, Audyssey has now grown into several licensees, with new hardware products (yes, we said hardware ) and lots on the horizon.
The founders are Tomlinson Holman (Chief Scientist and the original developer of the THX sound system), Chris Kyriakakis (Chief Technology Officer), Phil Hilmes (VP of Engineering), and Sunil Bharitkar (VP of Research and Development).
Biographies of Key Audyssey Personnel
Dr. Sunil Bharitkar, Ph.D., Vice President of Research/Founder
Dr. Sunil Bharitkar, Ph.D. has published over 50 technical papers on digital equalization of room acoustics and audio signal processing, including his award-winning paper on the influence of reverberation on multi-position equalization performance. He co-authored the textbook Immersive Audio Signal Processing, published by Springer. His room equalization and signal cancellation research, at both USC and Audyssey, has resulted in several patented or patent-pending co-inventions. He is a frequent reviewer and lecturer for various IEEE journals and conferences, the Journal of the Acoustical Society of America, and Signal Processing from EURASIP. His research background includes signal processing, pattern recognition, acoustics, speech & audio processing, and auditory perception.
Philip Hilmes, Vice President of Engineering/Founder
Philip Hilmes' expertise in systems engineering brought him to head Audyssey's effort implementing breakthrough audio technologies into an ever-increasing range of professional and consumer audio products. Hilmes has held engineering positions in communications & digital entertainment at DIRECTV, where he created technology increasing the amount of data transmittable through limited bandwidth, thus augmenting the number of channels that can be transmitted through existing broadcast satellites. He has three pending patents.
Prof. Tomlinson Holman, Chief Scientist/Founder
With over 35 years of audio industry experience, Prof. Tomlinson Holman served as Chief Engineer of Henry Kloss' Advent Corporation, founded Apt Corporation (maker of the Apt/Holman Preamplifier), and has written three books on audio. For his work at Lucasfilm Ltd in developing the THX Sound System, Holman won an Academy Award. He is currently professor of film sound at the USC School of Cinema & Television.
Prof. Chris Kyriakakis , Chief Technology Officer/Founder
Prof. Chris Kyriakakis is Associate Professor of Audio Signal Processing at the University of Southern California 's Viterbi School of Engineering. He is founder and Director of USC Immersive Audio Laboratory, and Deputy Director of the Integrated Media Systems Center , a National Science Foundation research center. He has authored two books and more than 100 journal and conference publications. His expertise is in the areas of immersive audio signal processing, microphone arrays for robust sound localization, multichannel audio streaming over high bandwidth networks, virtual microphones for multichannel audio synthesis, high fidelity multichannel audio coding, and multiple listener room equalization.
Michael Solomon, Chief Executive Officer
Michael Solomon built his career over the past 30 years as an entrepreneur in the audio and computer industries, a software and computer industry executive, and a venture capitalist. He worked with Apple computer through his own business to set up Apple's early dealer network in the early 1980's, was the original sales and marketing VP of Aldus, the creators of PageMaker software which spawned the desktop publishing industry, worked in Venture Capital as a partner at Mohr, Davidow Ventures during the late 1990's, and served on the Boards of several successful companies as well as being CEO or founder of three other ventures along the way. He joined Audyssey in December 2004 as CEO, thereby, connecting the dots in his career to his first job as a retail audio sales person while in school.
Samit Varma Director of Operations
Samit Varma holds a Bachelor's in Mechanical Engineering from the United States Naval Academy . He further studied Nuclear Engineering from the Naval Nuclear Power Program. After serving as an officer on the Ballistic Missile Submarine USS Nebraska, Samit earned his MBA from the University of Southern California where he was discovered by the Audyssey team and signed on to bring the leadership, discipline and focus he learned as one of the Navy's top submarine officers.
USC
The relationship between Audyssey and USC (the University of Southern California ) is a symbiotic one and really impressed upon us the unique position Audyssey enjoys with respect to resources and capabilities. Chris & Tom are both active professors with research facilities at USC. To say that this relationship works well for Audyssey would be a tremendous understatement.
Publications and Awards
Audyssey has received much acclaim in the industry to date. From award winning papers on the influence of reverberation in multi-position equalization performance to having over 50 technical papers published on the topic of digital equalization of room acoustics and audio signal processing, Audyssey has been invited to give talks and tutorials at the International Conference on Acoustics, Speech, and Signal Processing (ICASSP) and has presented several papers in the Audio Engineering Society Conference, the Acoustical Society, and other signal processing conferences. Sunil and Chris have published several peer-reviewed journal papers and a book titled Immersive Audio Signal Processing which is available from Amazon.com.
Research Facilities
The Immersive Audio Laboratory Audyssey uses at USC is truly amazing. This sound room consists of an acoustically controlled environment consisting of close to $30k in absorption and diffusion treatments. The room has 14' high ceilings in order to take full advantage of a new surround format that Tom and Chris have been working on (more on this later). They went even further by building the room from the ground up using innovative construction measures to ensure total sound isolation from the outside world. This included having a custom sound isolation door costing a whopping $10k that had the acoustical properties needed to preserve the noise isolation of the room.
What was most interesting was that the room didn't have a dead or anechoic feeling as many improperly treated rooms often do. Instead the room seemed very vibrant and natural sounding while listening to music. Intelligibility was very good when engaging in conversations in the room.
The Immersive Audio Lab is a unique facility that is part of the Integrated Media Systems Center (IMSC), a National Science Foundation engineering research center at the USC Viterbi School of Engineering. The lab was founded in 1996 by Chris Kyriakakis and Tomlinson Holman both Professors at USC in Engineering and Cinema respectively. It moved to its current location in January, 2005. Kyriakakis and Holman designed the space so that it can be used for experiments in room acoustics, sound reproduction, and sound perception. Their requirement for 17' slab-to-slab height was met by making the entire 2nd floor of the building 3' taller than the rest of the floors!
The main lab is approximately 30' x 40' and was designed as a room-within-a-room for noise isolation. The design spec was NC-15 and through very careful planning, acoustical design, and construction the spec was actually exceeded resulting in an NC-10 facility. The walls are double gypsum board on metal studs with an inner wall spacing of 6". The floor is raised concrete (with mini-jacks on pads) to isolate from the slab underneath. The door is STC-56 to prevent leakage in both directions. Great care was taken in the design of the HVAC system that is completely isolated from the rest of the building and is constructed with extra wide ducts to minimize air flow noise.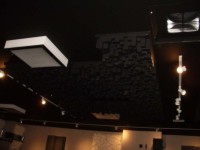 After having addressed the noise isolation issues, the design focused on the acoustics of the room. When empty, the room had a reverberation time of 3.2 seconds. The ITU recommendation for surround sound playback in that room volume is 0.6 seconds so a combination of absorption and diffusion was used to achieve the desired acoustics. First, thick carpeting with dense padding was laid. That was followed by 15 RPG Modex Broadband absorbers along the side walls that exhibit fairly uniform absorption down to low frequencies. Early reflections on the side walls were treated with RPG Abfusers. Front wall, back wall, and ceiling reflections were treated with RPG Skylines. The reverberation time in the finished room was 0.7 seconds empty and 0.6 seconds when filled with 20 people.
Confused about what AV Gear to buy or how to set it up? Join our Exclusive Audioholics E-Book Membership Program!