Audyssey Dynamic Volume Interview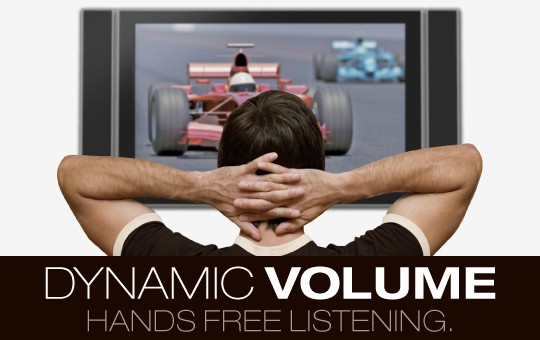 Summary
Chris Kyriakakis, Founder/CEO Audyssey Laboratories

Produced by Clint DeBoer, Editor-in-Chief of Audioholics
Videography by Eric Shelton
Executive Overview
We interviewed Chris Kyriakakis at the 2008 Audioholics Expo about the new Audyssey Dynamic Volume which is appearing in Denon and Onkyo receivers this year (and some others as well). The new technology allows consumers to listen to their multichannel audio and movies at levels far below reference levels without missing out on important surround sound information, or getting blown away by peak sound effects. The technology works by adjusting dynamics with multi-channel sources in mind - and in a way that preserves the intended mix. It also takes care of the excessive volume associated with hyper-compressed television commercials and varying source levels. Once Audyssey is set, it takes care of the rest, no matter what volume level you are listening at.

Dynamic Volume employs advanced audio signal processing that operates in both the time and frequency domains. The spectral content in individual channels and the surround mix are continuously monitored in order to maintain proper spatial volume. Both rapid and slow changes in level and dynamics are monitored in order to prevent the common artifacts produced by standard compressor methods.

For more information, please visit www.audyssey.com.


Unless otherwise indicated, this is a preview article for the featured product. A formal review may or may not follow in the future.
ParadigmDawg posts on November 09, 2008 21:01
I see to be fond of the Dynamic EQ for TV watching.
Gov posts on November 09, 2008 15:51
And then there is THX Loudness Plus which is a kin to Dynamic EQ. I feel that this feature is pretty useful on my Pioneer SC-05. I like what it does when listening well below reference levels
jostenmeat posts on November 09, 2008 13:47
rnatalli, post: 480055
Which is cheaper to license on average? I'm inclined to think that Denon and Onkyo would go with the more cost-effective option. I'd be surprised if Audyssey costs more.
This is a guess, but I don't think they will necessarily go with the cheaper alternative. They can afford to put MultiEQ, or even the much powerful XT version, in very affordable mid-line receivers,
due to the economies of scale.
This is why I failed to find 2 ch pre/pros, integrateds, or stereo receivers with anything like it. Even if they cost thousands of dollars, the economies of scale do not work in their favor.
I guess what I am saying is that if you are Denon or Onkyo, you pretty much outsell most any other brand, and might as well offer the superior features that we all clamor over. A positive feedback scenario where they can remain up high in the food chain.
rnatalli posts on November 09, 2008 13:32
Which is cheaper to license on average? I'm inclined to think that Denon and Onkyo would go with the more cost-effective option. I'd be surprised if Audyssey costs more.
FirstReflection posts on November 04, 2008 22:35
ned, post: 477514
It looks like you're describing Dynamic EQ on the first part of your article. Dynamic Volume which is part of Dynamic EQ is what is describe on the later part.
It's actually the other way around: Dynamic EQ is part of Dynamic Volume.
ie. you can have Dynamic EQ without Dynamic Volume (as is found in Onkyo's mid and lower line receivers this year), but you cannot have Dynamic Volume without Dynamic EQ.
Gene brought up a really interesting point which is that Dynamic Volume is using Audyssey's own MultEQ and Dynamic EQ within its overall system. Dolby Volume is using a dynamic EQ algorithm as well, but it is not using anything that is the equivalent of MultEQ.
It's really interesting though that Denon preferred Audyssey Dynamic Volume over Dolby Volume while Emotiva was the exact opposite. I have to wonder if it didn't have somewhat to do with cost and processing requirements though. From what I know of it, Dolby Volume is much more processor intensive, so I'd imagine Audyssey's Dynamic Volume is much easier to implement and therefore less costly to include in any given product…
Post Reply
Confused about what AV Gear to buy or how to set it up? Join our Exclusive Audioholics E-Book Membership Program!