Sony HT-DDW790 Home Theater System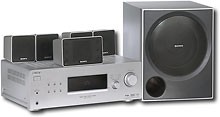 The ultra basic DDW790 from Sony
Summary
Amplifier section
Power Output:
Stereo mode (rated) (6 ohms 1 kHz, THD 1%) 85 W + 85 W
Surround mode (reference) (6 ohms 1 kHz, THD 10%)

RMS output:
FRONT:133 W per channel
CENTER: 133 W
SURROUND: 133 W per channel
Surround mode (reference) (6 ohms 100 Hz, THD 10%)
SUB WOOFER: 135 W

Power requirements: 120 V AC, 60 Hz
Analog Sensitivity: 800 mV/ 50 kohms
Digital (Coaxial) Impedance: 75 ohms
Tone: Gain levels ±6 dB, 1 dB step
Reproduction frequency range: 28 – 20,000 Hz

General
Power consumption: 210W
Power consumption (during standby mode): 0.3 W
Dimensions (w/h/d): (including projecting parts and controls)
429 × 145 × 308 mm (16 7/8 × 5 6/8 × 12 1/8 inches)
Weight: 7.4 kg (16 lb 9 oz)
Speaker section
Front/center speakers: Full range, magnetically shielded
Surround speakers: Full range Speaker units 70 mm cone type
Enclosure type: Close type
Rated Impedance: 6 ohms
Dimensions (w/h/d)
Front/surround speakers: 92 × 98.5 × 101.5 mm (3 5/8 × 3 7/8 × 4 inches)
Center speaker: 152 × 98.5 × 101.5 mm (6 × 3 7/8 × 4 inches)
Weight
Front speakers: 0.6 kg (1 lb 6 oz)
Center speaker: 0.7 kg (1 lb 9 oz)
Surround speakers: 0.5 kg (1 lb 2 oz)

Subwoofer (SS-WP700)
Speaker system: Magnetically shielded
Speaker unit: 200 mm cone type
Enclosure type: Bass reflex
Rated Impedance: 6 ohms
Dimensions (w/h/d): 270 × 330 × 303 mm (10 6/8 × 13 × 12 inches)
Weight: 4.7 kg (10 lb 6 oz)
Executive Overview
Sony is typically known for their higher end consumer electronics, at least that's what the big box salesman will tell you as he shows you the price.  This is certainly true sometimes, but let it be known that Sony can make entry level products with prices to match.  Enter the HT-DDW790, a very low cost 5.1 home theater system.  This unit is very basic and comes with a full size receiver that has only a few inputs, 6 speakers with wire, and a remote control.

When I say basic, I mean basic...  Just check out the back and you will see only 2 digital inputs and 3 stereo analogue pairs.  Yes, there are AM/FM antenna inputs and speaker spring clip connectors, but that's it!  No video switching of any kind... just one big empty backside.  Fortunately, Sony just lowered the retail price so the lack of ports shouldn't be a concern for those simply looking to get surround sound without all the fancy features.
The included speakers are pretty small, but sound fairly clean in the vocal range.  They are certainly better than average TV speakers but can sound harsh if the volume is too high.  Also, since the amp is rated for 6-ohms, it should be able to drive some larger speakers in the future should you choose to upgrade, but low-efficiency speakers will likely result in distortion when played at even moderate levels so be careful. The included subwoofer has an 8" passive driver.  It's rare to find a sub this large on such a low cost HTiB (Home Theater-in-a-Box).  It has a good mid-bass sound to it and is fairly compact.  It would have been nice if Sony had made this a powered sub and put a standard subwoofer output jack on the receiver to make an upgrade easier.

In any case, the DDW790 has a few good components to get the new home theater user started.  With the ability to add the components you want and upgrade speakers later, it's a pretty decent value.  And remember, next time your big box dealer says Sony is top-of-the-line, run 'em over to the HTiB aisle and point out that they support entry-level consumers as well!

See also:
Confused about what AV Gear to buy or how to set it up? Join our Exclusive Audioholics E-Book Membership Program!
Recent Forum Posts:
Phil Taylor posts on January 03, 2008 16:53
How much is "a lot less than MSRP"? This one may enter the "consider list" for my 5 year-old son's room. It's stated it has a passive sub - how much is the power output for the sub? BTW - Transformers is currently his favorite movie.
allargon posts on January 03, 2008 16:31
I own one of these. I paid a LOT less than the MSRP quoted in the article.

The sound of it is slightly better than one of those console (non-portable) boomboxes. It has no banana clips–only spring loaded pressure clips for that what? 24 gauge speaker wire. The receiver does accept full bit-rate DTS over coax and toslink. This is an issue for people w/ 2nd generation HD-DVD players, since the players convert high res audio to DTS. The tuner? It's a tuner. Stations come in clearly. It is fine for movies and (just) okay for TV. The auto calibration isn't great. However, Tom and Dina would tell me to stop listening to their podcasts and use a SPL to get it right. (Yes, I listen.)

It's not a horrible system. I wasn't too happy listening to classical or jazz with it. However, I heard all the bass via the Transformers HD-DVD without issues.

My major complaint is its size and that it only comes in silver!
Post Reply