Sony DAV-HDX265 Home Theater System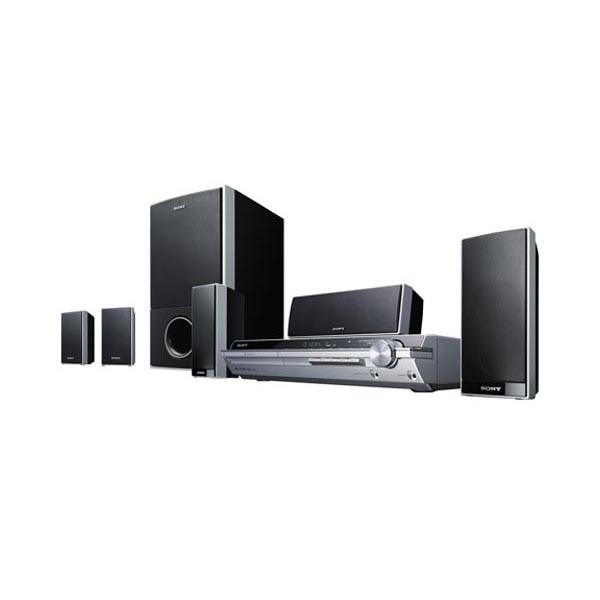 Sony's entry level BRAVIA audio system
Summary
Amplifier section
RMS output power FL/FR/C/SL/SR*: 143 watts
(per channel at 3 ohms, 1 kHz, 10 % THD)
Subwoofer*: 285 watts (at 1.5 ohms, 80 Hz, 10 % THD)

Tuner section
System PLL quartz-locked digital synthesizer
FM tuner section
Tuning range
North American models: 87.5-108.0 MHz (100 kHz step)
Antenna (aerial) FM wire antenna (aerial)
Antenna (aerial) terminals 75 ohms, unbalanced
Intermediate frequency 10.7 MHz
AM tuner section
Tuning range: North American models:
530 – 1,710 kHz (with the interval set at 10 kHz)
531 – 1,710 kHz (with the interval set at 9 kHz)
Antenna (aerial) AM loop antenna (aerial)
Intermediate frequency 450 kHz

Video section
Outputs VIDEO: 1 Vp-p 75 ohms
S VIDEO:
Y: 1 Vp-p 75 ohms
C: 0.286 Vp-p 75 ohms
COMPONENT:
Y: 1 Vp-p 75 ohms
PB/CB, PR/CR: 0.7 Vp-p 75 ohms
HDMI OUT: Type A (19 pin)

General
Power requirements: 120 V AC, 60 Hz
Power consumption: On: 175 W / Standby: 0.3 W
Output voltage (DIGITAL MEDIA PORT) DC 5 V
Output current (DIGITAL MEDIA PORT) 700 mA

Speakers - Front (SS-TS72)
Speaker system Bass reflex, magnetically shielded
Speaker unit 65 mm (2 5/8 inches) dia, cone type
Rated impedance 3.0 ohms
Dimensions (approx.) 93 × 221 × 75 mm (3 3/4 × 8 3/4 × 3 inches) (w/h/d)
Mass (approx.) 0.7 kg (1 lb 9 oz)

Center (SS-CT71)
Speaker system Bass reflex, magnetically shielded
Speaker unit 65 mm (2 5/8 inches) dia, cone type
Rated impedance 3.0 ohms
Dimensions (approx.) 261 × 91 × 80 mm (10 3/8 × 3 5/8 × 3 1/4 inches) (w/h/d)
Mass (approx.) 0.7 kg (1 lb 9 oz)

Surround (SS-TS71)
Speaker system Bass reflex, magnetically shielded
Speaker unit 65 mm (2 5/8 inches) dia, cone type
Rated impedance 3.0 ohms
Dimensions (approx.) 93 × 162 × 75 mm (3 3/4 × 6 1/2 × 3 inches) (w/h/d)
Mass (approx.) 0.6 kg (1 lb 6 oz)

Subwoofer (SS-WS74)
Speaker system Bass reflex
Speaker unit 160 mm (6 3/8 inches) dia, cone type
Rated impedance 1.5 ohms
Dimensions (approx.) 220 × 394 × 350 mm (8 3/4 × 15 5/8 × 13 7/8 inches) (w/h/d)
Mass (approx.) 6.5 kg (14 lb 6 oz)

Dimensions (approx.)
430 × 86 × 415 mm (17 × 3 1/2 × 16 3/8 inches) (w/h/d) incl. projecting parts
5.2 kg (11 lb 8 oz)

Sony has many display products under their BRAVIA moniker, but they also have a line of A/V gear to match.  At the entry level, the small form-meets-function HDX265 is a 5.1 speaker system and receiver/5-disc DVD changer.  As with most lower cost units, 5 small speakers, a small sub, receiver/DVD changer, and remote control are included.  This low profile attractive system is geared well for smaller rooms or secondary theater setups with a standard TV or perhaps a small flat panel display.  The included HDMI output port will upscale to 720p or 1080i if your display is capable.  Component, S-video, and composite video connections are also included for older displays, as well.
The small speakers are rated at a non-standard 3-ohms, so you will probably not want to add your own speakers at a later date due to the specific requirements and limitations of the amplifier.  Sony tried to make the setup a little easier by included custom speaker jacks on the back so you don't get the polarity wrong, but as a result, you are also limited to the included speaker wires unless you hack the connector or cables.  Of course, the speakers still have spring clip style connectors so you can still get the polarity wrong if you try hard.  Perhaps Sony added the special connectors to discourage using other speakers on the system so it can't be overloaded.  The included subwoofer is passive and connects via the same connectors and will offer a little mid- to upper-bass sound.  The HDX265 won't be a powerhouse for explosions or earthquakes in movies, but will be adequate if you want something more substantial than TV speakers.  Please note that you may want to place the sub very near to the center speaker as it will help to create a more convincing sound from the front speakers.
The included remote is laid out pretty well, but there are many small buttons that may get confused in a dark room.  The 5 disc player will handle many kinds of computer file formats on burned media as well as CDs and DVDs, so it could be used for some casual background music or low key movies.  The unit looks nice with a mix of dark grey and sliver, but may not match the look of newer TVs that have shiny, dark black borders. I'm sure it will look good with anything of the BRAVIA line-up. Overall, the system has some nice features, like an auto-calibration with the included mic, but its sound is pretty average in comparison to other players of about the same cost.  So, if $300 is your price range, there will be some other options that fit the bill just as well as this, but if you are into Sony, then this will do for an entry level setup.
For more information please visit
www.sonystyle.com
.

Unless otherwise indicated, this is a preview article for the featured product. A formal review may or may not follow in the future.