Philips HDS3555/37 Home Theater in a Box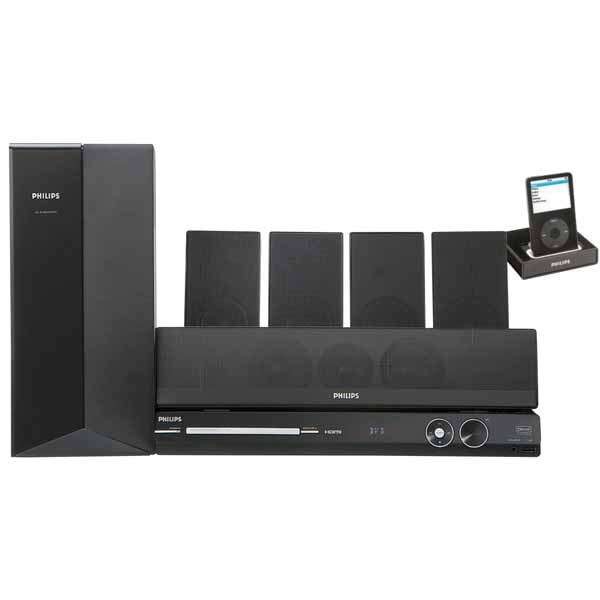 Philips HTS3555/37
Summary
Product Name:

HTS3555/37 Home Theater System

Manufacturer:

Philips

Review Date:

November 20, 2007 13:49

MSRP: $229.99
First Impression:

Mildly Interesting
AMPLIFIER

Total output power:
- Home Theater mode: 1000 W
- FTC output power: 510 W (1% THD 1kHz)
Frequency Response: 180 Hz – 14 kHz / ±3 dB
Signal-to-Noise Ratio: > 60 dB (A-weighted)
Input Sensitivity:
- AUX In : 500 mV
- TV In: 250 mV
- MP3 Line-In: 500 mV



RADIO

Tuning Range: FM 87.5–108 MHz (100kHz)
AM 530–1700 kHz (10kHz)
26 dB Quieting
Sensitivity: FM 22 dBf, AM 5000μV/m
IF Rejection Ratio: FM 60 dB, AM 24 dB
Signal-to-Noise Ratio: FM 50 dB, AM 30 dB
AM Suppression Ratio: FM 30 dB
Harmonic Distortion: FM Mono 3%
FM Stereo 3%
AM 5%
Frequency Response FM 180 Hz–10 kHz / ±6 dB
Stereo Separation FM 26 dB (1 kHz)
Stereo Threshold FM 23.5 dB



DISC

Laser Type Semiconductor
Disc Diametre 12cm / 8cm
Video Decoding MPEG-1 / MPEG-2 / DivX 3/4/5/6, Ultra
Video DAC 12 Bits
Signal System NTSC / Multi
Video Format 4:3 / 16:9
Video S/N 56 dB
Composite Video Output 1.0 Vp-p, 75-ohms
S-Video Output Y - 1.0 Vp-p, 75-ohms
C - 0.286 Vp-p, 75Ω
Audio DAC 24 Bits / 96 kHz
Frequency Response 4 Hz–20 kHz (44.1 kHz)
- 4 Hz–22 kHz (48 kHz)
- 4 Hz–44 kHz (96 kHz)
PCM IEC 60958
Dolby Digital IEC 60958, IEC 61937
DTS IEC 60958, IEC 61937

MAIN UNIT

Power Supply Rating: 120 V; 60 Hz
Power Consumption: 180 W
Low Standby power: < 1 W
Dimensions: 435 x 55 x 367 (mm) (w x h x d)
Weight: 4.04 kg



FRONT AND REAR SPEAKERS

System: Full range satellite
Impedance: 6-ohms
Speaker drivers: 3" full range speaker
Frequency response: 150 Hz – 20 kHz
Dimensions: 95.5 x 198.3 x 75 (mm) (w x h x d)
Weight: 0.62 kg/each



CENTER SPEAKER

System: Full range satellite
Impedance: 3-ohms
Speaker drivers: 2 x 2.5" full range woofer, 1 x 2" tweeter
Frequency response: 150 Hz – 20 kHz
Dimensions: 435 x 93.5 x 67 (mm) (w x h x d)
Weight: 1.26kg



SUBWOOFER

Impedance: 3-ohms
Speaker drivers: 203 mm (8") woofer
Frequency response: 40 Hz – 150 Hz
Dimensions: 159.5 x 355.5 x 370 (mm) (w x h x d)
Weight: 4.78 kg
Executive Overview
Are you looking for a very low cost home theater solution this Christmas? Well, a low cost Home Theater in a Box, anyway? Then you might want to check out the Philips HTS3555/37. This unit is typically available at the big box stores, but can actually be had on sale for as low as $70 off the regular price with a pre-Black Friday promotion at your local Best Buy or from their online store.
Yeah, I know, an audioholic with an HTIB? Well, there are some pretty good uses for a device like this. Perhaps you have an older standard definition TV that needs a little better sound, or maybe you just got a small 720p flat panel TV for the kids game room and you want some surround effects for it…
The Philips-brand AV receiver is basically the size of a standard DVD player, but it includes a Class-D amplifier in the same box. Of course, it comes with some small speakers for the front and surrounds and has an 8" woofer module. Also, it includes an iPod dock, the remote, and some speaker wire to get you started. That's pretty cool, and we haven't yet hit everything.

It also comes with an HDMI output and scales standard DVDs up to 720p or 1080i. It also has a composite, S-video, and component video output for regular (non-HD) TVs as well. There are analog stereo and digital coax inputs if you have another device that can output a digital stream. Unfortunately, there isn't an optical jack, so those of you with newer console game systems may have to buy adapters from your local electronics store in order to obtain discrete 5.1 surround sound. The HTS3555/57 will play DVD, CD, SVCD (does anyone really use this format?), MP3/WMA/JPG on burned CD, and DivX / DivX Ultra on burned DVD or CD. Oh, and it can play those computer formats from a thumb drive plugged into the front USB port, as well. I kept looking for a slot to put toast in or a spigot but that seems to conclude the already hefty list of features.

How does it sound? Well, I had the chance to play with a unit recently. It's just "OK" in my opinion. It was nice to have an 8" woofer so there was a little more punch to the bass over other low cost HTIBs, but the sound quality is easily bested by slightly more expensive devices. Where I think I could stand to use this product is for older video games or perhaps with some low volume background sound playing a few tunes. This system is not targeted towards music aficionados.

If you are looking for better sound, it can be had elsewhere. If you are looking for cheaper sound, that's also possible. If you want something that's reasonably flexible, has better than TV-speaker audio, and can be had for a decent price, then the Philips HTS3555/37 might just do the trick.
For more information please visit www.consumer.philips.com

Confused about what AV Gear to buy or how to set it up? Join our Exclusive Audioholics E-Book Membership Program!
Recent Forum Posts: