Yamaha YHT-685 Home Theater System Review
Yamaha YHT-685 Home Theater System Review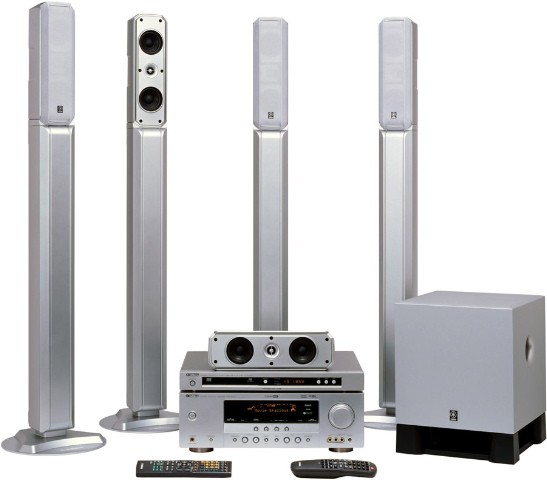 Yamaha YHT-685 Home Theater System
There was a time when we A/V geeks held a very special place among our group of friends.  We enjoyed a kind of guru status that few achieve in the man-world.  Not only did we have the best home theater setup on the block, but the dark and shadowy world of A/V gear kept it just confusing enough to prevent too many guys from reaching the lofty peak of "guru".  You really had to stay on top of things to know who made the best DVD/CD players, receivers, and speakers so that you could be ready to help a friend in need set up a decent little entry level home theater.  Well, it seems like some of the reviews we've done lately indicate some movement to make us geeks irrelevant by packaging very decent home theater in a box (HTiB) systems together that take all the fear of piecing a system together completely out of the equation.  Now it seems the limiting factor is that you have to have a vehicle big enough to accommodate the enormous boxes the latest HTiB systems come in.  Our latest reviews have turned out some surprisingly good prepackaged systems for very reasonable prices.
Yamaha's YHT-685 Digital Home Theater System is a perfect example.  The system includes a full surround sound 5.1 speaker system (with a powered subwoofer) combined with a full-featured A/V receiver and DVD player.  With a MSRP of $650, this system offers a lot of home theater fun for very little money, and best of all you won't be in eternal debt to your geek buddy down the street!

Features
This review started when I picked up the HUGE box this system arrived in.  I believe the total carton weight was close to 130 pounds.  So if you decide this is the system for you, get your weightlifting belt, a strong back and a small truck, SUV or station wagon, because you'll need them to get this system home.  Transporting the box from my editor's house to mine was the most difficult part of this review.
The package started impressing me as soon as I opened the carton and realized the whole system was double boxed.  That's good for several reasons; first, it means there is a chance I will actually get everything re-packaged correctly for the return shipping to Yamaha.  More importantly, it means each of the components included in this system is a full-function component from Yamaha and not stripped down models packaged simply to be inexpensive.  Both the receiver and the DVD player are both in Yamaha's standard line of home theater components.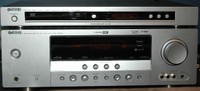 The carton contained a total of 5 boxes, including the HTR-6030 receiver, the DV-S5860 DVD player, the NS-AP8600 speaker system, the speaker stands, and the YST-SW030 subwoofer.  The only assembly required was attaching 4 of the AP8600 speakers to their speaker stands (the center channel speaker has no stand).  Yamaha also includes some very small gauge speaker wire and both the receiver and DVD player come with very basic cables.  One issue I had with the system is that they did not provide you with any digital audio cables (coaxial or optical).  I understand that this is an entry-level system and priced very competitively, but if you give the average person the same old red, white, yellow connectors they have always seen, they are likely to assume that is what they should use.  Then in a couple of months when they just cannot figure out why their system doesn't seem to be performing up to par, they'll call that neighborhood guru (and after having groveled an appropriate amount) who will come over and discover they are not hearing any of the great digital features the system is capable of just because they didn't use the appropriate connectors.

The set up began with unpacking the NS-AP8600 speakers and checking them out.  My initial impression of the speakers was not overwhelmingly positive and drew a simple, "those are ugly" from my wife as she passed by (ouch!).  The speakers are part of Yamaha's Natural Sound line of speakers and are rectangular in shape.  Each of the 5 included speakers measures approximately 12" tall x 3" wide x 4" deep, (the center channel is identical, simply laid on its side).  The speaker stands (model no. SPS-8500) measure approximately 31" tall to give a total speaker height of approximately 43" tall.  The 2-way acoustic suspension speakers contain dual 2.5" High Compliance Pulp Cone and Rubber surround woofers and a single 1/2" balanced dome tweeter.  Each speaker is assembled in a silver, painted plastic cabinet that matches the speaker stands.  The center channel does not come with a speaker stand.  Yamaha includes enough small gauge speaker wire to set up the speakers in a small room.  The speaker wire attached to the speakers via their push-pin connectors located on the back of each speaker.  Yamaha scores some functionality points by adding the ability to hide the speaker wire inside the hollow speaker stands during set up.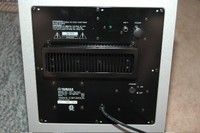 The subwoofer included with this system is the Advanced Yamaha Active Servo Technology YST-SW030.  This subwoofer has 130 watts of dynamic power.  The unit is silver like the rest of the speakers, and contains a bottom firing 8" cone woofer, with side porting.  The subwoofer included a 5-meter subwoofer cable.  The back of the unit was very simple and contained only a power on/off button, a volume knob and a power indicator light. 

The receiver (Yamaha HTR-6030) is actually one of Yamaha's entry A/V surround receivers also sold separately (I found it available online for approximately $200 during this review).  It is also silver, matching the speakers and sub.  I'm no fan of silver components, but tried not to let that sway me before my evaluation even began.  Once it was out of the box and up and running, I began to forgive the color of the unit.  The HTR-6030 provides 100 watts of power to each of the five surround channels, and provides 3 video component inputs and 1 component output as well as 2 optical and 1 coaxial digital audio outputs.  While the unit does not offer HDMI connectivity, it really is not expected with a HTiB receiver, especially at this price point.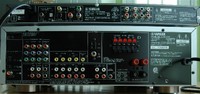 The A/V receiver has all the features you would expect (including Dolby Digital and DTS) but is also jam packed full of features I would not expect to see in an entry level A/V receiver.  Just a few examples include:  XM and XM-HD ready (requires the XM mini-tuner Dock unit sold separately), 6-channel multi-channel input capable (for both DVD-Audio and SACD), and Silent Cinema (which makes it possible to enjoy surround sound through ordinary headphones).  However, the single feature that impressed me the most was the SCENE settings.  The receiver comes with four preset SCENE buttons that make the four most typical operating scenarios easier than ever.  These four SCENE settings (accessed from the front of the receiver or the remote by buttons numbered 1, 2, 3, and 4) are initially set to DVD viewing, Disc Listening, TV Viewing, and Radio Listening.  Pressing the SCENE button that corresponds with what you want to do (watch a movie, listen to a CD, watch TV, or listen to the radio) launches all the necessary functions to enjoy that activity.  Note, these are just the preset SCENES, you can also customize the SCENES to include other options like, Sports TV Viewing, XM Listening, or Video Game Playing.  For example, if you want to watch a movie, you simply push SCENE button number 1 and the receiver selects the DVD video input, selects the Dolby Digital audio setting for 5.1 surround sound, and you are ready to watch your movie.  Once the movie is over if you'd like to listen to XM Radio, all you would need to do is press the SCENE that corresponded to your set up for XM Radio.  The remote for this unit was very easy to use and was logically laid out.  The only issues I had with the remote during my review was that it is not back-lit (no big surprise at this price point), and while it claims to be capable of controlling both the receiver and the DVD player, despite considerable efforts, I could not get the remote to control the DVD player.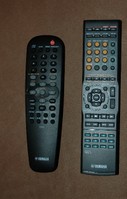 The single disc DVD player (DV-S5860) is a progressive scan DVD player that is capable of what seems like should be every possible playback format (DVD video, video CD, Super video CD, DVD-Audio, Super Audio CD (SA-CD), Audio CD, CD-R, CD-RW, DVD+RW, DVD+R, DVD-RW, and DVD-RW).  The unit can also play MP3, picture (Kodak and JPEG) files on CD-R, and DivX discs, whew!  (If you have more demands than that on a DVD player, you should not be buying a HTiB!) 

The unit has 2 digital audio outputs (1 optical and 1 coaxial), and 1 component video output (the unit also has S-video and composite video outputs).  To make the DVD player a great match for the included receiver, the DVD player also offers 6-channel discrete output to support multi-channel audio recordings.  The remote for the DVD player was very basic, but was easy to use and clearly laid out (although like the receiver's remote, it was not back-lit).  One feature I really liked was the auto-subtitles when you fast forward or rewind a DVD.  This feature came in really handy for skipping through all the boring dialog and getting right to the meaty part of all my demo DVDs during this review – because really, who has time to listen to the dialog when you could be watching (and listening to) stuff explode?

Listening Impressions
Speaking of stuff exploding, let's cover how this system actually performed.  First up I wanted to check out it's ability to reproduce movie soundtracks, because face it, that is what this system was designed to do.  I ran through several of my favorite demo discs (including The Patriot, Gladiator, Pirates of the Caribbean, and Cars).
The Patriot - DVD

The Revolutionary War comes to life in this incredibly detailed movie from director Roland Emmerich, starring Mel Gibson.  The rich color and drama came alive and the system provided an engrossing surround field, shaking the room with every cannon and musket shot.  The overall experience was certainly impressive given the price and the size of the speakers, but I felt there was a certain hollowness to the sound.  I spent a good bit of time tweaking the receiver (all of which was pretty simple to do with the receiver's remote control) and repositioning the speakers and subwoofer, but never completely corrected the problem.
Pirates of the Caribbean - DVD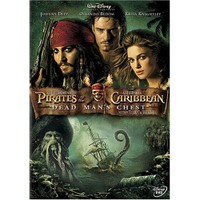 Popping in this disc, full of low-end action sequences, I found similar issues.  While providing a nice overall sonic experience, I still felt the speakers left something to be desired.  The subwoofer certainly was powerful enough to add a little rumble to the action scenes where Jack Sparrow is evading the British, or whoever happens to be after him at any given moment in the movie, but there was no richness to the soundtrack (which contains one of the greatest scores in recent movie history).
While the plastic speaker cabinets and the modest subwoofer provide decent quality, the receiver and DVD player are capable of so much more if paired with a higher-quality speaker system.  As with other HTiB systems we have reviewed, it is suggested that when your budget allows, you upgrade the speaker system.  However, I've got to tell you for a street price of right at $600, this system did not disappoint me with any of the movies I threw at it.
The weakness of the speakers became even more evident when trying to review the system's 2-channel capabilities.  If the settings on the receiver were left the same as I had them for movies, the subwoofer was completely overwhelming during 2-channel listening, which required adjusting the subwoofer level on the receiver.  The small speakers produced a small soundstage and really could not handle rock music at high levels.  Simpler musical styles (jazz or acoustic music) fared better with this system. The system is clearly designed for, and performs better with home theater programming.

Conclusion
Overall my opinion of this unit was it is a very solid performer for an entry-level home theater system.  I have no doubt that many users would be completely happy with this system accompanying their plasma or LCD flat screen TV.  Although the limitations of this system are its speakers, you will be hard pressed to put together a better combination of speakers and components for $600.
I would add that in my quest to see what this system was capable of, I hooked up the receiver and DVD player to a higher end speaker system and was very impressed.  All the hollowness experienced during the initial review was gone.  The receiver had no problem delivering adequate power to the upscale speaker system to deliver a very impressive home theater experience.  From that standpoint I think this system (with its full-featured receiver and DVD player) is a much better investment than any of the combo receiver/DVD players I have seen.  It offers you the flexibility to expand your system into more than just an entry-level system.  From an expansion standpoint, it would be nice if the receiver or DVD player offer HDMI connectivity, but I would not let that keep me from buying this system if I were looking to make the neighborhood geek feel just a little less of a guru!  


Price:  $650
bargain!

Features:
loaded

Performance:
better

Strength?  movies
Weakness?  music

Specs

Disc playback formats: DVD video, video CD, Super video CD, DVD-Audio, Super Audio CD (SA-CD), Audio CD, CD-R, CD-RW, DVD+RW, DVD+R, DVD-RW, and DVD-RW
Disc capacity:  1
Number of speakers:  5 plus subwoofer
Watts per channel:  100/speaker, 130/subwoofer
Inputs/Outputs:  optical in, coaxial in, component in/out
For More Information
Yamaha Electronics Corporation, USA
6660 Orangethorpe Ave
Buena Park, CA 90620
www.yamaha.com/yec
About Gear Corner
Welcome to the Gear Corner, where we give you a quick but comprehensive look at consumer electronics from several different categories.  All products in the Gear Corner have been individually evaluated through hands-on testing by our reviewers in order to give you a quick but detailed overview that we hope will help you in your purchasing decisions.

Confused about what AV Gear to buy or how to set it up? Join our Exclusive Audioholics E-Book Membership Program!
Recent Forum Posts: