Panasonic SC-PT650 Home Theater System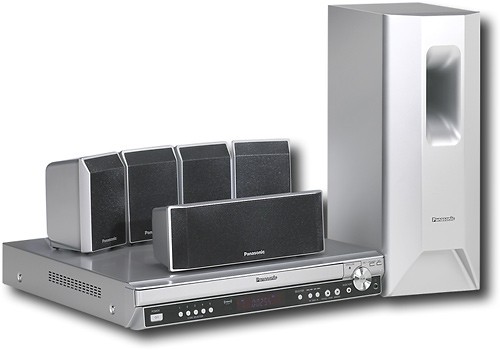 Panasonic's entry level HTIB
Summary
RMS Output Power: Dolby Digital Mode
Front Ch 125 W per channel (3 Ohms), 1 kHz, 10 % THD
Surround Ch 125 W per channel (3 Ohms), 1 kHz, 10 % THD
Center Ch 250 W per channel (6 Ohms), 1 kHz, 10 % THD
Subwoofer Ch 250 W per channel (6 Ohms), 100 Hz, 10 % THD
Total RMS Dolby Digital mode power 1000 W

FTC Output Power: Dolby Digital Mode
Front Ch 63 W per channel (3 Ohms), 120 Hz–20 kHz, 1 % THD
Surround Ch 34 W per channel (3 Ohms), 120 Hz–20 kHz, 1 % THD
Center Ch 113 W per channel (6 Ohms), 120 Hz–20 kHz, 1 % THD
Subwoofer Ch 121 W per channel (6 Ohms), 45 Hz–120 Hz, 1 % THD
Total FTC Dolby Digital mode power 428 W

Preset Memory FM 30 stations
AM/MW 30 stations

FM
Frequency range 87.9–107.9 MHz (200-kHz step)
87.5–108.0 MHz (100-kHz step)
Sensitivity 2.5 μV (IHF)
S/N 26 dB 2.2 μV
AM Sensitivity S/N 20 dB at 1000 kHz 560 μV/m

Phone jack
Terminal Stereo, 3.5 mm (1/8") jack

Music Port (Front)
Sensitivity 100 mV, 1.2 kOhms
Terminal (Input) Stereo, 3.5 mm (1/8") jack

Discs played [8 cm (3") or 12 cm (5")]
DVD (DVD-Video)
DVD-RAM (DVD-VR, MP3, JPEG)
DVD-R (DVD-Video, DVD-VR, MP3, JPEG)
DVD-R DL (DVD-Video, DVD-VR)
DVD-RW (DVD-Video, DVD-VR, MP3, JPEG)
iR/iRW (Video)
iR DL (Video)
CD, CD-R/RW [CD-DA, Video CD, SVCD, MP3, WMA,
JPEG, HighMAT Level 2 (Audio and Image)]

Video system NTSC

Composite video output
Component video output (480p/480i)
HDMI AV output CEC Ver.1.3a




[Front\speakers\SB-HF650]
Type 1 way, 1 speaker system (Bass reflex)
Speaker unit(s) Impedance 3 Ohms
Full range 6.5 cm (2 1/2") Cone type
Input power (IEC) 125 W (Max)
Output sound pressure 80 dB/W (1.0 m)
Frequency range 95 Hz–25 kHz (-16 dB)
120 Hz–22 kHz (-10 dB)
Dimensions (WxHxD): 3 5/8" x 5 19/32" x 3 3/4"
(92 mm x 142 mm x 95 mm)
Mass 1.3lbs (0.6 kg)

[Surround\speakers\SB-HS650]
Type 1 way, 1 speaker system (Bass reflex)
Speaker unit(s) Impedance 3 Ohms
Full range 6.5 cm (21/2") Cone type
Input power (IEC) 125 W (Max)
Output sound pressure 80 dB/W (1.0 m)
Frequency range 95 Hz–25 kHz (-16 dB)
120 Hz–22 kHz (-10 dB)
Dimensions (WxHxD): 3 5/8" x 5 19/32" x 3 3/4"
(92 mm x 142 mm x 95 mm)
Mass 1.3lbs (0.6 kg)

[Center\speaker\SB-HC750]
Type 1 way, 2 speaker system (Bass reflex)
Speaker unit(s) Impedance 6 Ohms
1. Full range 6.5 cm (2 1/2") Cone type
2. Full range 6.5 cm (2 1/2") Cone type
Input power (IEC) 250 W (Max)
Output sound pressure 82 dB/W (1.0 m)
Frequency range 80 Hz–25 kHz (-16 dB)
96 Hz–22 kHz (-10 dB)
Dimensions (WxHxD): 10 5/8" x 3 11/16" x 3 3/4"
(270 mm x 94 mm x 95 mm)
Mass 1.3 kg (2.9 lbs)

[Subwoofer\SB-HW750]
Type 1 way, 1 speaker system (Bass reflex)
Speaker unit(s) Impedance 6 Ohms
Woofer 16 cm (6 1/2") Cone type
Input power (IEC) 250 W (Max)
Output sound pressure 82 dB/W (1.0 m)
Frequency range 29 Hz–220 Hz (-16 dB)
36 Hz–180 Hz (-10 dB)
Dimensions (WxHxD): 7" x 16 23/32" x 10 1/8"
(178 mm x 425 mm x 257 mm)
Weight: 8.8 lbs (4 kg)

Power supply AC 120 V, 60 Hz
Power consumption Main unit 135 W
Dimensions (WxHxD): 16 15/16" x 2 15/16" x 16 11/16"
(430 mm x 70 mm x 424 mm)
Weight Main unit 11Ibs (5 kg)




Executive Overview
Panasonic has released a series of home theater systems that are featured at the typical big box store. The SC-PT650 is at the entry level of the PT series and features a low cost of entry for those seeking an economical surround sound solution. As is typical for HTiB (Home Theater-in-a-Box) systems, this package has 5 small speakers, a woofer module, Receiver/DVD changer, remote control, iPod dock, and the necessary basic connection cables.
I have personally been witness to the popularity of these home theater systems as I worked for Best Buy in a former life, and the SC-PT650 is no exception. Panasonic has done a good job of producing a clean sound at moderate volume levels and adding some features that make this system fairly attractive.  The speakers have that boom & sizzle sound you come to expect from truly entry-level products, but while the sound isn't necessarily accurate, it's still pleasing - particularly for home theater use. The 6.5-inch woofer will produce a respectable amount of mid-bass to help the small speakers along.  Placing the small sub directly below or behind your center channel will certainly help the front speakers sound more coherent.  The 5-disc changer is nice for when you want to keep the tunes going and the unit includes an HDMI port for upscaling the video to your HDTV. Of course, since this is a lower cost unit, we'd recommend pairing it with a proportionally priced display. The included iPod dock is handy, and you can add an XM antenna if the built in AM/FM tuner isn't enough.
One popular feature of the PT series is the ability to add an optional wireless rear speaker kit. Your mileage may vary while using this kit as other wireless consumer electronic devices could interfere with its operation. The included speaker wire that comes with this easy-to-set-up system will do the trick for any user provided you're not attempting to run it across the street.
BTW, I should mention that "popular" speakers don't necessarily mean you will get great sound.  But in the case of the SC-PT650, you will get some nice features and adequate sound quality for the price.  Oh, and did you see that this thing is 1000 watts!  Well, that particular rating doesn't really mean "quality" either.  Thankfully, Panasonic included the FTC power rating of 428 watts, but not everyone does.  In any case, if this is your upper limit for price, then be sure to give it a listen next time you are in your local big box store. Upgrading the system is easily done, so spending a little now and saving up for your next upgrade isn't such a bad way to go.

For more information please visit www.panasonic.com.

Unless otherwise indicated, this is a preview article for the featured product. A formal review may or may not follow in the future.
Confused about what AV Gear to buy or how to set it up? Join our Exclusive Audioholics E-Book Membership Program!