Yamaha's New Flagship YHT-780 HTiB System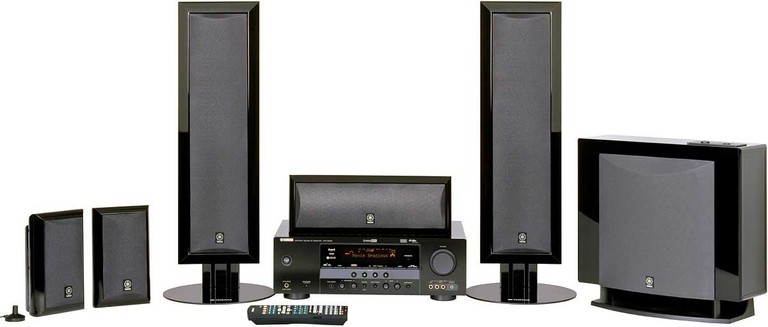 Yamaha YHT-780 HTiB
BUENA PARK, Calif. – Yamaha Electronics Corporation introduces the YHT-780, a 5.1 channel Home-Theater-in-a-Box (HTIB) system that provides consumers with four pre-set SCENE modes, iPod and XM Satellite Radio compatibility, YPAO, Compressed Music Enhancer and an intuitive onscreen display for all system functions. The top-of-the-line system perfectly complements flat panel LCD or plasma monitors with its five "flat-design" speakers and a slim subwoofer, all with an elegant high gloss piano finish. The YHT-780 is currently available for a suggested retail price of $849.95.
The company also introduces five additional high-powered systems with features including SCENE mode, XM Satellite Radio compatibility (including XM HD Surround powered by Neural Surround) and Compressed Music Enhancer to improve quality of audio files ripped from CDs or downloaded from the Internet. The YHT-780, 680 and 580 are iPod compatible via the optional Yamaha YDS-10 docking station. Two of the systems (YHT-685 and YHT-680) feature progressive scan DVD players and wide range frequency response for DVD-Audio and SACD playback. The YHT-680's DVD player also enables HDMI 1080i/720p upscaling.
Each of Yamaha's new HTIB systems are comprised of full-fledged Yamaha-manufactured components to provide consumers a convenient and cost-effective way to complete a quality surround sound home entertainment system. Yamaha's latest YHT series models start at a suggested retail price of $329.95.
YPAO and Scene Modes, iPod and XM Radio Compatibility
The company's proprietary Yamaha Parametric Room Acoustic Optimizer (YPAO) technology and Optimizer Microphone simplify the home theater set-up process by automatically optimizing room acoustics via a parametric equalizer. This feature is included in the YHT-780, YHT-680 and YHT-580.
Designed to maximize the audio experience at the touch of a button, all six of the new systems have Yamaha's proprietary SCENE feature, a set of four customizable pre-set listening modes that automatically prepare the systems for the enjoyment of TV, DVDs, CDs, iPods and the radio.
The YHT-780, 680 and 580 connect easily to the iPod via an optional docking station (Yamaha YDS-10). Once docked, the iPod can be operated (song selection, play, etc.) via the AV receiver's remote control. Another simple connection allows users to view the iPod's video, pictures and operating status (song title, artist, etc.) on a television monitor. In addition, docked iPods are automatically charged so that they are ready to be taken on the go at all times.
Audio files commonly lose detail from the high and low frequencies during the process of being "ripped" or downloaded onto MP3 players. Yamaha's proprietary Compressed Music Enhancer technology, which is featured in all six systems, restores this lost detail for a more natural sounding listening experience that better recreates the original music performance when experienced through the system's speakers.
All systems can also play back XM Satellite Radio content, including the 5.1 channel XM HD Surround programming, via an optional XM Connect-and-Play home antenna and XM Satellite Radio subscription. Neural Surround(TM) technology enhances the experience of XM HD Surround, delivering a detailed sound stage with superior 5.1 channel separation.
Added Value: Progressive Scan DVD Players
Adding even more entertainment value, the YHT-685 and YHT-680 systems offer progressive scan DVD players that produce smooth, film-like images via high definition (HDTV) or large screen televisions. The YHT-685's DVD player can also playback DVD-Audio and SACD content. The YHT-680 system includes 1080i/720p upscaling HDMI DVD player.
All of the new systems feature Yamaha's advanced CINEMA DSP system that provides a choice of 8 realistic-sounding surround programs (3 HiFi, 5 Cinema) and are capable of delivering 5.1 channels of sound that are compatible with all the latest surround sound formats. The systems also offer a SILENT CINEMA mode for enjoying surround-like sound through headphones.
All six Yamaha YHT systems are currently available for the suggested retail prices below:
YHT-780 (5 x 100W, 130W sub, SRP: $849.95)

YHT-685 (5 x 100W, 130W sub, SRP: $649.95)

YHT-680 (5 x 100W, 100W sub, SRP: $649.95)

YHT-580 (5 x 100W, 100W sub, SRP: $549.95)

YHT-380 (5 x 100W, 100W sub, SRP: $379.95)

YHT-280 (5 x 100W, 100W sub, SRP: $329.95)
For more information, write Yamaha Electronics Corporation, P.O. Box 6660, Buena Park, CA 90622; telephone (714) 522-9105; email [email protected]; or visit www.yamaha.com/home.
About Yamaha
Yamaha Electronics Corporation (YEC), USA, based in Buena Park, California, is a wholly owned subsidiary of Yamaha. YEC offers Home Theater components and systems, featuring A/V Receivers, Amplifiers, DVD/CD, Speakers, Mini-Systems, Video Projection, as well as A/V & IT Convergence Products.