Insignia NS-H2002 Home Theater in a Box Overview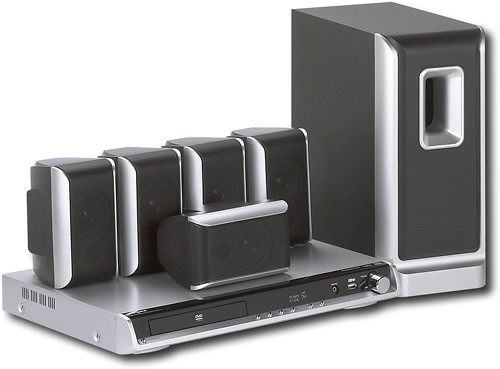 A small system to get you started...
Summary
Total System Power: 200W
Front Surround Power/Channel: 30W x 3
Rear Surround Power/Channel: 30W x 2
Subwoofer Power (watts): 50
Subwoofer Size (in.): 5-1/4"
DVD Disc Capacity: 1
Playback Formats: DVD, DVD+R/RW, DVD-R/RW, DVD-ROM, CD, CD-R/RW, VCD, SVCD, MP3, WMA, KODAK Picture, MPEG-4, HDCD and JPEG
Dolby Digital Decoder: Yes
DTS Decoder: No
Dolby Pro Logic Decoder: Yes
Number of Speakers: 5 + subwoofer
Headphone Jacks: Yes
Digital Output Quantity: 1
Stereo Audio Inputs/Outputs: 2/0
Rear A/V Inputs/Outputs: 2/0
Front-Panel A/V Inputs: None
S-Video Inputs/Outputs: 0/1
Component Video Outputs: 1
HDMI Outputs: No
DVI Outputs: No
RF Antenna Input: 2
Front Speaker Dimensions: 3.5"H x 5.9"W x 4.2"D
Rear Speaker Dimensions: 3.5"H x 5.9"W x 4.2"D
Subwoofer Dimensions: 13.4"H x 6.3"W x 11"D
JPEG Viewer: Yes
Executive Overview
The Insigina NS-H2002 is an entry level HTIB that can be found exclusively at your local Best Buy. At a retail price of $109 and a typical sale price of under $100, the H2002 certainly won't be a power house of bass or the next audio nirvana. What is it then and why are we playing with it? Well, spending this Benjamin will get you a decent progressive scan DVD player that happens to include some surround speakers. Most stand alone DVD players in that price range include an HDMI port and feature full upscaling, but Insignia chose to give you some speakers instead. Perhaps that old standard definition (SD) TV of yours needs a replacement DVD player, or the kids want a little something more for their Game Cube? A selling price of <$100 is a compelling reason to at least look at this system.

This system will work well for basic movie watching and includes a stereo input for an older game system or mp3 player. Of course, the speakers are pretty small and the sub module just helps to fill in the the mid-bass sound. In our testing, the speakers were reasonably clear throughout the vocal range, and can best the speakers in most 27-inch TVs. There is the added bonus of having surround sound, as well. It also includes a front USB port for playing music and jpg files and it accepts nearly all manner of burned media. With standard composite, S-video, and component video jacks, it should hook up to all but the oldest SD televisions. Don't expect video upconversion or any advanced processing features, however.

The setup for this basic system is very straightforward, and anyone one looking to start down the audioholic path may find it a good beginning to your journey. In our opinion, ANY surround is better than no surround - provided it gets you moving in the right direction to eventually upgrade over time. All in all, it's hard to criticize a system that's only around a hundred bucks when it includes speakers and plays DVDs, CDs, and computer files. We would like to point out that there are better systems that cost only twice the price. If you can't spare the extra dough and have a good use for it, then the Insignia NS-H2002 will get you started.
For more information please visit www.insignia-products.com.

See also:
Confused about what AV Gear to buy or how to set it up? Join our Exclusive Audioholics E-Book Membership Program!
Recent Forum Posts: