LG LFD790 2-Channel Home Theater System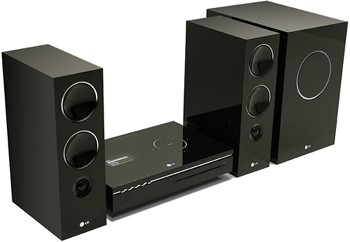 LG's Small DVD / 2 Channel HTiB
Summary
General
Dimensions (approx.) 12.8 X 8 X 3 inches (326 X 215 X 78 mm) without feet
Mass (approx.) 2.3 kg (5 Ibs)
Operating temperature 41°F to 95°F (5°C to 35°C)
Operating humidity 5 % to 90 %
Audio recording format
Sampling frequency 44.1kHz
Compression format MP3
Sampling bitrate 128Kbps

Playback
Frequency response DVD (PCM 48 kHz): 20 Hz to 20 kHz, CD: 20 Hz to 20 kHz
DVD (PCM 96 kHz): 20 Hz to 44 kHz
Signal-to-noise ratio More than 85 dB (SPEAKER OUT)
Dynamic range More than 85 dB (SPEAKER OUT)

Inputs
Audio input (optical audio) 3 V (p-p), 75 Ω, Optical connector x 1
AUDIO IN 0 dBm more than 47 kohms, RCA jack (L, R) x 1

Amplifier
Output power Front: 75W + 75W (4Ω at 1 kHz, THD 10 %)
Subwoofer: 150W (3Ω at 60 Hz, THD 10 %)

Tuner Specifications
Tuning Range (FM) 87.5 - 108 MHz
Intermediate Frequency (FM) 10.7 MHz
Signal-to-noise ratio 60 dB (Mono)
Tuning Range (AM) 520 - 1,720 kHz
Intermediate Frequency (AM) 450 kHz
Wire antenna (FM)
Loop antenna (AM)

Speakers - Front (J10D-SF)
Type: 2 Way 3 Speaker
Impedance: 4 Ω
Frequency Response: 100 - 20,000 Hz
Sound Pressure Level: 82 dB/W (1m)
Max. Input Power: 150W
Net Dimensions (WxHxD): 104 x 328 x 216 mm
Net Weight: 2.9 kg

Outputs
VIDEO OUT 1 Vp-p 75 Ω, sync negative, RCA jack x 1
COMPONENT VIDEO OUT (Y) 1.0 V (p-p), 75 Ω, negative sync, RCA jack x 1
(Pb)/(Pr) 0.7 V (p-p), 75 Ω, RCA jack x 2
HDMI video/audio output 19 pin (HDMI standard, Type A)

Active Subwoofer (J10D-SA)
Power requirements: AC 120V, 60 Hz
Power consumption: 90W
Type: 1 Way 1 Speaker
Impedance: 3 Ω
Frequency Response: 65 - 1,500 Hz
Sound Pressure Level: 80 dB/W (1m)
Max. Input Power: 300W
Net Dimensions (WxHxD): 216x 328 x 317 mm
Net Weight: 8.3 kg
Executive Overview
Here at Audioholics we like big home theaters with lots of speakers surrounding us. However, we do acknowledge that there is an occasional need for a more simplified 2-channel home theater system. As such, LG has introduced the LFD790 which includes 2 speakers, a sub module, and the DVD / receiver component. There aren't too many options for 2.1 systems these days unless you are looking to build your own setup from individual components, so it's nice to see a low cost and easy to use system on the market.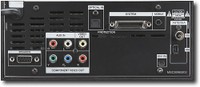 The LFD790 home theater system has a very polished look to it. The glossy finish, hard edges, and pleasing top display make it very classy indeed. The main unit contains the DVD player and some of the electronics, but the display is on top, not the front.
This seems a little odd at first, but the iPod-like touch surface on the top necessitates that the main display be there as well. On the back of the main unit is an HDMI port for 480p, 720p, or 1080i output, and there is also a proprietary cable for hooking up the subwoofer module. The actual amplifier circuits and inputs are not contained in the main component, but in the sub. Clearly, LG was trying to keep the DVD player as small as possible so it could be placed on an open shelf next to the main display. The inputs are fairly well organized and should be a breeze to hook up for even novice home theater users. Again, the speaker outputs are also on the back of the subwoofer and utilize a proprietary connection, so future speaker upgrades won't be possible without some custom modifications.
This system can typically be found for around $100 off the MSRP and has a pretty good sound quality for the price. The speakers are fairly clean for dialogue, and sound pleasant as long as the volume isn't too loud. Crank it up and you'll get the telltale distortion inherent in these smaller systems. The sub produces a good mid-bass thump, as well. We can certainly recommend this system to replace ANY built-in TV speakers that you'll find in the typical flat panel display. Also, the sound quality is probably better than that of a similarly priced surround sound HTiB. Speaking of surround sound, the LG does have a few virtual surround modes, but they didn't really produce a convincing surround feel. Stereo sound was our preference. Also, the easy on-screen menus and well laid out remote control were nice touches for an entry level system. So, if your room layout doesn't allow for multiple speakers and you are looking to spend less than $300, then give the LG LFD790 a listen!
For more information please visit www.lge.com.

See also:
Confused about what AV Gear to buy or how to set it up? Join our Exclusive Audioholics E-Book Membership Program!
Recent Forum Posts: