Samsung HT-X50 5.1 Home Theater System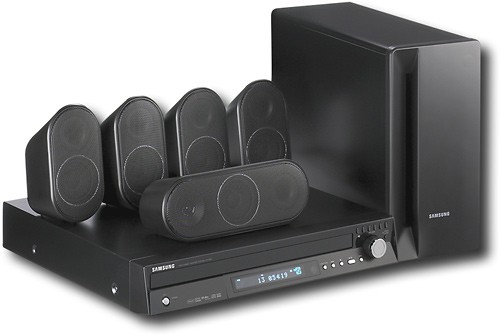 A low cost 5 disc HTiB from Samsung
Summary
| | |
| --- | --- |
| General | |
| Power Consumption | 90W |
| Weight | 11Ibs |
| Dimensions (W x H x D) | 17 x 3 x 17.1 inches |
| Operating Temperature Range | 41°F ~ 95°F |
| Operating Humidity Range | 10% ~ 75% |
| FM Tuner | |
| Usable Sensitivity | 10dB |
| S/N Ratio | 60dB |
| Distortion | 1% |
| Video Output | |
| Composite Video | 1.0Vp-p(75Ω load) |
| Component Video | Y:1.0Vp-p(75Ω load) |
| | Pr:0.70Vp-p(75Ω load) |
| | Pb:0.70Vp-p(75Ω load) |
| HDMI | Impedance: 85~115Ω |
| Amplifier | |
| Front speaker output | 134W x 2(3Ω) / DVD: 166W x 2(3Ω) |
| Center speaker output | 134W(3Ω) / DVD: 170W(3Ω) |
| Rear speaker output | 134W x 2(3Ω) / DVD: 166W x 2(3Ω) |
| Subwoofer speaker output | 130W(3Ω) / DVD: 166W(3Ω) |
| Frequency range | 20Hz~20KHz |
| S/N Ratio | 75dB |
| Channel separation | 60dB |
| Input sensitivity | (AUX)400mV |
| Speakers | |
| Front / Rear | 3Ω |
| | 145Hz~20KHz |
| | 86dB/W/M |
| | 166W / Max 332W |
| | 3.5 in. x 6.6 in. x 3.8 in. |
| | 1.3 Ibs/1.1 Ibs |
| Center | 3Ω |
| | 145Hz~20KHz |
| | 86dB/W/M |
| | 170W / Max 340W |
| | 9.8 in. x 3.5 in. x 3.8 in. |
| | 1.5 Ibs |
| Subwoofer | 3Ω |
| | 35Hz~155Hz |
| | 86dB/W/M |
| | 166W / Max 332W |
| | 7.1 in. x 12.6 in. x 15.4 in. |
| | 12.1 Ibs |
Executive Overview
To complement their line of small flat panel TVs, Samsung Electronics produced the HT-X50 home theater system.  Not only does it have a cool name, I mean who wouldn't want to own an X50, but it has a good look, as well.  The low cost package includes a 5-disc DVD/CD changer, 5 speakers, a small subwoofer, remote control, and various cables for connecting it all together.  Its features are pretty standard as far as home theater systems go, but it does have better than average sound.  The speakers are more clear at higher volumes than the equally-priced competition.  The passive subwoofer unit is just OK on the mid-bass and seemed a bit boomy overall.  We would recommend placing the sub up front and possibly behind your display or cabinet to curb its enthusiasm and fill in the front speakers. Had Samsung included a larger sub or perhaps a powered sub, then this would have been a killer mini-system.
The X50 (I love saying that) has a standard 5-disc carousel for DVDs and CDs and can play several kinds of computer formats including MP3, WMA, DivX, and JPEG files. There is also a USB port on the front to play these files from a thumb drive or music player.  On the rear of the unit you'll find an HDMI port for upscaled video and there is a single optical input that's useful when plugging your flat panel TV's output into the receiver so you can have surround sound on supporting video programs. There is also a single analogue stereo jack for other devices.  It did feel a little low on inputs, but we're guessing that this won't be used as a primary home theater system. For a minimalist setup with few source components it's about right. It plays AM and FM radio, and if you're into XM, you can add the proper antenna and use your subscription for that as well.  Lastly, the included remote has a good layout and is very easy to use.  It's also programmable for your TV so it can serve dual purpose.  Of course, if you already have a Samsung TV, then it will be preprogrammed without any action on your part.
If your audio budget is right around $250, then this is a pretty decent system to consider.  Of course, Samsung makes it easy for owners of their flat panel displays as the remote is ready to go and the HT-X50 will match the styling of their sets. With better than average sound for a low cost of entry, it might be worth looking into if you don't need a ton of inputs. X50, yeah, I still love saying that!
For more information please visit www.samsung.com.

Unless otherwise indicated, this is a preview article for the featured product. A formal review may or may not follow in the future.
Confused about what AV Gear to buy or how to set it up? Join our Exclusive Audioholics E-Book Membership Program!