Panasonic SC-PT950 Wireless Home Theater System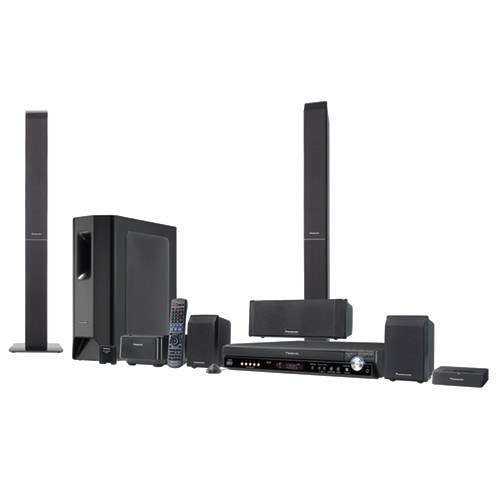 Panasonic HTiB with front towers
Summary
RMS Output Power: Dolby Digital Mode
Front Ch 250 W per channel (6 Ohms), 1 kHz, 10 % THD
Center Ch 250 W per channel (6 Ohms), 1 kHz, 10 % THD
Subwoofer Ch 250 W per channel (6 Ohms), 100 Hz, 10 % THD
Total RMS Dolby Digital mode power 1200 W FTC Output Power: Dolby Digital Mode
Front Ch 104 W per channel (6 Ohms), 120 Hz–20 kHz, 1 % THD
Center Ch 101 W per channel (6 Ohms), 120 Hz–20 kHz, 1 % THD
Subwoofer Ch 95 W per channel (6 Ohms), 45 Hz–120 Hz, 1 % THD
Total FTC Dolby Digital mode power 472 W Wireless RMS output power
Surround Ch 100 W per channel (4 Ohm), 1 kHz, 10 % THD
Total RMS power 200 W
Wireless FTC output power
Surround Ch 34 W per channel (4 Ohm), 120 Hz–20 kHz, 1 % THD
Total FTC power 68 W
Wireless module
Frequency range 2.400 to 2.4835 GHz
No. of channels: 3
Preset Memory FM 30 stations
AM/MW 30 stations FM
Frequency range 87.9–107.9 MHz (200-kHz step)
87.5–108.0 MHz (100-kHz step)
Sensitivity 1.8 μV (IHF)
S/N 26 dB 1.4 μV
AM Sensitivity S/N 20 dB at 1000 kHz 560 μV/m Phone jack
Terminal Stereo, 3.5 mm (1/8") jack Music Port (Front)
Sensitivity 100 mV, 1.2 kOhms
Terminal (Input) Stereo, 3.5 mm (1/8") jack Discs played [8 cm (3") or 12 cm (5")]
DVD (DVD-Video)
DVD-RAM (DVD-VR, MP3, JPEG)
DVD-R (DVD-Video, DVD-VR, MP3, JPEG)
DVD-R DL (DVD-Video, DVD-VR)
DVD-RW (DVD-Video, DVD-VR, MP3, JPEG)
+R/+RW (Video)
+R DL (Video)
CD, CD-R/RW [CD-DA, Video CD, SVCD, MP3, WMA,
JPEG, HighMAT Level 2 (Audio and Image)] Video system NTSC
Composite video output
Component video output (480p/480i)
HDMI AV output

[Front\speakers\SB-HF950]
Type 2 way, 2 speaker system (Bass reflex)
Speaker unit(s) Impedance 6 Ohms
2 Full range 6.5 cm (2 1/2") Cone type
Input power (IEC) 250 W (Max)
Output sound pressure 83 dB/W (1.0 m)
Frequency range 79 Hz–25 kHz (-16 dB)
95 Hz–22 kHz (-10 dB)
Dimensions (WxHxD): 9 29/32" x 44 7/32" x 9 1/4"
(252 mm x 1123 mm x 235 mm)
Mass 8.4lbs (3.8 kg) [Surround\speakers\SB-HS950]
Type 1 way, 1 speaker system (Bass reflex)
Speaker unit(s) Impedance 4 Ohms
Full range 6.5 cm (21/2") Cone type
Input power (IEC) 100 W (Max)
Output sound pressure 80 dB/W (1.0 m)
Frequency range 89 Hz–25 kHz (-16 dB)
105 Hz–22 kHz (-10 dB)
Dimensions (WxHxD): 3 5/8" x 5 19/32" x 3 3/4"
(92 mm x 142 mm x 95 mm)
Mass 1.3lbs (0.6 kg) [Center\speaker\SB-HC950]
Type 1 way, 2 speaker system (Bass reflex)
Speaker unit(s) Impedance 6 Ohms
1. Full range 6.5 cm (2 1/2") Cone type
2. Full range 6.5 cm (2 1/2") Cone type
Input power (IEC) 250 W (Max)
Output sound pressure 82 dB/W (1.0 m)
Frequency range 80 Hz–25 kHz (-16 dB)
96 Hz–22 kHz (-10 dB)
Dimensions (WxHxD): 10 5/8" x 3 11/16" x 3 3/4"
(270 mm x 94 mm x 95 mm)
Mass 1.3 kg (2.9 lbs) [Subwoofer\SB-HW950]
Type 1 way, 1 speaker system (Bass reflex)
Speaker unit(s) Impedance 6 Ohms
Woofer 17 cm (6 3/4") Cone type
Input power (IEC) 250 W (Max)
Output sound pressure 81 dB/W (1.0 m)
Frequency range 26 Hz–220 Hz (-16 dB)
32 Hz–180 Hz (-10 dB)
Dimensions (WxHxD): 7" x 16 23/32" x 10 1/8"
(180 mm x 445 mm x 330 mm)
Weight: 12.2 lbs (5.5 kg) Power supply AC 120 V, 60 Hz
Power consumption Main unit 135 W
Dimensions (WxHxD): 16 15/16" x 2 15/16" x 16 11/16"
(430 mm x 70 mm x 424 mm)
Weight Main unit 11Ibs (5 kg)

Executive Overview
Panasonic's SC-PT950's represents a nice step up in their line of home theater-in-a-box systems. It is identical in functionality to its little brother, the SC-PT750. For an extra $100, you'll get tower speakers, a slightly larger woofer, and just a little more amplifier power. As such, the PT950 will have a more full range sound across the front and just a little bit lower bass. Be sure to read the SC-PT750 First Look article for details on this series. Here is a list of the major features:
Front Tower speakers
Wireless Rear speakers, transmitter and receiver (2.4GHz)
5 Disc DVD/CD changer
HDMI output up to 1080p
Capable of reading JPG, MP3, and WMA files
Dolby Digital and DTS decoding
Included iPod Dock
AM / FM / XM radio tuning
Multi-room capability with optional SH-FX85 wireless kit
Easy to Use remote control
As you may note, the subwoofer is front-ported and stands more like a PC tower than the typical cubic subwoofer enclosures we typically see. The "tower" speakers are visually appealing, but do not make use of the full enclosure volume. In a sense, they are bookshelf speakers permanently affixed to matching stands. The real nifty feature of this system is the addition of the wireless surrounds. As many consumers can't fathom running cables to the rear of their listening rooms, this alone may be worth the price of admission. When utilizing the wireless speakers, one thing you'll want to watch out for is proximity to other 2.4GHz devices such as cordless phones and your home 802.11g wireless network.


This is a great home theater system with lots of "creature-features." A 5-disc DVD changer and easy-to use remote are solid features any homeowner will appreciate. Add in an automatic setup system with included mic and an included iPod dock and now you've got something that your mother-in-law could set up and enjoy. If, however, you can push the budget just a bit higher, there are some better sounding HTiB systems out there, such as the Samsung AS720ST.  In any case, we'd recommend you head to your local big box store to check it out.  The sound isn't bad, and the look just might fit with your TV and room layout.

For more information please visit www.panasonic.com

See also:
Confused about what AV Gear to buy or how to set it up? Join our Exclusive Audioholics E-Book Membership Program!
Recent Forum Posts: