Samsung HT-TX72T Home Theater System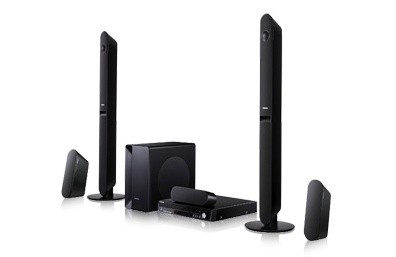 Samsung's Tallboy HTiB
Summary
| | |
| --- | --- |
| General | |
| Power Requirements | AC 120V ~ 60Hz |
| Power Consumption | 90W |
| Weight | 11Ibs |
| Dimensions (W x H x D) | 17 x 3 x 17.1 inches |
| Operating Temperature Range | 41°F ~ 95°F |
| Operating Humidity Range | 10% ~ 75% |
| FM Tuner | |
| Usable Sensitivity | 10dB |
| S/N Ratio | 60dB |
| Distortion | 1% |
| | |
| Video Output | |
| Composite Video | 1.0Vp-p(75Ω load) |
| Component Video | Y:1.0Vp-p(75Ω load) |
| | Pr:0.70Vp-p(75Ω load) |
| | Pb:0.70Vp-p(75Ω load) |
| HDMI | Impedance: 85~115Ω |
| Amplifier | |
| Front speaker output | 133W x 2(3Ω) / DVD: 170W x 2(3Ω) |
| Center speaker output | 160W(3Ω) / DVD: 180W(3Ω) |
| Rear speaker output | 133W x 2(3Ω) / DVD: 170W x 2(3Ω) |
| Subwoofer speaker output | 268W(3Ω) / DVD: 340W(3Ω) |
| Frequency range | 20Hz~20KHz |
| S/N Ratio | 75dB |
| Channel separation | 60dB |
| Input sensitivity | (AUX)400mV |
| Speakers | |
| Front | 3Ω |
| | 150Hz~20KHz |
| | 86dB/W/M |
| | 170W / 340W Max |
| | 3.5 in. x 45 in. x 3.7 in. |
| | 8 lbs |
| Rear | 3Ω |
| | 150Hz~20KHz |
| | 86dB/W/M |
| | 170W / 340W Max |
| | 3.5 in. x 11.8 in. x 4.5 in. |
| | 1.8 lbs |
| Center | 3Ω |
| | 150Hz~20KHz |
| | 86dB/W/M |
| | 180W / 360W Max |
| | 11.8 in.x 3.5 in. x 3.9 in. |
| | 2.8 lbs |
| Subwoofer | 3Ω |
| | 40Hz~200Hz |
| | 86dB/W/M |
| | 170W x 2 |
| | 340W x 2 |
| | 8.7 in.x 15.8 in. x 16.8 in. |
| | 24 lbs |
Executive Overview
First time home theater users may appreciate the simplicity provided by a Home Theater in a Box, and the Samsung HT-TX72T is a great starting point.  With a low profile 5-disc CD/DVD changer, included speakers, and excellent remote control, this system is a breeze to install and configure.
First, we'll start off with the "tallboy" speakers. It seems that is the term used by Samsung to describe the two tall and skinny speakers that are used for the front channels - and it fits.  They have a sleek finish and assemble rather quickly.  A small matching center and surround speakers are also included.  Samsung has a particular sound to its small speakers that I found rather pleasing.  With clear vocals and a good range of sound for smaller units, the speakers didn't feel fatiguing after longer listening.  Of course, what good is a home theater without some boom?  The subwoofer module handles the lower mid-bass ranges very well, and will most certainly provide you with a feel you don't get from your TV speakers. Also, if you aren't into tower speakers, the Samsung HT-TX70 system is identical to this system, but has bookshelf height speakers for the fronts as well as the rears. Like tower speakers a lot?  They you might be interested in the HT-TX75 system as it has 4 tower speakers all around.
The slick-looking HT-TX72 has some cool features for the price.  There is an HDMI output that scales to 720p or 1080i for your new flat panel TV.  Also included is an HDMI input for other devices, like an HD cable or satellite box.  If your TV doesn't support HDMI, then the composite or component video jacks should do the trick.  Other audio inputs include a single optical input, a stereo analogue jack on the back, and a stereo mini jack on the front.  AM/FM and XM radio is also supported.  Not only can the HT-TX72 use normal discs and devices, but it can also support computer files from its front USB port or those burned onto media for use in the 5-disc changer.  Lastly, the Samsung universal remote control is excellent.  It can be programmed to be used with many types of TVs and has a very logical layout for the buttons.
Since the Samsung HT-TX72 can typically be found on sale, it's a good value for a system with this many features.  For well under $400 this system seems like a good match for those looking to "accessorize" their new flat panel television with a fully-featured surround audio setup.

For more information please visit www.samsung.com

See also:
Confused about what AV Gear to buy or how to set it up? Join our Exclusive Audioholics E-Book Membership Program!