Yamaha YHT-585BL Home Theater System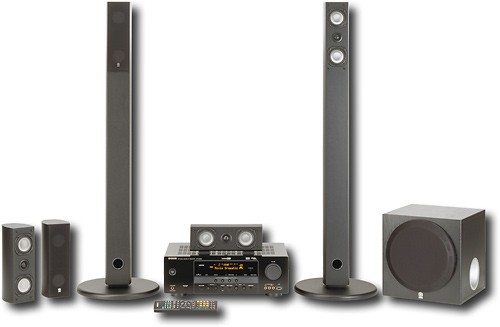 Yamaha's tower system - YHT-585BL
Summary
Product Name:

YHT-585BL Home Theater System

Manufacturer:

Yamaha Electronics

Review Date:

January 03, 2008 18:05

MSRP: $529.99
First Impression:

Mildly Interesting
Total System Power: 600W
Front Surround Power/Channel: 100W x 2; 100W center
Rear Surround Power/Channel: 100W x 2
Subwoofer Power (watts): 100
Subwoofer Type: Active
Subwoofer Size: 8 in
Decoders: Dolby Digital, Dolby Pro Logic II, DTS#
DSP Soundfields: 8
Number of Speakers: 5 + subwoofer
Satellite Speakers: 2-way
YPAO Calibration: Yes

HDMI Inputs: 2 (Switching Only, no audio support)
HDMI Outputs: 1
Digital Input: 2 optical, 1 coaxial

Rear A/V Inputs/Outputs: 4/1
S-Video Inputs/Outputs: 3/1
Component Video Inputs: 3
Component Video Outputs: 1
USB Ports: 1 (front)

Tuning Presets: 40
Video Monitor Output: 3
Component Dimensions: 5-15/16"H x 17-1/8"W x 12-1/2"D
Front Speaker Dimensions: 40"H x 3-11/16"W x 4-3/4"D
Center Speaker Dimensions: 3-11/16"H x 10"W x 4-3/4"D
Rear Speaker Dimensions: 10"H x 3-11/16"W x 4-3/4"D
Subwoofer Dimensions: 11-13/32"H x 11-13/32"W x 12-29/32"D
Total Unit Weight: 62.6 lbs.
Executive Overview
The new Yamaha YHT-585BL is a great starter package that not only includes a standalone receiver, but also 2 tower speakers for the front, a center channel, surround speakers, and pretty decent 8-inch powered subwoofer. The included receiver, the Yamaha HTR-6050, has a few more inputs and outputs than the average HTiB in this price class, but it's also a little more complex to hook up as a result. To ease first-time home theater consumer confusion, Yamaha included its YPAO setup and auto-calibration system to ease the setup process. (See our RX-V659 review for more in-depth information on this setup system) Included are the standard remote control, some speaker wire, and the small setup microphone.
The main tower speakers are less than 4-inches wide, and have pretty small drivers. These speakers match well with the center and surrounds, but are lacking any real low end response, so the included subwoofer is going to have to extend pretty high in order to provide a full frequency response. Because of this, as with all micro-sized satellite systems, we recommend placing the subwoofer somewhere in the front of the room for best results. Speaking of sound, the main speaker's sound quality was just OK, and nothing special. However, the 8" sub seemed to be a step up in quality and helped the system hold its own against other similarly priced home theater packages. Since there is a standard receiver included with this package, it will have enough power to drive larger speakers and would be a good starting point for first time home theater buyers who want to start small and work up a few parts at a time.

There are a couple things to note about the YHT-585BL. The HDMI ports are for video switching only, so don't expect to be decoding the latest high resolution audio formats. You'll still need to use a digital coax or TOSlink cable to get your surround sound into the receiver. HDMI switching is still a nice feature to have on a package this inexpensive and will offer you the same functionality as a small external switcher but in an integrated format (see the Oppo HM-31 review.) If you are a video game guru, like myself, you will find the integrated component video switching useful as well. There is no shortage of inputs with this product. Also, there is a front USB port, a newer Yamaha remote that's a little less confusing than previous versions, and the new SCENE functions for easier switching of your listening preferences when watching different sources.
You can typically find this Yamaha system on sale for right around $500. If this is your price range, then the flexibility of a fully-upgradeable receiver and speakers should be appealing, plus you get a pretty decent subwoofer thrown into the mix. Of course, there are a few drawbacks, like the entry level main speakers.

For more information please visit www.yamaha.com/yec
(Note: As of this writing, the specs for this product are not yet available on the Yamaha web site.)
See also:
Confused about what AV Gear to buy or how to set it up? Join our Exclusive Audioholics E-Book Membership Program!