Oppo HM-31 HDMI 3/1 Switcher Review
Oppo HM-31 HDMI 3/1 Switcher Review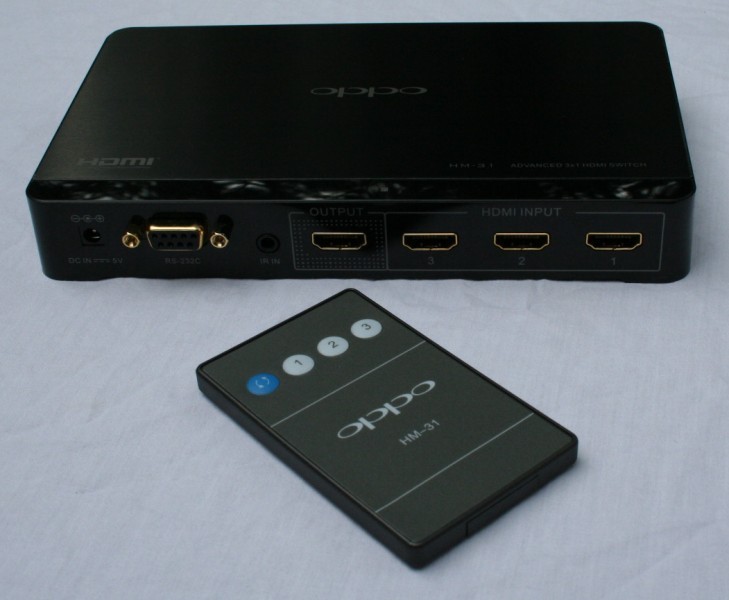 Oppo HM-31 HDMI 3/1 Switch
Standard Compliance: HDMI 1.3, EIA/CEA-861D, DVI 1.0, HDCP 1.1
HDMI Output Port: 1
HDMI Input Ports: 3
Signal Range: Up to [email protected] or 720p/[email protected] with 12-bit color depth
Remote Control: Built-in IR Sensors: 2; External IR Sensor: optional; RS-232C: optional
Power Supply: 5V DC
Power Consumption: 3 Watts (max)
Power Adapter: Input: ~ 100V – 240V, 50/60Hz AC; Output: 5V DC, 1A max
Operating Temperature: 5°C - 35°C; 41°F - 95°F
Operating Humidity: 15% - 75%; No condensation
Dimensions: 7-3/8" x 4-1/2" x 1-1/16", 187mm x 116mm x 27mm
Weight: 9oz (0.25kg)
Pros
Looks great
Works great
Nifty auto selection protocol may make installation a snap
Every custom integration option on the market (IR, RS-232)
Oppo HM-31 Introduction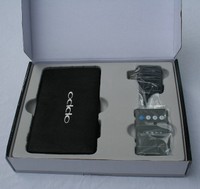 The thing about new technology is that it is so expensive. Take receivers for example. You could upgrade your receiver so that you have all the latest processing and features. You could upgrade it for more power. You could do a lot of things. But only the person with a crazy amount of disposable income upgrades because they need an extra HDMI input. HDMI switchers are everywhere these days. They all look about the same, most cost about the same, and they all do the same thing. Or do they?

See also:
Confused about what AV Gear to buy or how to set it up? Join our Exclusive Audioholics E-Book Membership Program!
Recent Forum Posts:
blacks4 posts on November 08, 2007 09:58
fmw, post: 325398
I was disappointed in the Oppo switcher because it doesn't turn on and off. It stays on constantly. In other words, for me it isn't full featured at all. I had one of the little 2 port switches from Mono price. It was less than half the price of the Oppo and was a better unit all the way around. I could even program it to turn on and off with my universal remote. I got the Oppo when I needed to upgrade to a 3 port unit thinking it would be better than the Monoprice. Not better. I recommend the Monoprice.
Who cares if you can't turn it off? Why would you really want to?
Tom Andry posts on November 08, 2007 09:03
I connected the Toshiba HD-A2 through the HM-31 and verified that I got a picture up on my display. I haven't done any more testing yet but so far it looks like there are no compatibility issues. I can only assume that the XA2 will be the same.
Tom Andry posts on November 02, 2007 14:18
Austin M, post: 325331
Can you plug this into one of the HDMI-switching ports on a Denon receiver (expanding the number of HDMI ports), or does this need to plug straight into the TV? Do HDMI devices work when routed through two switches?
Clint already answered this but again, yes. For the review, the Oppo was used between two transports and a Denon 2307CI receiver. I experienced no problems.
Tom Andry posts on November 02, 2007 14:16
blacks4, post: 325071
I have an HD-XA2 which won't work at all through a 5x1 HDMI switch from Impact Acoustics. Toshiba said it's not meant to work through a switch (only a direct connection or through an HDMI receiver).

I'm just curious if this switch is any different. Thanks.

- Steve
I'll be testing this out as soon as I can. I'll let you know.
j_garcia posts on November 01, 2007 19:05
The one I have works like that with more or less automatic switching, though I don't think it has the same "priority" function. Whichever one is on first gets priority. It also has no power button.
Post Reply