Sony HT-SS2000 Home Theater System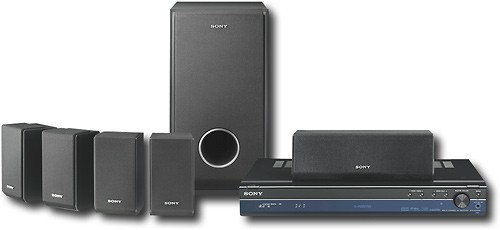 Sony's Blu Ray matching HTiB
Summary
Amplifier Section
Stereo mode (rated) 84 W + 84 W
(3-ohms at 170-20,000 Hz,THD 1%)

Input - Analog Sensitivity: 1 V/50 kohms
Input - Digital (Coaxial) Impedance: 75 ohms
Tone: Gain levels ±10 dB, 0.5 dB step
Reproduction frequency range: 28 – 20,000 Hz

General
Power requirements: 120 V AC, 60 Hz
Power output (DIGITAL MEDIA PORT)
DC OUT: 5 V, 700 mA
Power consumption: 165 W (0.3 W standby)
Dimensions (w/h/d): 17 x 2-5/8 x 13-1/4 inches (430 × 66.5 × 333 mm)
Weight: 7 lb 15 oz. (3.6 kg)

Speaker Section
Front/center speakers: Full range, magnetically shielded
Surround speakers: Full range
Speaker units: 57 mm (2-1/4 inches) cone type
Enclosure type: Bass reflex
Rated Impedance: 3-ohms

Dimensions (w/h/d)
Front/surround speakers: 3-1/4 x 6 x 3-1/2 inches
(80 x 150 x 88 mm)
Center speaker: 9-7/8 x 3-3/8 x 3-1/2 inches
(250 x 85 x 88 mm)

Weight
Front speakers: 1 lb 2 oz. (0.5 kg)
Center speaker: 1 lb 9 oz. (0.7 kg)
Surround speakers: 15 oz. (0.4 kg)

Subwoofer (SS-WP1200)
Speaker system: Magnetically shielded
Speaker unit: 6-3/8 inches (160mm) cone type
Enclosure type: Bass reflex
Rated Impedance: 1.5-ohms

Dimensions (w/h/d): 7-7/8 x 15-1/8 x 13-3/8 inches (200 × 382 × 337 mm)

Weight: 9 lb 15 oz (4.5 kg)

Executive Overview
Let's say you've just walked into your local electronics retail store and are planning to buy a 1080p 52" Sony flat panel television and a Sony Blu-Ray player. Along with a pile of free Blu-Ray movies, you should consider purchasing an audio system to match. Sony hopes to have you covered with the HT-SS2000 home theater system. There are two schools of thought on audio, however. One, buy something cheap because you are after a good image and any surround sound will do. Two, spend as much or more on audio than you do on video. Here at Audioholics.com, you'll find that most of us are in the second school of thought.

But, If you are in the first school, or perhaps you can't yet afford the ideal audio setup, then the Sony HT-SS2000 might fit the bill. Along with the receiver, it has 5 small speakers and a small subwoofer module, a remote control, and the needed cables for setup. This unit is specifically designed to match the look and feel of Sony's Blu-ray Disc player offerings. The back has several HDMI inputs and an HDMI output for compatibility with the latest home theater screens and devices. Even though it supports HDMI it does not support the latest audio formats such as Dolby True HD or DTS HD Audio. It will perform well with the old standards such as Dolby Digital and DTS.
The included speakers are nothing to write home about, but will produce the surround sound correctly. They are certainly better than your average TV speakers. Of course, the subwoofer will add a bit of bass to your explosions and when placed near the center speaker will help to fill in the upper bass frequencies for the front soundstage. Sony has included an auto-calibration function to help ease the setup process. Also, the remote control works well with other Sony devices but doesn't play well with hardware from other companies.
Don't let the Blu-ray marketing fool you, as this system will work equally well with HD DVD players, cable and satellite boxes, and a myriad of video game systems. Also, we would like to note that the included speaker cables use proprietary connections. This is a little frustrating if extra length is needed for the rear speakers, but some zip cord from a local hardware store can be tacked onto the bare wire ends, if needed.
So, if you are looking for a basic system to hook your Sony components into, then the HT-SS2000 might be for you. There are several other HTiBs in this price class that have more features or might sound better, but they may not be as easy to integrate with an all-Sony setup. And, if you really want some excellent sound to go with that great, new image, then we would recommend checking into separate components. For the die-hard Sony fans, you'll certainly want to check out the standalone receivers that Sony offers, and perhaps even something in their ES line. We tend to recommend selecting components from more than one manufacturer in order to capitalize on what each does best. No one company makes the best of everything, but this Sony system is certainly enjoyable and won't set you back a tremendous amount of money to enjoy fun home theater.

For more information please visit www.sony.com

See also:
Confused about what AV Gear to buy or how to set it up? Join our Exclusive Audioholics E-Book Membership Program!