Yamaha DVX-700 DVD Home Theater System First Look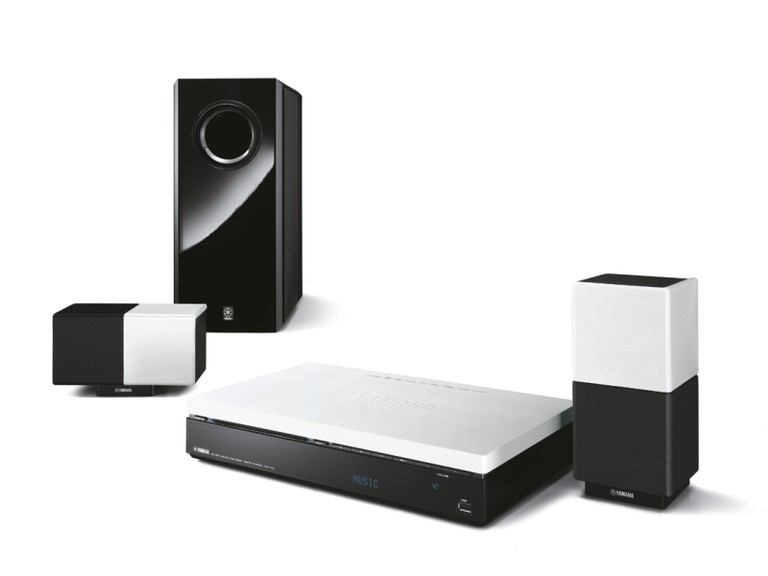 Yamaha DVX-700 DVD Home Theater System
Summary
Executive Overview
Yamaha showed off the DVX-700 DVD home theater system which features an integrated DVD player, two front speakers and 6-1/2" subwoofer in an elegant design. It looks remarkably like a Bose Lifestyle system - right down to the low-profile head unit, ported subwoofer and cube-shaped satellite speakers. Positioned as "the ideal system for smaller spaces where refined style is important", the DVX-700 ($1,199.95 MSRP) utilizes Yamaha's exclusive Air Surround Xtreme technology to deliver fully convincing surround sound performance without requiring multiple speakers to be installed throughout the room. This is the same DSP utilized in their lower-priced (non-YSP) sound bars.
The DVX-700 features an HDMI digital output with video upscaling to 1080p. Yamaha's new Extended Stereo technology provides a wide sound field designed so that all listeners seated in the room can enjoy the best performance. With four surround modes (Movie, Music, Sports and Game) the DVX-700 also lets users dial in different DSP effects for every source. Three speaker position modes (Narrow, Normal and Wide) let you further optimize imaging by selecting the setting that best matches speaker placement.
The DVX-700 is compatible with Yamaha's optional YBA-10 wireless Bluetooth audio receivers and YDS-10/YDS-11 universal iPod docks. When docked, iPod song titles are displayed on the DVX-700's front panel. The system is designed to be fully compatible with today's most popular compressed music sources such as MP3 and WMA files. The DVX-700's Compressed Music Enhancer, which debuted in their receiver lineup some time ago, utilizes exclusive processing to restore music nuances lost when music files are compressed, making high and low frequency ranges sound richer and smoother. In general we like it, especially for poorly compressed files.
The system supports XM and Sirius and has a built-in FM tuner. In addition to playing DVDs and CDs, the unit has a USB port to enable connecting an external drive containing video, audio or image files. Digital and analog audio inputs are provided for external devices and HDMI, component and composite video outputs deliver enough display options to satisfy anyone's needs.
Yamaha's new Air Surround Xtreme technology makes use of their 24 kHz HRTF (Head Related Transfer Function) surround technology. We don't what exactly that is, but it delivers an enveloping 360-degree sound stage with crisp, clear dialog in the front and seamless surround sound movement around the user. The DVX-700 supplements the main speakers with a shielded 70-watt subwoofer 6-1/2 inch. Each of the two front speakers boasts a two-way acoustic suspension design with a 2-1/8 inch woofer and 1-inch tweeter.
For enhanced versatility, the speakers include removable stands and are wall-mountable with vertical and horizontal placement capability. At only 3-3/4" wide x 7-1/2" high x 4 inches deep, the speakers are compact and easy to accommodate in virtually any space. The subwoofer, which can be positioned vertically, either facing front or sideways, also includes a rear cover to hide terminals and wires.
The big problem with the setup is that all the inputs are on the back of the sub which then connects to the head unit through a proprietary "rs-232-like" connection. The head unit simply routes the video up to the display. So we suppose you are expected to stack all your components on top of the bass module? Weird. Add to that the black/white combo speakers and you've got a recipe for great Christmas presents from the bargain bin next year. For someone you hate.
For more information please visit www.yamaha.com/home.

Confused about what AV Gear to buy or how to set it up? Join our Exclusive Audioholics E-Book Membership Program!