Yamaha YHT-494 Home Theater in a Box First Look

Yamaha YHT-494 Home Theater in a Box
Summary
HD Sound Quality
HDMI (V.1.4 with 3D)

HD Audio compatibility (linear PCM via HDMI transmission)
5.1-channel total 600W powerful sound (100W x 5 + 100W subwoofer)
6-1/2" 100W Advanced YST subwoofer with Linear Port

192 kHz/24-bit Burr Brown DACs for all channels
Convenient Placement
Super slim sound bar (2" high) can be placed in front of most TVs

Feet can be adjusted horizontally and vertically, for use with TVs from 32" to 50" (they can also be removed)

Two surround speakers: compact design for flexible placement
Advanced Features
SCENE buttons with direct power on — quick and simple to use
Front panel mini jack input for connecting portable audio player

iPod/iPhone compatibility with optional YDS-12 Universal Dock as well as iPod compatibility with optional YDS-11 Universal Dock

Audio input assign capability for HDMI and component video input
High Picture Quality
1080p-compatible HDMI repeater (4 in/ 1 out)

Supports Deep Color, x.v.Color, 24Hz Refresh Rate and Auto Lip Sync
Surround Realism
Upgraded CINEMA DSP with 17 DSP programs

Compressed Music Enhancer

Adaptive DRC (Dynamic Range Control) and Adaptive DSP level
Executive Overview
If you walk into any supermarket in the country, you'll most likely find a frozen food section. Contained within will be pre-packaged "meals" with twice the daily suggested salt and up to 3x's the calories. For some these are comfort foods. For some these are the staples of their diet. But for some, this is the equivalent of watching baby seals being clubbed to death with mallets made of shark fins, ivory elephant tusks, and the dreams of little children - there is just nothing right about it. For a true audioholic, the Home Theater in a Box (HTiB) aisle at the big box stores are the same thing.
It's not that we don't understand the appeal. Just glance at the box of a frozen prepared meal and you'll see an hot, steaming, fresh, beautiful, and most definitely appetizing plate of food most likely being consumed enthusiastically but an athletic family with huge, joker-like smiles on their faces. The aftermath of a trip to the microwave, however, most likely smells faintly of moldy cheese and MSG and tastes little better. When you glance at a HTiB box, you can't help but be impressed with all these components which obviously are working in unison (without the aid of any visible wires we might point out) to create the jaw dropping surround and bone crushing bass that the promised 7 million watts can obviously deliver. Opening the box, however, often provides quite a different experience.
Yamaha has continually impressed us with their surround bar technology. While surround bars are universally a poor substitution for actual surround speakers, the Yamaha bars have been the most flexible with the best overall performance of those we've tested. The Yamaha YHT-494 is a Home Theater in a Box (HTiB) solution for those who are not only looking to take advantage of the latest 3D technology, but also supporting some very specific placement issues. "Small" is very definitely in with this product. The NS-BR300 front speaker is a thin (31.5" x 2" x 2.75") LCR (Left, Center, Right) speaker meant to be placed horizontally on the cabinet in front of your display. The driver compliment consists of three 1.5" by 3.75" drivers. The entire speaker weighs in at a featherweight 3.4 lbs. There are two removable feet on the bottom which can be repositioned to fit nearly any cabinet size (Yamaha suggests it is a "perfect match" for 32-50" displays). There is no indication that the speaker is wall-mountable which is a strange omission. This type of solution is often designed for a wall with the feet being the option.
The NS-B285 rear speakers are comprised of a pair of small cubes on their own stands. Each has a single 2.5" "full-range" driver. Designed for easy placement on shelves or behind pictures of your mother-in-law, the speakers are 3.5" x 4.75" x 5" and weigh 1.1 lbs (this includes the stand). While wireless is all the rage these days, Yamaha makes no mention of it, so expect the rear speakers to require wires from the receiver. Rounding out the speaker compliment is the 100 watt NS-SW280 subwoofer sporting a 6.5" driver and a ported enclosure. Again, thinking of placement the sub comes in an easy to overlook 10.375" x 10.375" x 12.5" box that weighs 15.2 lbs.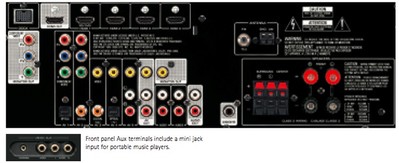 The real heart of any home theater system is the receiver. The Yamaha YHT-494 sports the HTR-3063. Alone, the receiver commands $250 which is nearly half the price of the entire HTiB. The entry level 5.1 channel HTR-3063 has 100 watts per channel, 4/1 HDMI version 1.4 inputs/outputs, and the ability to accept audio over HDMI. While it can't decode the HD audio streams natively, it will accept PCM so if you set your Blu-ray player to decode, you can enjoy all the benefits of Dolby TrueHD and DTS HD MA. It will be able to pass through at least some of the supported 3D formats when they become readily available. While HDMI 1.4a guarantees compatibility with all the current 3D formats, 1.4 could also work (and we fully expect Yamaha to do so) with firmware updates.
There are dual Component and four composite video inputs with a mini-jack on the front panel for utilizing an MP3 player without having to buy one of the optional docks that Yamaha sells (and are supported on the HTR-3063). There are two each of optical/coaxial digital audio inputs with are assignable. Of course, don't expect any sort of upconversion or scaling on this entry level product. Also, HDMI switching is supported but analogue signals are not converted. If you have nothing but HDMI components, you can run a single cable to your display but if you also have composite and component, you'll need to run those cables as well. The HTR-3030 weighs in at 16.5 lbs. There are five way binding post for the main channels with the other three channel relegated to spring-type binding posts. The system is rated 30 Hz–20 kHz though the output level and linearity is not specified. We were impressed to learn that it also has 192 kHz/24-bit Burr Brown DACs for all channels. While basic by most standards, as an entry level product, the HTR-3063 has the power and the DACs to allow users to upgrade the speakers easily.
Conclusion
As a HTiB solution, the Yamaha YHT-494 has a lot going for it. Consumers new to home theater are going to have a few problems understanding the lack of analogue to HDMI upconversion but that's par for the course. The slim LCR front speaker and cubed back speakers look to be easy to place. While most manufacturers would be trying to entice consumers with promises of "wireless" rear speakers and wall mounting, Yamaha seems to know that most people will be placing their speakers on a surface and running wires. The small size of the speakers and the front placement in front of the display is sure to hook some buyers. We have always advocated that if you are set on buying a HTiB solution, make sure you get one with a real receiver. With the HTR-3063, you've got a receiver you can grow with rather than a box with proprietary hookups that will force you to toss it away when you decide to upgrade. At $550 MSRP, this seems like a very nice entry level deal.
For more information, please visit www.yamaha.com.

Unless otherwise indicated, this is a preview article for the featured product. A formal review may or may not follow in the future.
jabonmoce posts on October 27, 2010 16:47
jabonmoce posts on October 27, 2010 16:44
This look is really nice and beautiful because its so slim and so sweet look.
Its speaker look and voice is also very good, I wanna same model home theater but i think its very costly. hope i will get soon,,,,,,,This information is very helpful for me ,, so thanks for that…
===========
First Time Buyers
3db posts on September 24, 2010 07:16
I guess thats a fair price for what you get. I'm glad they stayed clear of these stupid proprietary connections
Post Reply
Confused about what AV Gear to buy or how to set it up? Join our Exclusive Audioholics E-Book Membership Program!