XTZ Cinema Series M6 and S5 Speaker System Review
XTZ Cinema Series M6 and S5 Speaker System Review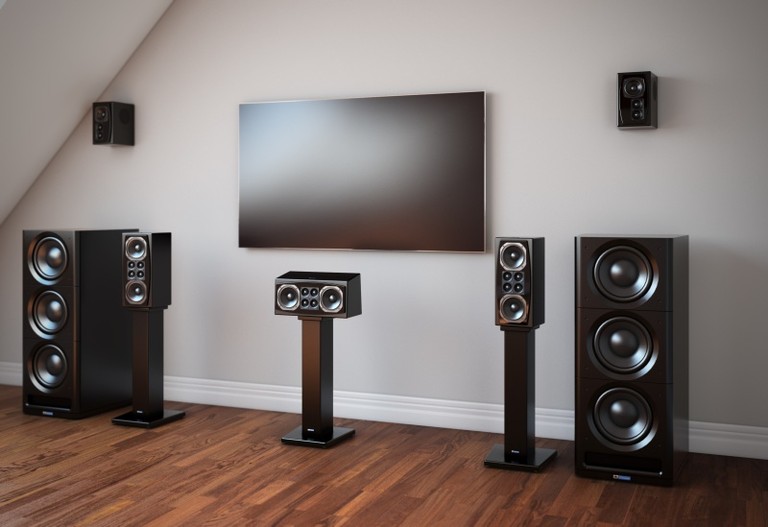 XTZ Cinema Series No Grills
Cinema M6 LCR
Type: Hybrid 2/3 way
Drivers : 4 x 1" tweeter , 2 x 5.25" bass/midrange
Crossover frequencies 1.2kHz (bass/mid), 3kHz (3 of the tweeters)
Frequency Response: 75Hz - 30kHz +/- 3dB
Size (HxWxD): 17.3 x 9.1 x 8.7"
Weight: 9kg / 19.8 lb
Sensitivity: 89dB at 2.83V/1m
Enclosure: sealed enclosure
Impedance: 4 ohm Nominal
Color: Non reflection matte black 8-layered paint , Piano Black Painted Baffle
Cinema S5 Surround Speaker
Type: 3 Way surround ,Dipole ,Dipole 3X or direction soundfield
Drivers : 2 x 1" tweeter , 4" bass/midrange , 2 x 3" fullrange driver(sidemounted)
Enclosure: Sealed enclosure
Sensivity: 87dB at 2.83V/1m
Impedance: 4 ohm Nominal
Frequency response: 80 - 30kHz +/- 3dB
Crossover frequencies: 400Hz, 1.2kHz
Size (HxWxD): 11.1 x 8 x 8.8"
Weight: 7.5 kg / 16,5 lbs
Color: Non reflection matte black 8-layered paint , Piano Black Painted Baffle
Pros
Multi-tweeter array yields high dynamic range
Superb fit and finish with attention to detail
S5 offers multiple dispersion modes
Sealed design great for wall-mounting
Unique appearance
Cons
M6 and S5 Speakers require a subwoofer for full-range reproduction
XTZ Sound M6 and S5 Speaker System Introduction
There is a growing buzz around XTZ Sound. The Sweden based hi-fi company describe itself as "a border-crossing network of engineers, technicians, manufacturers, and producers" that manufactures speakers in Sweden and Asia, and sells them direct around the world. The latest products from XTZ are their Cinema Series M6 hybrid 2/3-way satellite LCR and S5 dipole speakers.  The $1000 M6 and $700 S5 were designed for high-output, low-distortion, and accurate response. They feature a unique driver configuration, a compact, yet solid cabinet design, and superb attention to detail at a very attractive price.
XTZ Sound M6 and S5 Speaker Youtube Review
First Impressions



The XTZ M6 LCR Speaker

I was sent three M6 speakers for main and centers, and two S5 for surrounds.  Opening the box, other than the individually cloth bagged speaker and magnetic grill, one will find the neatly packed manual, magnetic logo badge, and rubber feet, along with a pair of white gloves to separate your greasy mitts from your new speakers.  The gloves also work great for debutante balls.  Unfortunately, my corn-feed Iowan hands were a bit larger than the dainty gloves, so I apologize to XTZ, but you'll be getting some fingerprints back with your speakers.
Fortunately, the flawless matte black finish does an admirable job of rejecting fingerprints, dust, and light.  Sure, a piano-black, wet-look finish is always a head-turner, but this is a cinema system, and the XTZ speakers still look good while being functional and not directly reflecting light from your display back at your eyes.  The magnetic grills are very sturdy, constructed on a nicely-finished wood frame; no rough edges or plastic here.  As mentioned, the logos are also magnetic, so you can mount them on the top, bottom, or side of the grill, in any orientation, or leave them off completely.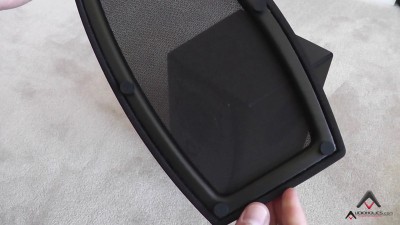 XTZ S5 Magnetic Grill with Rubber Feet
Looking at the main/center M6, you'll see the cabinets are asymmetrical with only two parallel sides. This not only combats standing waves within the cabinet; it allows you to flush mount the speaker on a wall vertically or horizontally using XTZ's optional flush wall mount, and still have a slight amount of toe-in or aiming with the angled front baffle.  Of course, you can also use the available matching stands.  The M6 also serves as the system's center channel, and oriented accordingly can have the front baffle and drivers angled up or down towards the listener.  These speakers are sealed designs, meaning they don't have any ports that need to be kept away from walls, and the bottom of their frequency response will drop off more gradually. In this case, the low end reaches 75hz +/-3dB, making the M6 perfect to cross over to a capable subwoofer.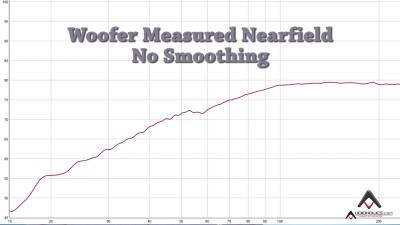 XTZ M6 Single Woofer Nearfield Measurement
The cabinets themselves are manufactured with High Density Fiberboard, which is stronger and harder than MDF.  
"Knock knock."
"Who's there?"
"Nobody."  Seriously, these are very non-resonant cabinets.  Where some speaker cabinets sound like you're knocking on a thin-walled, hollow box, these sound like a solid piece of wood.  A solid box means the resonance of the enclosure won't be coloring your speaker response, and at almost 20lbs each in a 17 by 9 inches square, the M6 are remarkably stout, despite being relatively compact.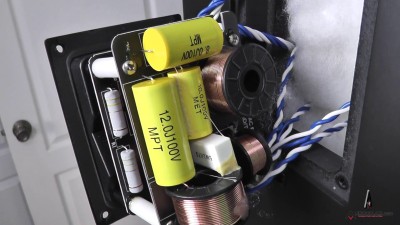 XTZ M6 Crossover and Cabinet Lined with Foam and Stuffed with Polyfill
The driver configuration is probably the most unique thing about the M6.  There are many speaker designs that feature a single tweeter flanked by two woofers, often called a D'Appolito array, but the M6 have not one, but four, 1" tweeters.  I asked Dan Roemer at InterSource OEM which also does business as Claridy Audio, who designed the XTZ Cinema Series speakers together with XTZ, "what's up with the 4 tweeters?"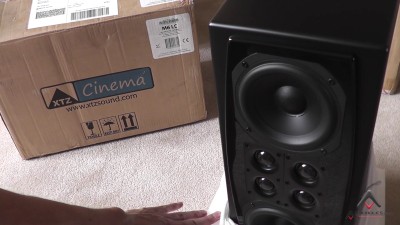 XTZ M6 Fresh out of the box with 4 tweeters
Dan detailed a number of potential problems that using multiple tweeters works towards solving.  For one, using multiple tweeters shares thermal loads allows for a lower crossover point to the woofer, reducing distortion and beaming of mid frequencies.  The crossover frequency is lowered to 1.2kHz, which Dan notes is right around the area below which our brain uses phase to determine directionality, and above which uses amplitude.  Where a woofer at 2-3kHz might be very directional, a tweeter can be more omnidirectional, allowing for a more even dispersion in this critical band.
One of the problems in using multiple tweeters in close proximity to one another is that they can cause interference with each other, and that's the main reason people wrinkle their noses at this approach.  However, Dan has a way around that.  He doesn't run all 4 tweeters all the way to 20kHz.  Instead, 3 of the tweeters are rolled off at 3kHz, and just one of the domes takes over.
The XTZ S5 Hybrid Surround Speaker

As you'd expect, the design cues from the M6 are carried over to the Hybrid 3 way XTZ S5.  The S5 has a similar multi-tweeter design featuring two, 1" tweeters; (both operate from 1.2kHz on up).These are paired with a 4"mid-woofer on the front face, and the non-parallel sides each feature a single, 3" full-range woofer.  They are again quite dense at 16.5 lbs and 11 inches tall by 8 inches deep.  If you're looking to hang these on a wall, you'll definitely want to consider the sturdy XTZ flush-mount bracket.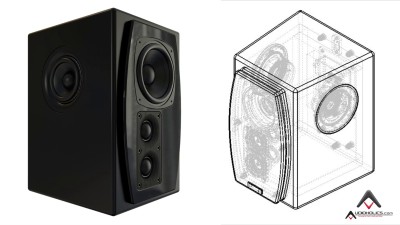 The XTZ S5 and its versatile 3-array design
With three different wiring configurations, the S5 speakers proved to be a very versatile surround speaker.  When it comes to surrounds, some people choose monopole, or direct-firing, speakers for surround use.  These offer a very balanced frequency response, but can be easy to localize making all the surround effects sound like they are coming from a single point on your wall.  For folks looking for a more diffused sound, where surround effects seem to be coming from the sides and behind you, but you can't tell exactly where, they often choose bipole or dipole speakers.  The S5 takes a swing at being the best of all worlds.  With various configurations of wiring the 4 binding posts using the included metal jumper/bridge, you can configure the speaker for one of three modes:
Direct: the front array is primary, with the sides producing low frequencies only
Dipole: the sides are running full range, out of phase, and the front woofer is also active helping with the low frequencies
Dipole 3x: all drivers running full-range, so you get a combination of a direct and a dipole speaker working in tandem
For the record, my favorite in my setup was the "Dipole 3x", with just the right hint of diffused sound, but your taste may vary.

Confused about what AV Gear to buy or how to set it up? Join our Exclusive Audioholics E-Book Membership Program!
See also:
Recent Forum Posts:
haraldo posts on December 30, 2014 14:53
Mr_Owlow, post: 1052766, member: 69826
I listened to these again, and the brand new Master M2 at the Gothenburg HiFi show this weekend. They do have a forward presentation, and Marshall describes the sound well. They are very revealing speakers, so on sibilant recordings they sound harsh, on mellow recordings they sound mellow. The Master M2's sounded spectacular, the female voices they chose, (Sarah McLachlan, Tracy Chapman and some others) were incredibly well rendered, with a truly High End sound. They played some songs by a group called Banyan too, and instrumental tracks sound great as well.
Did you hear what's the problem with the M2's …. As far as I know they were promised to get onto the market more than 1.5 years ago, but they're still not listed on the XTZ web shop, and there seem to be delays after delays… Was it mentioned anything in the Göteborg HiFi show when they will appear on the market.
I'd really consider to buy the Master M2 :-)
djreef posts on December 30, 2014 12:48
OK, so then I misunderstood. I thought the graph included the monster subs located on each side of the system as per the picture.

Jesus I gotta leave this site alone so early in the morning.

DJ
gene posts on December 30, 2014 12:44
djreef, post: 1065388, member: 39828
I'm having a hard time understanding how a HT setup can get a 4.5 stars with such anaemic LF response. Did I miss something? Is that just not important anymore in a 5.1 channel setup?

DJ
Satellite speakers are meant to be mated with subs. The speakers in question have a very large dynamic range and output above 80Hz which was a design goal of the speakers.
djreef posts on December 30, 2014 12:41
I'm having a hard time understanding how a HT setup can get a 4.5 stars with such anaemic LF response. Did I miss something? Is that just not important anymore in a 5.1 channel setup?

DJ
haraldo posts on November 06, 2014 15:19
I never listened to any of the models, but….
The XTZ speakers get rave reviews around here, wherever you turn… up to the point that it's been claimed that there's something wrong with the price, they're being seriously underpriced; especially these ones, which turned out to be the reference for one of the main audioholic magazines around here
http://www.xtzsound.com/en/products/speakers/divine-100-49-walnut#
Just have a look at the drivers………
Post Reply