Yamaha Raises the Bar with 3 New 8K AVENTAGE AV Receivers for 2021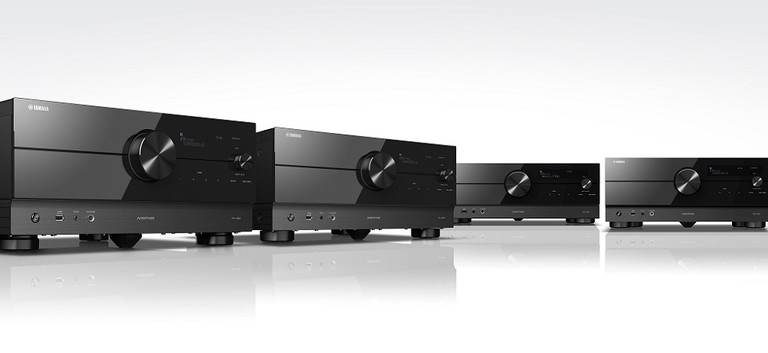 Yamaha AVENTAGE RX-A8A, RX-A6A & RX-A4A
Summary
RX-A8A

11.2-ch., 150-watt AV receiver with Zone 2, 3 and 4
HDMI 2.1* with HDCP 2.3 and eARC (7-in/3-out)
8K/60Hz* & 4K/120Hz* (7-in/3-out)
Dolby Atmos, DTS:X, Dolby Atmos Height Virtualization, Surround:AI, Auro 3D*
YPAO R.S.C. automatic room calibration with multi-point measurement, precision EQ and low frequency mode
AV Setup Guide app, MusicCast app and web setup
Voice control with Amazon Alexa, Siri (via AirPlay 2) and Google Assistant
Weight: 47.2 lbs

RX-A6A
9.2-ch., 150-watt AV receiver with Zone 2, 3 and 4
HDMI 2.1 with HDCP 2.3 and eARC (7-in/3-out)
8K/60Hz* & 4K/120Hz* (7-in/3-out)
Dolby Atmos, DTS:X, Dolby Atmos Height Virtualization, Surround:AI, Auro 3D*
YPAO R.S.C. automatic room calibration with multi-point measurement, precision EQ and low frequency mode
AV Setup Guide app, MusicCast app and web setup
Voice control with Amazon Alexa, Siri (via AirPlay 2) and Google Assistant
Weight: 41.2 lbs

RX-A4A
7.2-ch., 110-watt AV receiver with Zone 2
HDMI 2.1* with HDCP 2.3 and eARC (7-in/3-out)
Dolby Atmos, DTS:X, Dolby Atmos Height Virtualization, Surround:AI
YPAO R.S.C. automatic room calibration with multi-point measurement, precision EQ and low frequency mode
AV Setup Guide app, MusicCast app and web setup
Voice control with Amazon Alexa, Siri (via AirPlay 2) and Google Assistant
Weight: 35.7 lbs

Executive Overview
This could be a HUGE year for the AV industry. With supply chains opening up for electronic components, and people getting back to normal amid dimishing COVID-19 concerns, consumers may feel more inclined to loosen their pockets a bit and spend money on luxury extras like a new AV receiver. We are also seeing indications of in-person AV shows like the CEDIA installers show coming up in September of this year.
In preparation for what many would deem the largest and most important audio show in the USA, manufacturers are already releasing teasers of this year's fall lineup. Getting ahead of the competition is audio giant Yamaha with their announcement of a new set of AVENTAGE AV receivers.
It's been over a decade since we reviewed Yamaha's first groundbreaking AVENTAGE AV reciever, with our review of the Yamaha RX-A3000 11.2 Networking A/V Receiver  and since then we've been covering Yamaha's releases of their AVENTAGE line year after year. Yamaha says with this years lineup it "Defines the future of home entertainment with the new series of cutting edge AVENTAGE receivers."
The new line includes the RX-A8A, RX-A6A and RX-A4A, offering 11-, 9- and 7-channels, respectively.  We're a bit curious as to why the RX-A8A doesn't have 13.2CH preouts like its Denon and Marantz counterparts but for those not building a system beyond 7.2.4, this should NOT be an issue.
Yamaha says the new lineup "represent the new reference standard for all others to be compared to, combining passionate engineering, relentless attention to detail and True Sound reproduction into the most innovative AV receivers to-date."
The three new AVENTAGE models will offer a substantial number of HDMI 2.1 inputs ALL supporting 8K60/4K120 (up to 40Gbps uncompressed), with seven inputs on each.
We broke the mold when we premiered our flagship AVENTAGE series in 2010. Now we've re-engineered it from the ground up, shattering expectations for what's possible for an AV receiver to recreate in the connected home. Not only do the new AVENTAGE AV receivers stay in lockstep with emerging tech – such as the latest gaming consoles and rising resolution of TV screens, with ingenious sound quality right there with them. These AV receivers also stay one step ahead in anticipating customers' future needs – from a new, modern look all the way down to the components.
-Alex Sadeghian, director, Consumer Audio, Yamaha Corporation of America
Yamaha 2021 AVENTAGE AV Receiver YouTube Overview

What's New for Yamaha AVENTAGE

Advances to the AVENTAGE lineup in 2021 look to be the most significant to date, The receivers have a more simplified, modern design that features a bold, center volume knob, a brand new, high-resolution LCD display, a rotary jog dial and touch-sensitive buttons.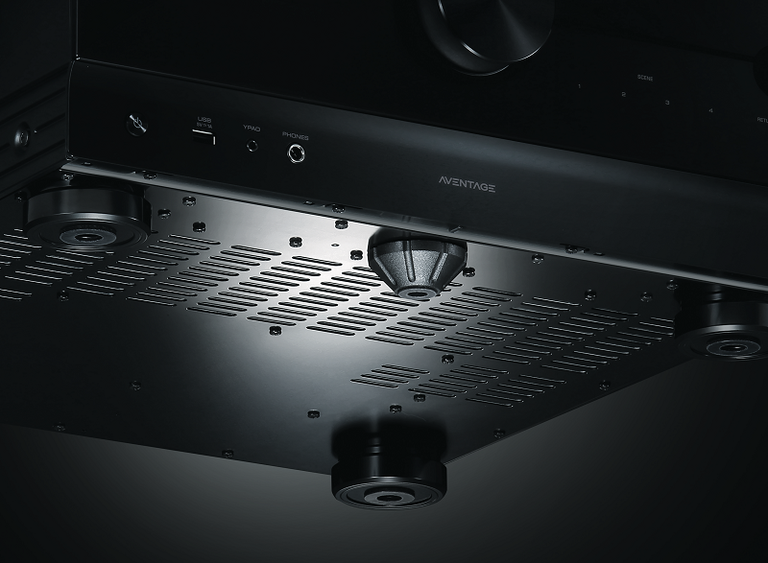 Each new model will also provide stability against vibrations with their signature AVENTAGE "fifth foot". This Anti-Resonance Technology wedge is designed for even more efficient dispersion of chassis vibration in the three new models, placing the fifth foot near the front center of each unit's base.
The new AVENTAGE AV receivers have the processing power to recreate 8K/60*, 4K/120*, 4K/60, HDMI 2.1* and HDR10+* signals and include support for the latest HDMI technology. With seven inputs and three outputs in each model supporting 8K60/4K120 (up to 40Gbps uncompressed) this HDMI 2.1 compatibility is designed to provide faster and smoother entertainment and gameplay with auto low latency mode (ALLM), variable refresh rates (VRR), quick frame transport (QFT) and quick media switching (QMS).
The RX-A8A, RX-A6A and RX-A4A support immersive 3D audio with Dolby Atmos and DTS:X, enabled by the Qualcomm QCS407 smart audio platform. QCS407 provides powerful quad-core audio processing, offering both superior sound quality and cinematic listening experiences. This Qualcomm smart audio platform is designed to decode and playback a rich variety of audio content.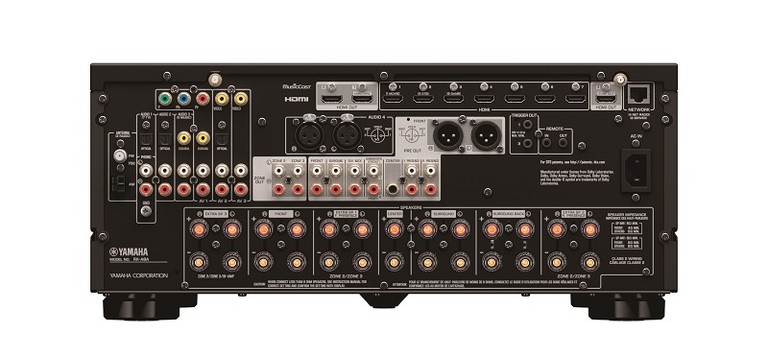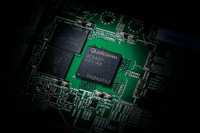 In addition, all inputs on the new AVENTAGE models support Dolby Vision. It also has support for DTS-X and Dolby Atmos, the three models also offer Dolby Atmos with Height Virtualization, for overhead sound experiences and 3D sound if your room is equipped with height speakers. The top two models will offer Auro-3D, which offers even more transformative capabilities and immersive audio experiences by creating virtual, three-dimensional virtual soundscapes that move around the listener.
All models also feature Surround:AI, a proprietary Yamaha technology and the only artificial intelligence found in an AV receiver. This technology analyzes the DSP parameters and optimizes each sound element, such as dialogue, background music and sound effects, in real time. The three new AAVENTAGE models double the previous platform at 64-bits, thanks to the Qualcomm QCS407 chip.
In order to deliver maximum performance of surround sound realism, each receiver comes equipped with Yamaha Parametric room Acoustic Optimizer (YPAO) R.S.C. multi-point measurement, precision EQ and a new low frequency mode. This included technology detects speaker connections, measures the distances from them to multiple listening positions in a room and automatically optimizes speaker settings, such as volume balance and acoustic parameters. The "low frequency mode" has us intrigued so we inquired more about it with Yamaha.
The new "Low Frequency Mode" (LFM) is added to the PEQ options of "Flat", "Front" and "Natural". Room resonances in the 15.6Hz to 250Hz band have very long decay times that adversely affect pure sound reproduction. The LFM identifies problems in this critical band and focuses all parametric filters to this region of the spectrum.

This is good news that YPAO now has the option to correct only bass frequencies below the room transition frequency (300-500 Hz for most domestic listening spaces) while leaving the rest of the frequency spectrum of your speakers untouched. This is a good option for those that prefer NOT to apply fullrange EQ to their speakers but instead wish to fix the BIGGEST problem EQ can help; the Bass!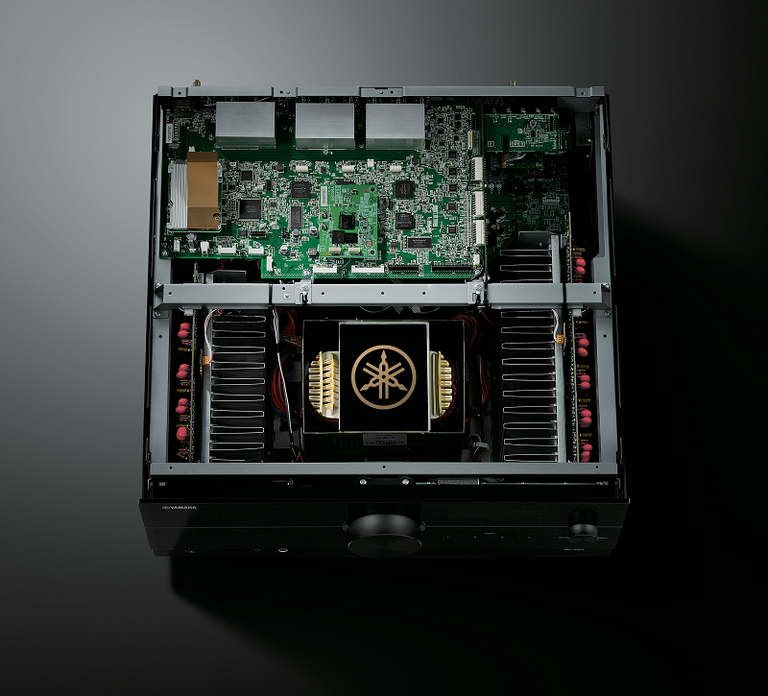 Yamaha Turning up the Heat on the Competition - AVENTAGE Gets Beefy

The advances to the appearance and processing platform are echoed in the upgrades to the internal circuit design, mechanical structure and audio parts. This includes:
Symmetrical amplifier layout for optimized signal paths, improving sound clarity while reducing signal noise and cross-channel interference. The transformer is further mechanically isolated from the amplifier stages with a separate mounting bracket for greater vibration reduction, which contributes additional rigidity to the internal H frame structure.

Tonal balance through high-quality parts, including Premier Audio DACs from SABRE for extraordinary signal-to-noise ratio and up to 120 dB dynamic range for pro-quality audio.

A high slew rate amplifier, which more than doubles the performance of the previous generation. This newly designed circuit achieves both a high slew rate and stable signal transmission, allowing it to respond to rapid changes of input levels with precision and accuracy.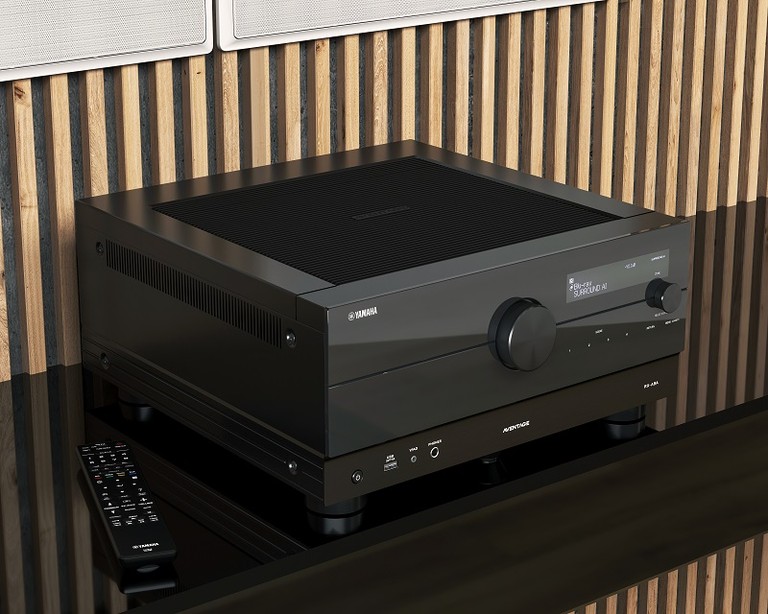 The Yamaha RX-A8A Flagship AV Receiver looks like a beast tipping the scale at 47.2lbs

One thing we noticed about the new AVENTAGE lineup is it's significantly heavier than predecessor models (ie. RX-A3080 weighs 39.9lbs, RX-A2080 weighs 37.5lbs compared to RX-A8A at 47.2lbs and RX-6A at 41.2lbs, respectively). The RX-A8A is the first Yamaha receiver to incorporate 11CH of internal amplification since the RX-Z11. More weight is a good sign as it looks like Yamaha may have beefed up the power supply and heatsink area of their new AVRs. We very much look forward to bench testing one of these new receivers in the coming months.
We asked Yamaha about the weight gain of their latest AVENTAGE AV receivers and here's what they had to say:
It's the premium build - more steel heatsink mounting brackets, heavier amplifier section, new transformer design, heavier gauge internal wiring, 2x thicker copper foil patterns on circuit boards, 4-layer circuit boards in audio section, 2x heavier top-cover (under the ABS vented top), thicker double bottom plate, iron feet (not plastic), and it's 1-1/3" (35mm) deeper than the A6A (66 square inches more of metal sides, top and bottom).

All new AVENTAGE models offer the entire suite of MusicCast capabilities and app control, including Wi-Fi, AirPlay 2, Spotify Connect, built-in music streaming services, multi-room audio and voice control via Alexa, Google and Siri-enabled devices. Built-in streaming services include Amazon Music HD, Deezer, Napster, Pandora, SiriusXM, Spotify, Tidal and Qobuz, plus thousands of internet radio stations.
Full two-way control is available via software integration drivers that seamlessly connect the new AVENTAGE models, and dozens of other Yamaha home audio products, with the nation's leading home automation and smart home control systems.
The new receivers will be available in the summer 2021.

Confused about what AV Gear to buy or how to set it up? Join our Exclusive Audioholics E-Book Membership Program!
Recent Forum Posts:
AlainB posts on June 04, 2021 12:57
I set up an RXA2A yesterday replacing an older DENON. It sounds more lifelike, less muffled. The client is very satisfied. Now, if we can put our hands on the A4-A6 and A8 models, we will be in business.
I do use ANTHEM electronics for my own system (MRX720 receiver and MCA325 power amp) and I can't be happier.
Waiting for you to do the evaluation of those Yamaha receivers.
Great job Gene.
EBN posts on June 02, 2021 05:24
Hopefully the protection doesn´t activate limiting power output as easily as in the past ranges when Gene will run ACD tests with the new A6A/A8A. Tired of the ACD battle and we know certain people will attack Yamaha right away…

The new model has 7 bands as opposed to 4 bands for the old model, all in the 15,6hz - 250hz range, this was mentioned in German forum. I`m going to put pressure for Amir @ASR when he get`s Yamaha on hand and he will do full YPAO review which he should have done already so we will see how it corrects the cheap 2.0 Revel Salon system in living room. We still need to see how it corrects subwoofer in-room or will it still need external eq tool.
PENG posts on May 29, 2021 08:57
3db, post: 1486463, member: 3560
Until someone tests these beasts properly, all we have now is speculation…which I'm about to add too.
Some of the extra weight comes with the additional 2 channels of amplification added in and above the 3080. Whether or not the transformer in the power supply follows suit is yet to be determined. Did Yamaha ratio up the existing transformer to meet the additional load of the 2 channels or did Yamaha actually go beyond the ratio and add some extra capacity in the transformer? Same question applies to the main filter caps in the piwer supply. It would also be nice if Yamaha wasnt so dam conservative on their protection circuitry… just to add more capacity in the ACD test.

To add to your speculation on the weight and power supply parts:
- Double-bottom construction, A3080 has that feature too but according to Yamaha Japan, the new mechanical structure has doubled the strength by increasing the part adhesion surface of the H-type cross frame, so I think it must also add weight.
- Preamp section uses a four-layer substrate.
- Power amp wiring same thickness as MX-A5200's (copper is heavy, so larger gauge = more weight)
- Dim 435W×192H×477Dmm vs 435 x 192 x 474 mm, that's 3 mm deeper, enough to add a little weight.
- Weight: A8A 47.2 lbs, (I think this is actually for the 220 V models) A3080 39.9 lbs, 43.2 lbs for the 220 V 50 Hz models, apparently.
- Weight: A6A 44.8 lbs, 220 V models (apparently) 41.2 NA models vs A2080's 37.5 lbs.
The difference in weight between the 3080 and A8A could be as little as 4.9 lbs or 7.3 lbs. It would be 4.9 lbs if we assume the A8A's manual's 47.2 lbs is for the 220 V models and for some reason they forgot to include the figure for the typically lighter "other" versions (they did in the A6A's and A2080/A3080 models. Each of the features noted above most likely would add just a little more weight but they all add up to something more substantial.
Power supply related:
- Power consumption: 600 W, 1370 W (Max) vs 490 W, 1210 W.
As I pointed out on this site many times, using power consumption specs as transformer VA rating is very unreliable, but it is reason to use such figures to compare the transformer VA rating in terms of % difference, across the models of the same line of the same brand, such as, RX-A to RX-A, as long as they are all class AB amp and linear power supply based.
So (just an assumption), the A8A may potentially measure 13 (more likely) to 22% (unlikely) more output on the bench than the A3080 depending on the load conditions (such as 2,5,7 ch driven, 8, 6, or 4 Ohms etc.) and the distortion level permitted for the test. Regarding the 4.9 to 7.3 lbs difference, I think more than half (say 70%) of that could be accounted for by the difference in the physical features and the 2X150 W power amps. The rest of it could be due to a larger transformer that has more mouths to feed. The caps may be larger too but I doubt it would add more than 0.25 lbs as they will be only two pieces.
While it is good and important to see actual bench measurements, it can be fun to speculate too.
iraweiss posts on May 29, 2021 07:51
gene, post: 1486045, member: 4348
I'm going to be testing the RX-A6A soon. I'm not in a race with AMIR as I have way too much going on with the AHSmarthome to be as efficient as he is at generating content

Gene, I watched your latest video on amplification Friday night. Very educational and entertaining at the same time. In light of your measurements of the RX-A860 and it's preamp output performance, it is critical for those of us considering external amplification to know how the RX-A6A performs either via the two channel XLR outputs or RCA outputs.
And HAVE A GREAT VACATION!
iraweiss posts on May 29, 2021 07:40
In the RX-A2A there is a clear dividing bar between the first three HDMI inputs and the other four HDMI inputs. There is no dividing bar in the RX-A4A, RX-A6A and RX-A8A. However, all models have the first three inputs labeled as 1 Movie, 2 STB, 3 Game. I do not know if this is significant.
Post Reply